Top Golf is an outdoor three-story golf entertainment venue.  They feature special climate controlled hitting bays, a full service restaurant and bar, televisions, meeting/party spaces, and more!
Their closest location is in West Chester, just North of Cincinnati, near IKEA, and they have dozens of other locations in the US.  Top Golf is planning it's first location in Louisville near Oxmoor Mall!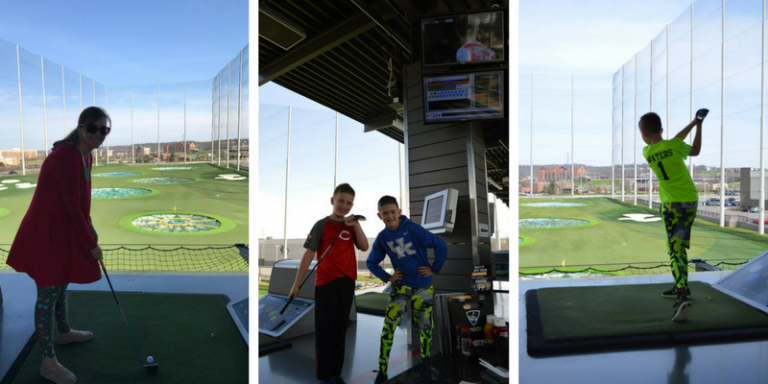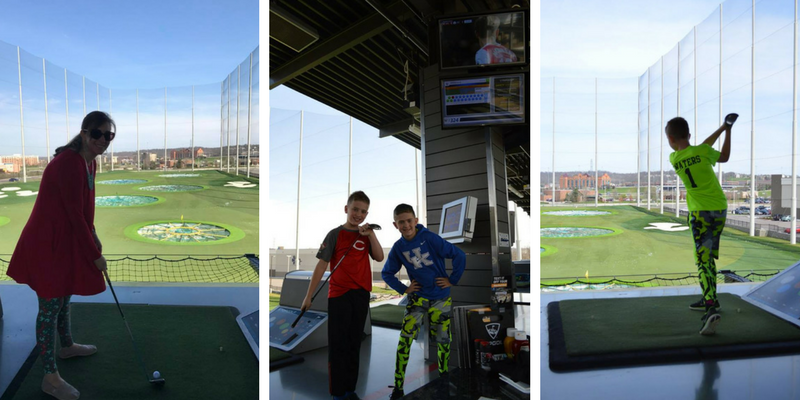 "Topgolf is the premier golf entertainment complex where the competition of sport meets your favorite local hangout. You can challenge your friends and family to addictive point-scoring golf games that anyone from the hopeful pro golfer to your neighbor's 7-year-old kid can play year-round. Just picture a 240-yard outfield with dartboard-like targets in the ground. The closer to the center or "bull's-eye" you get and the farther out you hit your microchipped balls, the more points you receive. Score even bigger with Topgolf's extensive food and beverage menu that is sure to impress even the pickiest foodies. It's not golf – it's Topgolf. Give it a shot!"
My kids and I have loved our visits to Top Golf in West Chester and we are excited we will soon have a location even closer to home!  I think I may have enjoyed our visits even more than my kids and we even took their grandmother, who also had a blast!  Let me start by saying I am NOT a golfer but Top Golf is meant for FUN and it's great for anyone!  Sure, if you can actually play golf you'll have a serious advantage at beating some friends at a variety of golf games they have but even kids and adults with no prior golf experience will have a blast.
Top Golf can get crowded so we decided to head there early in the day.  We also watched for some specials they offered and were able to take advantage of a half-price offer.  They have party spaces, kids clubs, camps and more so there's always something going on – even year round!  The bays are heated so even in the winter you can enjoy the fun.
When you arrive you'll be greeted and directed to the front desk, if you reserve online you can skip the line to book your bay.  You will need to purchase a special membership card for $5 – these are good for life so don't lose it.  You'll need that each time you play.  This card tracks your game play and can be used at any Top Golf across the country.  Each player needs a card so there is an extra expense the first time you play.
You pay per hour for your bay and can have up to 6 golfers playing at a time (8 can enjoy the bay space at a time).  They provide clubs but you can bring your own.  We were even able to get left handed youth clubs – so they have it all!  You can choose which of the three levels you'd like to play on, if it is crowded there may be a wait for a bay or the level you want.
Once you've paid you'll have an escort get any extra clubs you may need (the bay is stocked with a set already) and will escort you to your bay.  They will log you on the computer and get you started.  Your server will come start taking drink orders and you're ready for fun!  There are menus available so between turns you can order food or drinks.  Prices are a bit higher than a chain restaurant but I expected that – you can view the menu online before you go.  When we went on a Sunday morning we just ordered some of their injectable donuts – YUM!!!!  (And I got a mimosa!)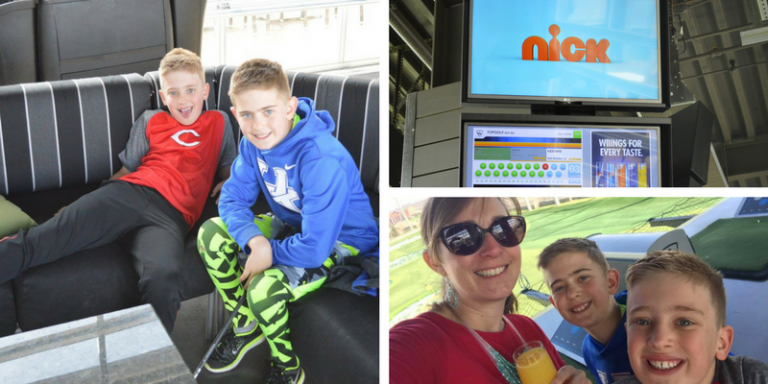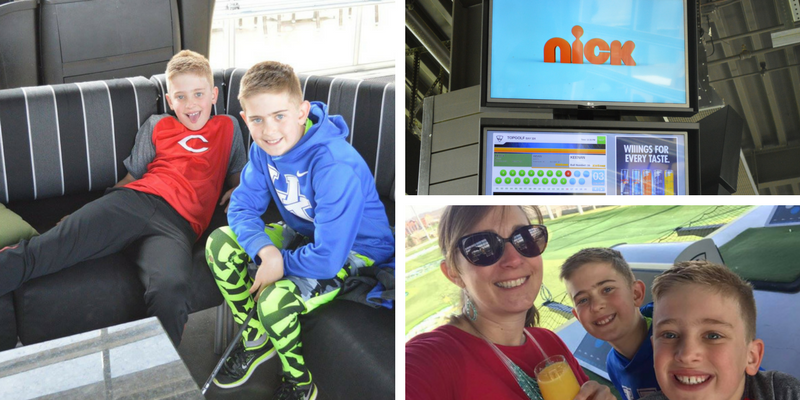 In your bay there are couches, a tv for your scores and tracking hits, a tv for watching a variety of channels (we found Nick for the kids), a set of clubs for you to use, and an interactive touchscreen computer for you to use as you play.  This tracks your time, who is playing, and you have to use it each time someone new steps up to hit so it tracks scores properly (if you forget like we did a few times you'll hit a ball on someone else's score).  There are a variety of games you can play – some require more skill than others – we just chose the traditional game where you get points the farther the target is that you hit and the closer you hit the ball to the target.
The hitting bay has a special ball machine that you wave your club in front of and out pops a ball!  Just position it where you'd like and go!  There are targets very close to the bay area so even smaller kids will have a great chance at hitting a target.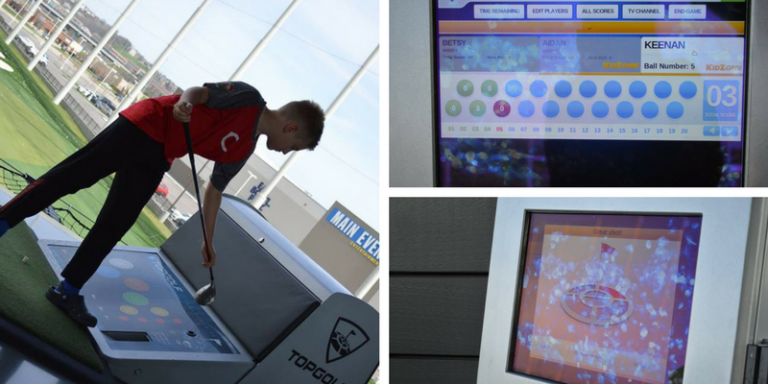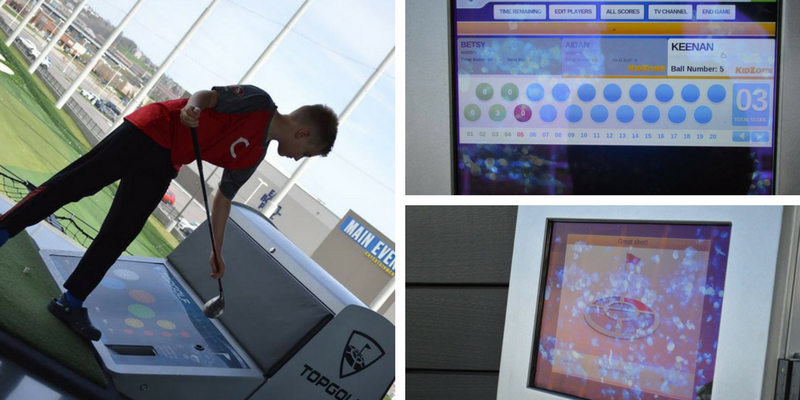 You can continue to play multiple games until your paid time is up.  Your screen will let you know you're getting close and if bay space is still available you can add time on to your game if you're having too much fun – which is what happened to us!
I highly recommend checking it out for yourself at least once!
Open – Noon  $25/hour
Noon – 5 pm  $35/hour
5 pm – Close  $45/hour
Heroes discount of 10% off Topgolf game play is honored for military (active duty and veterans), police, fire and EMS personnel with valid I.D.
FEATURED AMENITIES
100+ climate-controlled hitting bays
Full-service restaurant & bars
Private event spaces & meeting rooms
Rooftop terrace with fire pit
Over 200 HDTVs
Free Wi-Fi