On Saturday, Aug. 4, 2018, the YMCA of Central Kentucky, in partnership with Fayette County Public Schools, sponsors and community partners, will distribute 6,000 backpacks and grade-appropriate school supplies to children in our community which will allow them to start school with the tools needed to be successful. This free event is open to elementary (parent/guardian must be present), middle and high school students and will be held at 17 community sites across Fayette and Jessamine counties.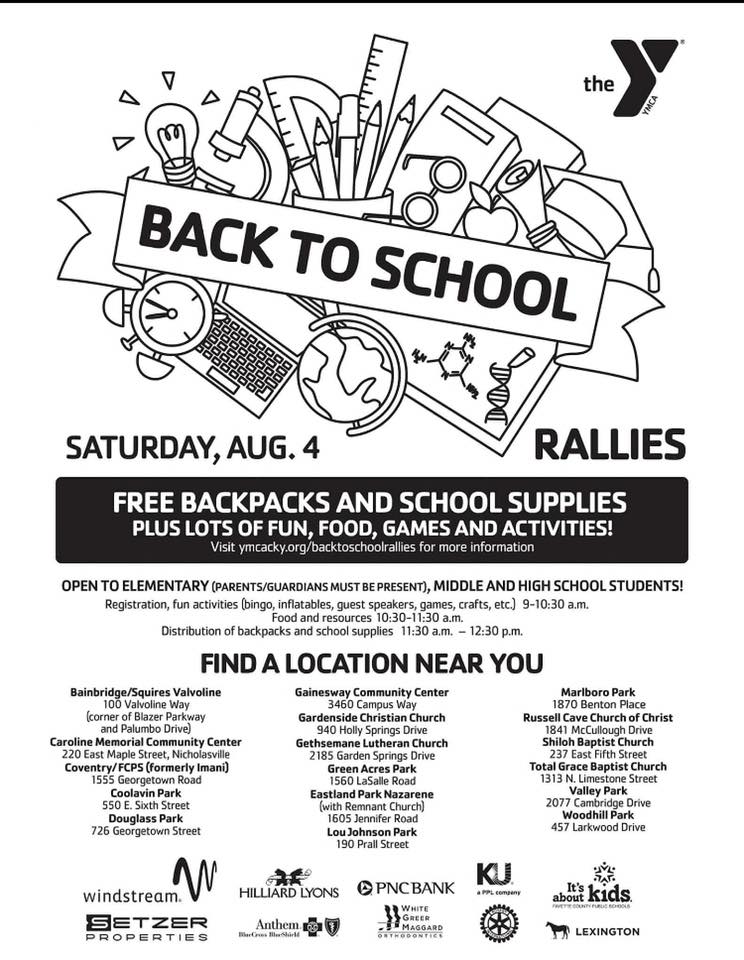 "The Y is honored to once again lead this initiative. For many of us, purchasing back-to-school supplies is something we don't give a second thought to. But for many, right here in our community, it's a very real financial hardship," said YMCA of Central Kentucky President and Chief Executive Officer David Martorano. "The annual back-to-school rallies provides essential resources that support the academic success of our students," Martorano added.
A press conference will begin at 10 a.m. at Douglass Park to kick off the Back-to-School Rallies followed by a headline performance by teen hip hop/pop singer and viral sensation, Brooklyn Queen at 11 a.m. Brooklyn Queen, inspired by gratitude, positivity and Beyoncé, launched her debut album, "Queens Corner," in 2017 and has eclipsed 100 million music video views. She will be joined by Devine Carama.
Registration is required between 9-10:30 a.m. at all sites. Distribution of backpacks begins at 11:30 a.m. There also will be a variety of activities; which include inflatables, face paintings, arts and crafts and food and drinks (activities vary by location).
Through great community partnerships, this year's Back to School Rally supporters and sponsors include Windstream, Setzer Properties, Hilliard Lyons, Anthem, PNC Bank, White, Greer and Maggard Orthodontics, Commonwealth Credit Union, Kentucky Utilities, Rotary of Lexington, Fayette County Public Schools, Lexington-Fayette Urban County Government, WLEX18 and WBTF-FM.
Find a Rally location near you:
Bainbridge/Squires Valvoline, located at 100 Valvoline Way
(corner of Blazer Parkway and Palumbo Drive);
Caroline Memorial Community Center, 220 E. Maple Street, Nicholasville;
Coventry/FCPS (formerly Imani), located at 1555 Georgetown Road;
Coolavin Park, located at 550 E. Sixth Street;
Douglass Park, located at 726 Georgetown Street;
Gainesway Community Center, located at 3460 Campus Way;
Gardenside Christian Church, located at 940 Holly Springs Drive;
Gethsemane Lutheran Church, located at 2185 Garden Springs Drive;
Green Acres Park, located at 1560 LaSalle Road;
Eastland Park Nazarene (with Remnant Church), located at 1605 Jennifer Road;
Lou Johnson Park, located at 190 Prall Street;
Marlboro Park, located at 1870 Benton Place;
Russell Cave Church of Christ, located at 1841 McCullough Drive;
Shiloh Baptist Church, located at 237 E. Fifth Street;
Total Grace Baptist Church, located at 1313 N. Limestone Street;
Valley Park, located at 2077 Cambridge Drive;
Woodhill Park, located at 457 Larkwood Drive
For more information about the Back-to-School Rallies, visit ymcacky.org/backtoschoolrallies.