It's always wonderful to sit on Santa's lap but it's also a great treat to have Santa call or Zoom your kids right in the comfort of your own home! There are great options that are nationwide but also some supporting local charities right in Central KY. Check out all the VIRTUAL Santa fun and make new memories today!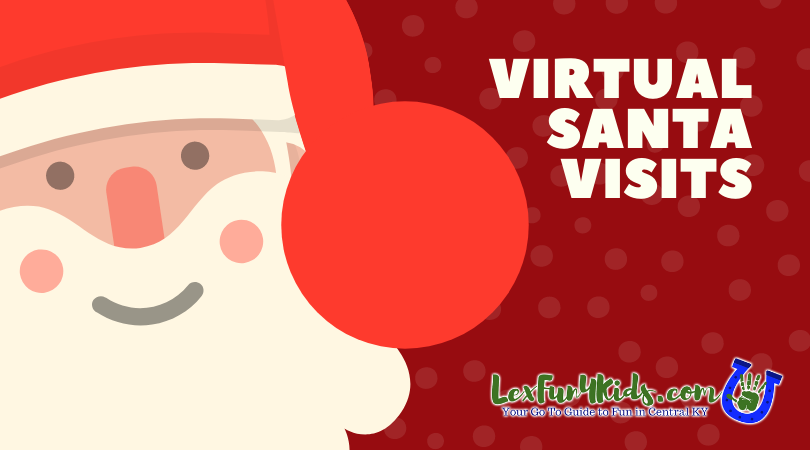 Local Virtual Santa Programs
December 14 & 15, 2020 5:30 – 7:30 pm
For a donation of just $10 or more, you can have a 5-minute visit with Santa Claus over Zoom, and finish up with a virtual on-screen photo!
Each photo will consist of a screenshot of the participant(s) with Santa on Zoom, and will be featured in a special digital holiday-themed frame. Photos will be emailed within 2 business days, so please sign up with the email address that you would like your photo sent to.
Each visit is 5 minutes, but multiple members of your household can visit at the same time! If you have multiple children and think you'll need more than 5 minutes with Santa, please select back-to-back ticket times so we can accomodate you.
Rotary Club of Lexington member Winn Stephens created a virtual Santa experience. Using Zoom and a few special effects, children will now have the option to visit Santa even during a pandemic.
"I believe this is going to be a really effective tool for families. Because appointments are booked in advance, we can share information about the children, their Elf on the Shelf, special requests, etc.," said Stephens. "It's going to make for a much more personal experience than the typical visit with Santa."
Virtual visits are $25, or families can choose a pre-recorded message for $40. All proceeds, including tips, are being donated to the Rotary Club of Lexington endowment to ensure coats are available for children in need.
For bookings, please visit www.santawinn.com.
Appointments are available on Saturday, December 12 from noon – 8:00 p.m., Sunday, December 13 from 1:00 p.m. – 6:00 p.m., Wednesday, December 16 from 5:30 p.m. – 10:00 p.m., and Sunday, December 20 from 1:00 p.m. – 6:00 p.m.
National Programs
My family has done this Santa call for many years and it's always a wonderful experience! This is a pre-recorded video you can personalize for your kids.
Make FREE videos, schedule a call or create a book!
With Santa's Club, jolly Saint Nick is all yours for a full 5 minutes! Plenty of time for laughter, smiles, and priceless new memories.
It's Personalized: With Santa's Club you'll have the opportunity to share information about your child ahead of time such as their name, best friend, favorite TV show, what they want for Christmas etc… Santa will craft these details into a personalized experience that will surprise your child and leave them with a sense of awe.
It's More Realistic: Your Santa's Club visit will be broadcast live from Santa's cabin in the North Pole where he will be seen in front of a live fireplace. You'll never have to answer questions such as, "What is Santa doing at the mall, shouldn't he be in the North Pole?"
The Experience will take you through 5 magical scenes guided by Elf Pickels before your live video chat with Santa which will be 5 mins. The Experience will be approximately 10-12 mins in duration.
You can invite other family members such as grandparents, uncles and aunts to join in on this magical moment. Everyone can enjoy Santa – The Experience from the comfort of their own homes.
It's safe, super-fun, affordable, and personalized.​ Choose from a variety of Santas including Mrs. Claus, black Santa, faith-based, and more.
Available in English and Spanish.
Members can book a FREE Video call with Santa. They offer English, Spanish, and ASL! There also have a black Santa you can select as well.
This year Santa is taking a break from the crowds, masks and mall,
And instead personally connecting by video call.
Schedule your child's visit today for Kringle Mingle Fun
so they can still talk to Santa one-on-one!
Hi! I'm Santa Mike. I'm hosting a virtual experience for guests of all ages to participate in. The stage will be set for every participant in decorated Santa's Workshop alongside with my jolly elf. Once you log on, we will greet you and chat with you for a few minutes, just as if you were visiting me in person (but you'll be in the comfort of your own home!) I will read a Christmas story and talk about some of my experiences as Santa Claus and what goes on in the North Pole! It will be a heartfelt experience, holiday music playing and some laughs along the way.
Visit with Santa and let him know what you'd like for the holidays this year in Sign Language! After meeting with Santa, he'll lead you in a fun holidays themed vocabulary game! Get to learn phrases that you'll be using all holiday season long! We can also add Christmas carols to the fun as well! See you there!
*Practice sign language in a fun and safe environment through games. We'll start the class by getting to know each other before breaking into teams and learning vocabulary, gestures, alphabet, and idiom.
This is a safe environment for young adults, children, families, businesses, team building, and non-profits ages 8-100 to get an authentic experience from a Deaf professional.
Whether it's for a homeschooled course with a curriculum established, independent or group sessions, or just for fun, we have something for everybody! Perfect for beginners and advanced users of sign language!*
Other things to note BE READY TO LEARN!
It's the most wonderful time of the year… and you know what would make it even more wonderful? Towers of toys and twinkling lights as a backdrop for story time with me, a real toy soldier.
Join me (virtually!) in my favorite corner of FAO Schwarz, where I'll introduce you to my favorite toys and we'll settle in with a couple stories sure to keep our spirits bright. I'll even share some of my own stories about being a toy soldier and play you a song or two on my big piano.
So come on! Let's celebrate the season together.
*As an Airbnb Associate I earn when you book through this link
Join Mama Claus for an Online visit to the North Pole! The goal is to have everyone leave with a heart warming experience; an experience that delights all age groups bringing to life online what has traditionally been done in person. The life as we know it has suddenly changed but Mama Claus will continue to make this Holiday Season fulfilling and joyous.
Each guest will receive a personal welcome and the opportunity to share with Mama Claus his/her Holiday list and ask that one special question you always wanted to ask Mama Claus! Mama Claus will then read some classic favorite short Holiday stories (while sipping on her hot chocolate) and introduce the North Pole village! During the story time and while learning about the village, guests will be encouraged to engage with sound effects, singing, etc. Mama Claus will also play some caroling classics live on the piano and everyone is invited to sing along!
This is a great activity to do together over the holiday season, whether it's your family's virtual visit with Santa, a get together with friends, or a team holiday get-together. Book now for a private group!
*As an Airbnb Associate I earn when you book through this link
Get ready for a meeting with a real Santa Claus from Lapland. I am always happy when I see happy faces, I love to see people sharing time with each other on Christmas.
To start the experience, I will introduce myself and my background as Santa. I'll ask guests to introduce themselves – your name, where you are from, favorite topics at school, wishes for this holiday season, etc.
Each person will have a chance to chat with me and ask questions – I have over 400 years of experience as Santa, so you can ask me anything! For example, many people think that Santa lives in North Pole but I will explain that I live in Lapland. Of course I love to tell about all the elves behind the windows, who are making the toys in a toy factory – a very secret place. I'll share more about my secret home in Ear mountain, where I read all the letters, and eat delicious food Mrs Santa makes, especially rice porridge.
All ages are welcome! This is a great activity to do together over the holiday season, friends families and teams!
*As an Airbnb Associate I earn when you book through this link