My family recently checked out the Smale Riverfront in Cincinnati.  There are lots of great things to do along the river and in downtown Cincinnati. We enjoyed Sawyer Point a couple years ago, which is on the other side of Great American Ballpark.  Smale Riverfront is between Great American Ballpark and Paul Brown Stadium where the Bengals play.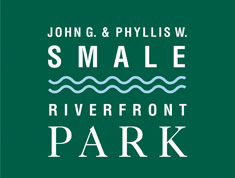 Smale Riverfront was just completed in the last year and offers great areas for kids and adults.  We started at the side closest to Great American Ballpark and worked our way to the other side.  We only had just over an hour to hang out but we could have spent many more!
There are some fun climbing areas and slides near the base of the Roebling suspension bridge.  There is also a big chess set and checkers set under the bridge to play.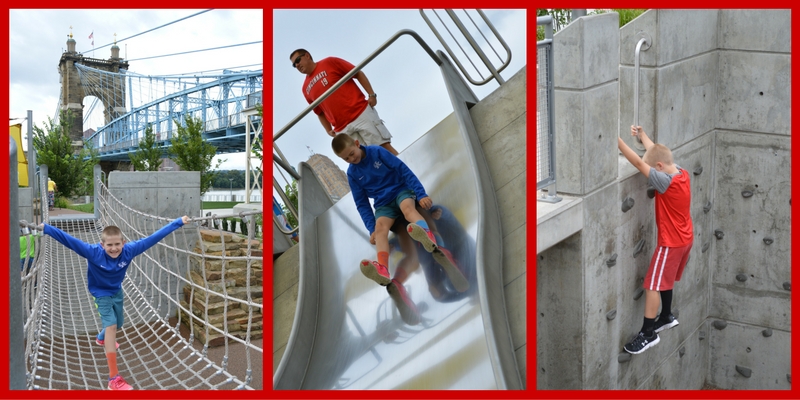 There is easy access to the bridge and it's a great way to check out this historic part of Cincinnati.
From the bridge toward Paul Brown there is a cool interactive piano that kids can run and step on to make music.  There were exercise pieces and even a flying pig to get inside!  You'll need a grown up to help it fly but it's a lot of fun!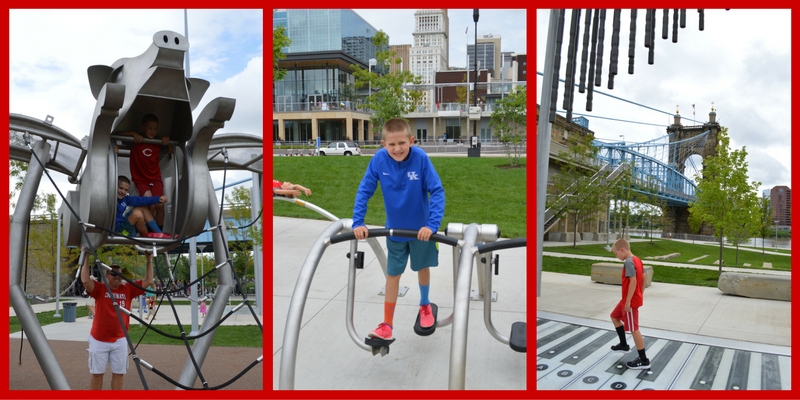 Be prepared to get wet or lay down the rules before you go because there are lots of places for some water fun.  There are splash pad areas, a shallow stream with rocks to climb on, and an interactive pumping and water flow area.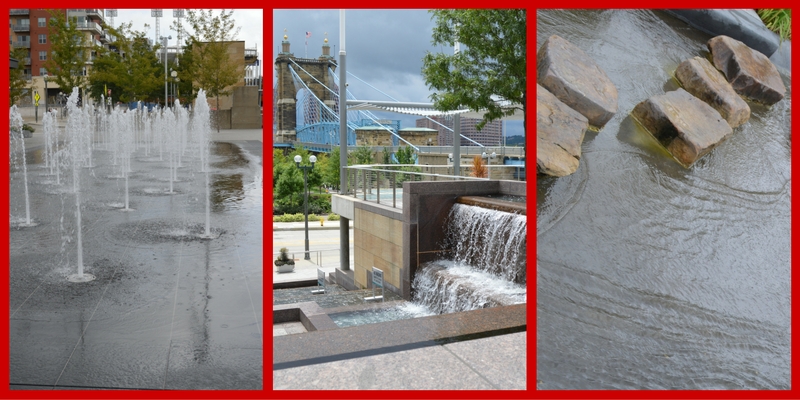 Another fun part of the riverfront is Carol Ann's Carousel.  My kids enjoyed riding even at 8 and 10 years old.  One ride is $2 but you can buy multiple tokens for a discount.
Carousel Operating Hours & Seasonal Dates:
January 2nd to Before the Red's Opening Day
11am – 4pm (closed Mondays, Tuesdays & Wednesdays)
*The last token is sold at 3:45 pm and the last ride is at 3:50 pm.
** Closed January 29th – February 8th for Yearly Maintenance**
Reds Opening Day to Labor Day
11am – 7pm (closed Monday)
*The last token is sold at 6:45pm and the last ride is at 6:50pm.
Day after Labor Day to December 31st
11am – 4pm (closed Mondays & Tuesdays)
*The last token is sold at 3:45pm and the last ride is at 3:50pm.
Cost of Tokens:
1 ride = $2.00 per person
6 rides = $10.00
13 rides = $20.00
50 rides = $75.00
100 rides = $150.00
*Please note: Children less than 42" tall must be accompanied by an adult. The adult accompanying the child under 42" tall is free.
*Tokens are non-refundable and never expire.
---
There are lots of great photo opportunities along the riverfront.  There are awesome giant swings to try as you enjoy a perfect riverfront view.  Enjoy your next trip to Cincinnati with a stop at Smale!
Tips!!
Parking – There are a few parking structures in downtown Cincinnati as well as some street parking.  Be sure to check the hours of the meters because they are not the same as downtown Lexington as far as days and hours that they are monitored.
Snacks – Pack some snacks because it is easy to enjoy hours down at the Riverfront.  There aren't restaurants down that close to the river but there are some in the downtown area.  You can also walk across the Roebling bridge and enjoy a meal in Covington, KY.  There's a great local spot called The Gruff just over the bridge that has delicious pizzas, salads, and more.  Plus the other side of the river features a beautiful mural along the riverfront that also has a bunch of Pokestops 🙂
Shoes and Clothes – Bring a change of clothes and shoes as well as water shoes to really take advantage of everything at Smale!
The Smale Riverfront website has a great video of the features at Smale!

For more Cincy fun check out all our reviews!