Monkey Joe's is a local indoor fun spot.  With loads of inflatables (slides, obstacle course, house, etc) and a small arcade it's a great spot for kids to have some fun or for your next birthday party or get together!

Our Lex Fun writer, Katie, recently took her kiddos and has a review and tips to help you plan your next visit!
On really hot, really rainy, or really cold days, I like to snuggle up on the couch in the basement and read a good book, flip through a magazine, or call an old friend to catch up. My kids? Not so much! Thank goodness for places like Monkey Joe's!
On those days when running off energy outside isn't an option, we often head to Monkey Joe's or as I like to call it "Guaranteed Lights Out by 7:00pm." It's a great place to stay indoors and let the kids burn off some serious energy.
Monkey Joe's is located in Hamburg at 1850 Bryant Rd Ste 120. They are open from 10 am-8 pm, Monday through Thursday, 10 am-8:30 pm on Fridays and Saturdays, and 11 am-6 pm on Sundays. Admission is $8-$9 depending on the day of the week, and kids under two can play for $5.00. Your admission allows you to play for as long as you like, but re-entry is not permitted after you leave.
When you arrive, you and your children will be given bracelets with an identifying number. As you leave, the staff checks to make sure that the numbers on your bracelets match. There are cubbies near the entrance where children can leave their shoes. They must have socks to jump. The concession stand is at the front near the ticket desk. Monkey Joe's does not allow outside food and drink. We usually bring sippy cups with water and that has never been a problem.  There is a water fountain there for refills.
The play area has many large inflatables. Some are just for jumping. Others have huge slides, and climbing areas. The obstacle course is my kids' favorite. Most of the inflatables have net windows on the sides allowing parents to peek in and see their children. However, adults are not allowed to bounce.  They have Monkey Joe's staff stationed at a few points around the facility to remind visitors of the rules and to watch over children playing.
The arcade area is filled with games and activities. These games are not included in your entry price.  You may want to set some guidelines with your kids before you go about how much money they will have for games.
The toddler area is located in the back of the building. For children under the age of four, the inflatable is much smaller and manageable for little bodies. There is a large play area with plenty of things to climb, run through, and interact with. When I had a newborn, I'd pay $5 for my almost two year old and we'd stay for hours of fun.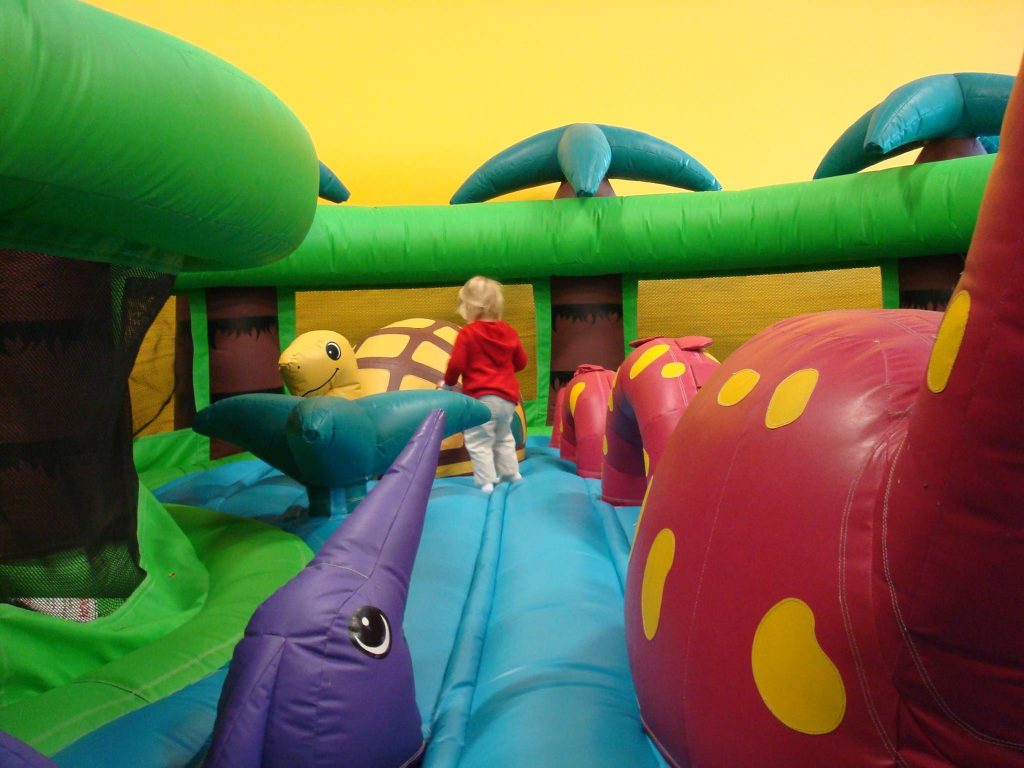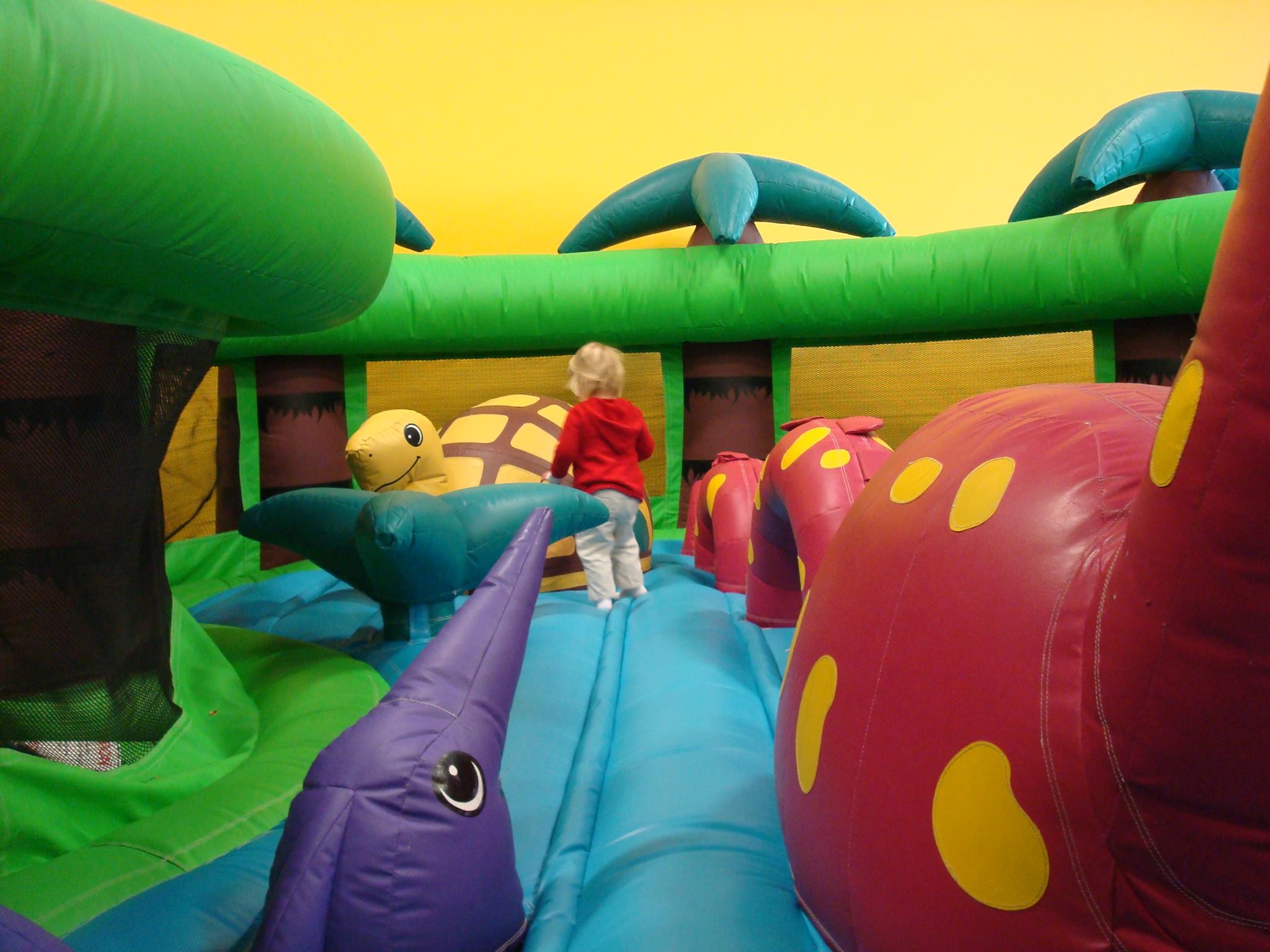 The website reports that the inflatables are treated periodically with SWAT germicidal shock treatment which kills 99.9% of germs. While Monkey Joe's always appears to be very clean and well kept, I come armed with hand sanitizer each time. It's a kids' play place. There's bound to be germs.
Monkey Joe himself often makes an appearance every few hours. He's a large purple monkey and depending on your child, he'll either be irresistible or completely terrifying. My children find him to be terrifying. When we enter, I ask what time he'll be out so that I can be on the lookout, and we avoid him if at all possible.
When you have a Monkey Joe's birthday party there is a separate party room for your guests.  You can find out more about party options HERE.
Important Tips
1. Socks are required for jumping.
2. Bring a sippy cup of water and hand sanitizer.
3. Weekday mornings are the best time to go (especially for younger children).
4. If your child is scared of costumed characters, ask about Monkey Joe's appearance schedule.
5. Outside food is not permitted. Have a snack before you go.
6. If you are taking more than one child and they are younger, I suggest taking more than one adult if possible. They often want to bounce on different inflatables and because of the layout, it's difficult to keep a close eye on everyone.
Review posted on 8/29/16 – Pricing and hours may change at any time.