Each year, the YMCA of Central Kentucky, in partnership with Fayette County Public Schools, sponsors and community partners, hosts the annual neighborhood Back to School Rallies.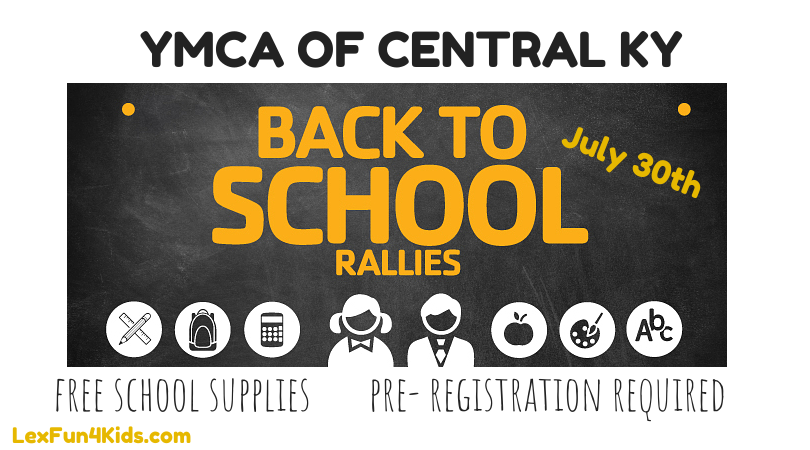 The rallies provide elementary, middle and high school students with free full-size backpacks and school supplies. Each site distributes supplies for all grade levels. The Back to School Rallies is an initiative of the Y, which has served as the central coordinator of this event since 2011. Since that time, more than 47,000 backpacks have been given out to children in Central Kentucky communities.
July 30, 2022 
9:30 am – 12:30 pm

Watch for sign up information soon!
---
LOCATIONS
Coventry Oak Elementary
2441 Huntly Place
Lexington, KY 40511

Douglas Park
726 Georgetown Street
Lexington, KY 40508
Gainesway Community Center
3460 Campus Way
Lexington, KY 40517
Green Acres Park
1560 LaSalle Road
Lexington, KY 40511
Radcliffe – Marlboro Park
1870 Benton Road
Lexington, KY 40505
Russell Cave Church of Christ
1841 McCullough Drive
Lexington, KY 40511
Shiloh Baptist Church
237 E. Fifth Street
Lexington, KY 40508
Total Grace Baptist Church
1313 N. Limestone
Lexington, KY 40505
Valley Park
2077 Cambridge Drive
Lexington, KY 40504
Valvoline
3475 Blazer Parkway
Lexington, KY 40509
Church of Nazarene
1605 Jennifer Road
Lexington, KY 40505