The annual Child Development Center of the Bluegrass Touch-A-Truck is a very special annual community-wide event that offers a unique opportunity for all ages to touch and explore construction vehicles, emergency vehicles and service vehicles of all sizes from organizations around the region.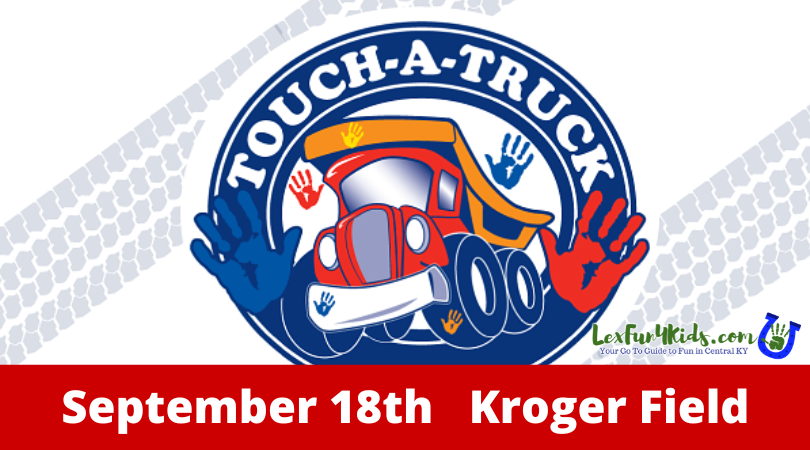 This year's event will be held September 18, 2022 at the Kroger Field Blue Lot located on the campus of the University of Kentucky and just across the street from the Child Development Center of the Bluegrass.
Time: 1:00-5:00 pm (1:00-2:00 pm "Quiet Hour" for those with sensory disorders with General Admission opening at 2:00 pm)
Location: Kroger Field Blue Lot- 1540 University Drive, Lexington KY 40506
2022 General admission ticket (1 per vehicle)
$20 admission ticket per vehicle (Watch for 2022 Price)
Purchase your tickets online HERE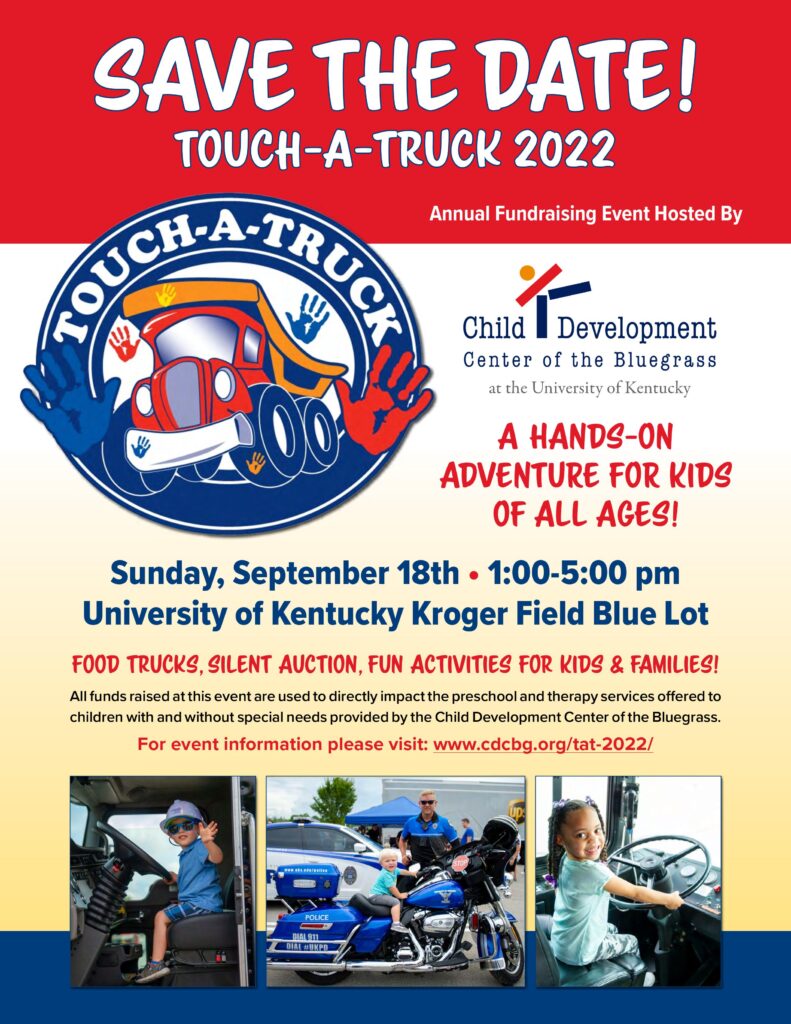 Event Date: Sunday, September 18th, 2022
Activities for children and their families, food trucks, silent action
All funds raised at this event are used to directly impact preschool and therapy services offered to children with and without special needs.
Vehicles: Attendees will have the unique opportunity to explore a wide variety of vehicles at this year's event and we appreciate the following organizations for sharing their time and expertise with attendees
-Bluegrass Tours: Tour Bus
–Columbia Gas: 2 Dump trucks and trailer, 2 Backhoes & 2 Small Excavators
–Hillenmeyer Landscape Services: Isuzu Service Truck
–Kitchen Concepts: Box Truck
–LG&E and KU: Bucket Truck
–Lexington Fire Department: Fire Truck
–Lexington Police Department: Police SUV
–Lextran: Passenger Bus
–Paschall Truck Lines: Semi Truck
–Rumpke Waste & Recycling: Commercial Garbage Truck
–Smash my Trash: 2 Smash Trucks
–UPS:Tractor & Double Trailers, Tractor & Single Trailer, Package delivery truck
–University of Kentucky Police Department: Motorcycle, cruiser & bike
–University of Kentucky Solar Car Team: Solar Car
–Valvoline: Baja Truck & Off Road Vehicle
–Wilhite Limited: Crane