Lexington Children's Theatre  Announces
WHAT:           By Sara Turner and Jeremy Kisling. Adapted from the graphic novels by Sara Turner.
WHEN:          Saturday, October 20 – 2:00 & 7:00pm
Sunday, October 21 – 2:00pm (4:30pm tentative performance)
TICKETS:      $15 General Admission
A Learning Stage Series Production
Chopper Sweeney never really believed in ghosts…until one started believing in him. Chopper and his friends, Hank and Glory, set off to solve the case of Simon Stillwater, but what starts as a small town adventure quickly turns into a standoff with the supernatural. Adapted by LCT's Jeremy Kisling and author of the graphic novels and co-founder of Cricket Press Sara Turner, this locally grown ghost story will have all of Pineville on pins and needles.
Best enjoyed by ages 7 and up
Best enjoyed by 2nd grade and up
Performed on the LCT Learning Stage
You'll like this play if you like stories about: friendship, local authors, mysteries, spooky stories
Approximately 1 hour long.
More Info About the Show!
"Surely, surely, they're not serious," thought Sara Turner, the co-founder of Cricket Press and the author and illustrator of The Ghosts of Pineville graphic novel series, when Lexington Children's Theatre contacted her about adapting her books for the stage.
"Then we met, and LCT liked all the things that I liked about the books and I knew it was in good hands," says Turner about the collaborative partnership between her and Jeremy Kisling, LCT's Associate Artistic Director in Charge of Education. "I had no idea how this process would be! It's exciting that it's a collaboration because on one level, being an illustrator, you don't have to rely on anyone else, but here you work with so many people who are experts to create something amazing!" says Turner.
Although Turner is new to the realm of theatre, she is no stranger to storytelling. The Ghosts of Pineville was inspired by her own life. "It is loosely based on my dad who grew up in Eastern Kentucky; he grew up with three sisters and his dad had passed away, and I wrote a story back in high school loosely about him, and then later I got into writing ghost stories," says Turner. "When I was looking for a new comic to illustrate I came up with the idea for my character, Chopper, becoming obsessed with the idea of ghosts existing, because of his father passing away."
"Sara's story is really strong. It was fun to adapt it and bring these characters off the page to make them three dimensional," says Kisling. "What I really like about this story is the blending of comedy, realistic characters, and real life universal issues such as dealing with loss and realizing that those you have lost are still with you and those around you are supporting you," says Kisling. "I like all the characters in the show because I feel like they are honest and genuine."
And these characters are more than just your typical group of misfit adolescents. "The initial trio of characters is very relatable!" says Esther Neel, LCT's Directing Associate and The Ghosts of Pineville.  'There is something in each character that I can point out and say, Hey! I get you and I fully understand where you are coming from,'" Kisling adds "This is not a Scooby Doo story; the depth of these individuals and the complexity of their lives reflects a lot of the complexity of our young people's lives today. That is exciting to me because it's not just a ghost story – it has a lot of heart that has to be explored,"
"I was asked about what show I was most excited about for our 80th season and I said The Ghosts of Pineville!" says Neel. "I wanted to help tell this story and bring it to life on stage for the first time. One of the things I enjoy about doing theatre is the breath behind the story."
"This is LCT's 80th season and one of the things we wanted to do was partner with local KY playwrights and authors and bring that to the 80th season. So the fact that we have the opportunity to work with Sara is exciting," says Kisling.
Prepared to be THRILLED by the exciting new collaboration created right here in Lexington! Get your tickets for The Ghosts of Pineville October 20th and 21st at 2:00 and 7:00pm.  For tickets, please visit www.lctonstage.org or call the Box Office at 859-254-4546 ext. 247
Review
My son and I love reading graphic novels together! It's been such a perfect way to encourage him to read. So when the opportunity to see this play came up we jumped at the chance!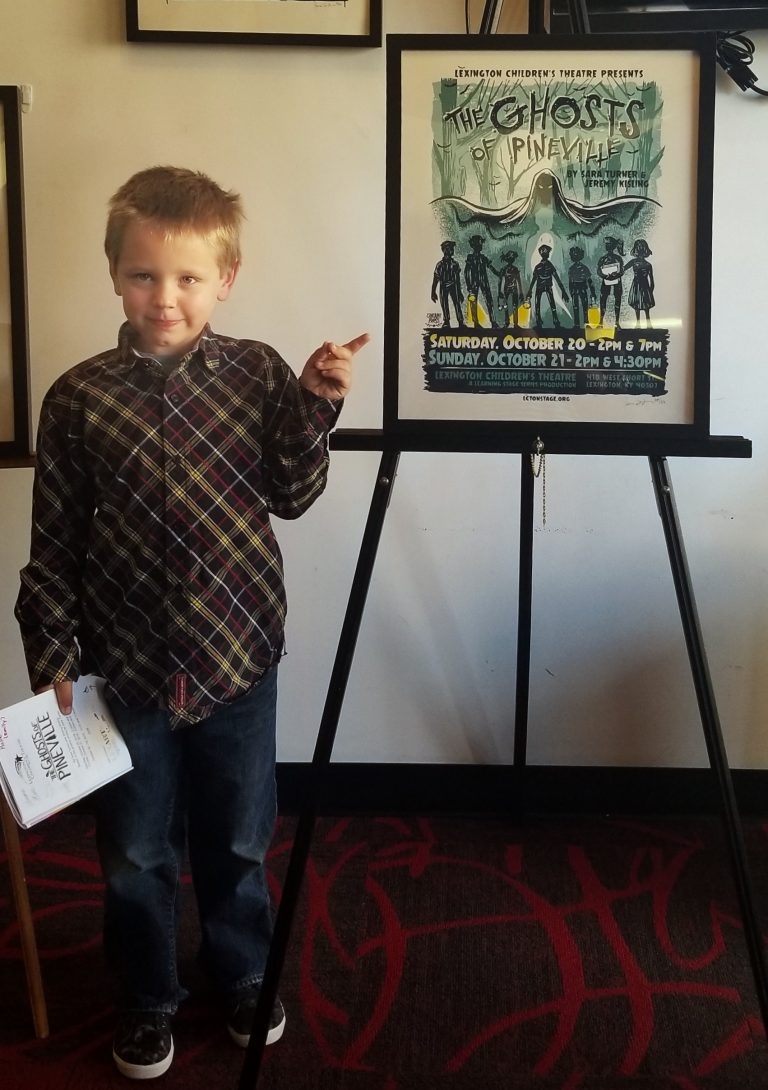 The play starts out cleverly naming their sponsors, reminding you to not eat or drink and to turn your phones down! It then continues with the kids sitting around a campfire telling ghost stories about the disappearance of Simon Stillwater (Donovan Stone). They do an excellent job walking the line between a little scary and too scary. The young ghosts Simon Stillwater (Stone) and Emily Van Warren (Katie Bowden) are both sweet as they play together and eerily creepy.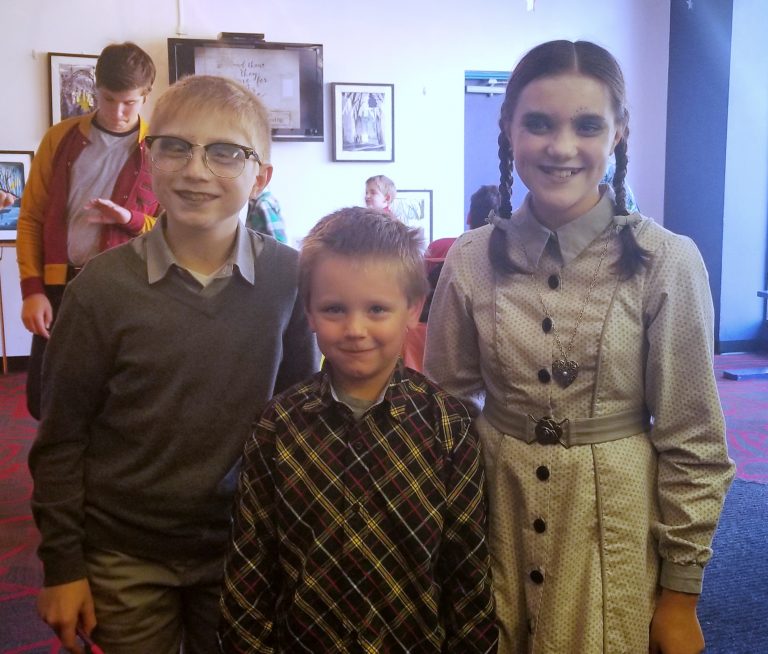 It continues with Chopper Sweeny (J.T. Baniak), Hank Goode (Jayden Young) and Glory Roberts (Afton Skeeters) organizing to solve the mystery of Simon Stillwater's disappearance. Through a series of events, the characters find themselves taken over by ghosts and facing bullies in the woods. The actors discuss the loss of parents, facing fears and working together in ways that send great messages to kids. The play ends with an almost too scary monster and ghosts facing off with the kids but do not worry as good does prevail!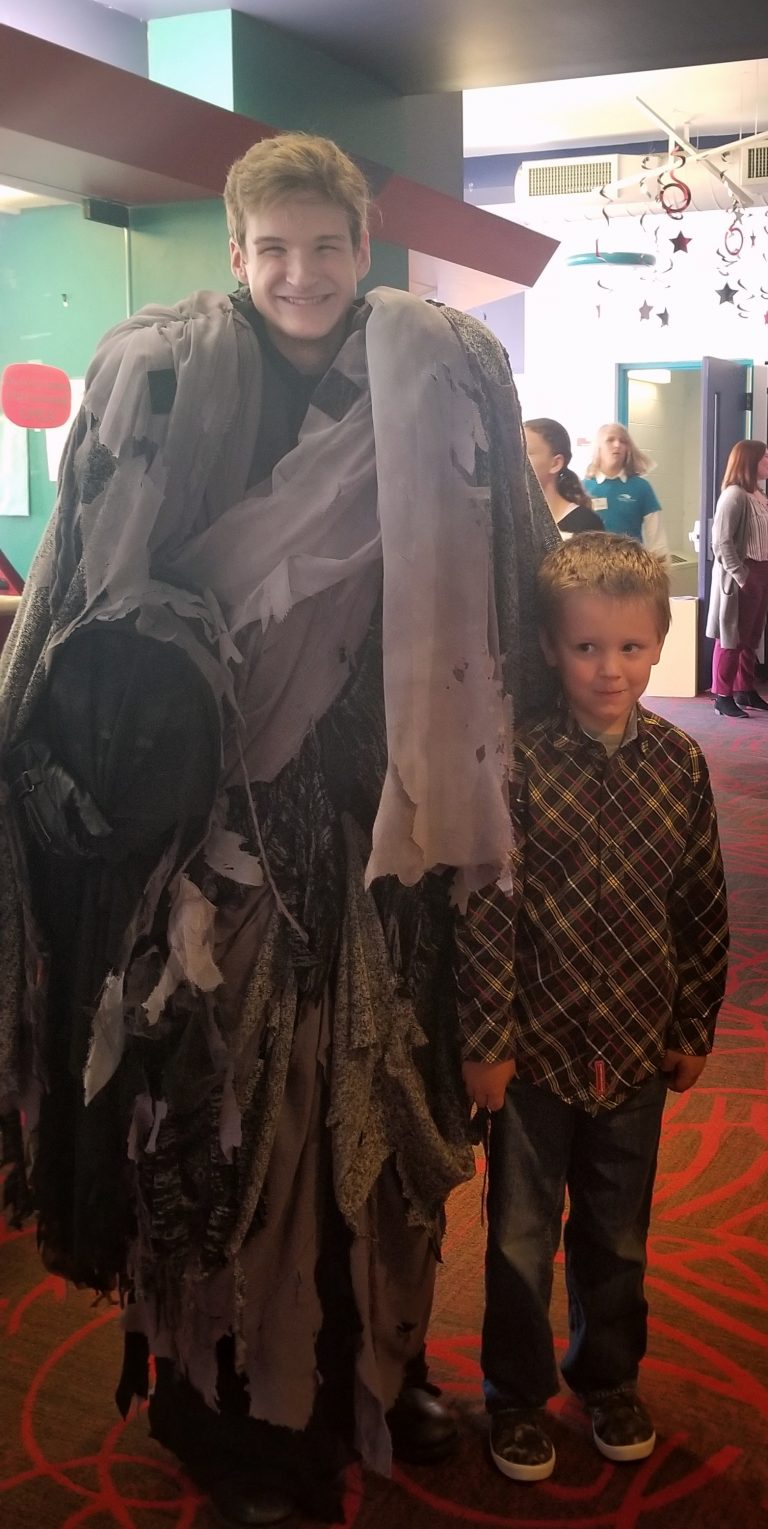 The recommended age for this play is ages 7 and up and I would suggest following these guidelines. My son (who is 6.5 and in 1st grade) loved the play, and only jumped a few times but I think my younger daughter would have been overwhelmed and scared.  When I asked him later what his favorite part of the part of the play he said 'the whole thing but I really liked that tall ghost!".
If you are looking for a ghost story with just the right amount of scary this is a perfect choice!! It is such a fun play for this time of year! We laughed and jumped and even hid when the ghosts came out and found that the 45 minutes went by too quickly! We can't wait to read the graphic novels!
Some tips before going:
-There are a lot of events downtown this time of year so be sure to leave plenty of time for travel and to find parking!
-This play is 45 minutes long making it a perfect fun date with your kiddo
-Don't forget your pen! Getting autographs after is half the fun!