Shaker Village of Pleasant Hill, Kentucky's largest historic landmark, today announced that it will reopen with limited capacity beginning Monday, June 15, 2020.
In accordance with Governor Beshear's reopening guidelines and recommendations issued by the Center for Disease Control, the Village will begin operating at controlled attendance levels.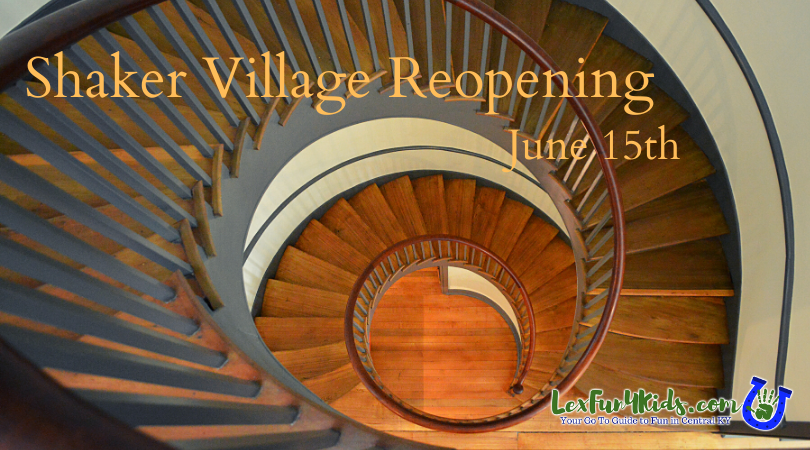 Shaker Village is implementing extensive new safety measures and hygiene protocols to protect guests and employees.

"We are so excited to welcome guests back to Shaker Village as we introduce new safety procedures for everyone's protection. The health and safety of our guests and employees remains our No. 1 priority," said President and CEO Maynard Crossland.  "Shaker Village poses a significantly lower risk of exposure due to the fact that we have 3,000 acres of wide-open spaces for guests to explore while maintaining a safe distance from one another. Guests move throughout their Shaker Village experience; some are hiking, some are eating in and outside of our restaurant, while others are browsing in our shops, exploring historic buildings or meeting farm animals," Crossland continued. "We have developed a comprehensive reopening safety plan that includes best practices from park and museum
industry experts, along with county and state health department guidelines, which will allow guests to experience our site in the safest way possible. This 'new normal' will be different, but we believe these additional measures are imperative in the current environment and will not detract from our guests enjoying their visit." 
Shaker Village will be operating under state and local guidelines for crowd capacity limits. The Village has established attendance caps for each area of the site that will be below the Village's theoretical capacity in order to allow for proper social distancing. Upon entry into Shaker Village you will now check in with a staff member at the front entrance. The staff attendant will track which area of the Village you are planning to visit. Front entrance staff will also be collecting admission fees depending on which part of the Village you plan to utilize.
Front Entrance Check-In – We're changing up how you pay for access to the Village in order to help control capacity.
Beginning on June 15th, at the front entrance, there will be a suggested $10 donation fee per carload to hike the trails or walk the property. As a private non-profit organization, we rely on donations and visitor fees to provide all of our services. Donations of any amount will help us to be sustainable as we move forward.
Equestrians who use the riding trails will now pay their usual fee of $10 per person at the front entrance instead of at the stables.
Annual Village and Equestrian Passholders will not be charged to use the property, but they will need to present their pass for entry.
For those looking to visit the Historic Centre or stay overnight, admission fees and check-in will still be completed at the Welcome Center.
Trustees' Table restaurant diners will not be charged property admission.
Professional photographers will be charged a $25 entry fee if they are coming onsite to shoot with a client. An Annual Photography Pass is now available for purchase for $250. Note: This fee does not apply to hobbyist photographers.
"We're implementing the suggested $10 per carload donation fee because we are a small non- profit organization who, like so many others, have been effected by the pandemic," said Crossland. We rely on donations and visitors, and we need the public's help to be sustainable as we move forward in this new environment."
Guests visiting Shaker Village can expect to see enhanced safety protocols upon entering the site.A comprehensive list of all safety protocols can be found online at shakervillageky.org. These significant new changes are designed to improve the overall experience while keeping guests and employees safe.

Shaker Village of Pleasant Hill in Harrodsburg, Ky. is located just 40 minutes away from Lexington, and 80 minutes outside of Louisville. To plan your visit, or to learn more, visit shakervillageky.org or call 859.734.5411.
For the Lex Fun 4 Kids review of Shaker Village click HERE