Fancy Nancy is in our fabulous city sharing her extraordinary talents on the stage at the Lexington Children's Theatre!  
Shows are Saturday, October 1st at 2 pm and 7 pm and Sunday, October 2nd at 7 pm.
Lex Fun writer, Katie, enjoyed the Sold Out show this Sunday and has a great review!  This show will be great for all ages!  She said even a man behind her was laughing so hard he was crying!!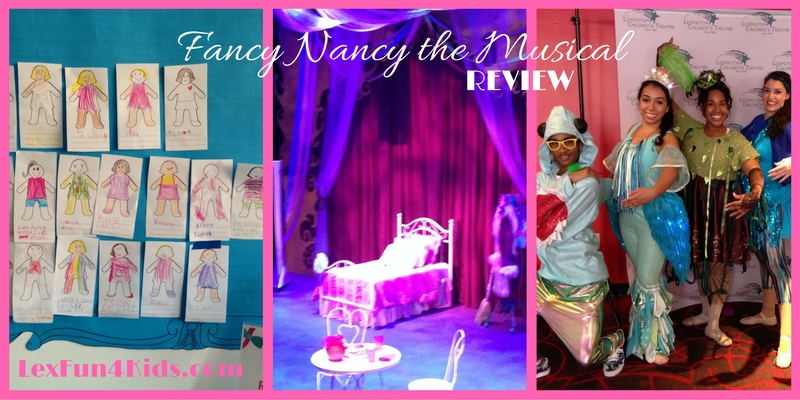 Review
Hilarious! That's fancy for "so funny!"
Adorable! That's fancy for "really cute!"
And captivating! That's fancy for "totally entertaining!"
The Lexington Children's Theatre presented "Fancy Nancy the Musical" this weekend. I took my three-year-old son and my five-year-old daughter, and we all absolutely loved the show! The musical is based on a best-selling book series by Jane O'Connor. For more than ten years, Fancy Nancy has won the hearts of readers and helped parents and teachers grow children's vocabulary and their love of reading. Nancy is a darling little girl who likes all things fancy, especially words. She loves French words and really big words that make life a little fancier. (Check out books and Fancy Nancy activities here https://www.fancynancyworld.com/)
This particular musical is based on the book "Fancy Nancy and the Mermaid Ballet" (https://www.amazon.com/Fancy-Nancy-Mermaid-Ballet-OConnor/dp/0061703818). Nancy and her friends, Bree, Lionel, Wanda, and Rhonda are cast in a school ballet. Bree and Nancy are hoping to be the mermaid, but a new girl, Savannah, gets the part. When catastrophe strikes, someone must step up.
The cast of five are nothing short of brilliant performers. Their beautiful voices, comedic timing, and spot-on portrayals of beloved characters leave the audience wishing the show would go on and on. When the house lights went up at the end of the one hour show, both of my children were hoping it was just time for intermission. I could not pick a favorite character. The talent on that small stage was remarkable.
The set and costumes for the show are adorable. Be on the lookout for hammerhead sharks (my son's favorite) and a seahorse that my daughter loved. Nancy is, of course, very fancy in all of her costumes and her bedroom is a fancy little girl's dream room.
This musical isn't just enjoyable for children, the adults in the audience were in stitches! I laughed so hard during the song about a cat and a bike, I had tears in my eyes. When Lionel almost steals the show with his shark rap, a grown man behind me was laughing so hard, I heard him say, "I'm crying! I'm seriously crying!"
If you plan on attending the show, and I sincerely hope you will, arrive a little early. There is a scavenger hunt in the lobby. Children can dress up in fancy clothes for a photo shoot, roll fancy dice and pretend to be sea creatures, or draw a picture for the response wall. The lobby is labeled with fancy French words and children have to match the English word to the French word on their scavenger hunt paper. When the children finish, they can get a small prize. Many of the children in attendance wore fancy outfits complete with feathered boas and sparkling shoes. As Lionel says near the end of the play, "Being fancy isn't just for girls," and he's right. My son loved the show just as much as my daughter. After the show, the performers remain in the lobby to greet their fans, take pictures, and sign autographs. They are charming, and the children feel like they've really met Fancy Nancy and her friends.
If you have a chance to head down to the Lexington Children's Theatre on October 1st or 2nd, you'll enjoy a fantastic show by talented performers that will make you laugh and leave you with a sweet message about being happy for others when good things come their way. C'est magnifique! That's fancy for "You don't want to miss this one!"
Important Tips
• Doors open thirty minutes before the show. Arrive early to participate in the scavenger hunt.
• There is not a bad seat in the house. If you need handicap seating, just let the box office know. There are plenty of seats reserved, but most of the seats require climbing stairs.
• The theatre is VERY cold. Bring a sweater for you and your children and consider wearing pants.
• If your child needs a restroom during the show, you can exit to the top of the stairs and return during the show. After all, it's a children's theatre. They understand!
• The show last about an hour.
• Merchandise is available in the lobby as you enter. It's a small booth and is easily avoidable if you aren't interested. However, the prices aren't outrageous if you feel like treating your little one to a memento.
• For a preview of the songs check out the musical's website
http://fancy-nancy-the-musical.com
-Katie, Lex Fun Writer