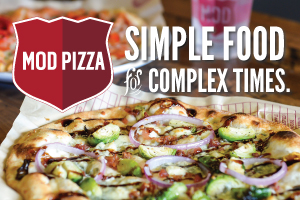 MOD Pizza offers artisan pizzas (and just plain cheese for those wanting something simple), salads, milkshakes, and a few other yummy sides.  They have two locations in Lexington.
MOD Hamburg is located on the corner of Winchester Road and Sir Barton Way just next to Cane's.  There is a great patio out front and plenty of parking.  MOD Tates Creek Centre is located in Tates Creek Centre between Fan Outfitters and Rite Aid.
When you enter MOD you're greeted with a big HELLO from the staff.  They are energetic and excited about their menu so be sure to ask for their recommendation if you want some tips on what to order.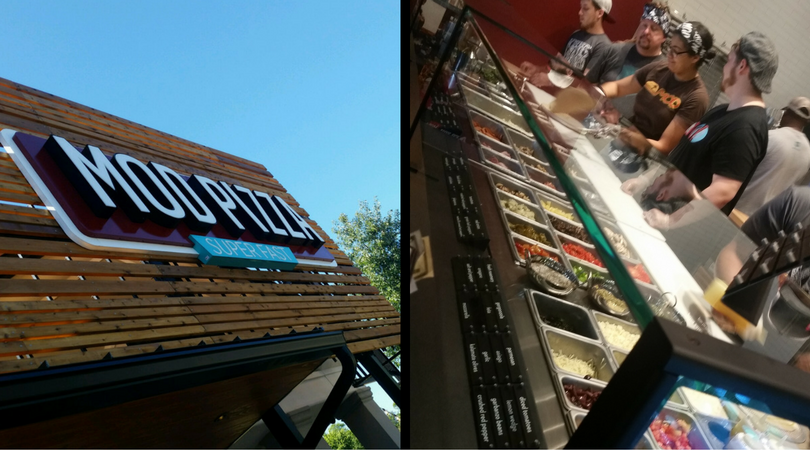 The menu features their Classic creations with special topping combos but they also have a make your own option.  You can add as many or as few toppings as you'd like for one price.  Just $7.77 gets you an 11 inch pizza cooked right when you order in just minutes.  They also have a 6 inch option for $4.77 and a double 11 inch for $10.77.  Their simple 11 inch cheese, The Maddy, is just $6.77.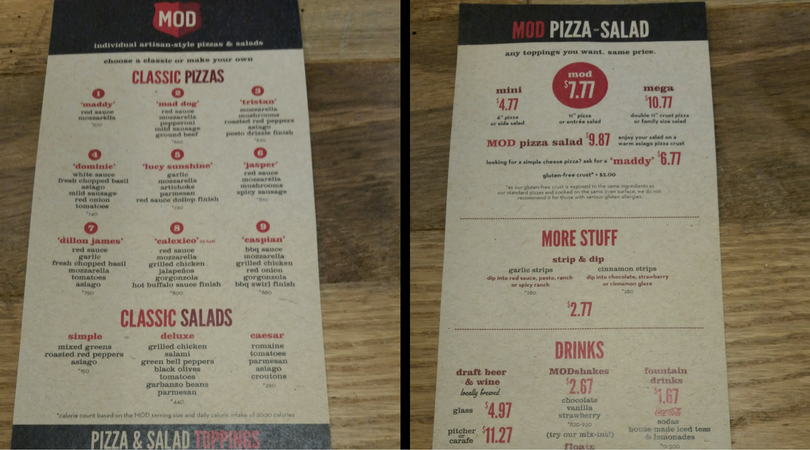 When you walk in you can look over the menu and decide which Classic pizza you'd like or your make your own (pick your sauce, cheese, toppings – there are lots of meats and veggies to choose from, and a finish on top).  When you're ready head to the counter and they'll make your pizza much like you do at a Subway.  They'll cook it while you pay and grab your drink.  I love a thin crust and loads of veggies and MOD was awesome!  Since you can design your own, I loaded up with tomatoes, green peppers, roasted red peppers, sausage, garlic, mushrooms and a yummy balsamic drizzle.  The pizza is cooked in an 800 degree oven in just three minutes.   Listen for your name and you can head up to the pick up counter and grab your super hot pizza.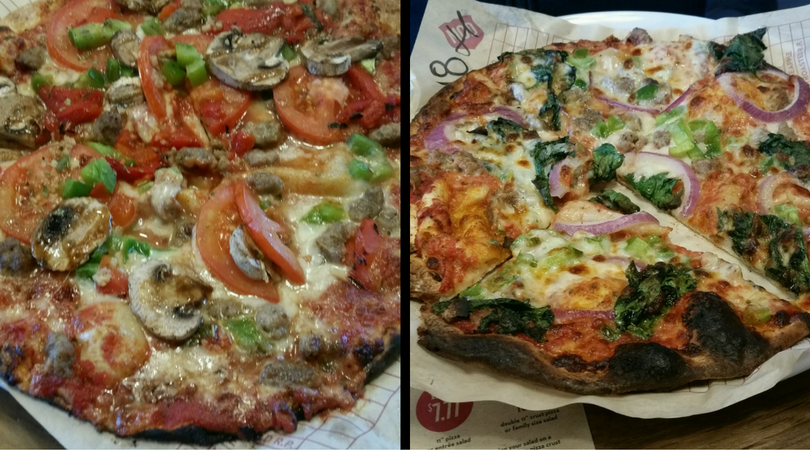 It's great for a family since there's no deciding what pizza to share, half this and half that, or just getting cheese so everyone is happy.  The kids get excited to be the boss and make their own.  Maybe they'll even see something they want to try that's new!  It's always fun to make your own and have your own special pizza!
MOD isn't just pizza!  They have BIG salads that also looked delicious.  You can choose one from the menu or create your own with romaine or mixed greens just like you do for the pizzas.  They have great choices for dressings and just like the pizza it's just $7.77!
I tried the cinnamon sticks for dessert and the staff recommended the made in-house cinnamon glaze.  It's a 6 inch dough cooked with a cinnamon topping and served with a cup of glaze (strawberry, chocolate, or cinnamon) and it's totally awesome!  It's just $2.77 and I'll have to go back and try the strawberry and chocolate next time.  They have great looking milkshakes that we heard were super yummy.  You can also choose mix ins for your milkshake like cookie dough, OREO cookies, and sea salt toffee.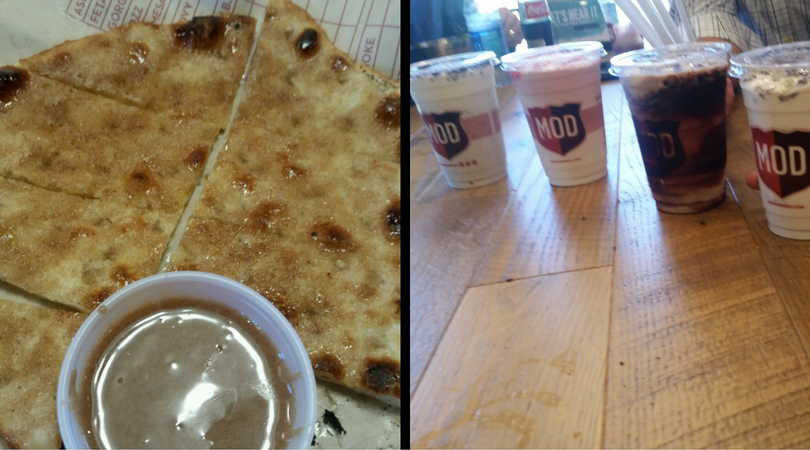 The drink choices were Coke products but they had fresh brewed tea, wine, beer, and some awesome lemonade!  The blackberry lemonade is all natural and made with a fruit puree.  It was very yummy!!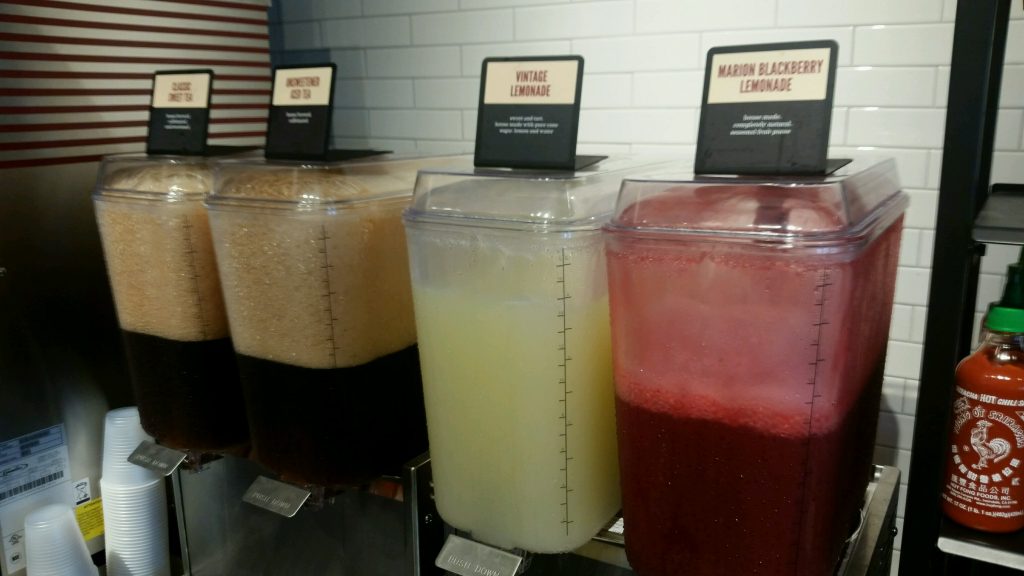 It's a great new addition to the Lexington pizza scene!  My kids and husband love it as well!
Sauce

MOD red sauce
MOD white sauce
pesto
BBQ sauce
garlic rub

Cheese

mozzarella
parmesan
gorgonzola
asiago
feta
dairy-free cheese

Meat

pepperoni
italian sausage (mild or spicy)
bacon
ground beef
grilled chicken
salami
canadian bacon
anchovies

Veggies & good stuff

green bell peppers
spinach
artichokes
Mama Lil's peppers
tomatoes
roasted red peppers
jalapenos
pineapples
red onion
mushrooms
black olives
sun-dried tomatoes
arugula
cilantro
seasonal roasted vegetables
croutons
roasted garlic
rosemary
chopped basil

Finish it

BBQ swirl
pesto drizzle
hot buffalo sauce
red sauce dollops
ranch
balsamic fig glaze
sri-rancha
Got a question about nutritional facts or allergens? Please check out the link below. Detailed information is also available in all of our locations. If you have any questions, just ask your local MOD Squad!
Nutritional Facts & Allergen Information
Our dough is made with wheat-based pizza flour, water and seasonings and contains no dairy or sugar.
Our signature red sauce, made fresh daily, is made with two varieties of tomatoes, fresh basil, garlic, herbs and spices
We use approx. 2oz of shredded, whole milk mozzarella on all of our signature pizzas.
Our pesto does not contain nuts. Ingredients include basil, canola oil, parmesan, milk, water, garlic and salt.
The amount of cheese and other toppings used varies based on customer preference (as we make your pizzas on demand).
We offer a gluten-free crust but pizzas are all cooked and made on the same surface – due to the risk of cross contamination, MOD DOES NOT RECOMMEND this pizza to those with celiac disease or other gluten allergies.