Are you looking for a place for childcare or day camps for your child to attend during NTI 2DL classes? Lex Fun 4 Kids has a growing list of available options for childcare and educational help as well.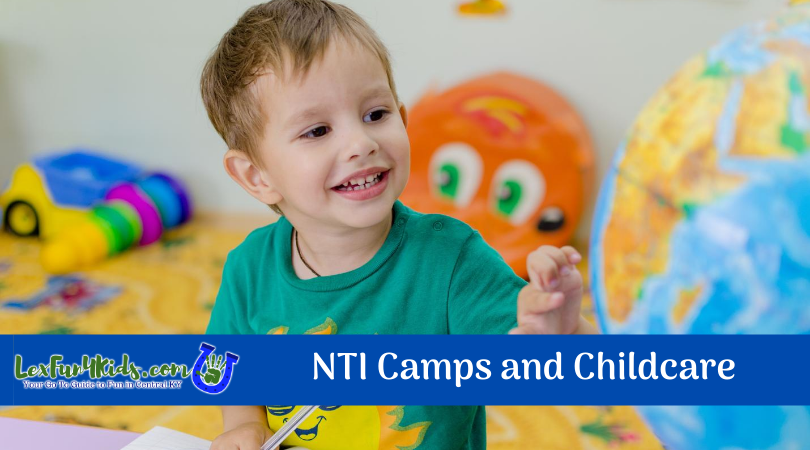 August 31-September 25
Children will do their NTI work during the school day and then have Explorium fun after! There will be staff to help them log on, trouble shoot technology, assist with work, and lead fun activities after school. Space is available for 20 children.
Camp will be extended beyond September 25 if NTI is extended.
Children must bring their own devices, headphones, books, notebooks, project supplies, snacks, drink, and lunch.
Children will be seated 6 feet apart and there is a limit of 10 per room. Masks are required in the common areas.
We are asking families to commit to all 4 weeks so we are not rotating children in and out of camp. Payments may be made weekly.
For more information on NTI Camp, click here.
To register CLICK HERE (Select Events at the top of the registration screen)
Your children will have a safe and structured routine with supervision during zoom and google classroom sessions. In addition, we will provide daily lunch and snacks, hands-on cooking classes, physical education and meditation to teach students healthy mental habits and awareness, and most of all we will provide a fun and nurturing environment with safe social distancing practices.
All employees are CPR certified, proper background checks are performed, and COVID screening & negative tests are required.
Prior to daily entry, each child will have a temperature check and receive a routine Covid screening. We encourage all families to provide a recent negative Covid test prior to the start.
Hours for the learning center are 8:30am-3:00pm daily and aftercare until 5pm is available for an additional $30 per day. AgeA range is from 8 and up.
Rates:
Single day: $75
Two days/ week: $145
Three days/ week: $210
Weekly: $350
Monthly: $1300
Availability is limited and our group size is limited to 15 children or less per day. Our facility is over 2000 square feet in an open studio with work stations and proper social distancing of 6ft or more is enforced. Monthly packages receive priority, availability is on a first come first serve basis.
Sibling discount: 10% of standard rate
UK employee discount: 5% of standard rate
Medical professionals/essential workers: 5% of standard rate
The facility and instructors you trust are ready to welcome your child to our new virtual learning camp! This will give parents the option to have their children attend their virtual classes in an environment they can trust when schooling from home isn't an option. We have been following even more strict sanitization protocols upon re-opening after quarantine. From temperature screenings to routine cleaning, social distancing and face masks we will strive to continue to put the safety of your child first.

Legacy Learning Camp is available on a daily and weekly basis beginning Wednesday, August 26th. We are tentatively scheduled through the end of October, however, due to the nature of ever-changing procedures we are prepared to expand our schedule!

Legacy Learning Camp Pricing:
Welcome to Legacy Learning Camp! We have added online registration to simplify the enrollment process. Please let us know if you have any further questions!
FULL DAY
(Ages 5-12) 7:45am­‐4:30pm $225/week or $50/day
Holiday weeks are prorated and built into our calendar!
baseEDU provides a separate space for students to participate in their school's daily virtual classes. A facilitator is provided in the baseEDU space to assist students with subject matter and technical needs.
baseEDU is a member benefit, so parents need to become Base110 members and be on site. Parents are involved with their kids during school scheduled breaks, lunches, and as they see fit for specific class interaction.
Students are spaced at least 6 feet apart and we have a limit of 10 students per area. We are following the Fayette County Public School guidelines for masks.
Students will need to bring their own device, headphones, and lunch.
Rates for baseEDU:
Full time: $200 per week per child
Part time: $140 a week per child
The upcoming school year will look and feel different, but one thing remains constant, the YMCA of Central Kentucky will continue to be focused on serving our community, especially when it comes to nurturing the potential of every child. We recognize the importance of quality, safe child care when traditional school is not in session, and the Y will be here with options that match the new academic calendar.
Our plans at this time for out of school time support for the fall, include:
We will offer full-day licensed care from 7 a.m. – 6 p.m. The cost will be $175 per week and paid one week in advance.
The program will offer enrichment opportunities, educational support, social emotional learning and physical activity. It will also include a summer learning loss prevention program August 31 – September 21.
The program is open to school-age children, ages 5-12 (must be 5-years-old on or before August 1, 2020).
Daily rate may be available upon request but will be based on space and availability (Full day cost is $40 per day; paid in advance).
Ultimate Ninja Athletics presents an alternative schooling solution for this coming school year. We understand the difficulties Covid-19 has presented parents concerning their children's education, and we are here to assist you with providing a safe space as well as proper support to ensure your child has their academic needs met.
We will be converting our facility's celebration room and open floor to supervised learning space for school-aged children complete with social distancing for each learner, with limited spots available beginning Monday August 17th. We are dedicated to ensuring that your child stays on task, completes assignments timely, and receives assistance in completing those tasks from our staff.
We ask that everyone bring their own laptop or request a google chrome book from the FCPS.
We will be staffed with a fully qualified team to best assist each child in their individual needs. This program will begin Monday August 17th. We will be offering both Full time Care and Part Time or Daily care. Children will pack a lunch, snacks, and bring a refillable bottle or disposable bottle of their choosing. Program Hours will be 8:30 AM – 3:00 PM.
A learning center designed to provide guidance and tutoring services for kids ages 7-12 that are enrolled in the upcoming virtual academy for the fall semester.
Begins September 8, 2020
To register CLICK HERE
Registration for our Dist-Dance Learning Lab is now open! Do you need childcare during FCPS NTI days? Drop off your child to us and we will have certified teachers and FCPS certified substitute teachers supervise their morning NTI studies with fun activities planned for the afternoon! All while following the Covid-19 guidelines!
8AM-3PM (Drop-off starts at 7:45)
7:45-8:00 Drop-off
8-11:30 Supervised Study Time (NTI, Zoom, Reading, Etc…)
11:30-12:00 Lunch
12:00-2:45 Free Time! (Additional study time as needed, dance, tumbling, crafts, games, and more!)
2:45-3:00 Pick-up
What to send each day:
-Chromebook or lap top
-Headphones
-Extension cord
-Any additional school supplies needed for their work (books, pencils, paper, etc…) *We will have crayons, scissors, glue, etc..
-Sack lunch (nut-free please)
-Water bottle
Ages: Kindergarten-6th grade
This program will run the length of FCPS NTI (Tentative start date – August 24)
Cost: $150 per week per child ($120 for each additional sibling)
NTI Camp will begin on Aug. 26th. Please call (859) 224-0060 for more details.