If you haven't heard of Miguel's Pizza chances are you may not have been living in KY too long.  Miguel's is a famous stop for hikers and climbers that visit the Red River Gorge area as well as the locals.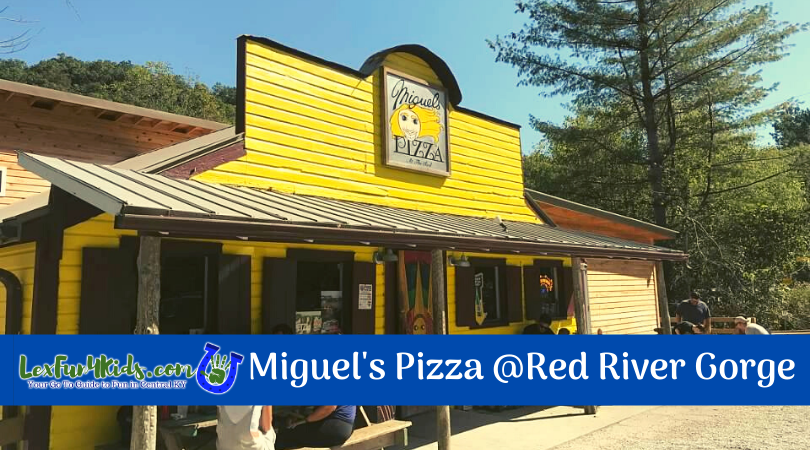 I recently went for the first time and loved getting a chance to see what all the fuss was about.  It's legit!!  My son, husband and I all loved it and can't wait to go back. 
Miguel's got it's start back in 1986 and it's been growing in popularity ever since.
For the first 20 years, they mostly ran the restaurant with the help of their growing children. During this time, the Ventura family befriended the hikers and rock climbers that came to the area, and slowly a campground developed. Known as "The Camp Four of the East," climbers from all over came to set up camp, eat and sport the ever so popular Miguel's Pizza t-shirt.    – MiguelsPizza.com
Their menu is much more than just pizza!  They offer breakfast from 7 am – 11 am with choices like omelettes, french toast, sweet potato pancakes, bagels and more.  Lunch/Dinner is served from 11 am – 9:45 pm.  Their lunch/dinner menu is great with pizza of course but also sandwiches, salads, rice bowls, and pasta!  We ordered pizza and a rice bowl.  I loved that you could just get a couple of slices and we didn't all have to agree on one large pizza!  You can even customize those couple of slices!
They have fresh squeezed OJ for breakfast and fresh made lemonade and margaritas for lunch and dinner.  Get the margarita.  WOW!!!
When you arrive there is a huge gravel parking lot and you may have to search a bit for a spot depending on the time of day you go.  Once you walk up there will be a line – it's worth it!  You'll see small papers and pencils at the door to write your order on.  Grab a paper and start filling out your order.  (See the order form below)
There are tons of choices so you'll have time while you're in line to make the perfect creation.  There are multiple stations to order from and when you order you'll get any drinks you order.  You can then go grab a seat and wait for your food.  There are plenty of outdoor seats as well as some indoor seating.  My son loved playing basketball while we waited!  They have lots of Miguel's attire in their shop you can browse as well.  I always see folks all around Central KY sporting their Miguel's shirts!   
If you have time you can walk the grounds and see all the campers, visit the Gear Shop, or play some volleyball!  There is always a crowd at Miguel's so head down to the Red River Gorge and enjoy!
---
UPDATE!  COVID – 19 Precautions
Miguels Pizza has reopened with online ordering service, walk in ordering upfront of the store and also outside seating at picnic tables.
They have put in place safety practices for our workers and customers according to the CDC guidelines.

Ordering Choices at Miguel's Pizza right now:
Call 606-663-1975 to place an order.
Visit their website and order online.
Storefront ordering available upon arrival.
Sorry, card payment only.
We deliver to your vehicle or seating outdoors.
---