Grimaldi's Pizza in The Summit is a delicious spot for a great family pizza dinner!  Our family enjoyed a night out with pizza, salad, and delicious desserts!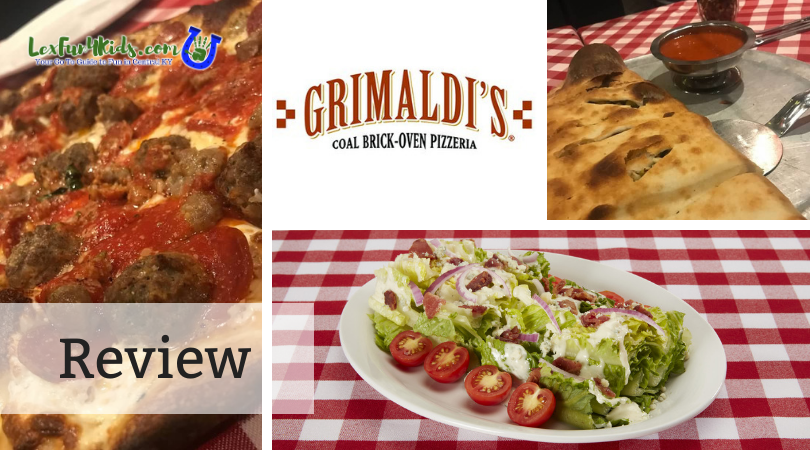 They have a patio with outdoor seating and also offer take out so it's perfect if you'd rather dine at home!
My kids love pizza and I must admit I do too!  Checking out new pizza places and new pizza creations is always a fun night out and the kids and I love the seasonal menus at Grimaldi's.  They have a great regular menu year round but do special additions seasonally.  We will be watching for more new menu specials!  
The atmosphere is great for an adults night out or a family dinner.  There are cool New York City photos and street scenes all around and if you're into sports there are big screen tvs above the bar as well.  My kids loved watching the staff make pizzas though!  They could watch at the edge of the pizza line and could see them twirl and stretch the dough then top it and toss it into the coal-fired oven.  It's that awesome coal-fired oven that makes Grimaldi's pizza unique and delicious!
The staff also brought out some dough for my kids to enjoy stretching and playing with while we waited for our pizzas.  We've tried the seasonal wedge salad and their house salad as well as a calzone – which we were even able to order with no cheese!  (And it tasted great too!)  They were great to accommodate special dietary requests we had. 
And of course don't forget dessert!  They have a great variety of traditional Italian desserts as well as seasonal offerings.  
---
Current Summer Menu (Starts June 8, 2021)
To celebrate the new season, Grimaldi's Pizzeria is launching a refreshed Summer Selections menu that embraces the flavors of summer including tangy barbeque sauce, juicy strawberries, fresh blueberries and refreshing watermelon. Starting June 8, Grimaldi's latest seasonal menu offers limited-time versions of its award-winning pizzas, salads, cheesecakes and cocktails:

Barbeque Chicken Pizza – A spin on Grimaldi's traditional pizza with Sweet Baby Ray's® Barbeque Sauce, oven roasted chicken, smoked bacon, and red onion, garnished with fresh cilantro
Strawberry Spinach Salad – Baby spinach topped with feta cheese crumbles, red onion, almonds, and juicy strawberries tossed with a zesty, strawberry vinaigrette
Blueberry Cheesecake – A vanilla cheesecake laced with blueberry swirl and fresh blueberries and garnished with house-made granola and whipped cream
Strawberry Cheesecake – Creamy strawberry cheesecake served with fresh, sliced strawberries and whipped cream
Summertime Sangria – A refreshing berry sangria made with Beso Del Sol White Sangria, strawberry puree, and fresh strawberries and blueberries
Salted Watermelon Margarita – 1800 Silver Tequila, fresh lime juice and watermelon puree shaken and served over ice with a salted rim
Watermelon Mule – Tito's Handmade Vodka, watermelon puree and fresh lime juice shaken and served over ice with Gosling's Ginger Beer

 

The seasonal menu will be available for dine-in, carryout and delivery at Grimaldi's Pizzeria locations nationwide, as well as Grimaldi's Pizzeria To-Go in AZ and TX.  Guests can also place orders for carryout or delivery via DoorDash, GrubHub and UberEats. Grimaldi's Pizzeria Rewards members will earn points with every dine-in or phone order, as well as orders placed via the Grimaldi's website or via the mobile app. Find your neighborhood Grimaldi's location HERE.
---
Sample Fall Menu
The Fall Favorites menu includes seasonal spins on Grimaldi's world-renowned coal-fired, brick-oven pizza, fresh salads, decadent desserts, and new cocktails, perfect for cozying up on cooler nights.
Buffalo Chicken Pizza, Grimaldi's signature coal brick-oven pizza crust topped with fire-braised chicken breast, spicy Frank's RedHot® sauce, mozzarella, gorgonzola crumbles and celery
"Wedge" Salad, a twist on the traditional wedge salad featuring romaine lettuce, cherry tomatoes, red onions, blue cheese dressing, bacon and gorgonzola crumbles
Chocolate Cheesecake, chocolate cheesecake served with rich chocolate syrup and topped with whipped cream
Caramel Apple Cheesecake, caramel and green apple cheesecake topped with a swirl of delicious caramel and whipped cream
Bourbon Peach Mule, Maker's Mark bourbon, Monin ® peach purée and fresh lemon juice shaken and served over ice with Gosling's Ginger Beer and diced peaches
AppleJack Mule, Laird's AppleJack 86, Monin green apple purée and fresh lime juice shaken and served over ice with Gosling's Ginger Beer and diced apples
Green Apple Sangria, Beso del Sol® White Sangria, Monin granny smith apple purée and lemon juice
---
Sample Winter Menu
Winter Harvest Salad – Oven roasted Brussels sprouts on a bed of arugula with red onions, bacon, feta cheese, dried cranberries and balsamic dressing
Sausage & Wine-Braised Onion Pizza – Grimaldi's traditional pizza topped with onions braised in Villa Pozzi red wine, savory Italian sausage and plenty of fresh basil
Reese's® Peanut Butter Cup Cheesecake – Creamy vanilla cheesecake with chunks of Reese's® Peanut Butter Cups; garnished with chocolate sauce and whipped cream
Eggnog Cheesecake – Nutmeg and a splash of Maker's Mark Bourbon are blended into a vanilla cheesecake with a ginger snap cookie crust; garnished with whipped cream and ginger snap cookie pieces
Holiday Cranberry Mule – Tito's Handmade Vodka, Cranberry Juice, Aperol and fresh lime juice shaken and served over ice with Goslings Ginger Beer and garnished with an orange wheel
Winter Citrus Sangria – Beso Del Sol White Sangria, Monin Winter Citrus Syrup, fresh lemon and orange juices shaken and served over ice and garnished with an orange wheel)