Throughout the month Explorium of Lexington has great events planned!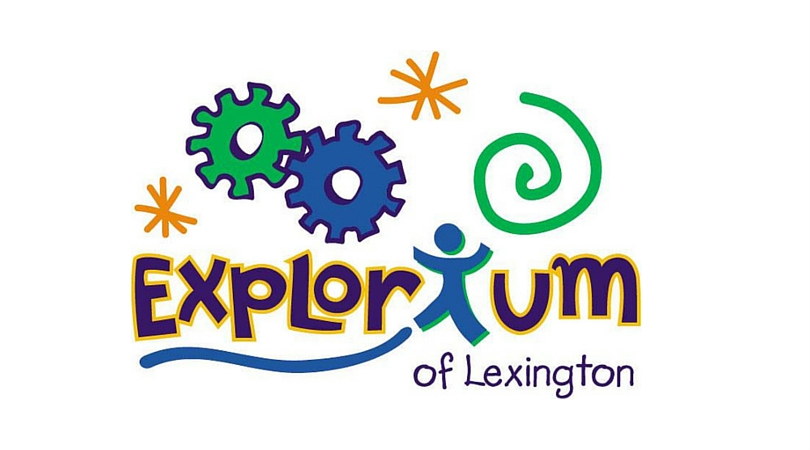 Museum Hours                                                                                           Admission      
Monday-Saturday   10 am-5 pm                                                            $8 per person
Sunday                        1pm-5 pm
Parent's Night Out (6-10pm)
July 6 and July 20
Enjoy a night out on the town and we'll keep the kids! Children will play in the Explorium and enjoy snacks all under our staff's supervision! Children must be potty-trained. Call for reservations (859) 258-3253. $18- Non-members,    $15- Members
---
Countdown to Kindergarten
Saturday, July 21
Countdown to the first day of kindergarten and enjoy a fun-filled day at the Explorium.  Museum admission is free for children wearing a C2K shirt; all others pay $8.
---
Baby Explorers – Tuesdays 10:30-11:00am
Ages 9 mo. – 2 years                                                                                              Free with general admission
July 3: Red White and Boom
Make fun shaving cream fireworks!
July 10: Nautical Numbers
Sail the ocean blue while we learn to count in twos.
July 17: Foamy Fun
Splash, drizzle and pour as we make bubbles!
July 24: Play Dough Party
Squish and mold colorful play dough while we learn about shapes.
July 31: Tape Art
Paint a masterpiece to hang on the fridge.
---
S.M.A.S.H. Club- Wednesdays 10:30-11:30am
Ages 2-5 years                                                                                                 Free with general admission
S.M.A.S.H. represents Science, Math, Arts, Social Studies, and Health! Join us each week as we cover each area with fun hands-on activities!
July 4: S is for Social Studies: History Mysteries
Learn about the history of our National Anthem, and make your own rocket.
July 11: M is for Math: Fantastic Fives
5, 10, 15, 20 – Make counting fun with Legos.
July 18: A is for Art: Ice Painting
Cool off with this chilly and colorful way of painting.
July 25: S is for Science: Elephant Toothpaste
Even elephants need to brush their teeth!  Come check out this awesome science experiment.
---
Mini Da Vincis -Thursdays 10:30-11:00am
Ages 2–4 years                                                                                                        Free with general admission
July 5: Fork Fireworks
Light up the sky this July with some awesome art work!
July 12: Sunny Sunglasses
Design some cool shades for the summer.
 July 19: Tie-Dye Flowers
Groovy, man! Let's make tie-dye paper flowers that will last all summer.
July 26: Silly Spoons
Dress up the spoon in this silly take on paper dolls.
---
Leaping Littles – Friday 10:30-11:00am
Ages 2-5years                                                                                                       Free with general admission
Fun movement classes where we dance, jump, and work on our motor skills!
July 6: Jumping Jack Jamboree
How many fun ways can you do a jumping jack?  Let's find out!
July 13: Simon Says
Enjoy this classic game where multi-tasking and listening are key.
July 20: "Freeze" Dance Party
Make sure you bring your listening ears as we play this fast-paced game.
July 27: Limbo
How low can you go?
---
Super Saturdays-11:00am-12:00pm
Suggested ages: K-5th
Free with general admission     
July 7: American Flag Fun
Design your own flag and make a star wand in the 4th of July spirit.
July 14: Five minute Ice Cream
Learn to make your own ice cream in less than five minutes.  Then enjoy eating it!
July 21: Backyard Bonanza
Make side walk chalk to use with your friends.
July 28: Kinetic Sand Castles
Make your own kinetic sand to take home so you can make sand castles all year!
---
Imagination Station – Saturday 12:30pm-2:00pm   
Suggested ages: K-5th                                                                                    Free with general admission
July 7: Firework Face Painting
Get festive with some firework face painting!
July 14: Ocean Slime
Join us as we make slime that is as blue as the ocean!
July 21: Cheerio Bird Feeder
Make a bird feeder to hang up at home.
July 28: Jellyfish Jam
Make a jellyfish that wiggles.
---
Summer Camps
Suggested ages for camp are 3 through 5th grade; child must be completely potty trained.  For additional information or to register for camp, visit our front desk or go to www.explorium.com/events/camps.
July 2,3,5,6:  X Marks the Spot – "Sail" the seas to discover treasure and other countries, and go on a scavenger hunt with your pirate friends.
July 9-13: Mad Scientists – What will you create as you become a mad scientist?  Use everyday kitchen items, candy, highlighters, soap, plants and more in science experiments.  Don't blow us up!
July 16-20: Histories Mysteries – Bermuda Triangle…Stolen Crown Jewels…Sasquatch…Campers will travel back in time and become a detective and unravel these mysteries and more.
July 23-27:  Tech Week – Kids will learn computer programming with Ozobots and Lego MindStorm  Learn about circuits, bridge building, inventions, 3D creations and other cool tech fun.
July 30-August 3:  Game Show Week – Kids will have chance to play games, make up their own boards, go on scavenger hunts
Click HERE for the Explorium Calendar
---