Throughout the month Explorium of Lexington has great events planned!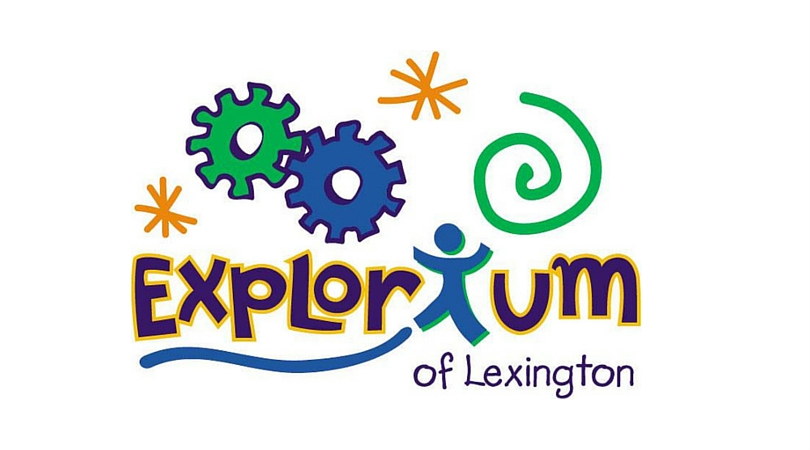 Museum Hours 
Starting Memorial Day we will also open on Mondays 10 am-5 pm                                                                                                        
Tuesday-Saturday 10 am-5 pm                                                            
Sunday                        1pm-5 pm
Admission
$8 per person
May and June Programs at the Explorium!
Parent's Night Out (6-10pm)
May 25, June 15, June 29
Enjoy a night out on the town and we'll keep the kids! Children will play in the Explorium and enjoy snacks all under our staff's supervision! Children must be at least 3 years old and potty-trained. Call for reservations (859) 258-3253. $18- Non-members, $15- Members
---
Baby Explorers – Tuesdays 10:30-11:00am
Ages 9 mo. – 2 years                                                                                              Free with general admission
May 22: Frozen Fingers
Explore temperatures and textures with this "hands-on" play time!
May 29: Beach Bums
Celebrate summer vacation early by discovering sensory play at the beach.
June 5: Play Dough Cookie Cutters
Discover shapes and textures while creating fun designs and patterns!
June 12: Pasta Play
Experiment with touch and smell with this slimy and silly activity that features one of our favorite foods.
June 19: Terrific Textures
Is it itchy or scratchy?  Is it soft or hard?  Come find out with this interactive game!.
June 26: Rolling Racers
Let's have fun practicing rolling, throwing and catching balls!
---
S.M.A.S.H. Club- Wednesdays 10:30-11:30am
Ages 2-5 years                                                                                                 Free with general admission
S.M.A.S.H. represents Science, Math, Arts, Social Studies, and Health! Join us each week as we cover each area with fun hands-on activities!
May 23: A is for Art: Finger Puppets
Design your own finger puppet and then participate in our finger puppet fashion show.
May 30: M is for Math: Money Math
Let's learn how to count money and buy things at our pretend store.
June 6: A is for Art: The Color Wheel
Explore the difference between primary and secondary colors with this colorful craft!
June 13: S is for Science: Sea Shell Sleuths
Put your detective skills to the test as we explore different sea shells and ocean creatures!
June 20: A is for Art: Lemonade Bubbles
Blow bubbles made of lemonade to create a piece of art that's perfect for summer!
June 27: H is for Health: Sugar Sleuths
Do you know how much sugar is in your favorite sweet drinks? Help us find out how much sugar we are putting into our bodies
---
Mini Da Vincis -Thursdays 10:30-11:00am
Ages 2–4 years                                                                                                        Free with general admission
May 24: Forest Friends
Disguise yourself as your favorite forest friend with this fun mask activity
May 31: Mini Bird Feeders
Use everyday household items to create a bird feeder that will keep our feathered friends happy and full.
 June 7: Radical Reader's Bookmarks
Let's make our own bookmarks to help us keep up with our summer reading lists.
June 14: Outrageous Octopus
Discover fun facts about the octopus as we create this fun craft
June 21: Cupcake Liner Cones
What a "sweet" craft this will be! Use cupcake liners to help you design a paper version of your favorite summer treat.
June 28: Whatever Weather
By looking at this week's weather forecast, we can create fun art that will also help us figure out if we should pack an umbrella or not.
---
Leaping Littles – Friday 10:30-11:00am
Ages 2-5years                                                                                                       Free with general admission
Fun movement classes where we dance, jump, and work on our motor skills!
May 25: Tug O' War
Forget Lexington traffic on Man O' War as we "horse around" with this fun game of tug of war.
June 1: Dance Party
Decide how certain music makes you feel and show off those dance moves at our FUNtastic dance party.
June 8: Super Stretchers
Practice your flexibility and safe stretches that will limber us up for a day full of fun at the Explorium!
June 15: Ready, Set, Relay Race
Get your blood pumping with this really radical relay race!
June 22: Hot Hopscotch
This fun game of hopscotch is a great way to play inside on a hot June day.
June 29: Super Market Dash
Summer is the season for cookouts! Let's see if we can find all of the ingredients for our cook out with this fast-paced puzzle game.
---
Super Saturdays-11:00am-12:00pm
Suggested ages: K-5th
Free with general admission     
May 26: Bubble Art
Back by popular demand! Create a masterpiece by simply blowing bubbles.
June 2: Fossil Finds
Come make your own plaster fossil with us as we learn about dinosaurs.
June 9: Egg Carton Turtles
Using household items, let's make our own turtles.
June 16: Make Your Own Picture Frame
Build your own picture frame to give to a special person in your life.
June 23: Walking Water
Learn how to conduct this fun science experiment that you can show your friends and family at home.
June 30: Sink or Float? Let's learn about density as we discover if certain items float or sink.
---
Imagination Station – Saturday 12:30pm-2:00pm   
Suggested ages: K-5th                                                                                    Free with general admission
May 26:  Parachute Pals
Make your own parachute and see if it can glide through the air.
June 2: Paper Hats
Will you make a crown? A cowboy hat? The possibilities are endless with this fun craft!
June 9: Paper Towel Pals
Build a butterfly or dragonfly out of paper towels and other household items.
June 16: Cards for Dad
Create your own Father's Day card for dad or a special friend.
June 23: Crazy Collage
Use our fun craft supplies to create the craziest collage possible. Imaginations will run wild!
June 30: Super Slime
Back by popular demand. Come create sticky and gooey slime with us.
Click HERE for the Explorium Calendar
---