During our recent trip to Disney World my boys (5 and 7) sailed on the Pirate Adventure Cruise.  We were staying a bit longer during this trip and wanted a break during the week. They sailed from our resort, Port Orleans Riverside, (the Port Orleans Cruise has been discontinued) but other cruises leave from Caribbean Beach Resort, Grand Floridian, and the Yacht and Beach clubs.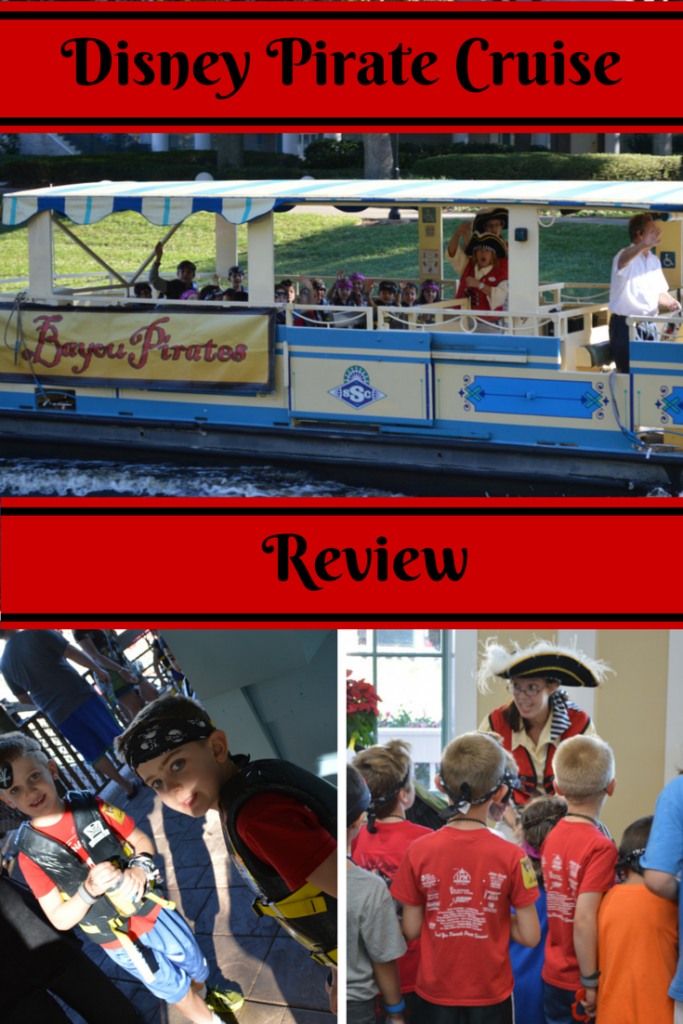 The trip departs at 9:30 am and returns to port at 11:30 am.  It's a kids only trip so you get a nice break to relax at the resort while your kids are having a blast!  Trips are only $37 and include a snack, pirate bandanna, sword, and bag of loot!  We made our reservations 180 days prior to our trip.  There are only 12 children on the boat so you need to book quickly because these will fill up.
We checked in and each child got a their pirate gear as well as a life jacket.  There were two crew members and a captain to sail the ship for around 12 children.  Kids must be between 4 – 12 years old.  Most kids on our trip were under age 10.
The kids all paraded down onto the ship then grown ups were encouraged to walk to the side of the river to wave as they set off on their adventure.
During the trip they made a few stops at other ports to look for treasure.  My kids came back 2 hours later with huge smiles!  They all headed into the resort to find the final treasure which was a bag of booty for each child.  It was an awesome way to spend a couple hours and for a special Disney experience I thought the price was very reasonable.
For more information on the cruise click HERE.
Three cruises are available
Disney's Pirate Adventure at Disney's Grand Floridian Resort & Spa
Islands of the Caribbean Pirate Cruise at Disney's Caribbean Beach Resort
Albatross Treasure Cruise at Disney's Yacht and Beach Club Resort
For even more pirate fun check out my review of The Pirate's League at Disney World!