Summer is fair season so get out and enjoy our local Bluegrass Fair!  For over 55 years the Lexington Lions Club has presented the Bluegrass Fair that raises funds for community organizations to provide vision and hearing services to people who can not afford them.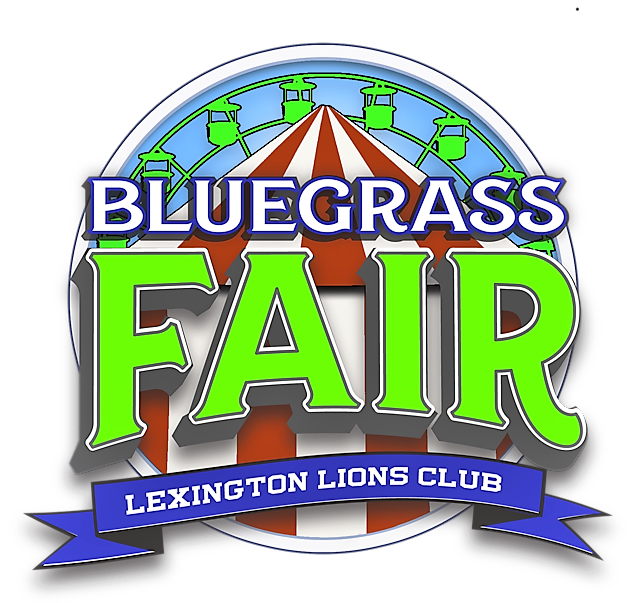 July 12 – 22nd, 2018
Open Weekdays at 5 pm
Open Weekends at 3 pm
Tickets
Admission Only
$7.00 (Cash Only!) – Children 6 and under FREE
Ride Wristband
$20.00 per person (does not include fair admission)
Ride tickets can be charged on your credit card at the Carnival Office. Single ride tickets are available at $1.00 each. Rides vary in cost and most take more than 2 ride tickets each. Some rides have age height and weight restrictions.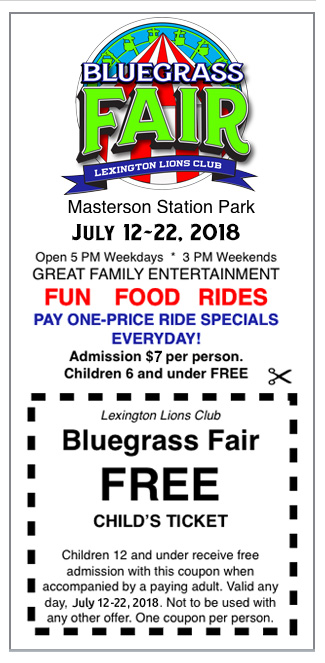 Proudly presented by the Lexington Lions Club, the 57th annual Bluegrass Fair returns to Masterson Station Park July 12-22, featuring more than 100 state fair-type amusement rides, carnival games, live music, exhibits and attractions—and all your Fair food favorites in a family-friendly, alcohol-free environment. Central Kentucky's largest Fair and cleanest Midway!
There's something for the entire family! The 2018 lineup includes racing pigs, a breath-taking stunt and motorcycle thrill show, pageants, livestock and agriculture exhibits, free health sight and hearing screenings, a barnyard petting zoo, flower and garden show, nightly Festival Latina Latin music, KZW professional wrestling and the Conch Republic Band. And you can even ride a camel!
Each year, tens of thousands of visitors from across the region have experienced the excitement and nostalgia that the Bluegrass Fair has to offer! It's a Lexington summer tradition and your best summer entertainment value!
General admission is only $7 (cash) for ages 12+. Convenient free parking. Children 6 and under get in free. Unlimited ride wristbands are $20 each (does not include Fair admission) and valid for one night. Single ride tickets are also available at $1 each. Rides vary in cost and most take more than 2 ride tickets each. Discount shuttle is provided by LexTran for only $1 each way. (See website for schedule.)
Proceeds support the annual charitable efforts of the Lexington Lions Club. Visit our website for complete details at www.TheBluegrassFair.com.
Gates open at 5 p.m. weekdays and at 3 p.m. on weekends. Follow and "Like" Bluegrass Fair on Facebook for updates and more information.