Enjoy a unique stay in a Kentucky Airbnb for a private couples getaway!
If you're looking for a couples getaway, trip with your bestie, mother/daughter vacation, or a private time away solo an Airbnb is a great way to enjoy privacy as well as many of the comforts of home! A getaway for two (or solo) can be just an overnight, a weekend or more. There are great spots to explore in Kentucky whether you're looking for a city experience, a cozy getaway to a cabin in the woods, a Bourbon trail adventure, or more. I've chosen a few great, unique spots perfect for a variety of options.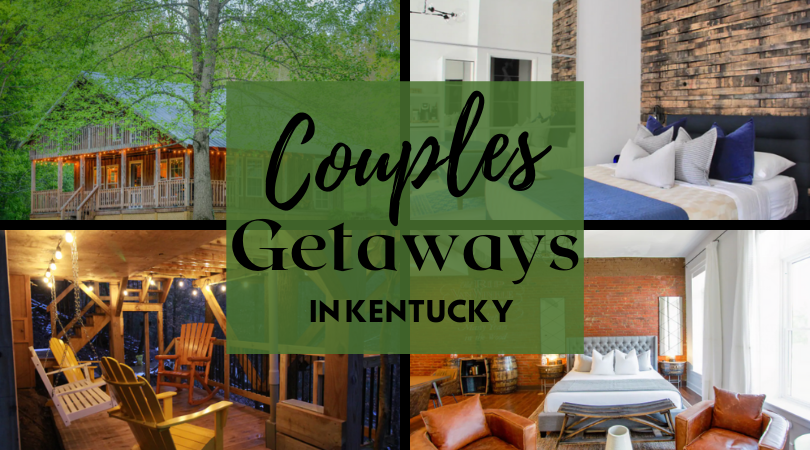 What is Airbnb?
If you're new to the whole Airbnb thing here's a little more about the Airbnb experience. Airbnb rentals range from entire homes, small cabins, treehouses, campsites, campers, yurts, and more! They are typically privately owned rentals but some are run by larger rental companies. You will pay per night (sometimes there is a minimum length of stay) as well as a couple of other fees. Fees vary so if you notice higher cleaning fees, etc. at a rental you could keep shopping around and find one with a lower fee or none at all. They all charge a service fee and taxes so those won't change too much. You can search by area, date range, home type and more. There are lots of great ways to filter your search so be sure to explore that option!
Perks of an Airbnb
I love visiting a new city, exploring new trails and of course finding awesome new restaurants when I'm on an adventure but it's also wonderful to come 'home'. Airbnb rentals give you a feeling of 'home' with the chance to enjoy a quiet morning and a breakfast on a porch, a relaxing evening in a hot tub with a glass of wine, cooking together to save money and enjoy time together, and of course privacy and quiet you may not get from a larger hotel stay somewhere.
Comforts of home! Washer & dryer, kitchen, porch, private entrance, & more space
Save money! Prepare meals in your rental & enjoy one space instead of multiple hotel rooms!
Local tips! Many Airbnb hosts offer advice on local places to visit, restaurants and more!
Booking
When you book your Airbnb you'll get a confirmation from your host. You may be responsible for payment for the entire amount or just half. There are also detailed rules for cancelations so watch those. Some will let you cancel for a full refund within 48 hours of your booking and some even up to a few days before your arrival. You will get additional information from your host as you approach your stay so be watching. You can use the app for notifications or just use the Airbnb website and you'll get email notifications.
As an Airbnb Associate, I may earn a commission if you book using the links below. All photos are courtesy of Airbnb.
Bourbon Trail Rentals
Highlights from the owners: The cottage is on a farm nestled in the trees next to a pond. Here you will potentially see cranes, deer, hawks, a German Shepard named Lacy and her Great Dane friend Charlie who live up the road in the main house and love to greet our visitors. The space is a studio cottage with a queen bed, couch and wifi, full bathroom with a stand up shower. There is a kitchen with a small fridge with freezer, microwave and a stove plus an outdoor gas fire pit.
Nightly Average: $95
Highlights from the owners: Stay with us in Bardstown, named one of "the most beautiful small towns in America." Our cottage is located just three blocks from downtown restaurants, shops, family activities and nightlife. Located on the Bourbon Trail, you are steps from Barton's Distillery and a short drive from several other popular distilleries. Churchill Downs, Keeneland, Mammoth Cave National Park and other popular attractions are within an hours drive making this cottage the perfect base for exploring Kentucky.
The space
This fully renovated home sleeps up to 6 people. The first floor features the master bedroom, living room, kitchen, office area and bathroom with a walk in shower and washer and dryer. The second floor is devoted to the second bedroom and a private sitting area. The sectional with chaise folds out into a full size bed. Local cable TV as well as wifi for streaming from your accounts are provided. You can enjoy the outdoors on our front porch or deck with a dining area and grill. Enjoy your morning coffee or a nightcap from our drink station.
Nightly average: $135
Highlights from the owners: Take a step back in time while experiencing the comfort and appeal of today in the charming atmosphere of a mid-1800's original log cabin right in town. There is a large backyard complimented by a grazing hillside and a stream that separates the two. A truly unique setting. And, enjoy a large patio and fire pit to enhance your relaxation at the end of the day.
The space
The home has just been remodeled in the summer of 2018. Its new chic design is alluring and cozy. The home hosts a full service kitchen and laundry room. The layout is on two levels. The kitchen, laundry and bath are on the main floor and the bedroom, concession area and living room upstairs. The stairs are original to the home and are therefore those of a true cabin. They are a little steeper and narrower than most.
Nightly average: $60
Highlights from the owners: Enjoy the highlights, festivities and historical features of Bardstown, home of the Most Beautiful Small town in America and the Bourbon Capital of the World. Come and stay in your own cottage on the property of an historical home dating back to the 1820's. Located in the heart of downtown, walking distance to shops, restaurants, bars, markets and seasonal events.
The space
Private entrance and space in a quiet street walking distance to all Bardstown has to offer. The cabin features a living room, kitchen, bathroom, and bedroom.
Nightly average: $95
Highlights from the owner: Unique cottage nestled in the woods located along the Bourbon Trail. Includes: queen bed, full kitchen, washer & dryer, propane fireplace, large outdoor fire pit, high speed Internet, 55" Roku TV with cable, Netflix, Hulu, Disney Plus, Prime Video, outdoor heater. 8 minutes to Jim Beam Distillery, 8 min to Bernheim Forest, 4 min to Four Roses Bourbon Warehouse & Bottling Tour, 12 min to the City of Bardstown, 30 min to Churchill Downs.
Nightly Average: $125
Highlights from the owner: Newly built cottage located in the country. Enjoy amazing views from a covered front porch as you rock in comfortable rocking chairs. Fully furnished and beautifully decorated to make your stay comfortable and delightful. Memory foam mattresses for wonderful sleep and a kitchen for cooking if desired. Pool is behind owners residence and is shared with owners family and possibly 2 additional people. We have recently also installed a Tesla High Powered Wall Charger w/60amps.
Nightly Average: $125
Highlights from the owner: This quaint little cottage is located on the Bourbon Trail of Kentucky. A mere 9 minutes from Six-Mile Distillery, it is also in close proximity to a gas station, grocery and library. Located in the heart of an Amish community, you will hear horses and buggies clip-clopping past as you sip your morning coffee. This cottage is on a functioning farm with horses, cats, goats and donkeys, with overnight housing facilities for your own equines as well. This cottage features all the essentials for an enjoyable stay in the country. Our property includes a large pond stocked with bass, bluegill, and catfish. Bring a fishing pole and some bait to enjoy a relaxing evening on the water. Kayaks and life vests are available for use as well. The equine facilities feature two 20 x 10 stalls with a small turnout attached and a round pen nearby, also available for use.
Nightly Average: $90
Highlights from the owner: The updated industrial downtown loft welcomes you in with a stunning entry staircase, topped with a unique hand railing with a large open living area & wood flooring throughout. All walking distance to downtown activities. Enjoy the coffee shop just below you along with the many boutiques, yoga, restaurants, bourbon trail & more!

This space offers character & charm with the gorgeous high ceilings & exposed brick walls. Relax on the nice leather couch in the living room or the comfy king sized bed in the bedroom while streaming your favorite series/movies with our 55in smart Roku tv in both rooms. Kitchen completely updated & accented with glass front cabinets or walk outside on the patio and enjoy a cup of coffee or a drink.
Nightly Average: $130
Red River Gorge Rentals
Highlights from the owners: Take in the rustic, fairy tale vibe of this custom-made treehouse in the midst of towering trees! Open the 15 ft glass garage door & watch the sunset over the mountains, or try your hand at some stargazing on the stargazing deck while listening to the nightly sounds of the forest. In the morning, step out on the trailhead and explore the stunning forest of the Red River Gorge.
We are a RARE find in the area located on PRIVATE land, and one of the only rentals in the Red River Gorge that is located so conveniently INSIDE the National Park just walking distance to great nearby hiking trails!
This treehouse is one of our newest additions providing heat, and Electricity! We guarantee you this combination of outdoors & amenities provides a truly unique, adventurous, magical, and relaxing getaway experience with your friends or and loved ones! Perfectly designed for small families and romantic couples looking for a weekend getaway.
Nightly Average: $159
Highlights from the owners: "Lets Get Cozy" is a delightful cabin for 2 tucked back against a wall of towering trees in a forest setting at Paradise Mountain Development approx. 10 minutes from Natural Bridge State Resort Park. A beautiful custom built wood spiral staircase takes you up into a cozy loft bedroom with queen bed. Enjoy Cable TV and Wi-Fi in front of your cozy electric fireplace. Your deck wraps around from the front to the back where you can enjoy a hot tub in a private setting. Enjoy good fishing in the beautiful "Spirit Lake" located in this beautiful forest mountainous setting. "Catch and Release" A campfire pit provides a perfect setting for closing your day full of adventures! This location requires transportation that can handle a groomed gravel road. Slight inclination on some parts.
Nightly Average: $149
Highlights from the owners: Welcome to your getaway in the Red River Gorge! Located on a rare piece of privately held land within the Daniel Boone National Forest is "Theodore Overlook". Named after President Roosevelt, creator of the US Forest Service, "Theodore Overlook" pays homage to that rich history and those who protect our National Parks and Forests.

Theodore is perfectly situated on a wooded lot with the relaxing sounds of nature and the stream just below the decks.
Easy check in/out and no cleaning fees!
The space
Tiny house themed but architecturally superb you will find a well appointed kitchen, dining table, living area, full bath with generous shower, two lofts with queen beds and privacy curtains, as well as plenty of outdoor living space on the covered and uncovered decks.
Nightly Average: $145
Highlights from the owners: Right outside Red River Gorge! Our cabin is only 10 minutes to NADA Tunnel and only 13 minutes to Natural Bridge State Park! Hiking trails are so close! This is our second cabin built with shipping containers. It has two bedrooms(one king, one queen) and one bath. It has a complete kitchen with stainless steel appliances and concrete countertop. It's climate controlled and has WIFI! The completely covered porch has a great view of the distant cliff lines and is awesome to sit on while it rains.
Nightly Average: $129
Highlights from the owner: Romantic Hide Away is located on a wooded lot in the Natural Bridge Cabin Country Development, approximately 2 miles from the Red River Gorge and Natural Bridge State Park. Enjoy a dip in the hot tub after a day of exploring, enjoy the secluded porch or snuggle up by the fire pit!
Nightly Average: $180
Louisville Area Rentals
Highlights from the owner: Voted 1 of the top 40 places to stay on the Bourbon Trail in 2018 by Bourbon Review magazine!
Welcome to the brand new NuLu Bourbon Loft, a bourbon themed loft! This 2nd floor loft was 100% remodeled in 2017. Location, Location, Location! Just short 1 mile walk or Uber to the YUM Center, literally in the middle of NuLu east arts district of downtown Louisville. Steps from urban bourbon distilleries, craft breweries, shopping, restaurants and bars on E Market Street. Reserved, free parking. This 2nd floor 800+ square foot unit is completely renovated – including a brand new full kitchen, brand new king bed and mattress, huge bathroom shower, custom bourbon barrel furnishings (bar, end table, cocktail table, stools) Amazon Dot and 55″ smart tv w/cable.
Nightly Average: $104
Highlights from the owner: Recently renovated full 2 bed/2 bath house in historic Germantown. Guest will enjoy a full kitchen with all utensils and appliances provided. Living room has 55′ TV with plenty seating and light. Each bedroom has double bed with linens, dressers, nightstand, and closet. Full bathroom connected to each bedroom with towels and toiletries. Front and back door uses coded Yale locks. Security cameras on front and back doors.
Nightly Average: $100
Highlights from the owners: NULU 3 Bedroom home close to Downtown. Located in NULU/Phoenix Hill neighborhood. We are Pet Friendly. Walkable location to the NULU area including the trendy E. Market Street bars, restaurants, festivals, Resurfaced Louisville and Flea off Market. There are 5 Craft Breweries within walking distance of this property and multiple bourbon distilleries located only minutes away.
Nightly Average: $140
Highlights from the owner: Be one of the first to stay in this expansive 1000sf Butchertown penthouse suite in a retired 160-year-old brothel. Blanketed in natural light, this 3rd story Garret has the feel of a sun-bleached tree-top tent, and is ideal for a couple's retreat or a friends' outing. A few of the city's top restaurants and bars are less than a block walk away. Endless other drinking, shopping, and attractions are minutes away in Nulu, Frankfort Ave, and the Waterfront.
Thirteen skylights and windows pour light into this large open space. Plants abound. The space is replete with sitting areas; lounge amenities include 5G WiFi, Netflix, Amazon Alexa, and smart lighting. The Crosley is stacked with vinyl. A live-edge bar offers a casual spot to share a drink before a night out, and a bistro table offers a cozy perch for dining in. A queen canopy bed crowns the large bedroom, which is trimmed with plenty of mirrors and a space to get ready for a night out.
Nightly Average: $100
Highlights from the owner: Located in The Highlands, this modern house offers comfy furnishings and plenty of space for 6 guests. Guests enter into a living room area to see a main floor open layout. The main floor has a living room, half bath, dining area and updated kitchen. Beyond the kitchen is the private back deck. We have a fully stocked kitchen ready for any guests who are interested in cooking!
In the kitchen are a set of stairs leading to the fully finished basement. Here you'll find a cozy living room with the main TV for the house and plenty of seating. The sofa in the basement is a sleeper sofa for additional sleeping. In the basement is where you'll find a laundry area with a washer and dryer. Beyond this room is a full bathroom with standing shower.
The 2nd floor of the house has a single hallway that connects two bedrooms and the 2nd full bathroom with water closet. There is one bedroom at the back of the house and the other bedroom is at the front of the house. The front bedroom over the house has a balcony where you can see a fantastic view of the city. We supply seating out here for you to enjoy the scene. The shared bathroom is between the two bedrooms and has a shower/tub combo.
Nightly Average: $145
Northern Kentucky Rentals (Cincinnati Area)
Highlights from the owner: This charming and lovingly-maintained home, nestled in the Historic District of Ludlow, KY, will capture your heart!

This is the IDEAL getaway for travelers wishing to be close to the city (without the high city prices) while also enjoying the convenience, comfort and privacy of your own home.

10 minutes from downtown Cincinnati, 5 minutes from historic Covington's Mainstrausse & a short walk to local pubs, eateries, art galleries, boutiques, grocery store open 24/7 and a bourbon distillery!
Nightly Average: $109
Highlights from the owner: This space is in the vibrant, busy and growing Over-the-Rhine neighborhood, just steps from Findlay Market, multiple breweries, bars, restaurants and shops. This 100 year old home was recently renovated in 2019 and has great views of the city on the outdoor balcony, equipped with plenty of seating for you and your guests. The unit is fully furnished and 2 stories with 2 bedrooms, one full and one half bath, a full kitchen, living room, and dining room. You will also have access to laundry in the 2nd floor bathroom.
Nightly Average: $129
Highlights from the owner: The Guest House at Monte Cassino Vineyard, an architectural gem. At 650 sq ft, this free standing, studio loft space is a ground up restoration of an 1830s summer kitchen. Completed for 2016 season, it includes a kitchenette, with mini fridge, microwave and coffee machine. Outdoor grill is available as well. The living room has a fireplace and the bedroom loft is a designer's dream. Adjacent to the main house, the GH also includes use of the pool in season. Extremely private grounds.
Cumulating the owners 40 year career in the art/design industry, every detail, from the hand blown glass chandelier to the silverware is a unique experience. Bring your mountain bike or swimming gear.

We also have 20 acres of woods and creek you can explore. The vineyard is not active , an outdoor pool, (in season), gardens. Abundant wildlife, including deer, fox and wild turkey are just outside your door. Located adjacent to the owners house.
Nightly Average: $139
Central KY Area Rentals (Lexington)
Highlights from the owner: Welcome to "The Bourbon House" Downtown Lexington's Premier spot to stay for an authentic Kentucky experience. This cottage was built by me from the ground up with no details spared to immerse my guests in the finest things Kentucky has to offer- Fully stocked bourbon bar, all furnishings hand crafted from reclaimed wood and bourbon barrels, hot tub, bathrobes, gardens, firepit, and walking distance to Downtown and Rupp arena.

Complimentary his and hers bicycles for you to explore farther around town! Legacy trail takes you all the way to the Horse Park (13 miles) and starts two blocks away! Or ride to Manchester street distillery district for cocktails!

The hot tub and fire pit area is a shared guest space used by myself and the front house guests. Due to Covid please regulate this to a one hour max use if other guests are present. Please also mind other guest personal space.
Nightly Average: $175
Highlights from the owner: This beautifully remodeled historic property is located in Downtown Lexington on West Third Street. Walk to Rupp Arena, Convention Center, Lexington Opera House, Transylvania, several cool bars/breweries and upscale restaurants. 15 minute car ride to Keeneland Racetrack, Kentucky Horse Park and Kroger Field. King Tempur-pedic mattress with a sleeper sofa. This house has 2 smart TV's and high speed internet service. Beautiful kitchen with gas range and stainless steel appliances.
Nightly Average: $120
Highlights from the owner: Silvercreek is a stay on a private 65 acre farm. The home is situated through a larger pasture (may be some cow's but the gate closes automatically!) then into a tree tunnel…..sitting 2500 feet off the road. It's a completely remodeled home with unbelievable space. We hope you'll enjoy your stay!
Nightly Average: $125
Mammoth Cave/Western KY Rentals
Highlights from the owners: Nature enthusiasts and fishermen will love exploring Mammoth Cave from this quaint-yet-modern vacation rental. The 2-bed, 1-bath cabin is complete with a rustic, open-concept layout, Smart TV, and fully equipped kitchen. Explore the wilderness of the Mammoth Cave National Park, or opt to visit local hotspots like Dinosaur World. After a day spent making new memories, discover all this gorgeous property has to offer – from the furnished front porch to the private hiking trails, a 25-acre lake, fully stocked ponds, and private cave and waterfall!
Nightly Average: $266
Highlights from the owner: Wigwam Village No. 2 of Cave City, Kentucky, has offered travelers rest and fellowship since 1937. Located just 5 miles from Mammoth Cave, the longest cave system on Earth, Wigwam Village endures as a living tribute to America's adventuresome spirit. We offer two room types, singles and doubles, in the iconic tipi motif. Carefully maintained for 84 years, each guest room contains the original beds and dressing tables. Doors, windows and graphic tile are all original.
Nightly Average: $115
Highlights from the owner: Cozy, one room house quietly tucked away on our farm. Enjoy the farm view from the front porch or the screened in back porch.
-Minutes from I-65.
-A short drive to Mammoth Cave, Barren River, Corvette museum, Beech Bend or downtown Smiths Grove antique district.
-Plenty for parking for boats or trailers.
Friendly reminder: this is a working farm with cattle and horses.
Nightly Average: $60
* Please be sure to read the property's complete details on the Airbnb listing. We have not supplied the full list of details / descriptions here. All photos are direct from Airbnb listings from each property.