Whether you're looking for a summer family getaway, a fall couples weekend, or a holiday staycation not far from home Airbnb has wonderful properties available across Central KY. Lex Fun 4 Kids has selected some great cabins and unique properties perfect for making memories.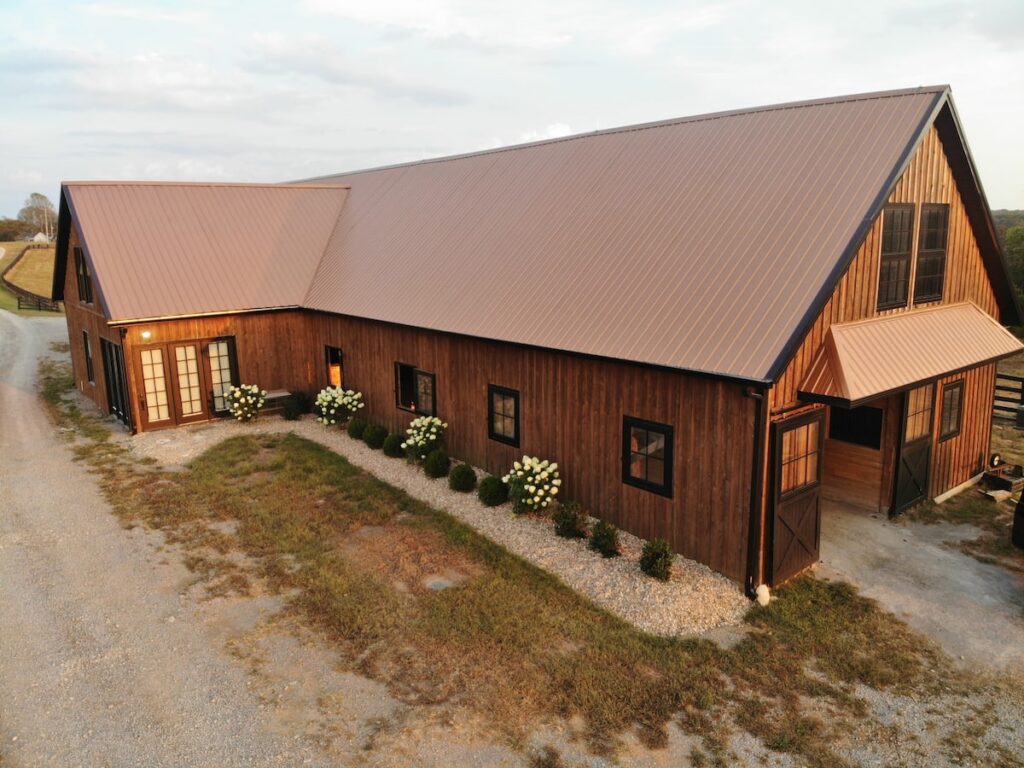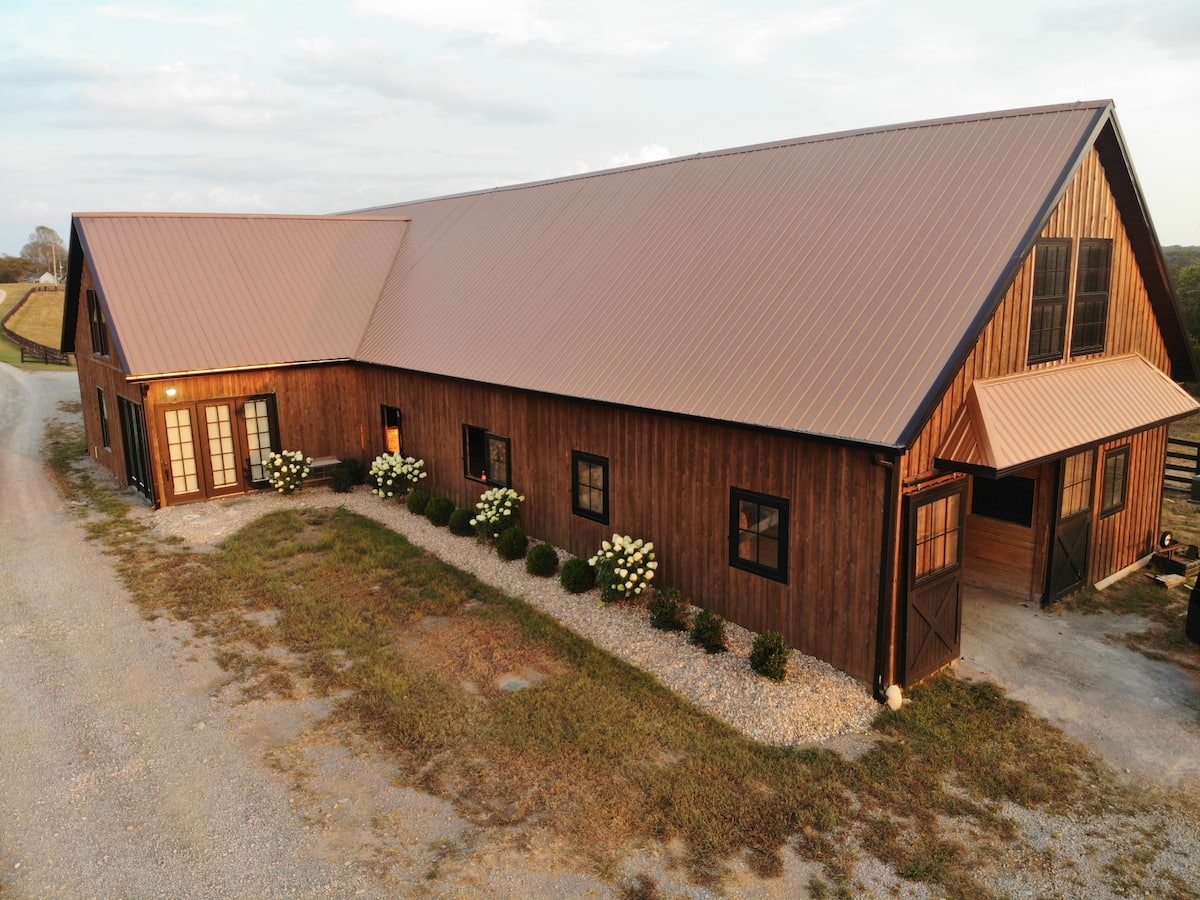 My family and I have enjoyed many Airbnb properties over the last few years. We love having many of the comforts of home as well as privacy you can't get at a large hotel. It also allows more space for everyone to spread out and not feel so cooped up.
When you search Airbnb you can add dates and locations as well as sort by prices, bedrooms, and much more.  You'll be able to view photos, reviews, and lists of amenities at the property.  I always search the reviews for tips on what families enjoyed about the space or what they recommend for future guests.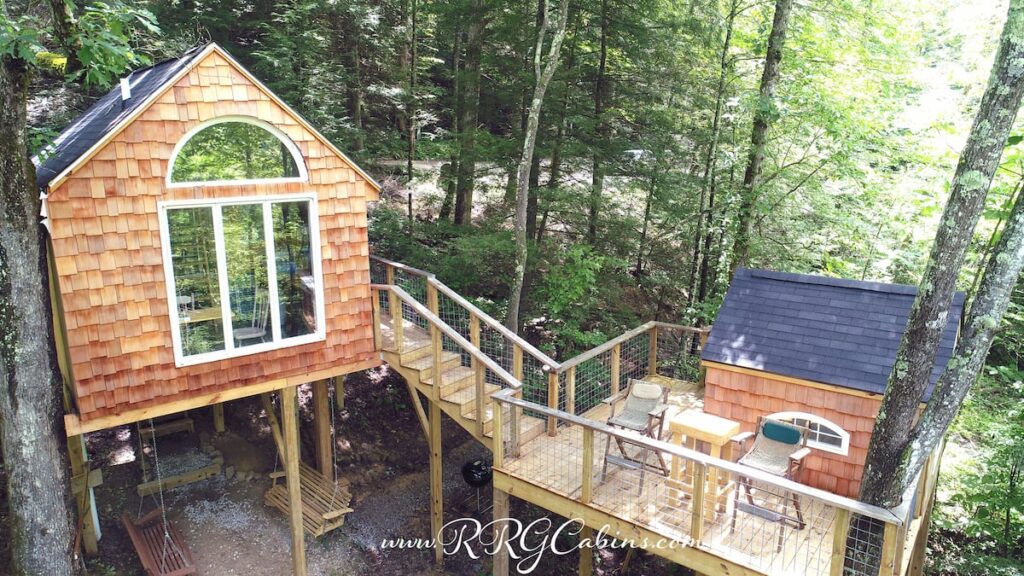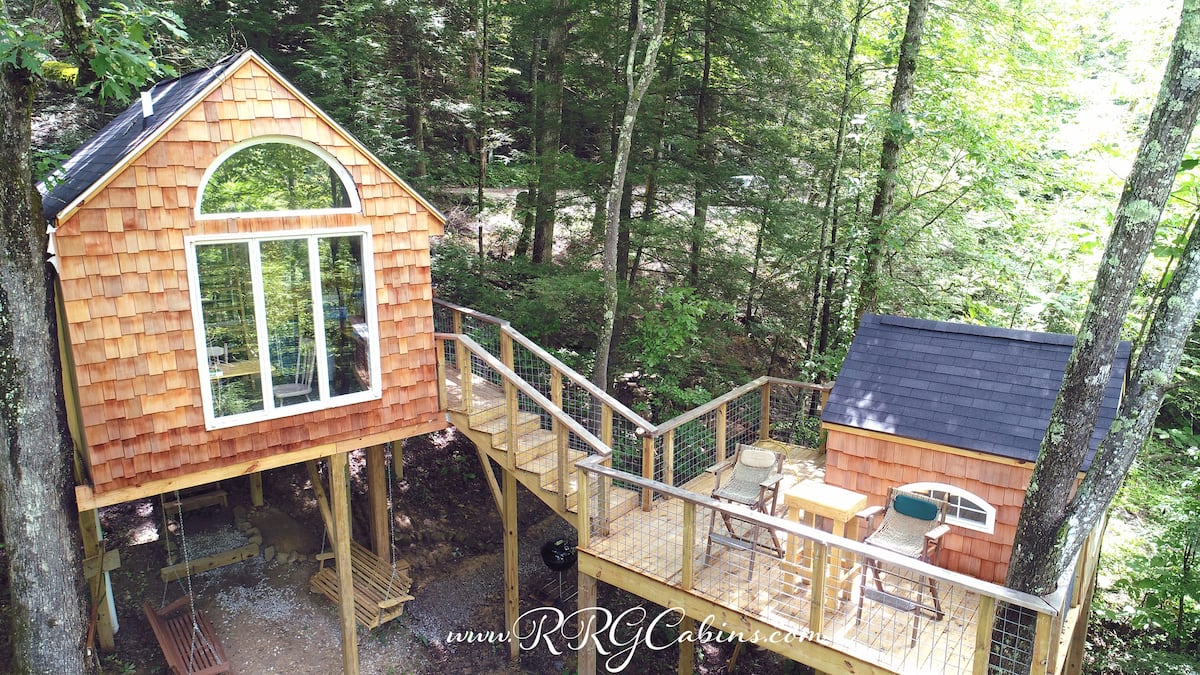 Highlights from the owners*: We are located on private land, and one of the only rentals in the Red River Gorge that is located so conveniently inside the National Park just walking distance to great nearby hiking trails while you have easy road access to other parts in the Red River Gorge such as a 15 min drive to Natural Bridge and the famous Miguel's Pizza, a staple restaurant of the Red River Gorge. After leaving the main treehouse cottage, an elevated staircase leads you to another smaller treehouse called the "nest." Enjoy the national forest on your observation deck overlooking the trailheads while hearing the gentle stream of a nearby creek! The "nest" provides one queen-sized bed and plenty of deck space for gatherings all 16 feet off the ground! In addition to elevated observation deck space, there is more fun to be found on the ground!! Relax at night while you listen to gentle owls and enjoy the twinkling stars above while you warm up near a home-made stone fireplace area with bulb strung lights encircling the area.
Details: 4 guests · 2 bedrooms · 2 beds · 1 bath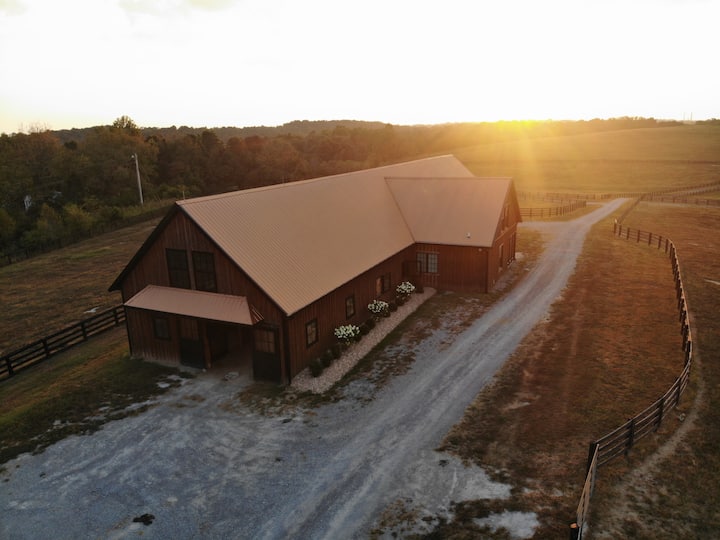 Highlights from the owners*: The apartment is a loft space, newly built, tastefully decorated, and perfectly appointed. The downstairs great room features a kitchenette, dining area and den, with shaded French doors to allow you to control the natural light. Featuring natural wood rafter ceiling and modern cool-toned furnishings, and all the essentials for a get-away. The downstairs full bathroom has a bath/shower combo as well as a mirrored vanity. The loft bedroom has 4 twin beds with crisp, cotton linens and high quality pillows and comforter's for a good night's sleep.
Details: 4 guests · 1 bedroom · 4 beds · 1 bath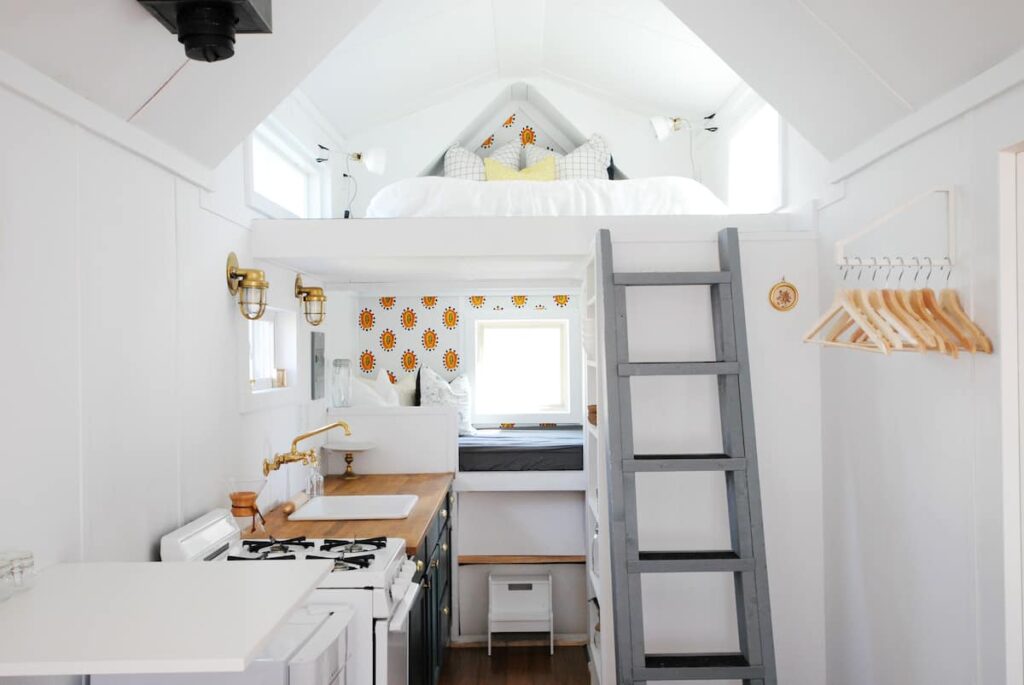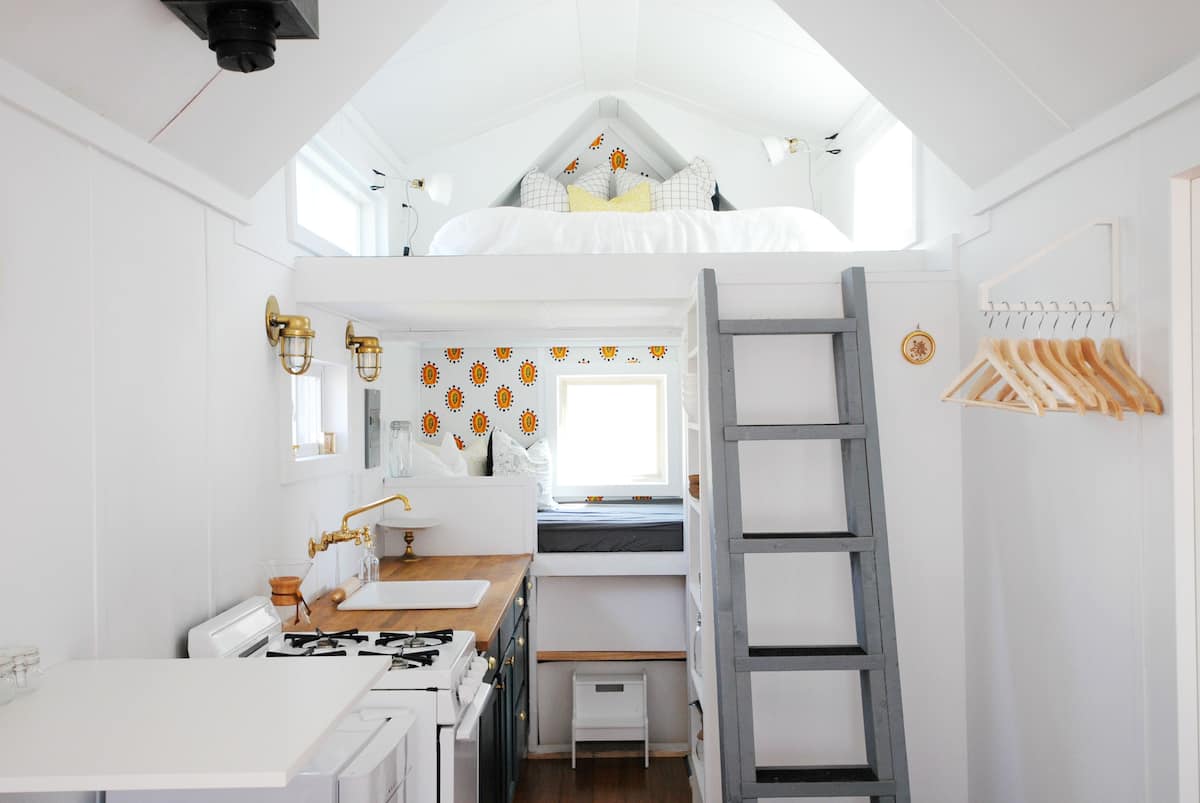 Highlights from the owners*: Ever wanted to experience tiny house living? Here's your chance! Relax and enjoy our airy, cozy, and peaceful tiny house escape. We built this sweet home ourselves with lots of love and attention to detail. It now lives in our back garden where we hope you will enjoy it! We are on hand to answer any questions, but you will enjoy complete privacy during your stay. We are in a residential neighborhood about ten minutes from downtown. It's a great place to come home to after a day of exploring!
Details: 3 guests · 2 bedrooms · 2 beds · 1 bath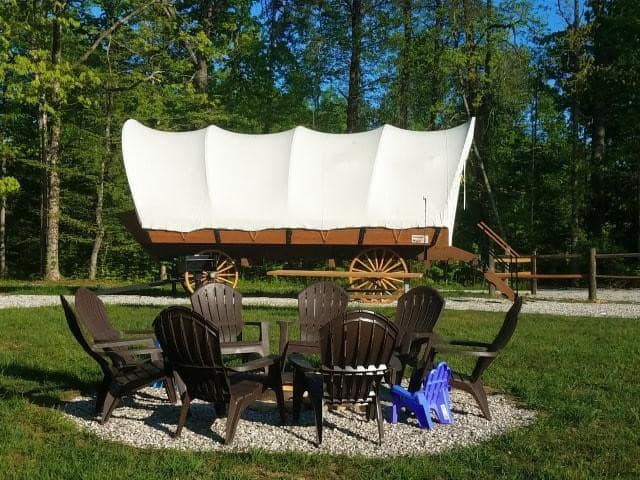 Highlights from the owners*: Unique Old West style Conestoga wagon set up as part of a 6 wagon circle with a center fire ring. It has a picnic table and charcoal grill as well as a king sized bed, a set of twin bunk beds and a pull-out trundle. It sleeps 5 easily (up to 6 people allowed). The wagon includes heat/air conditioning, a microwave, mini-fridge and counter area. Located in a rural area next to the Daniel Boone National Forest and close to Cumberland Falls State Resort Park. It is part of an Adventure Resort. There is a set of 8 restrooms with sinks and toilets within steps of the covered wagons, as well as 2 bathhouses on-site with hot showers and flush toilets. One of the bathhouses also has a laundry room. You have the entire covered wagon, plus access to all public areas at the Adventure Resort.
Details: 6 guests · 4 beds · 0 baths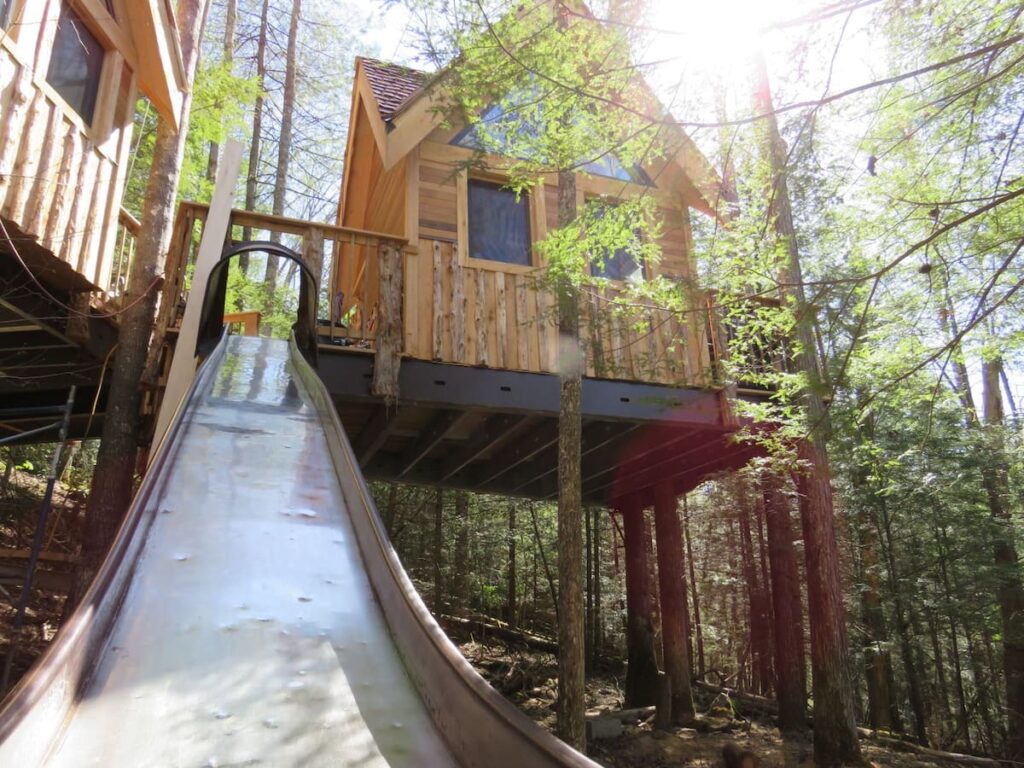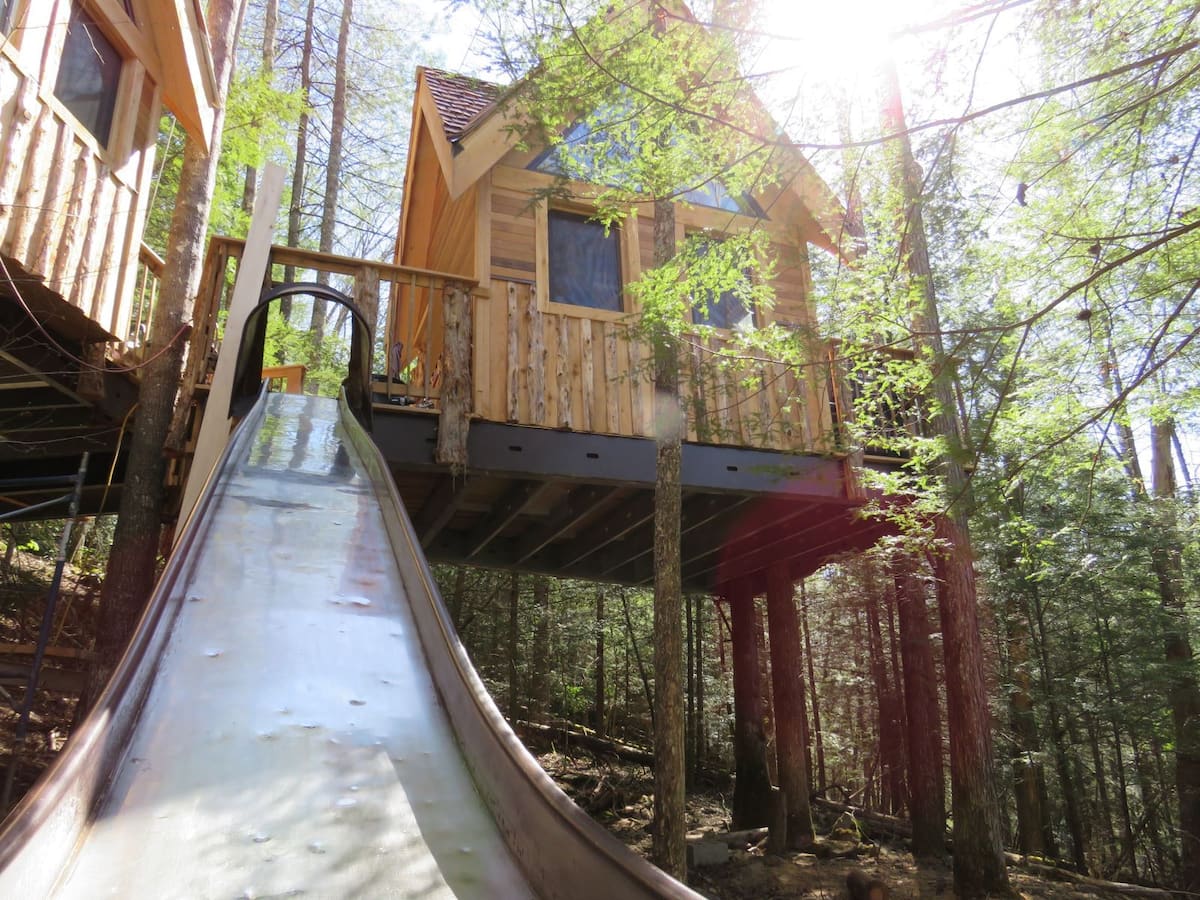 Highlights from the owners*: The Trade Winds Treehouse is simply our most luxurious getaway in the forest. Two twin treehouses perch side by side like owls roosting on a limb. It features full electricity, running water, heat, a private bathhouse, a slide, and even a hot tub! *Important* Access to this cabin requires driving up a gravel road with various steep sections. Most vehicles can make it, but we do recommend 4WD and/or high clearance. If your vehicle cannot make it, we can give you and your things a ride up. Full Bathroom: featuring tile shower, flush toilet, hand sink, towel hooks, bath exhaust fan and more! Approximately 50 feet away from the two tree houses on a gravel path with night lighting. The bathhouse is a log cabin, which includes a living room area, loft with a full size bed, plus a comfy couch, & bar sink, (sleeps 3 total) Full Compact Kitchen: featuring 3 burner stove, half size fridge, cookware, eating utensils, dish rack, kichten sink, rolling island with integrated cutting board, kitchen exhaust fan, and ample lighting. Interior seating in the kitchen is limited, but can accomodate 6 people with additional outside seating available. Two treehouses: one master quarters with a queen mattress downstairs plus a sleeping loft for 1 additional person (sleeps 3 total), and the other features a kitchen downstairs, compact futon downstairs and sleeping loft with a full size mattress upstairs (sleeps 3 total)
Details: 8 guests · 3 bedrooms · 5 beds · 1 bath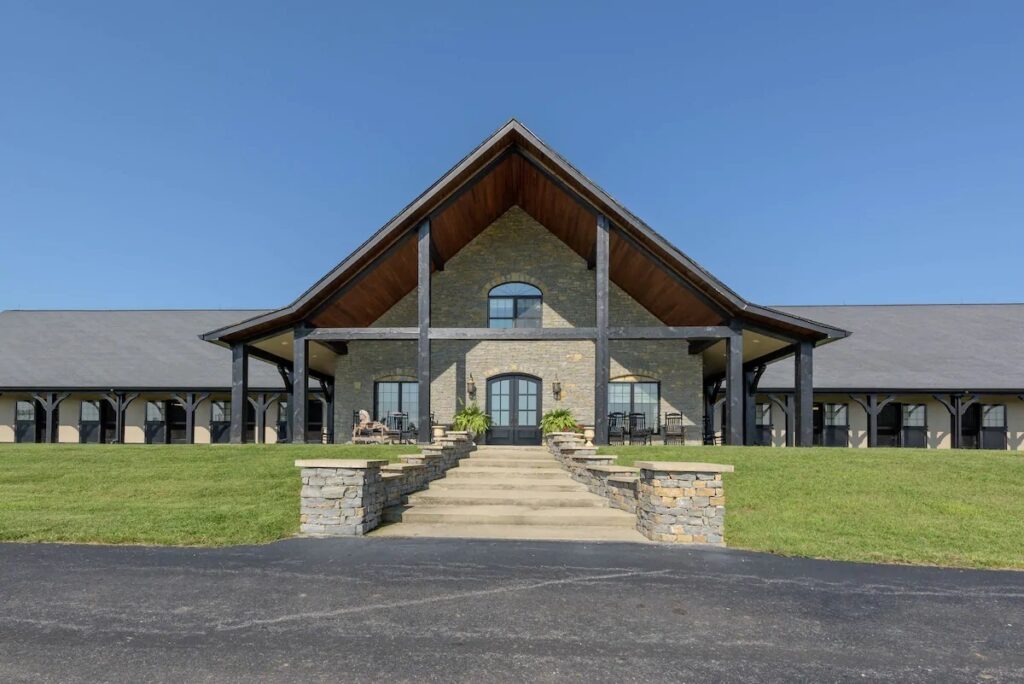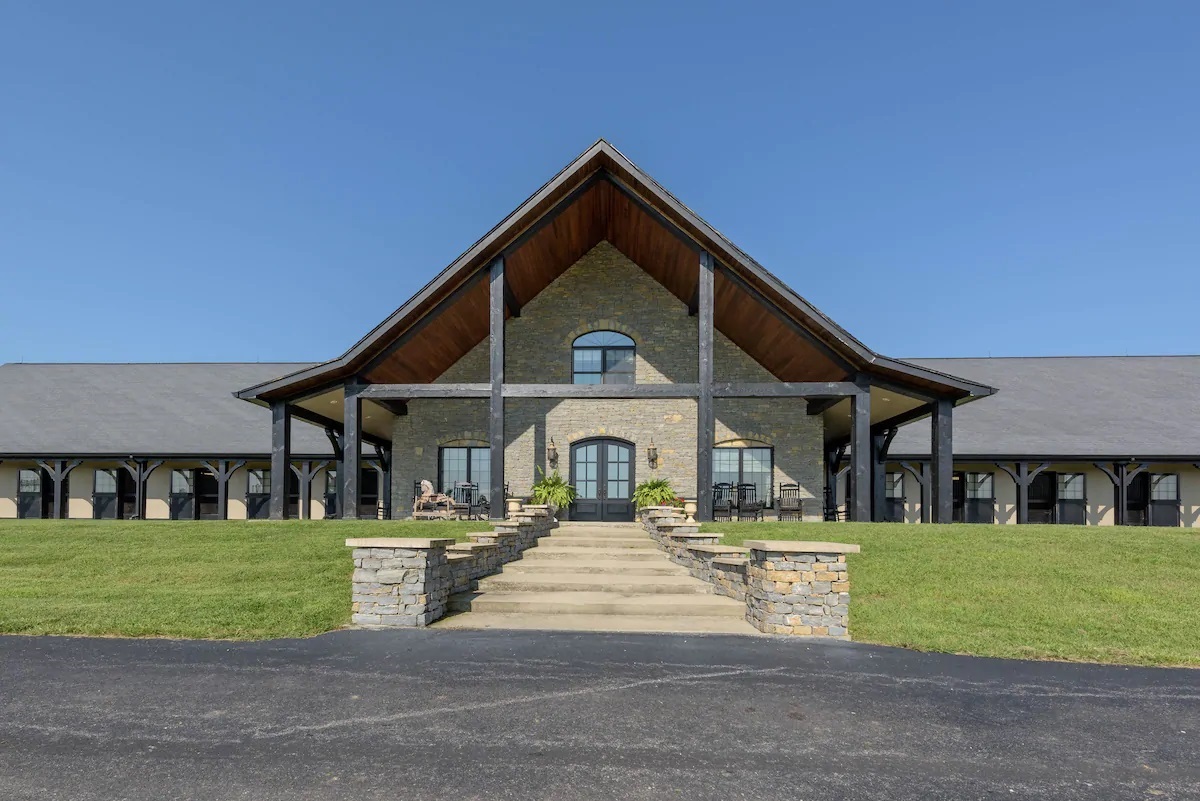 Highlights from the owners*: The Barn Loft is an incredible opportunity to experience the beautiful Bluegrass region. The apartment is located in the upstairs of a working thoroughbred horse farm called McCauley Farm, with all the comforts of home and impeccably appointed. Kitchen is fully furnished and outfitted. Bath features a shower. Beautiful views of horse pastures and not a neighbor in sight! Please note, this apartment is located on a working horse farm. While the apartment is secure and private, you will have access to common areas of the barn in order to enter and exit the apartment. You may walk the shed row but please do not interact with the horses without permission or being escorted by an employee of the farm or the property owner. We would be more than happy to set up a tour of the stables, just ask!
Details: 5 guests · 2 bedrooms · 4 beds · 1 bath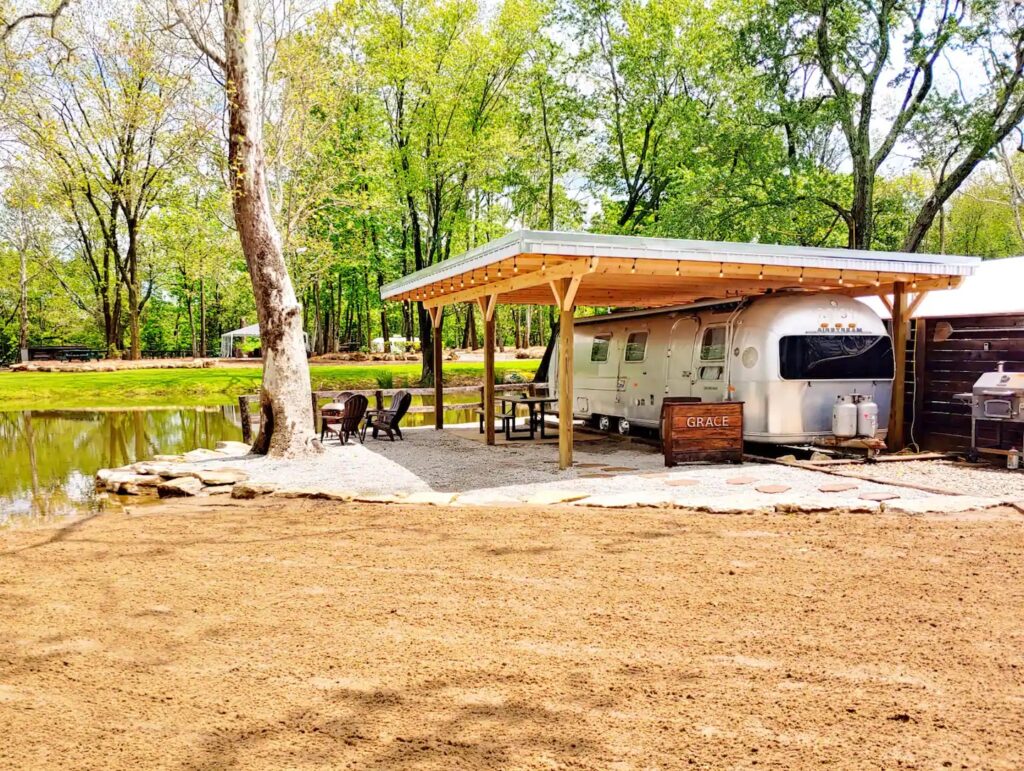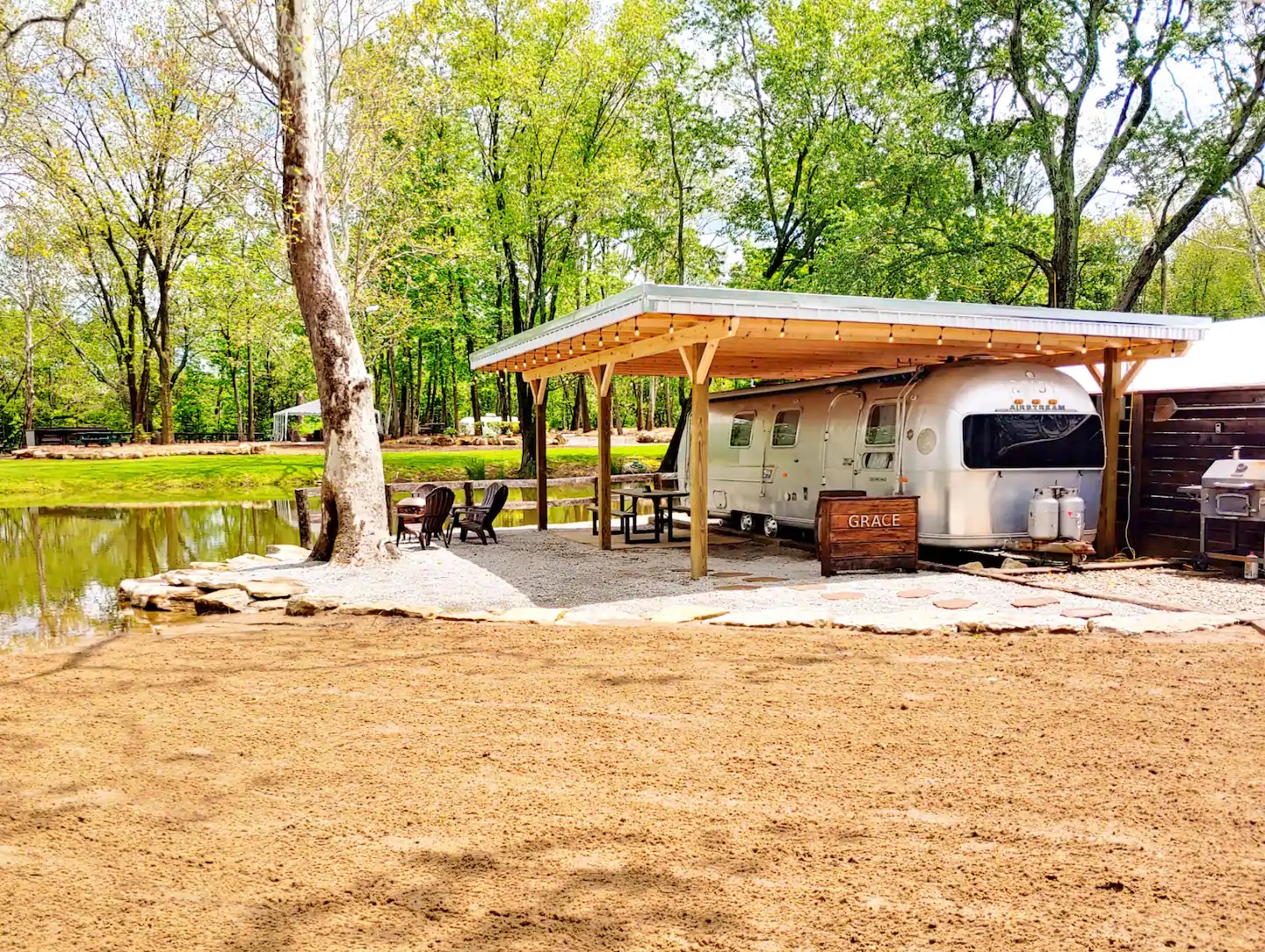 Highlights from the owners*: Always wanted to experience the vintage Airstream life? Here's your chance! The Grace is a 1974 Airstream Sovereign Land Yacht that has been completed remodeled and modernized from head to toe. All the amenities of a hotel, just on the water's edge. Enjoy your coffee in the hammock, spend your days hiking, fishing, swimming, kayaking or paddle boarding. A hidden gem, right in the city. The grace is fully equipped with reclaimed wood floors, a full kitchen with concrete counter tops, 2 burner stove, fridge/freezer, microwave, coffee pot with coffee, filters and sweetener, a teapot with teabags, all kitchen utensils, all bedding, linens and pillows, all bath towels, full length mirror, private toilet, toilet paper and paper towels, heat and A/C, free wifi, 2 TV's with DVD players, desk w/ chair. The dinette table with reclaimed wood top converts to a queen bed, the couch extends to two twin beds with the trundle underneath and the back bed is also a queen. Right outside your door you can relax in your hammock by the side of the water and beach, or have coffee at the picnic table under your awning. You can take a walk around the hiking trail on the perimeter of the property, go fishing in the fully stocked pond (catch and release only, bass, catfish, bluegill), or hop over to the beach and take a swim, hop on a kayak/canoe/paddle board. And whether it's summer, spring or fall, you can always end your day around the fire pit under the twinkling string lights to roast some s'mores and share your stories of the day.
Details: 6 guests · 4 beds · 1 bath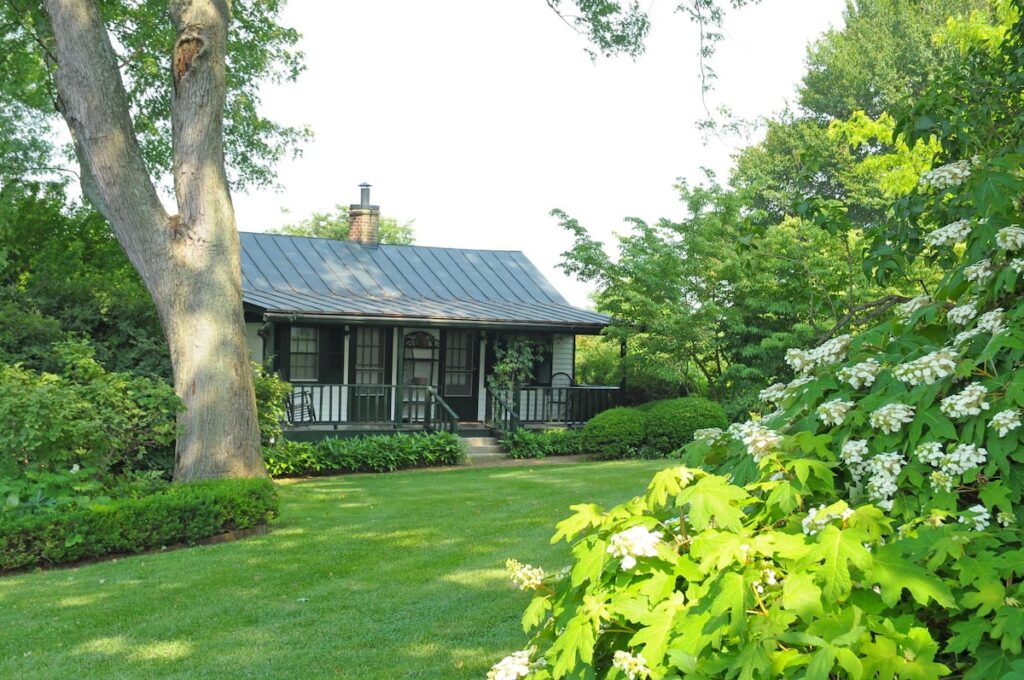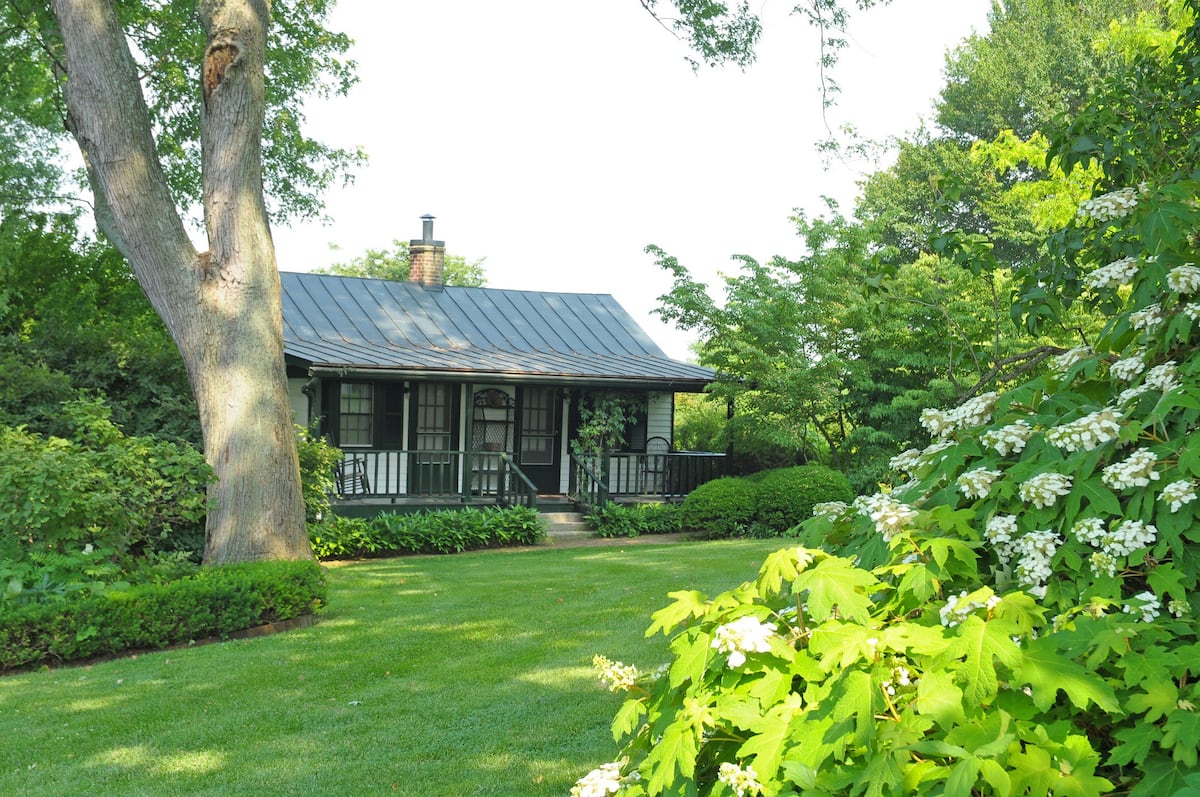 Highlights from the owners*: This cottage is nestled in the middle of an estate garden that is considered to be one of the most important in the region. The garden has been featured in numerous publications, and recently was accepted into the Smithsonian's Archives of American Gardens Collection. The farm is home to a number of retired thoroughbreds and saddlebreds.
Details: 2 guests · 1 bedroom · 2 beds · 1 bath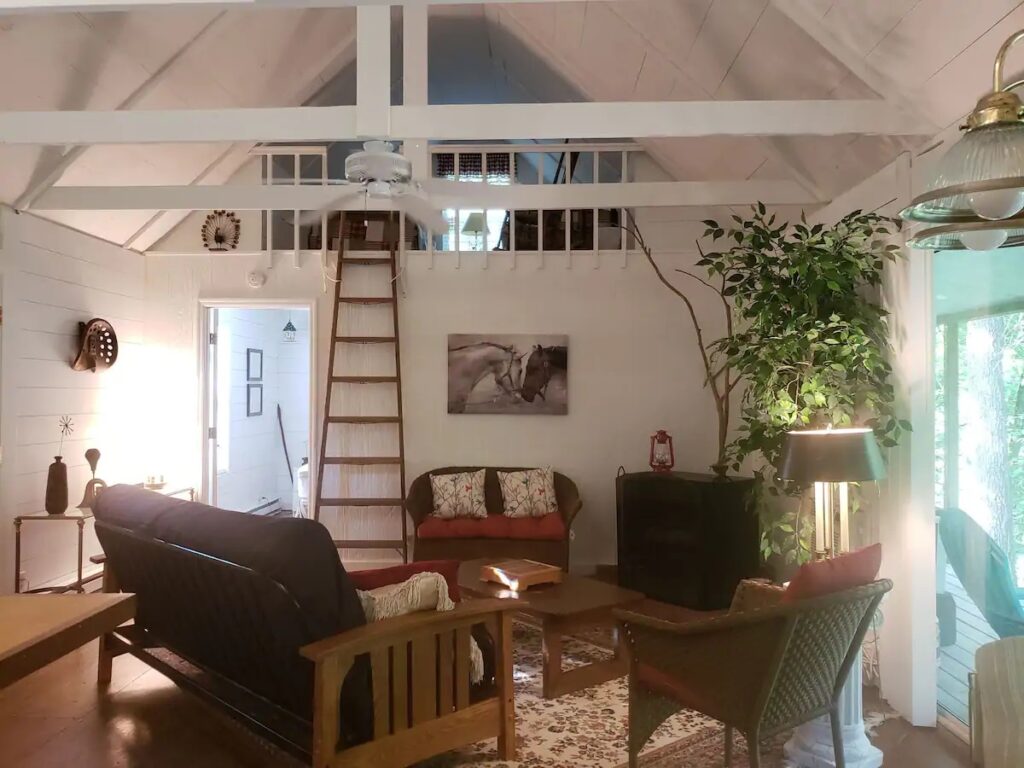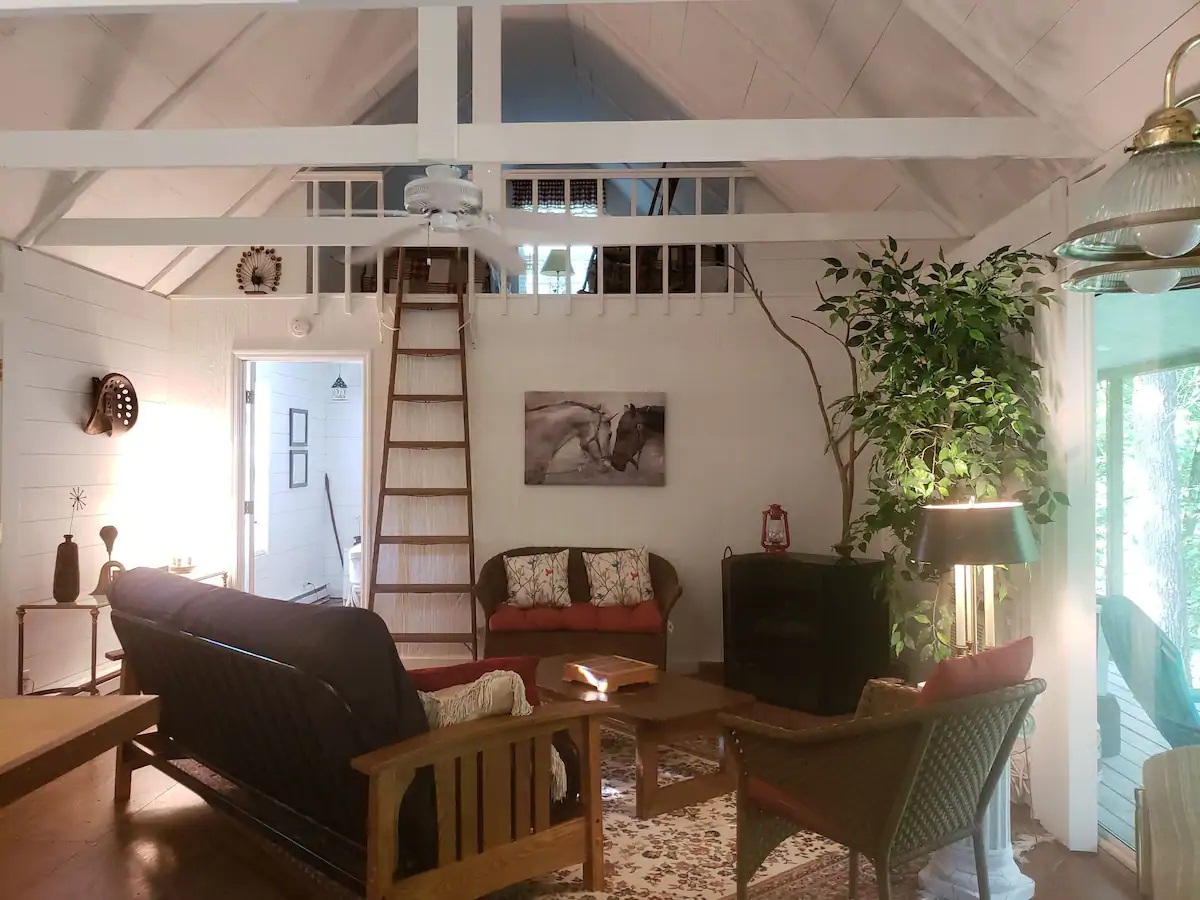 Highlights from the owners*: Nestled in the 400 ft cliffs of the Palisades-one of the top places to see in Kentucky! Enjoy nearby historic sites, distilleries, horses, nature, river activities & more! Comfortable one bedroom plus a loft surrounded by the river and inspiring natural beauty. The space
There is a queen bed in a separate bedroom, queen futon in the living room, and 2 twin beds in the loft. The functional kitchen has microwave, full-size refrigerator, apartment sized stove/oven, small appliances, utensils, dishes, pots and pans. coffee maker & k-cups for hot and cold beverages; hot water for oatmeal, soups, and other instant meals. All the basics covered. Washer, dryer, full bathroom with tub & shower combo. Outside chairs and picnic table for enjoying river views and cookouts. Propane grill, charcoal park grill and stone fire pit available for cooking. Read and unwind surrounded by nature, with the peaceful sounds of the river and waterfall.
Details: 6 guests · 1 bedroom · 3 beds · 1 bath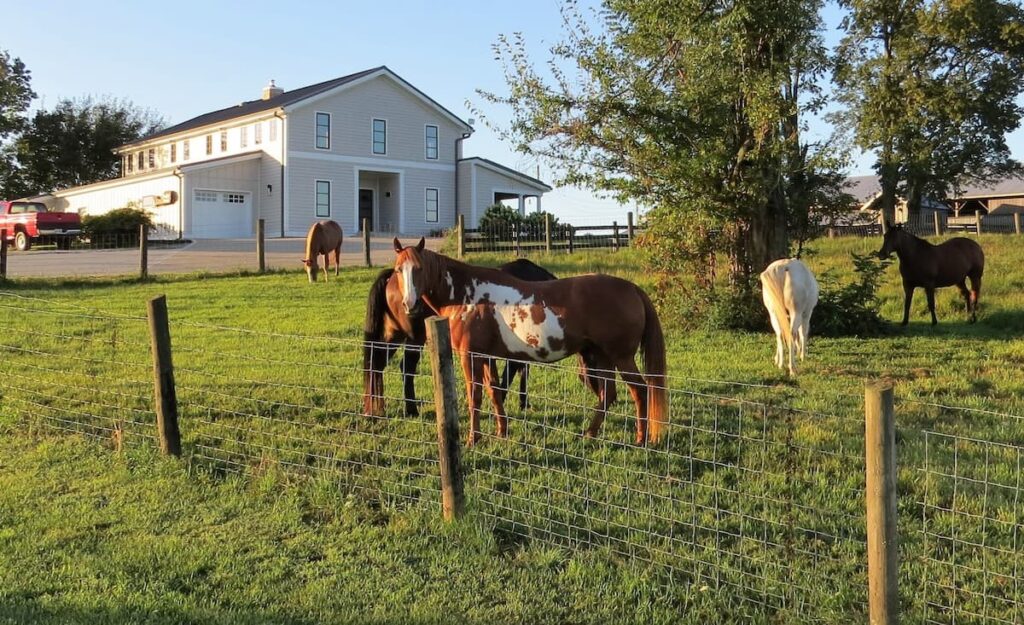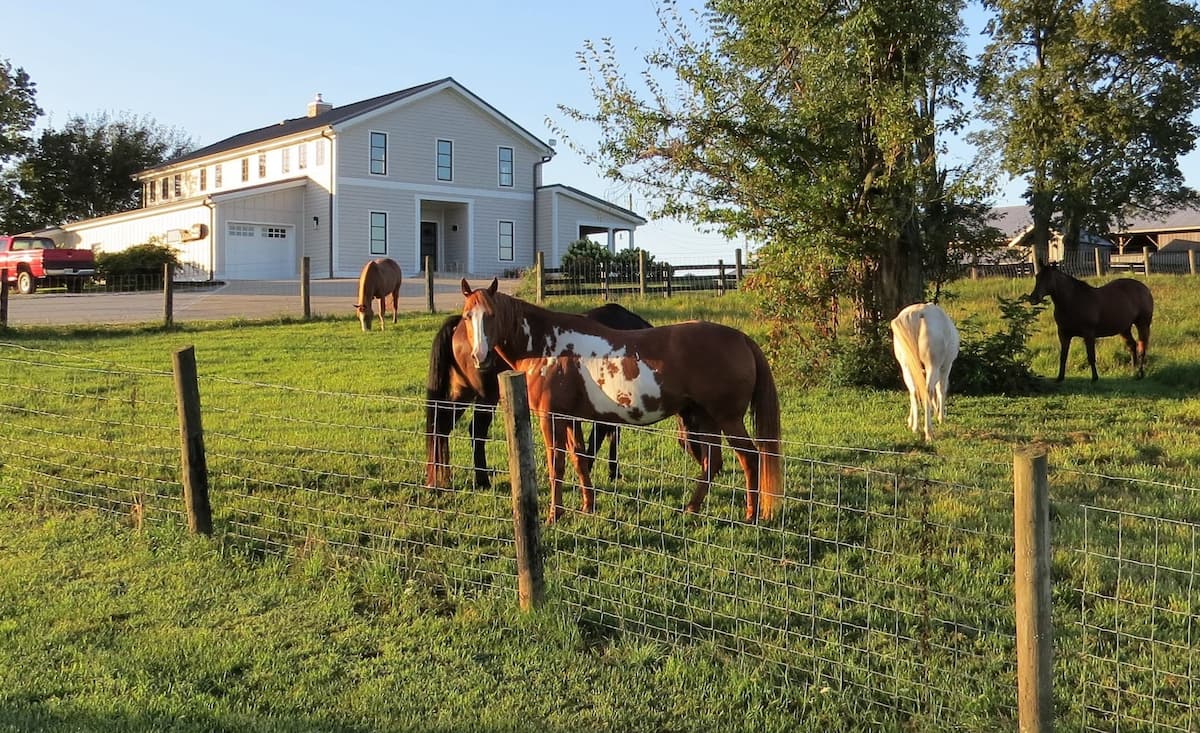 Highlights from the owners*: The ELM House is a "Green Building" with a large Solar array. Built in 2016 by owner and Amish people. Old poplar rafters, doors, a staircase from a previous 1860 farm house, were renovated and reused inside, creating a rustic interior with a warm and earthy ambiance. The two guest rooms are on second floor. Both spacious, very comfortable, with great farm views and attractive bathroom. Guests will use the main entrance and enter a large lounge. The 1880 staircase has two hand rails and prefers less heavy suitcases. It'll take you to the second floor where your room is situated. Your room has a refrigerator, a small coffee maker and WiFi. Each bedroom has an Amish built Cherry bed with a great mattress. A long cat-walk connects the WEST and EAST bedrooms and views the Great Room below. Guests will use the second floor including a unique Tea-kitchen where you can get ice-cubes, use a small microwave and make tea!
The rest of the house is private. Outside, the guests are welcome to use a covered corner porch, shared with the owners dog, or to sit at a fire pit or at the old Elm trunk. Guests can take walks too in the neighbor hood to a historic beautiful creek, or cemetery. Lincoln Homestead State park is 3 miles away. Guests are also welcome to visit the old Horse-pole barn and meet the horses. (This is the WEST listing. Click here for the EAST listing)
Details: 2 guests · 1 bedroom · 1 bed · 1 private bath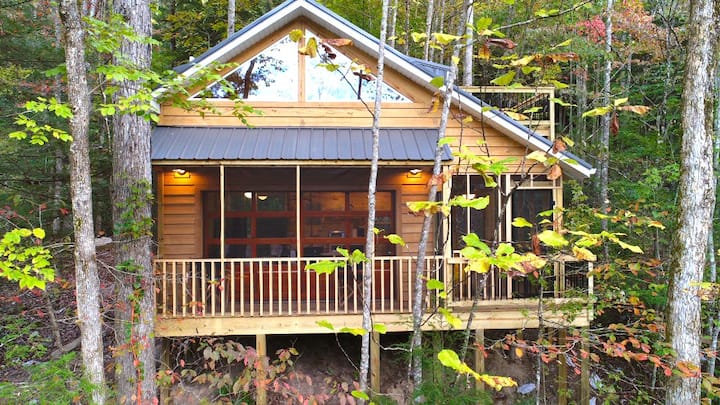 Highlights from the owners*: Enjoy the morning birds, reconnect with loved ones, and wake up to the sunrise in your private Treehouse! Hikes within walking distance to the trailheads & climbing areas sure to delight every outdoor enthusiast! Designed for small families, hikers, friends & romantic getaways! 7 mi drive to Natural Bridge, Steps to Trailheads, 1 mi from Nada Tunnel. With soaring cliffs and majestic arches, Red River Gorge is an awe-inspiring place to visit. This rugged region of geological wonders astounds visitors from other places, but it is beloved by Kentuckians and known the world over to rock climbers, partly because of its many overhanging cliffs. At night, listen to gentle owls and enjoy the twinkling stars above while you warm up near a fire pit and sitting area. In the morning, walk to the national trailhead location while the sun breaks through the trees while hearing the gentle stream of a nearby creek!
Details: 4 guests · 1 bedroom · 2 beds · 1 bath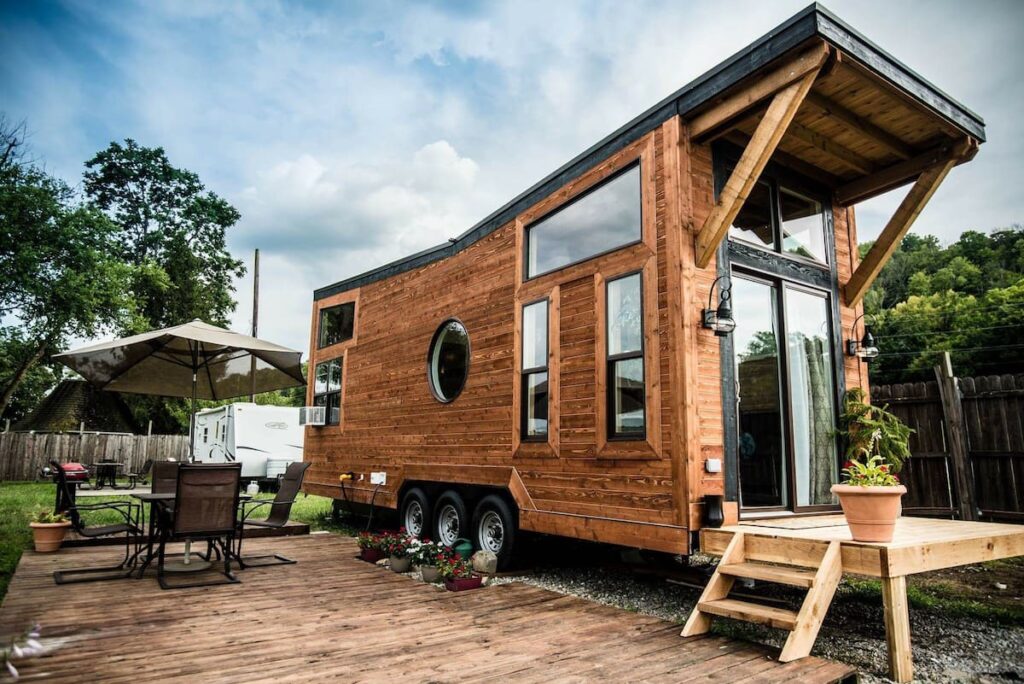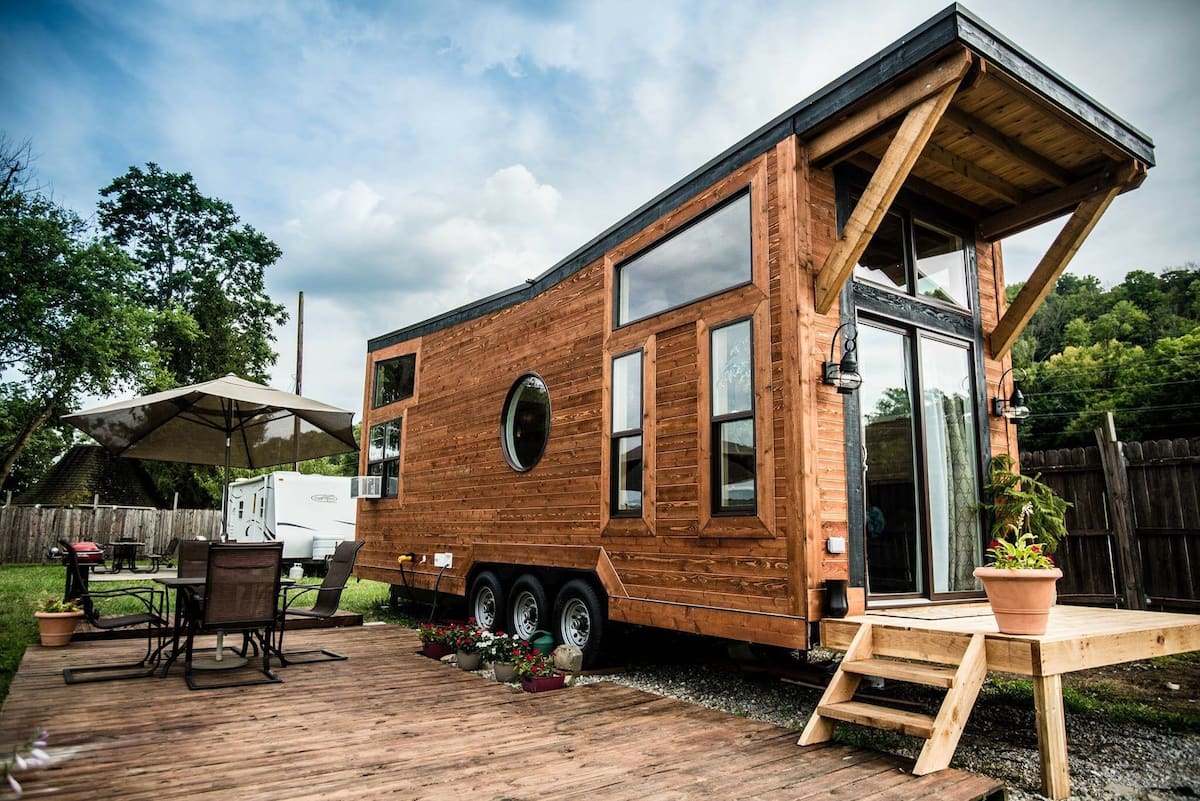 Highlights from the owners*: Our tiny house is Located just minutes from Downtown Cincinnati and Newport on the Levee Retail Experience, Riverside Marina is the perfect choice for all seasons. Featuring a full service restaurant and bar, with live entertainment on weekends. The Industrial model features an angled roof, which starts low above the bedroom and builds to 14 feet in the living room. Trapezoidal windows grow similarly from back to front, offering natural light while maintaining privacy. The front of the cabin is almost entirely glass. A large sliding glass door opens to a private deck. Includes one bedroom with full size bed and a loft with a king size bed. Hardwood and tile throughout. Hvac, water, sewer, electric, and Quartz countertops. This is the Taj Mahal of Tiny Houses all with the conveniences of a full-service Marina/Restaurant/Bar.
Details: 4 guests · 1 bedroom · 2 beds · 1 bath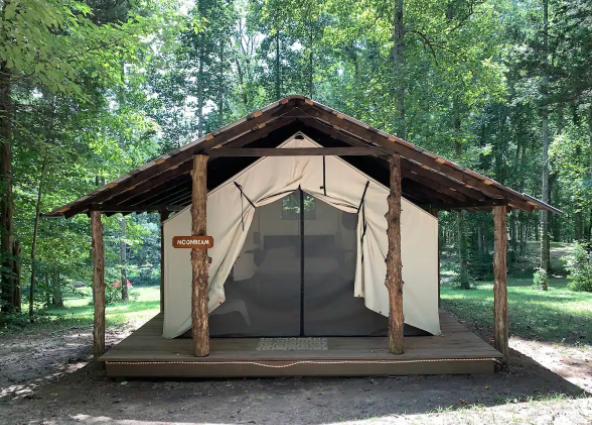 Highlights from the owners*: Named for a favorite Willy Porter song, "Moonbeam" is a 12'x14′ safari tent on a wooden platform with a roof. Listen to tree frogs while drifting off to a perfect night of sleep on a queen size memory foam bed with soft, dreamy linens. The tent features power, lamps, chairs, and a desk inside. Outside, enjoy a private fire pit right outside your tent or sit a spell on a rocking chair on the back deck. Moonbeam is secluded, yet close to amenities like the Community Shelter, which provides a a sink, mirror and outdoor shower, port-o-potty, as well as useful cooking items: charcoal grill, refrigerator, electric burner, coffee maker, toaster, pots, pans and tongs. We also have a grate system that allows you to cook over the open fire (grates are hanging from a tree near the community fire pit).
Details: 2 guests · 1 bedroom · 1 bed · 1 bath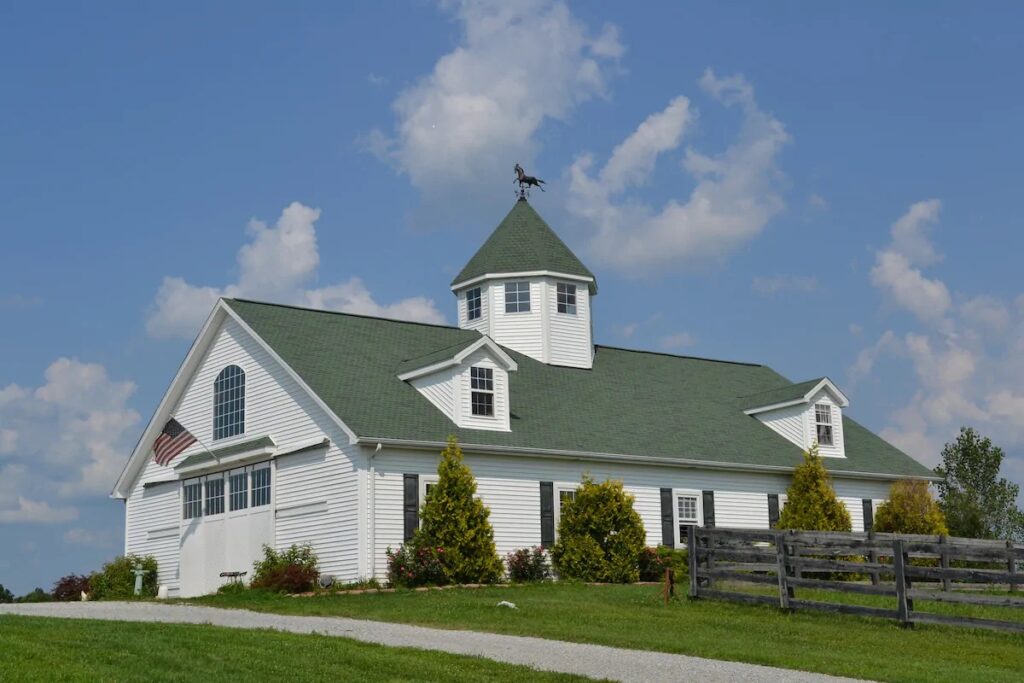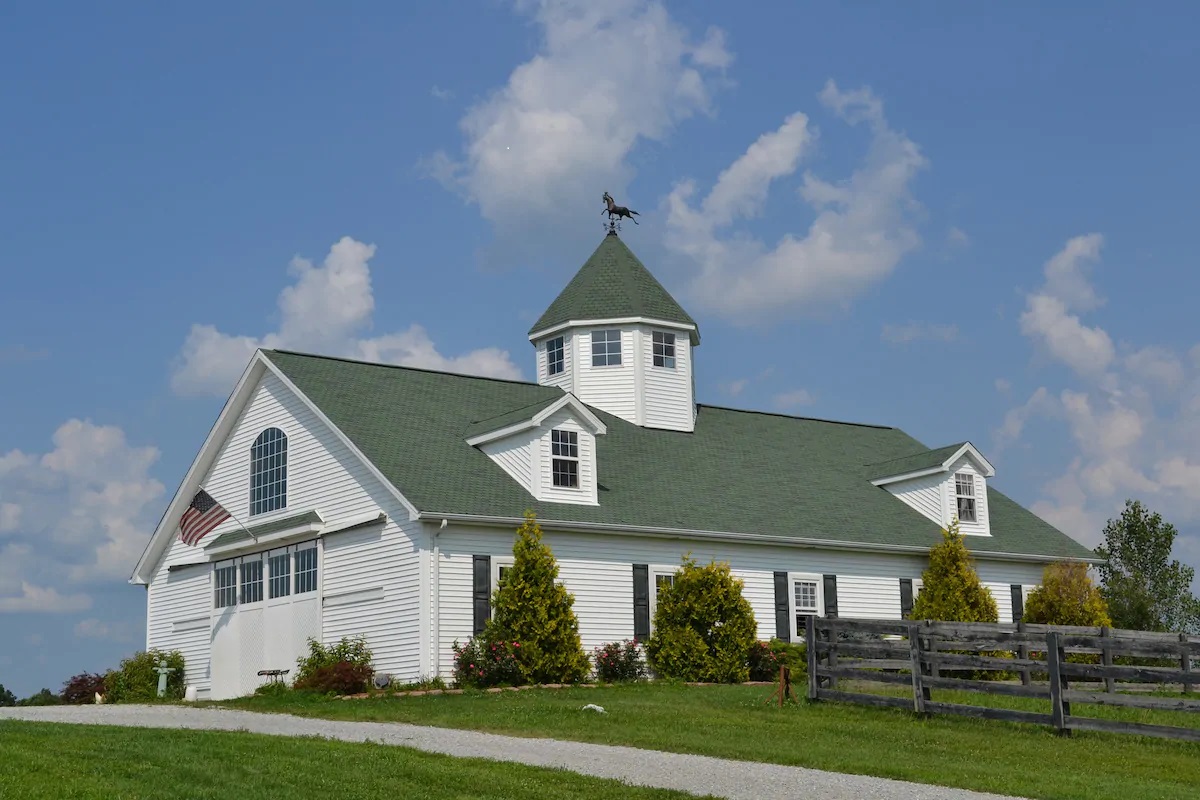 Highlights from the owners*: Located in the heart of the Bourbon Trail. Come and enjoy the peace and quiet of country living, but still close enough to cities. The apartment is in a horse barn in the heart of Kentucky. Gorgeous panoramic views. The apartment is on two floors. On the ground floor is the small kitchen, bathroom, and laundry room. Breakfast is provided every morning but you do have to cook it yourself (fresh farm eggs, bacon, biscuits, juice and coffee). Enjoy a walk to the river on the property where you will find a park like setting where you can relax and listen to nature if you like. Markers Mark is roughly 15 miles from the barn along with wineries, golf courses, and more.
Details: 2 guests · 1 bedroom · 1 bed · 1 bath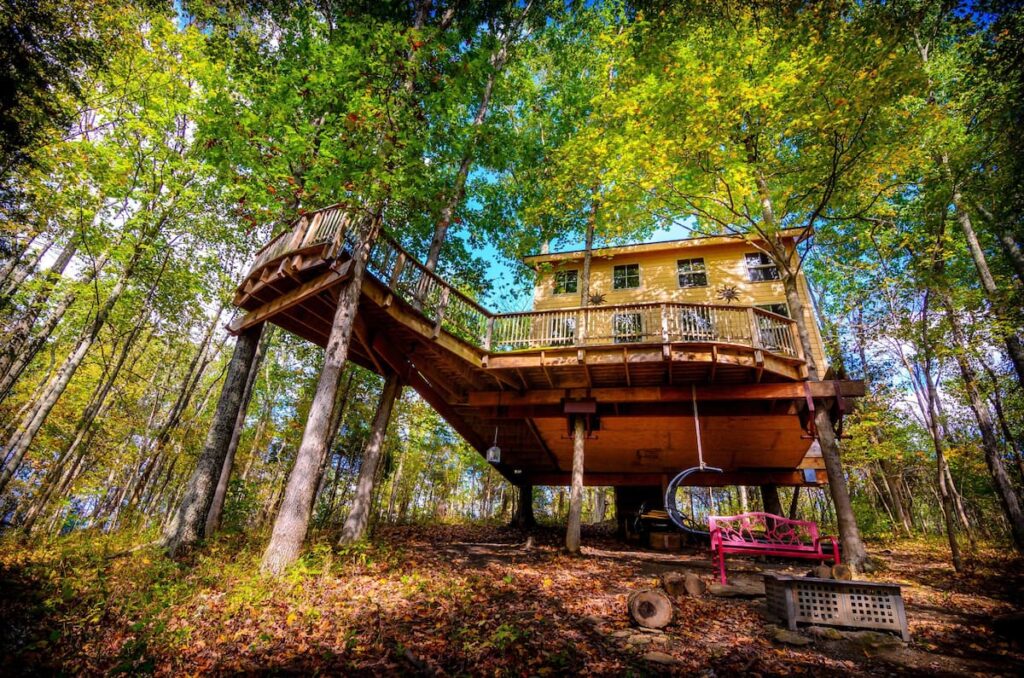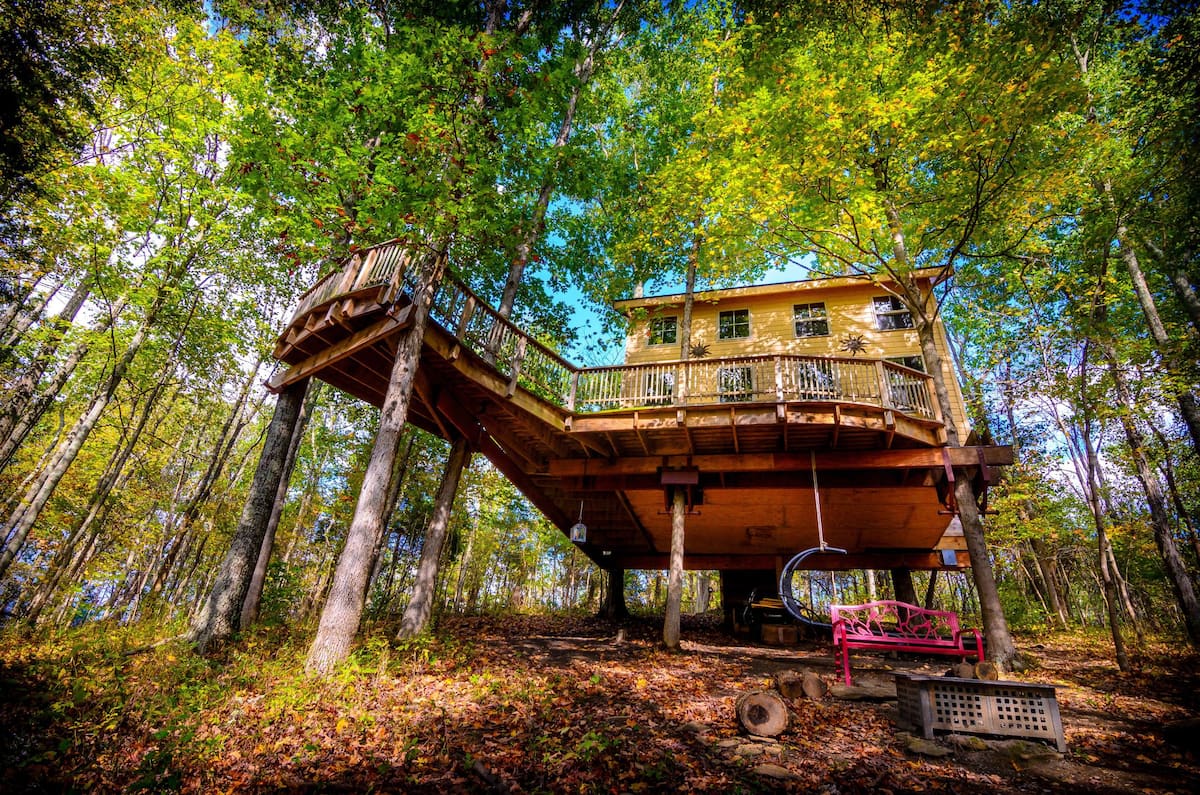 Highlights from the owners*: Built by Pete Nelson- the Treehouse Master and a best friend to all. It aired on season 4 episode 6 as Kentucky Climbers Cottage! This treehouse is for those wanting "off the grid nature experience" The treehouse has electricity, lights, full kitchenette, and back up space heater. You will stay super cozy with a favorite feature – an inside wood- burning stove. Make sure to watch our show ~The Kentucky Climbers Cottage prior to coming. People say it makes the stay more enjoyable. This treehouse experience comes with 200 acres of themed trails. What stands us apart is the quiet, seclusion and options for adding on adventures like our unique guided tree climb. The large barn doors open to let outside in. There's a King size bed, Sofa turns into twin, twin air mattress stored inside sofa. Has electric, air, wood-burner.
Details: 5 guests · 1 bedroom · 2 beds · 1.5 baths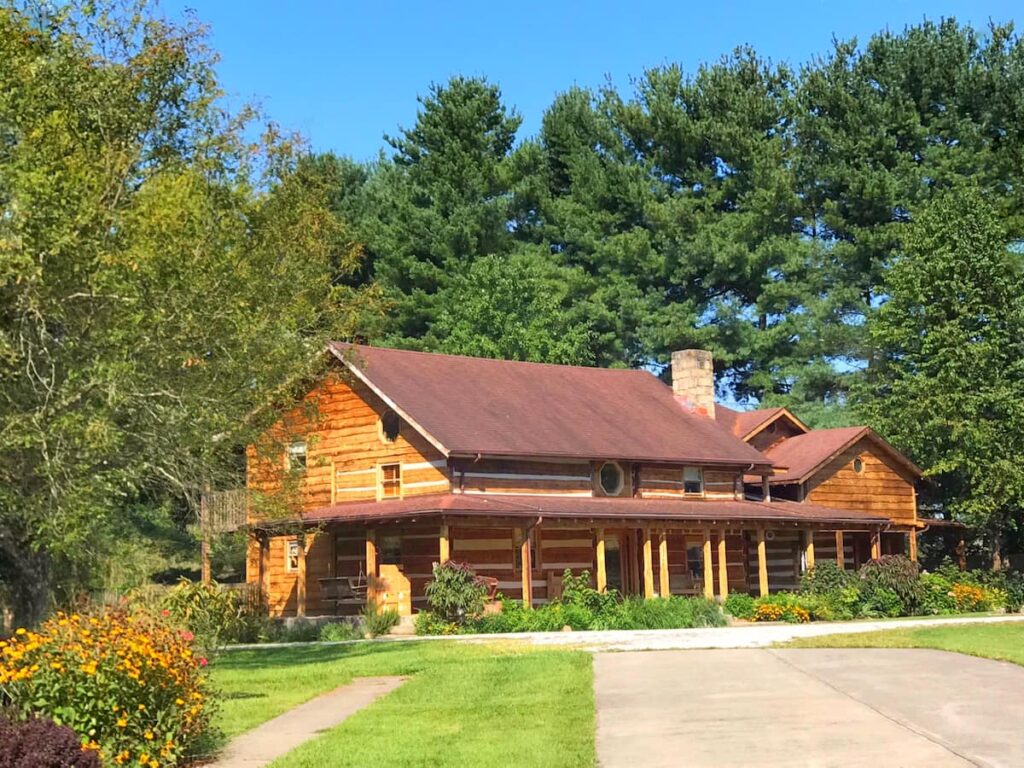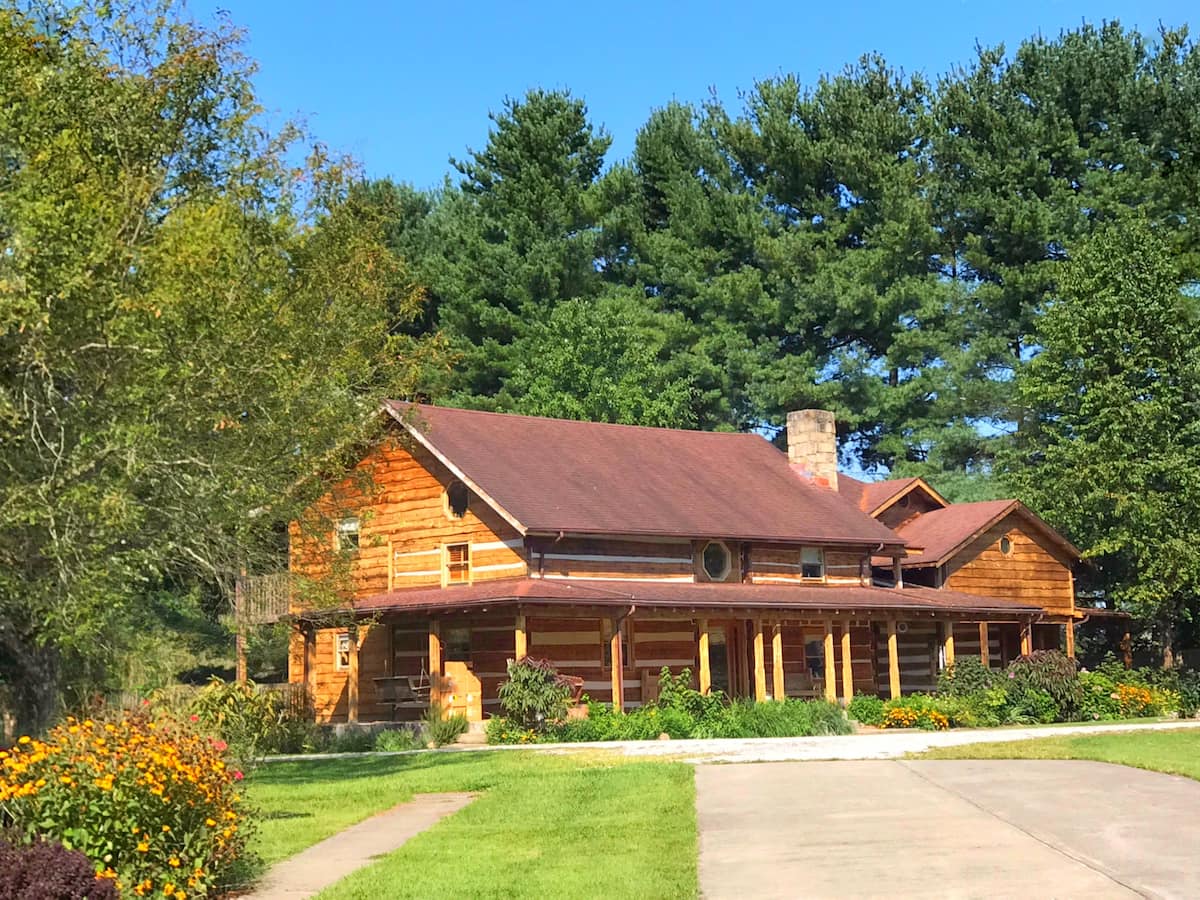 Highlights from the owners*: Surround yourself with beauty, art, and treasures of days-gone-by in this lovingly restored historic log home. Clear ponds, majestic pines, picnic tables and horses on the property. Near by attractions: Historic craft center Berea, Red River Gorge, horse racing at Keenland, and Kentucky Proud dining and activities in Lexington. The entire house is yours! Explore the treasures of this unique 4,200 sq ft work of art. Featured in Perfect Porches of America. Pegged hardwood floors, spacious great room/kitchen, country dining room table seats 12, two fireplaces, hammocks, porch swings, art, pottery, hot tub, fire pit and so much more! The master suite has a private bath, king sized bed and satellite tv. Above it is a queen bed room that opens into the hot tub room and a big bathroom with garden tub, separate shower. This room also has a sink, filtered water, small refrigerator, couch and chair, fireplace, and full laundry room. Two more bedrooms are upstairs and share a bathroom. One is large with a queen bed and small fold-out couch, the other has a standard bed, fabulous view of the ponds and opens onto the second floor deck with a porch swing and two hammocks. For larger groups, we added two additional bedrooms. One is accessible through the master suite. It has a standard and a twin bed and a private entrance. There is also a pull out couch in the living room. Guests are welcome to enjoy fishing or swimming in our sparkling ponds, cruising in the paddle boats, relaxing around the picnic tables, or petting the horses. You may see foxes, deer, hawks, turkeys and/or great blue herons.
Details: 15 guests · 6 bedrooms · 8 beds · 3.5 baths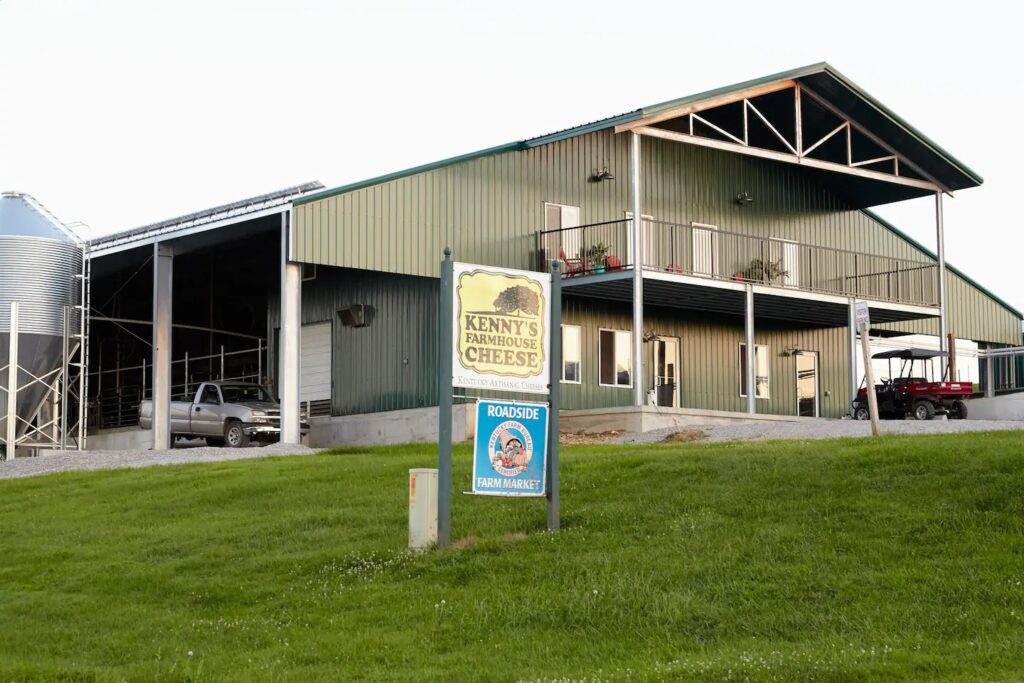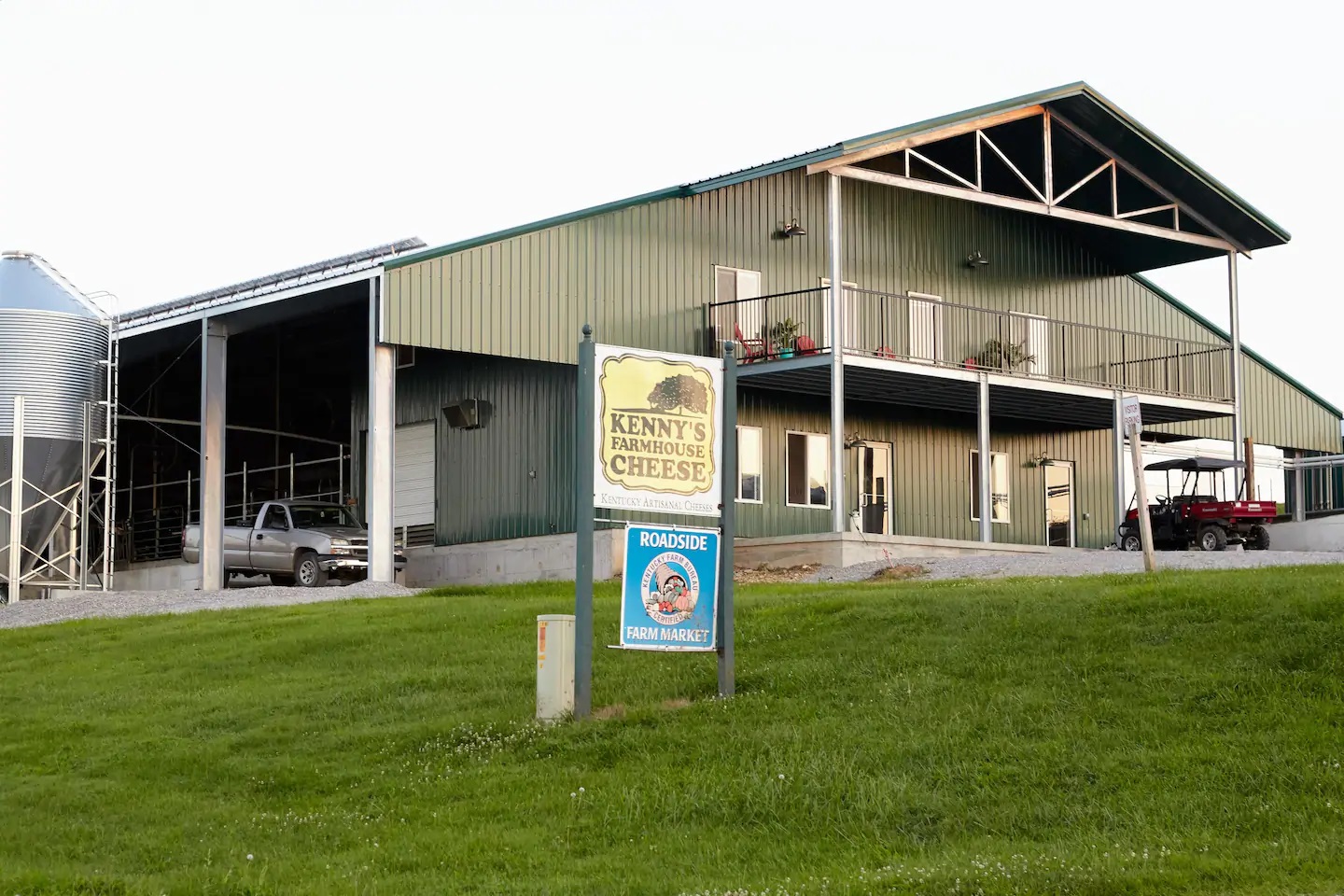 Highlights from the owners*: A one of a kind farmstead experience, stay in a newly constructed barn on our 500 acre dairy farm. The Mattingly farm is home to Kenny's Cheese, farmstead cheese made right here on our farm and you have a unique opportunity to stay in the heart of the action, in our brand new apartments directly above the dairy barn. You will be welcomed by our friendly dairy cows and possibly a new baby calf, or two. And because our cheese is AMAZING, we will leave some in the fridge for you to try.
*Must climb stairs – located on the 2nd floor
*Apartment entrance houses an observation deck overlooking cows in the barn
*View our new state of the art robot milkers
*Might see a calf being born
*Locally made bars of soap left for each new guest and KFHC cheese in fridge
*KFHC is directly next door so you could stroll over to view cheese making, samples
*Beautiful country setting overlooking fields, cows grazing etc.
*Take a hike on our 500 acre farm
*Large shared outdoor deck
Details: 4 guests · 1 bedroom · 1 bed · 1 bath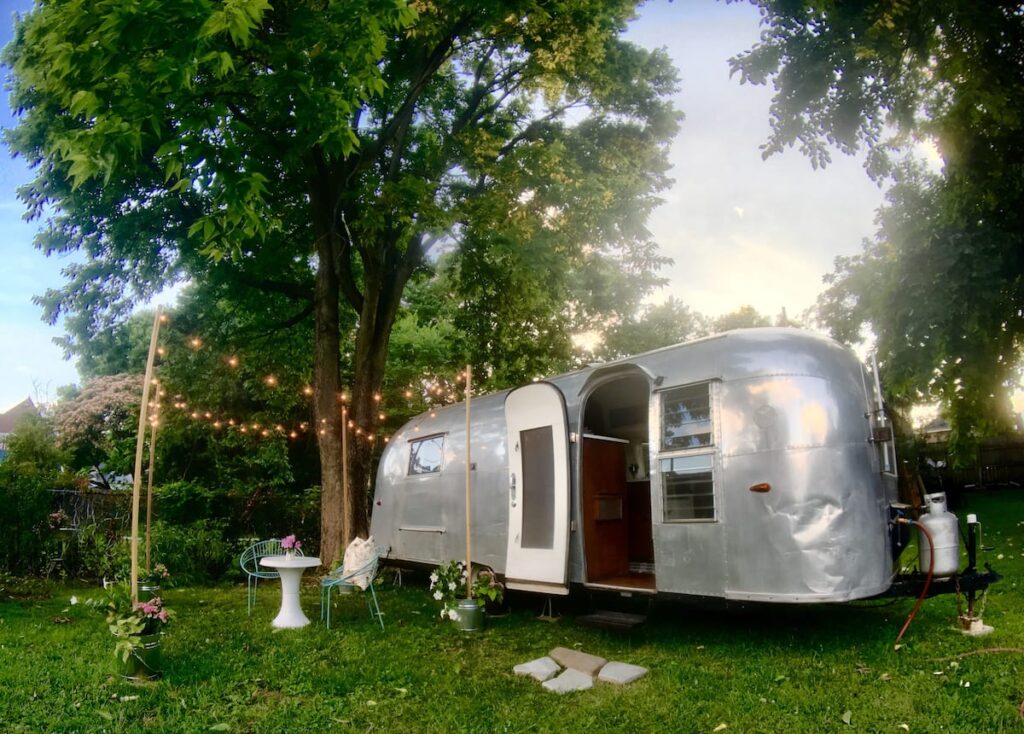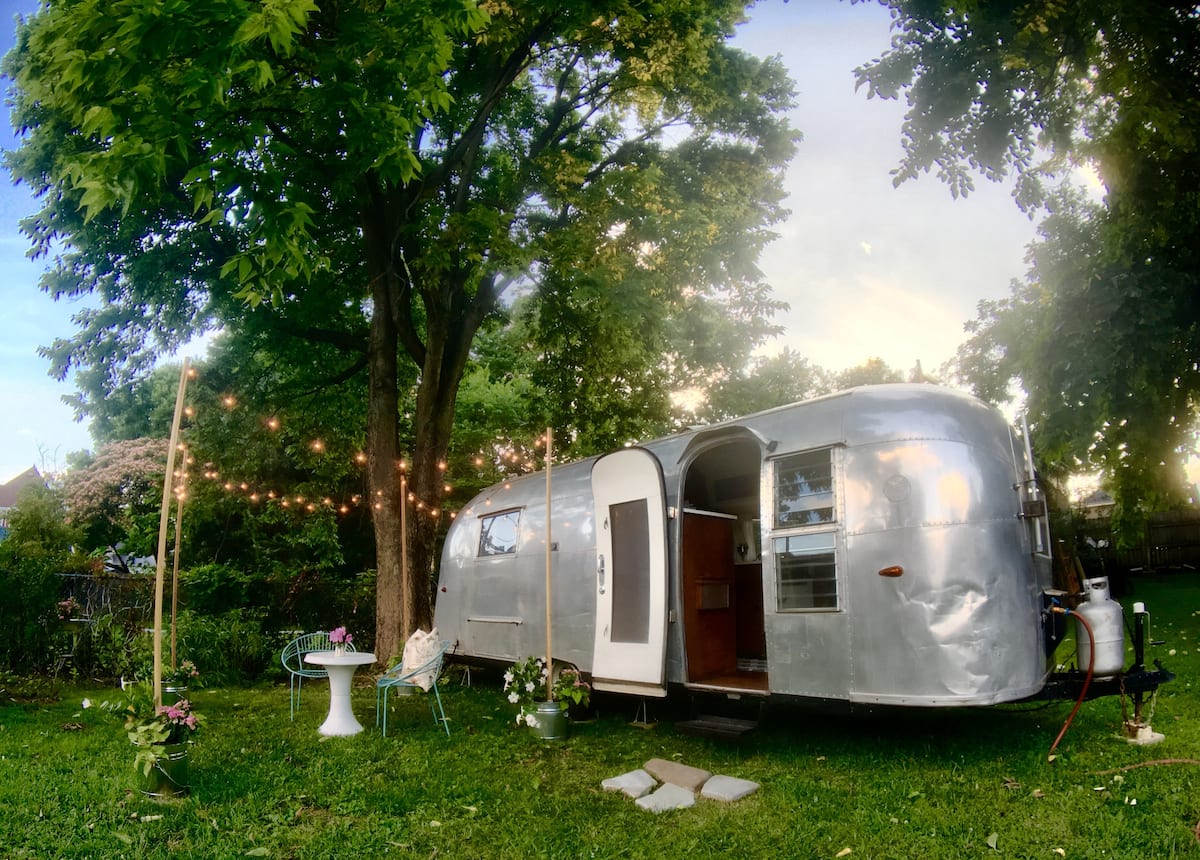 Highlights from the owner*: Time to go Glamping. Sleep in a Vintage 1960 Airstream. Located in Downtown Lexington behind an 1890 Victorian House. Fenced in Backyard, Fire Pit and outdoor dining area.
Details: 4 guests · 3 beds · 1 bath
* Please be sure to read the property's complete details on the Airbnb listing. We have not supplied the full list of details / descriptions here. All photos are direct from Airbnb listings from each property.