A Day Out with Thomas Review
June 5, 2016
Our family headed to New Haven, Kentucky today  (an hour and a half drive from Lexington) with our five year old and 2 ½ year old to visit "the real" Thomas the Train.
The website suggested arriving an hour before our departure time for parking, ticket pick-up, and to enjoy the activities. Luckily, we arrived two hours ahead of time to allow time for lunch before our 2:00 departure. I'm glad we did! The kids were having such fun, that we easily filled two hours with activities and didn't feel rushed.
Getting There & Parking
If you're coming from Lexington, take the Bluegrass Parkway to Bardstown. Take a left off of  Exit 21 (the second Bardstown exit) and enjoy the beautiful drive to New Haven.  When you see the "Welcome to New Haven" sign, drive one more mile and you'll see the Railway Museum on your left just past the BP station. There is a $5.00 lot for parking, a lot where the local football team is fundraising with your generous donations (they said most people give $5.00), and plenty of street parking.
Tickets
If you need to buy tickets when you arrive, head to the back platform. We picked up our tickets at Will Call on the front platform. There is another tent on the front platform where a crew member is passing out maps and schedules and giving pointers. There are four stations on the map that you need to visit to receive a free gift in the gift shop. All of the activities are included in the price of your ticket which I really appreciated.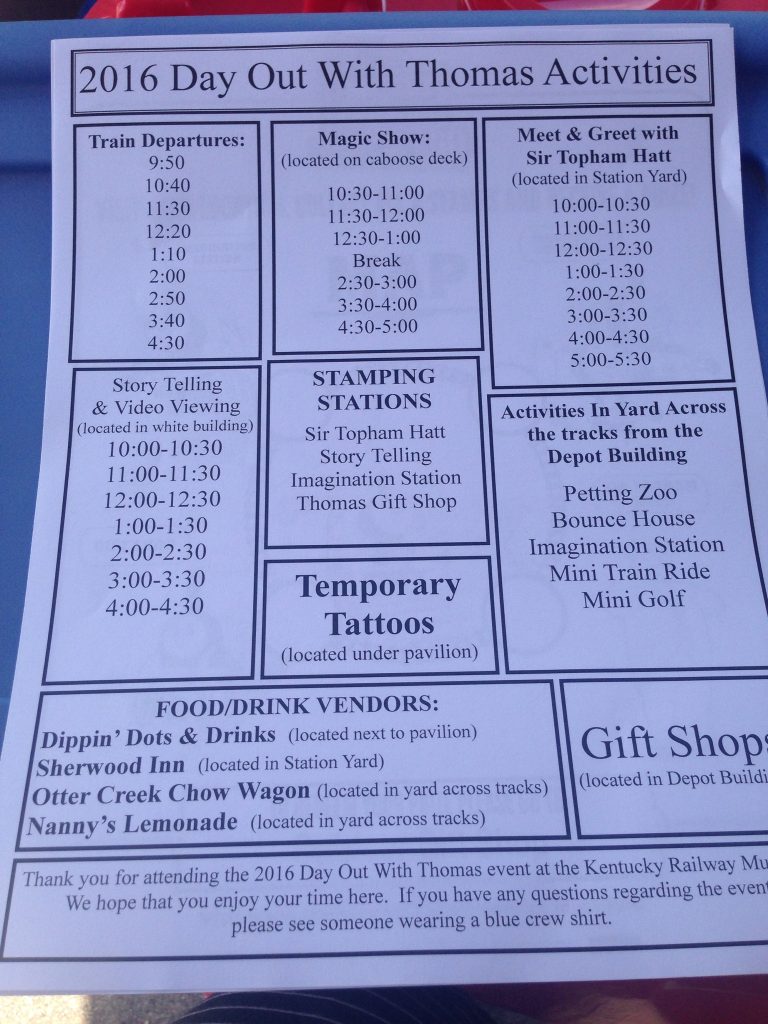 Activities
There are plenty of activities for children to enjoy while they wait for their turn on the train. While I think most activities were targeted at younger children (1-5 year olds), there were plenty of older children enjoying some of the activities also. Children over eight years old would probably find this event a little young.
As we arrived, Thomas was pulling into the station. We headed down to the front of the engine where professional photographers were taking pictures of children and families on a podium. You can purchase these pictures inside, but they also allow parents to quickly snap pictures. The line moves quickly and you have a great view of Thomas while you are waiting.
Next, we headed to the bouncy house. For parents with younger children, be aware. They do not limit the number of kids in the bouncy house, and it can get a little wild as it fills up. Next to the bouncy house is a large, green and white inflatable where Sir Topham Hat does his Meet and Greets. He is there at the top of the hour for thirty minutes with a professional photographer. Again, you can take your own pictures, and the line moves quickly.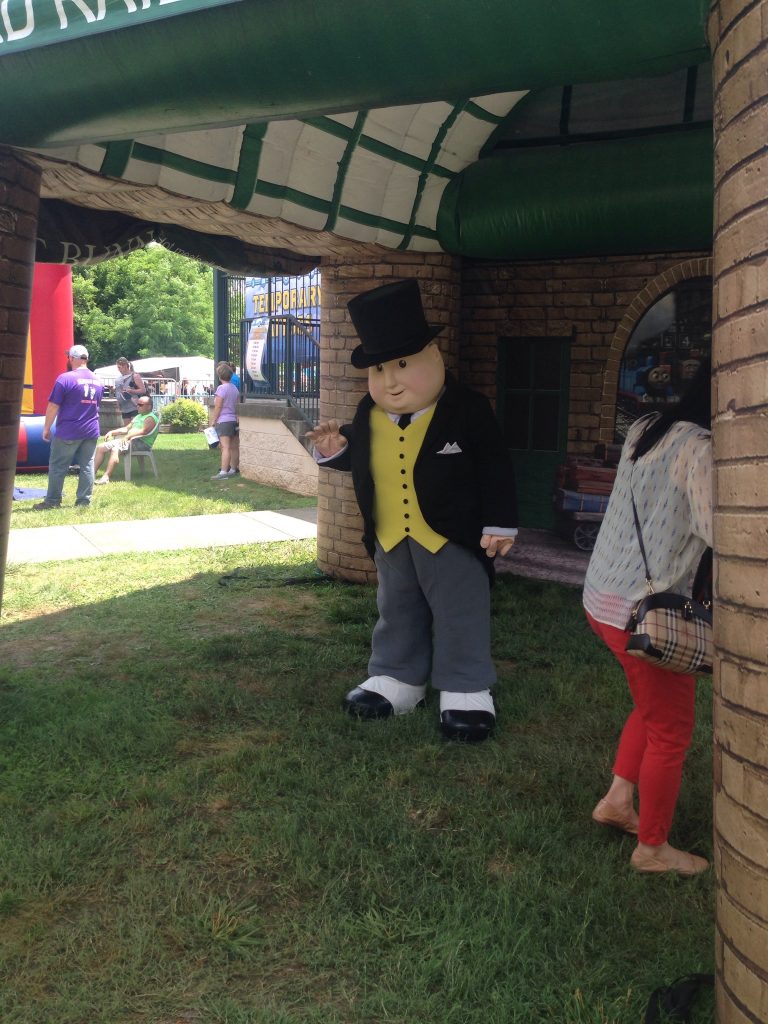 Just behind Sir Topham Hat's inflatable is a white building. Head in here when you need a break from the heat or your kids are just overly stimulated. It's cool, a bit dark, and quiet. There are plenty of bathrooms in this building, a few interactive iPad games, a train table, storytelling and a Thomas video. There are also plenty of places for parents to sit for a minute and relax. If you need to nurse during the day, this would be a great spot.
As you leave the white building, you'll see the caboose deck where a magic show is held at half past the hour (with a break from 1:00-2:30). This was our favorite part! The magician is really funny and involves kid volunteers in her show. When a bird suddenly turned into a bunny, I thought my daughter's eyes were going to pop out of her head.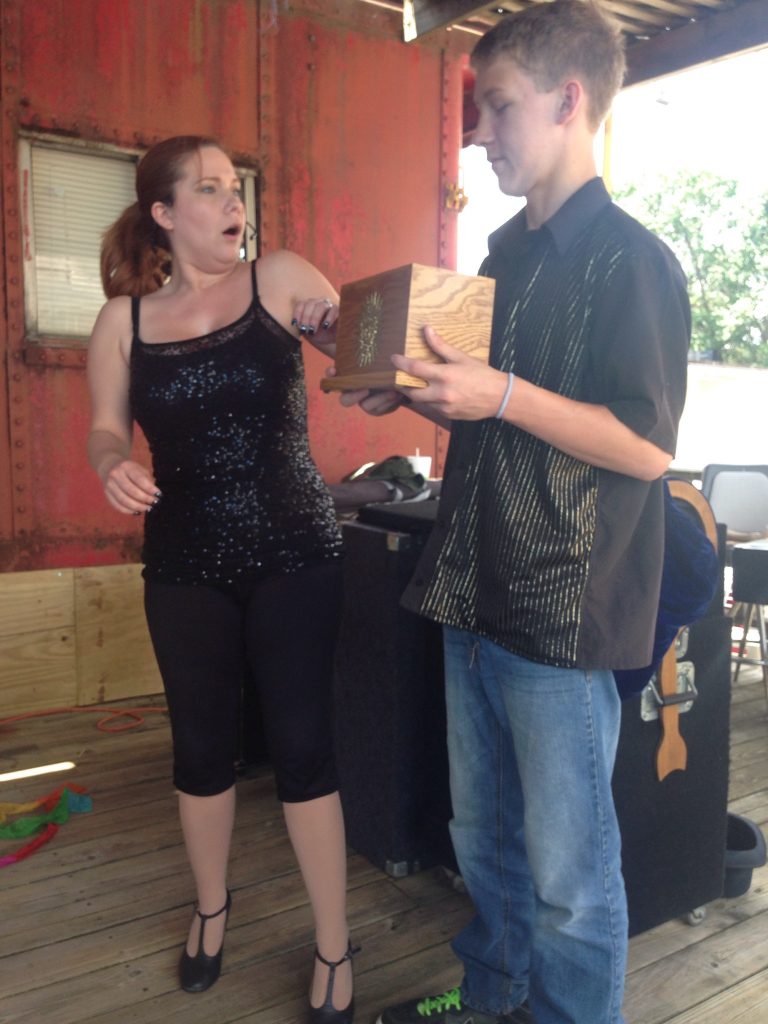 When you cross the tracks, you'll find the Imagination Stations which consists of a few train tables, some Mega Blocks tables, and coloring sheets. This station was the only one that got really crowded and we had to make and early exit. Watch for times when it seems a bit quieter and head over then. There is also a miniature golf station (which is really basic, but the kids loved it), a petting zoo, and a miniature train ride.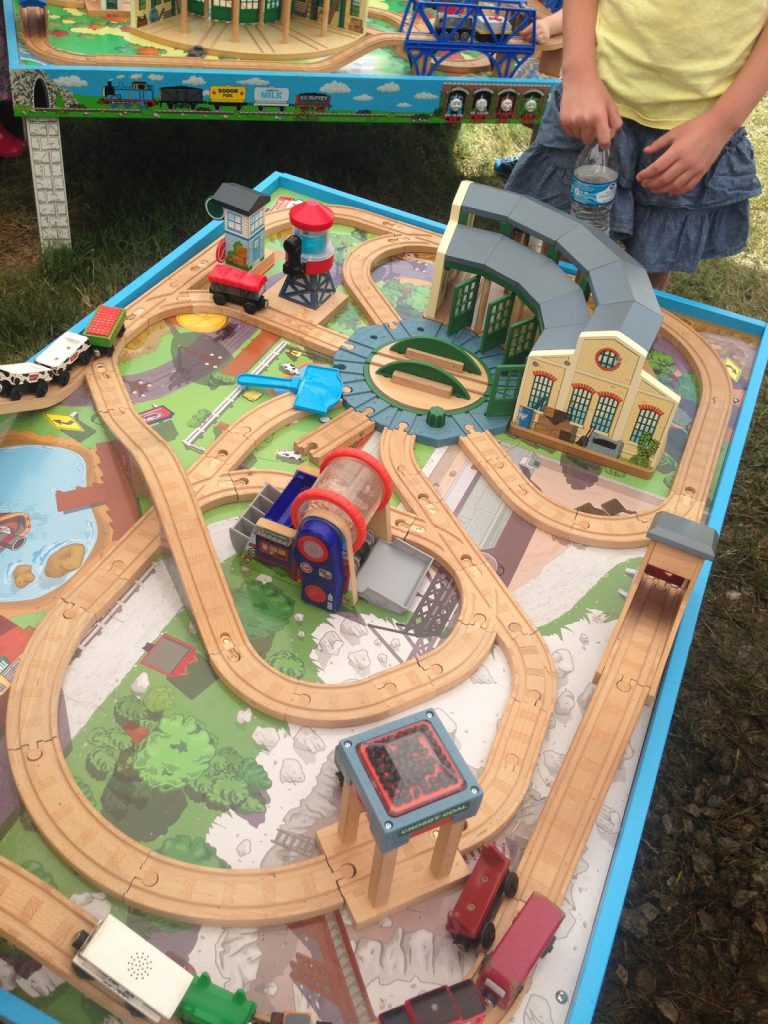 Train Ride
You will be advised to line up for your train ride 15 minutes before departure. I was assured there would be plenty of volunteers on the platform to direct us. Some people line up on the platform, while others need to head downstairs and down the track a little. When it was time to line up, it was a bit chaotic, and I couldn't find the helpful volunteers. There was a crowd of people that were getting off the train and lots of confused people who wanted to get on the next train.
In hindsight, I should have headed up to the platform in between train rides to check the signs and note where we needed to line up for our particular car. The signs are clearly marked, but hard to see in a crowd of people.
They allow 20 minutes to board the train, and it is air conditioned. So, board early to pick a good seat and cool down. A conductor will come around during the ride and check your ticket. The ride is about thirty minutes and they pass around a few large Thomas books for people to share. There are no bathrooms on the train. So, make that stop before you line up to board. The scenery is beautiful, and I noticed people at the local park who had set up blankets to watch Thomas go by (smart move!).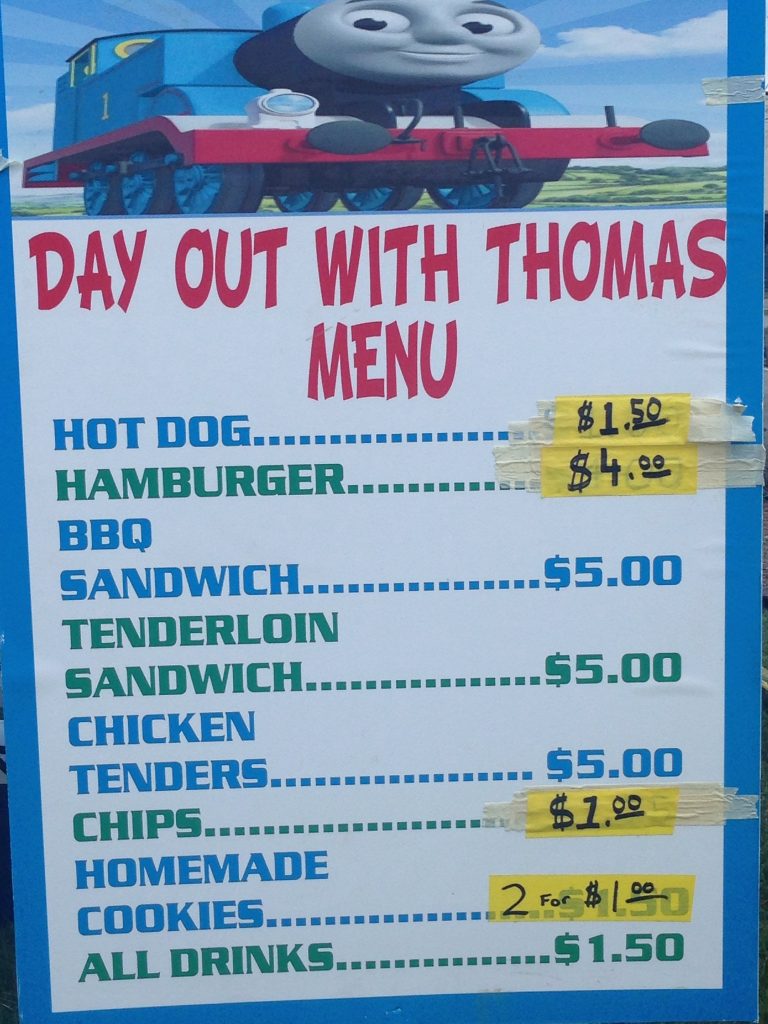 Food and the Gift Shop
There are a few food vendors on site offering hot dogs, hamburgers, chicken tenders, sandwiches, and fries. The food prices were reasonable, but lines looked long at times. You can also enjoy fresh lemonade and Dippin' Dots ice cream for some relief from the heat. We brought our lunches and sat at one of the many tables under the shade of a tent. The parking is relatively close. So, if you have a spare grown-up, they can easily zip back the car and grab your food if you choose to bring it with you.
When you receive three stamps on your Thomas map, you are encouraged to head to the gift shop for your last stamp and a free gift. The gift is a plastic noisemaker that my kids thought was fabulous. However, the free gift table is strategically set at the back of the shop. You have to weave through the most tempting and lovely Thomas merchandise you've ever seen to get your plastic clapper. Today, we handled it like champs, but I could see this getting dicey if you have a hungry, tired, or overwhelmed little one on your hands.  So, if you don't plan to make a purchase, enter at your own risk!
Helpful Tips
Buy tickets online ahead of time. They seem to sell out quickly.
Head up to the platform between train rides to find out where you need to line up for boarding.
Board the train as early as you can. Seats are not assigned and we saw one family that had to split up.
A sturdy stroller would be best for babies and toddlers. Most of the activities are on the grass and gravel areas. The activities are close together, and our two and a half year old was fine without a stroller.
The white building that houses storytelling and bathroom is the best spot for nursing.
There are NO BATHROOMS on the TRAIN.
The free gift is located at the back of a very tempting gift shop.
By Lex Fun Contributing Writer – Katie Havelda-Dent