Life is full of adventure, if only you look for it. Peter and his red snow suit are ready to explore the snowy wonderland outside in a world full of snowballs, covered hills, and crunch, crunch, crunch. As Peter gets older, he learns new skills like how to whistle, deal with bullies, and mail a letter.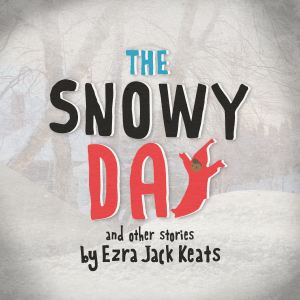 This celebration of the seasons of life features musical numbers, shadow puppetry, and heart-warming characters from the award winning children's books by Ezra Jack Keats. Adventure with Peter as he grows up and explores the wide and wonderful world around him.
PUBLIC PERFORMANCES:
Sunday, November 4 – 2:00 pm
Saturday, November 10 – 2:00 & 7:00 pm
Sunday, November 11 – 2:00 pm
By Jerome Hairston. Based on the books by Ezra Jack Keats. Music by Victor Zupanc.
Best enjoyed by ages 4 and up
Best enjoyed by PreK and up
Performed on the LCT Main Stage and in Regional Venues
You'll like this play if you like stories about: family, growing up, learning life skills
Approximately 1 hour long

Review!
Lex Fun 4 Kids Writer, Kelly, took her family to see The Snowy Day.  Enjoy her review and learn more about what to expect when you go.
What a fun play!! As we headed into the theatre on this warm and sunny day, I couldn't help but wonder if a play called "Snowy Day" was a good fit! However, when we arrived to see a beautiful and snow-covered stage, we immediately started thinking about hot chocolate and how I need to pick up snow gloves for the winter!
The play itself is based on four classic books by Ezra Jack Keats, which I highly recommend you check out as they are such great reads!
Snowy Day

Whistle for Willie

Goggles!

A letter to Amy
After reminding the audience that no food or drinks are allowed, to please not take photos and to turn your phones down, the play starts with a scene every parent knows well: Getting your kiddo dressed while also getting some breakfast in them when all they want to do is play! Tyrell Ruffin hilariously portrays a young Peter who is more excited about the recent arrival of snow than he is in breakfast or getting dressed! Every parent in the audience had to laugh as we could all relate!
The story continues through to the hilarious book where Peter is learning to whistle. No kid could resist Peter's antics as he tried his darndest to whistle. My kids are currently in the living room reenacting that scene as I type! The last two books covered were "Goggles" and "A letter to Amy" which are my personal favorites! In these scenes, Tyler is joined by two other actors Alex Reeves (Archie) and Alexis Robinson (Amy). Their creative play and hilarious antics will make you forget their ages and believe they are young children excitedly playing with a pair of goggles or going to a friend's birthday party.
I came today with my kids ages 4 and 6, and they both loved the play. I didn't need to steal glances at them to see if they were having fun as I heard them (and the rest of the audience) laughing throughout the play. I even caught my husband laughing! On the drive home, my 4-year-old daughter loudly proclaimed the shadow puppet stage to be "the best part" of the play! She (and I) loved how the storyline continued behind or in conjunction with the actors. I love how LCT incorporates so many methods of storytelling in their plays! My son (who is older) loved "the whole play," especially how funny it was!
If you are looking for a family date that is not only appropriate for all ages but something all ages will also enjoy then look no further! Time will fly as you laugh with your kids at the fun antics of Peter and his friends and family. Parents will laugh at how Peter is not that different from their kids, and the kids will laugh because well let's face it, Peter is fun! The play is a great reminder of how important and fun, imaginative play can be.  Run and get tickets while you still can!