Gatlinburg and Pigeon Forge are two of our favorite family vacation spots.  We love a long weekend trip to the Smokies!  Just a few hours drive and you're experiencing the beauty of the mountains and all the fun that the Smokies has.
On our recent trip we were invited to visit 8 great Ripley's attractions.  The Ripley's Aquarium of the Smokies and Ripley's mini golf spots were already kid-approved by my boys from previous trips but they loved getting to go again!   I enjoyed parking at the Aquarium and moving from spot to spot without having to park again and again.  The parking garage behind the aquarium has very reasonable rates.  You can also take the trolley from the Visitor's Center and hop on and off all day around Gatlinburg for one rate.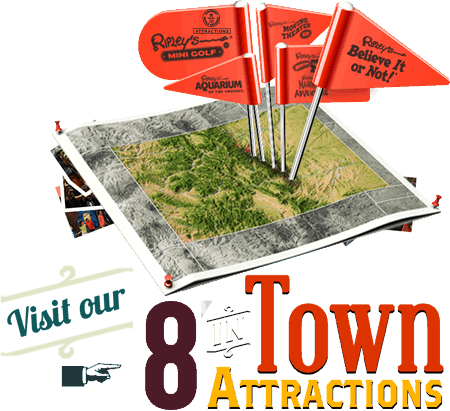 Check out the COMBO passes so you can do multiple attractions and save $.  Each combo comes with one Aquarium Pass + two or more passes to our Parkway Attractions at a reduced cost.  Parkway Attractions: Ripley's Believe It or Not! Odditorium, Haunted Adventure, Moving Theater, Mirror Maze, Mini Golfs, Guinness World Records Attraction.  (Ripley's Old MacDonald Golf is in Pigeon Forge)  DECIDE WHAT TO VISIT WHEN YOU GET HERE. PASSES ARE VALID FOR ONE YEAR FROM DATE OF PURCHASE.
The Ripley's Aquarium is a wonderful addition to the Gatlinburg area.  We've enjoyed taking our kids since they were as young as 2 years old.  There are hands on activities, touch tanks, and amazing animals to meet!  It's in a great location and central to parking and fun if you're going to plan on hitting other attractions while you are in Gatlinburg for a day.
When you arrive you enter the building and can look down on a touch tank, interactive exhibits and more.  It's a great peek into some of the fun your family will encounter along the way.  I love the waterfall you pass as you begin your journey through the facility.  There are shark tunnels to walk through and dozens of tanks to peek into.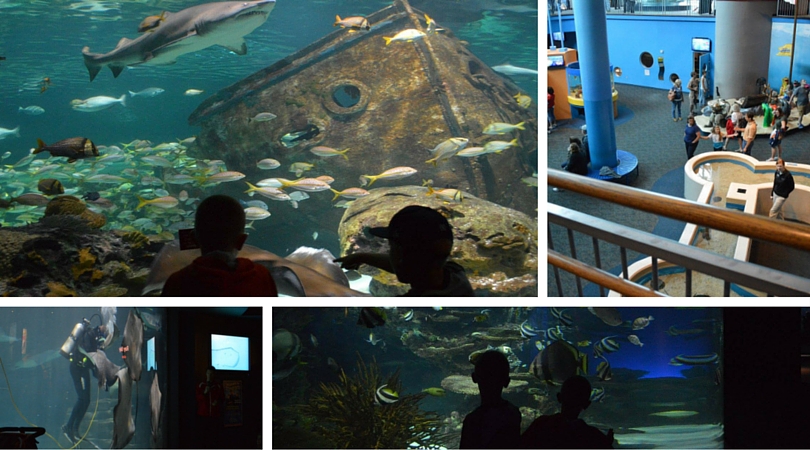 Visit the Tropical Rainforest, Coral Reef, Penguins, Stingrays and more.  You can touch sharks, stingrays, and horseshoe crabs in various touch tanks throughout the aquarium.  The 'doctor fish' touch tank was my sons' favorite.  I couldn't get them away from this unique encounter – the fish come up and 'nibble' on your hands as they remove dead skin from your fingers and hands.  It tickled and had everyone that walked up to the tank giggling!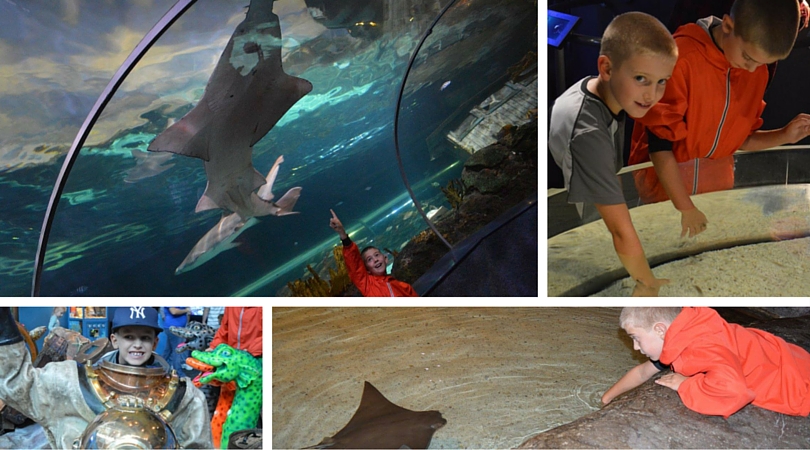 There is a place to stop and get a snack or meal and there is a gift shop as you exit the aquarium.  It's a great addition to any trip to the Smokies and kids of all ages as well as adults will have a great time!
(Click for hours, prices, and to purchase tickets – remember, if you buy a package you can save $)
Hands down MY favorite mini golf in the area!  We've done LOTS but this is always my favorite.  It's just off the parkway so it's super easy to access, there is FREE parking, and it's in the trees and beauty that you visit the Smokies for!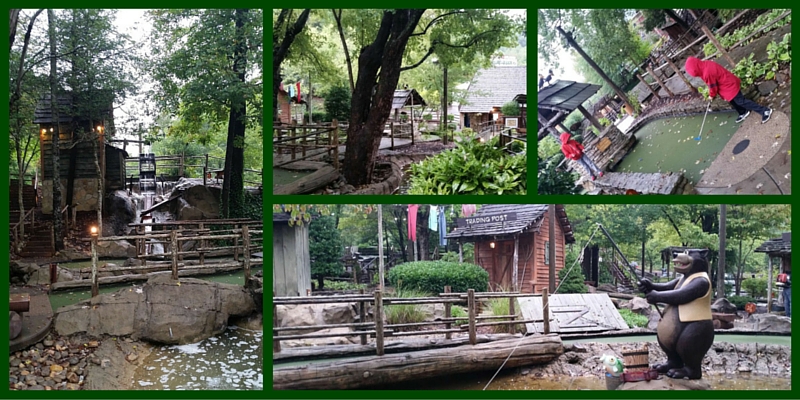 You can play 36 holes (two 18 hole courses) for your admission. Kids 2 and under are FREE and the course is stroller friendly.
Of course there are lots of cute 'country' themed holes and it's fun to see the silly Davy Crockett themed things all throughout the course.
If you get a hole in one at the end you win a free game!
(Click for hours, prices, and to purchase tickets – remember, if you buy a package you can save $)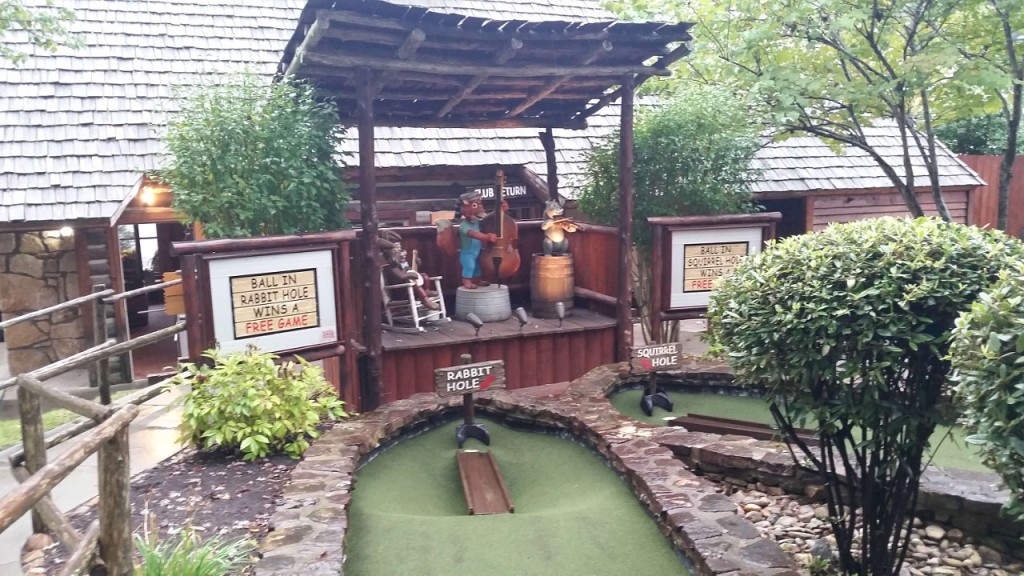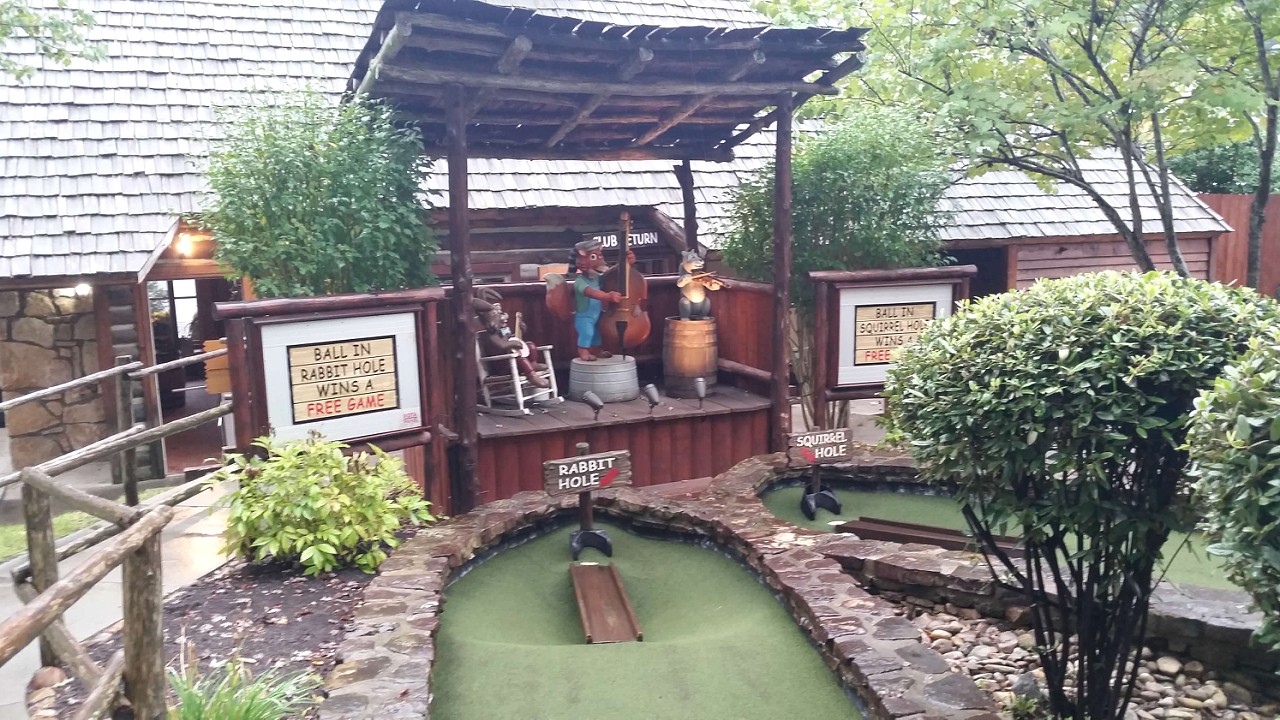 The Ripley's Mirror Maze was a big hit.  It's quick and fun but with the pass we had we could enjoy going in and out as much as we wanted.  We'd never tried a mirror maze before and it was fun to feel our way through.  There seemed like so many ways out but there really is only one way out.  It was fun to be deceived.
Tips!
There is music playing throughout and it was a bit noisy so stay close to little ones because they might not be able to hear you call if you get separated.
There is only one way out and it's pretty quick and there weren't other guests there at the time so I ended up sending my 7 and 9 year old in all by themselves.
There is a 'Candy Factory' at this location – set the rules before you go so you don't have kids begging.  🙂
(Click for tickets, prices, and hours – remember, save $ by purchasing a Ripley's package)
Ripley's Haunted Adventure was our first real spooky house!   We arrived and took the tram up to the top of the house.  It was a fun start getting to ride up on this unique 'box car'.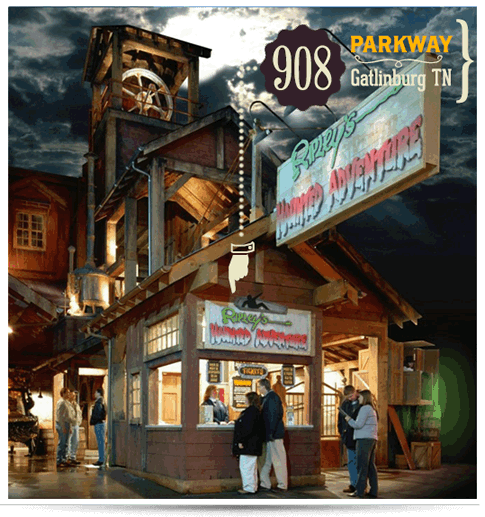 Once up at the top we were greeted by a Ripley's spooky staffer.  You go through all by yourself from this point on.  There are a few places in the house where you'll see other staffers dressed up in spooky gear and ready to scare you.  I think since I had little ones and we were the only ones in our party they took it a bit easy on them.
There were parts that were very dark and we had to feel our way through, there are parts where there are loud noises to scare you, and of course lots of spooky scenes like graveyards, bodies, and more.
If you have a little one who gets nightmares easily I wouldn't recommend it but if you have older kids that seem pretty brave go for it!  (The minimum age to enter is 6)
Tips!
Pick one person as a leader and follow with your arms on their shoulders.  I put my little 7 year old, who was a bit scared, in the middle.  We made a train through some of the dark and tight spots and it worked great.
We headed out on a rainy day to do all the Ripley's indoor attractions.  Even during the fall peak season we were the only ones at some and with just a few folks at others.  I recommend trying it on a rainy day!
(Click for tickets, prices, and hours – remember, save $ by purchasing a Ripley's package)
Ripley's Moving Theater features a 5D movie experience (3D glasses, seats that bump and jump and more!).  They have multiple shows thoughout the day.  We chose a 'snowman' adventure and a spooky one for Halloween.  The spooky one wasn't scary but featured a zombie chasing you.  They will change the movies throughout the year depending on the season.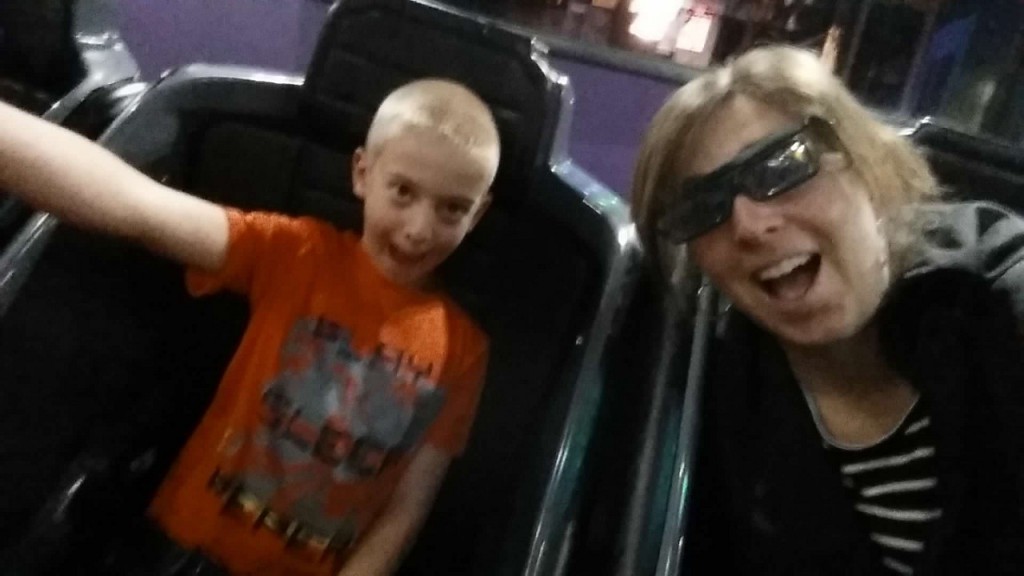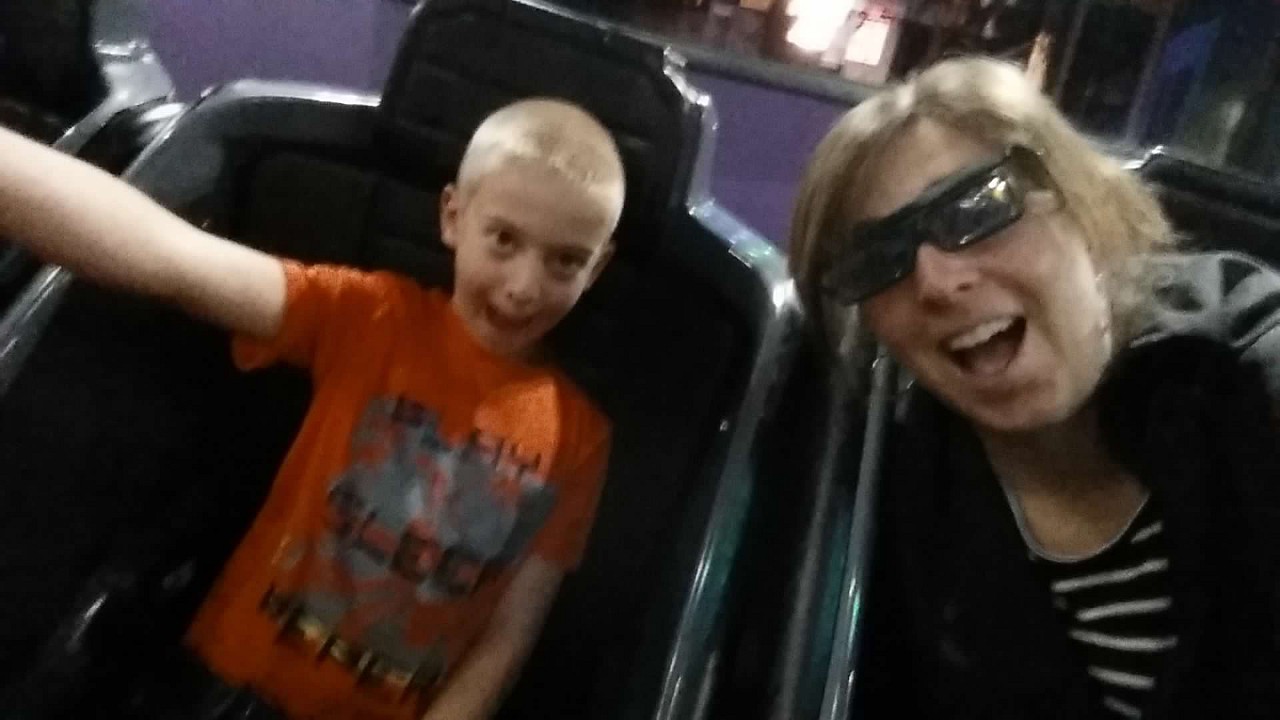 You get seated and buckle up for the ride.  The rows of seats move together and you have 3D glasses for the show.  During the show it feels like you are part of the scene with jerks and bumps, sprays of water, and the 3D effect of things being tossed at you.  It's always fun to see my kids swat at the screen!
(Click for tickets, prices, and hours – remember, save $ by purchasing a Ripley's package)
The only place in Gatlinburg where you'll find shrunken heads, a 12ft tall Transformer sculpture made of scrap car parts, an authentic vampire killing kit, one-of-a-kind artwork, tons of hands-on interactives, and a wicked spinning vortex tunnel!
My kids are 7 and 9 years old and found lots of the hands on things fun.  There were lots of exhibits that had information (aka READING) and my boys didn't have the attention span to stop and read all of them.
The amazing book has come to life through incredible displays, interactive games, trivia, themed galleries and video! Enjoy hundreds of unbelievable exhibits of Guinness World Records from amazing groups of sports, space, animals, food, human achievement and more.
Featured memorabilia of famous record holders like Elvis, The Beatles, Michael Jordan, Michael Jackson, and Much More! There is something fun for every person in your group!
(Click for tickets, prices, and hours – remember, save $ by purchasing a Ripley's package)
With 54 holes of "down on the farm" family fun, this mini-golf course features animated barnyard characters, water features, and interactive elements at every turn.  This is a great place to stop after some shopping at the Tanger Outlets.  It's right off the road with plenty of parking.  There is also a game center with skeeball and other arcade type games.  We haven't stopped to play the games but we enjoy the golf.  Even though you're just off the road it's tucked in enough that you feel like you're right on the farm!