The Miraculous Journey of Edward Tulane is presented by the Lexington Children's Theatre this weekend only!  (School shows continue this week!)
PUBLIC PERFORMANCES
Saturday, November 12 – 2:00 & 7:00pm
Sunday, November 13 – 2:00pm
SCHOOL MATINEES:
November 2, 9-11 & 14-15 at 10:00 & 11:45am
For ages 7+, grades 2+
Performed on the LCT Main Stage
From the book by Kate DiCamillo
Adapted for the stage by Dwayne Hartford
REVIEW
This beautiful play is based on the book by Kate DiCamillo, author of many other treasured books including Tale of Despereaux, Because of Winn Dixie, and Raymie Nightingale. The script stays true to the book. It is a heart touching story of a china rabbit who grows as a character from a selfish, but very loved toy, to a toy who finally understands what love, heartbreak, and friendship truly mean.
Edward Tulane is given to a young girl named Abilene who loves and adores him. She plays with him, dresses him in fine clothes, and cares for him. Although he is an inanimate object, a toy rabbit that is mostly made of china, we can hear his thoughts. He is self centered and wants things his way, with no regard to Abilene. Of course, she can not hear him.
But Abilene's grandmother can see that he is a not a loving rabbit and tells him he is a disappointment. She tells them a story of a princess who can not love and is thus turned into a warthog by a witch. This story haunts Edward as he makes his journey. His journey begins as he is accidentally thrown from a ship and lands at the bottom of the ocean to sit in the muck for nearly a year. Edward gets caught in a fisherman's net and lives with him and his wife for many months, then lives with a wandering hobo and his dog, becomes a scarecrow, and then a comforting friend for a very sick little girl. As he journeys and is loved by these people he begins to see what love is.
Because Edward is a toy, my son, his friend, and I were curious as to how they would portray him. The LCT designers worked for months to come up with the perfect solution. They cast five identical rabbit heads out of a hard resin plastic and brought them to life with costumes and paint. For each part of the journey, a different rabbit in a different costume is used. The result was amazing! Antony Terrell was the voice behind the rabbit. He moved among the cast and spoke Edward's thoughts. We were very impressed!!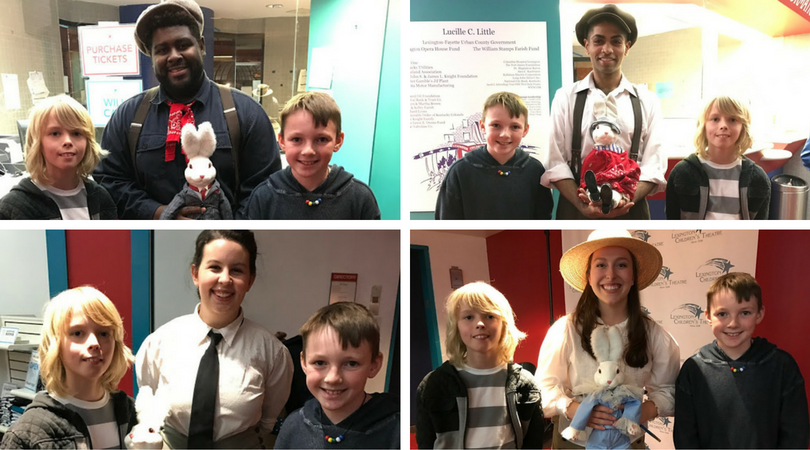 The play would be best appreciated by kids 5 and older. Looking around during the performance, however, I saw that the adults were enjoying it as much as any child there. I saw moms and dads leaning into one another during heartfelt parts, arms put around children, and tissues being passed down to dry tears. My 10 year old said that it was the first time he had ever nearly cried during any book, movie, or play.
The cast of 4 actors play the part of a total of 26 characters, including a narrator. Costume changes are done simply and right on stage, with the addition of a shawl, hat, or skirt. Props are moved around to become a boat, a chair, a counter. The skills of these amazing actors bring the story to life and there is never a question as to which character is speaking.
As always, LCT does things right! An amazing story told beautifully!
PS. Anytime you go to a show at LCT, take time to meet the actors afterwards in the lobby. They are so much fun to talk to and interact well with the kids. A real bonus! And look around at the related displays. For this show there was an antique suitcase and postcards for visitors to write a note to an object that had an impact on their life. You could drop it in the suitcase to send to them.