Kentucky Down Under Adventure Zoo is home to many unique animals as well as home to many animals that you may see around every day. Located about 2 1/2 hours from Lexington in Horse Cave, KY it's a great spot to check out for a weekend road trip. Not far from Bowling Green or Mammoth Cave there are lots of great options to add in on your trip. Check out the info and a great review from Lex Fun contributor, Erin!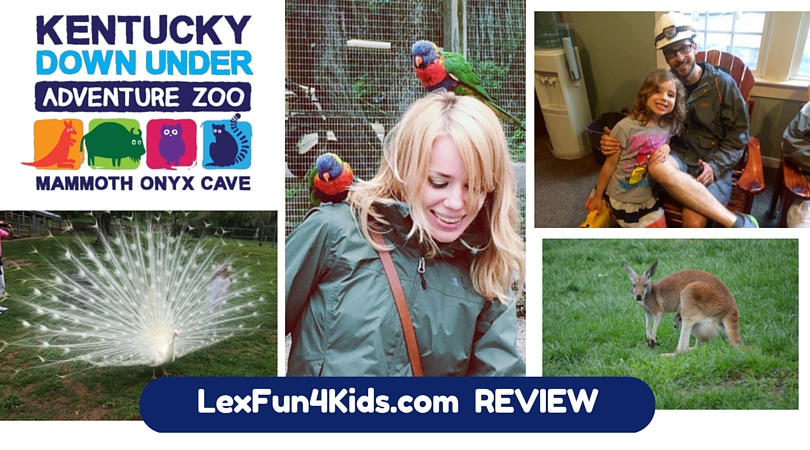 Visitor Information
Hours: Please note that all times are for the CENTRAL TIME ZONE!
Park is Open Daily 9 am – 5 pm
Kentucky Down Under is conveniently located off Interstate 65 about halfway between Louisville, Kentucky and Nashville, TN off Exit 58 near Horse Cave, Kentucky. Our physical address is 3700 L and N Turnpike Road, Horse Cave KY 42749
Pricing: (2021)
All tickets include entrance to Kentucky Down Under and Mammoth Onyx Cave unless otherwise stated. Any applicable taxes are added on at the time of purchase and are not included in prices listed. Please see their site for special discounts (military, senior citizen, student, etc.)
General Pricing
Adults (ages 15+) $25.95
Children (ages 4-14) $15.95
Ages 3 and under FREE
---
Lex Fun 4 Kids Review
Living in Lexington and having family in Nashville, we are always looking for something fun to do (especially for the kids) in between our towns. Kentucky Down Under was where we decided to meet this past weekend. Planning visits up to a month in advance, we can't rely on good weather all of the time, but with the great Groupon deal I found, we decided to risk it. There are animals to see as well as a cave tour.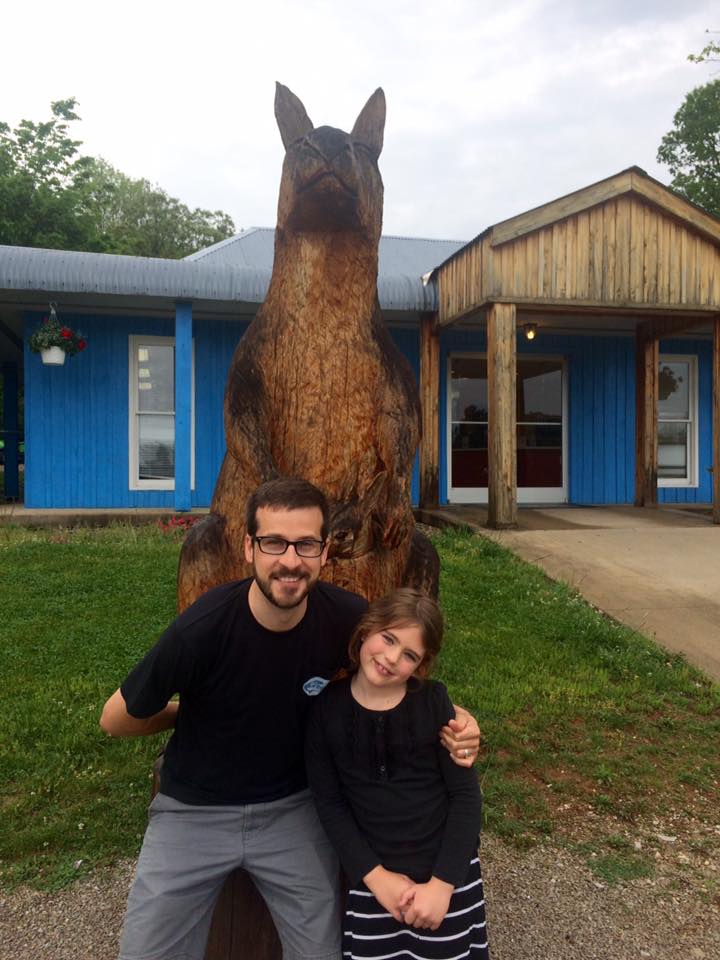 Posing outside of the entrance
The weather wasn't the greatest at first, but that was fine with us because we had packed a picnic lunch. We found some covered picnic tables together and enjoyed some time out of the rain. Fortunately, KDU is a very laid-back zoo. It's probably the best one I've ever been to, in regards to their flexible policies. If you want to buy some food without worrying about traveling with it, you can buy some from their café. There was also a truck stop across the street with a variety of food options, and a McDonald's and Subway.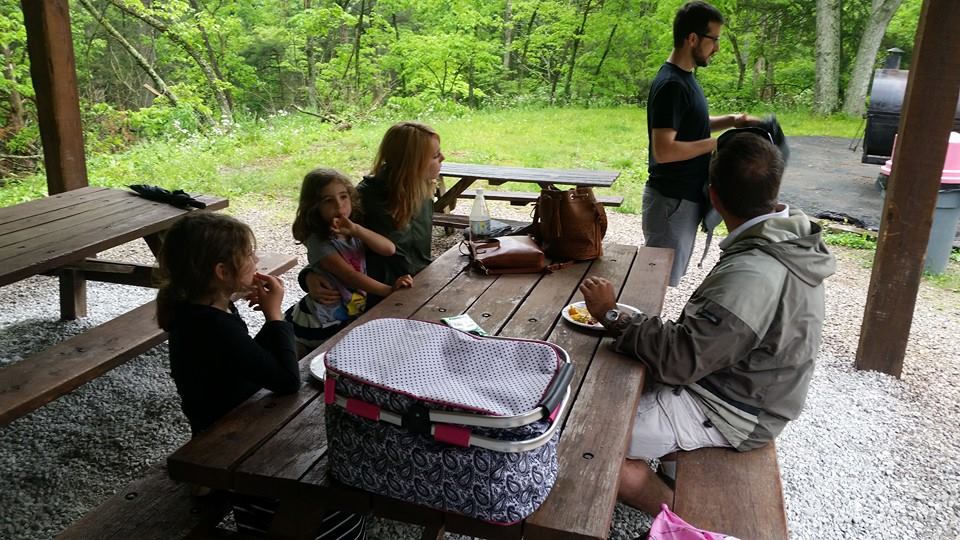 Enjoying our picnic lunch
Fortunately the weather cleared up after our lunch break. When we first went into the park, we were told what time our cave tour would be, so we had a few minutes after eating to explore the gift shop. Their homemade fudge was out of this world! The gift shop had several fun items but it wasn't one of those where the kids are wanting every single thing in it. There were stuffed animals, various rocks and minerals to purchase, and a few other trinkets.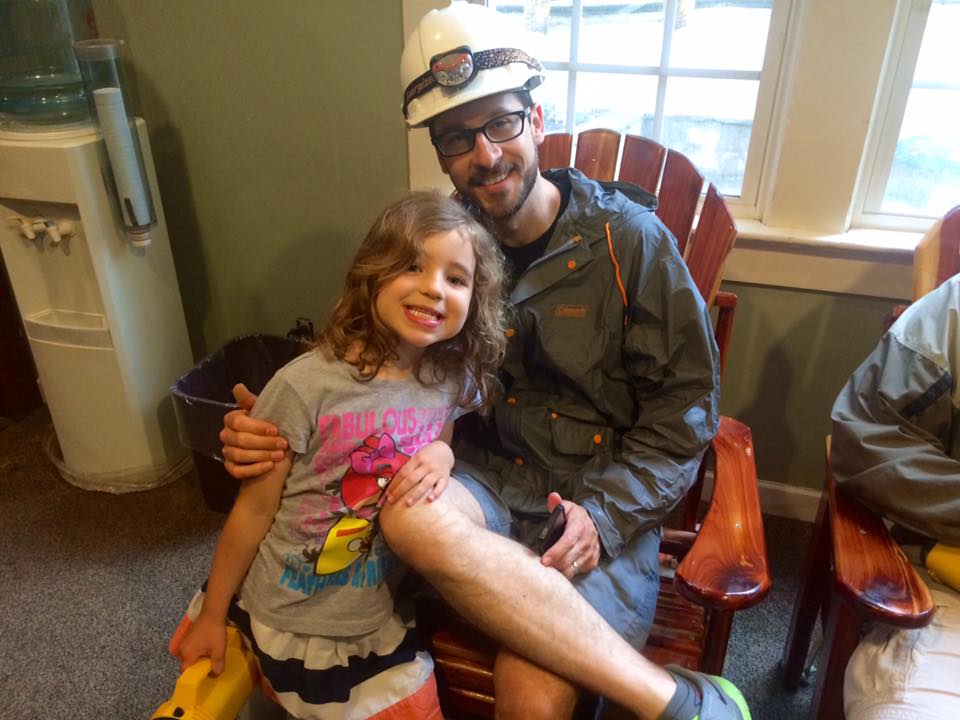 Waiting on the tour to begin
Then our cave tour began. Every adult had a hard hat available with a flash light on it, and everyone (kids and adults) was supposed to grab a flash light to hold. Let me preface this by saying it is NOT stroller friendly in the cave. This was my first cave experience and at times I was a bit afraid for my kids. Being almost 6 feet tall, there were many places where I needed to duck. Holding on to my kids' hands was necessary. There were 4 adults and 2 kids in our party and every one of us was busy watching a kid. There were places a little one could easily fall off the path and go into water, fall down a slippery "slide" or slip on one of the steps. BUT, danger aside, it was VERY fun for the kids and adults. It was amazing to see inside at the formations, and being in the dark with flash lights that far under ground was a very unique experience. We all made it out okay, but this may not be for an elderly person or for young babies. A woman in our group was holding a 1 year old baby and at times she was having a hard time between holding the rail, holding the baby and holding a flashlight!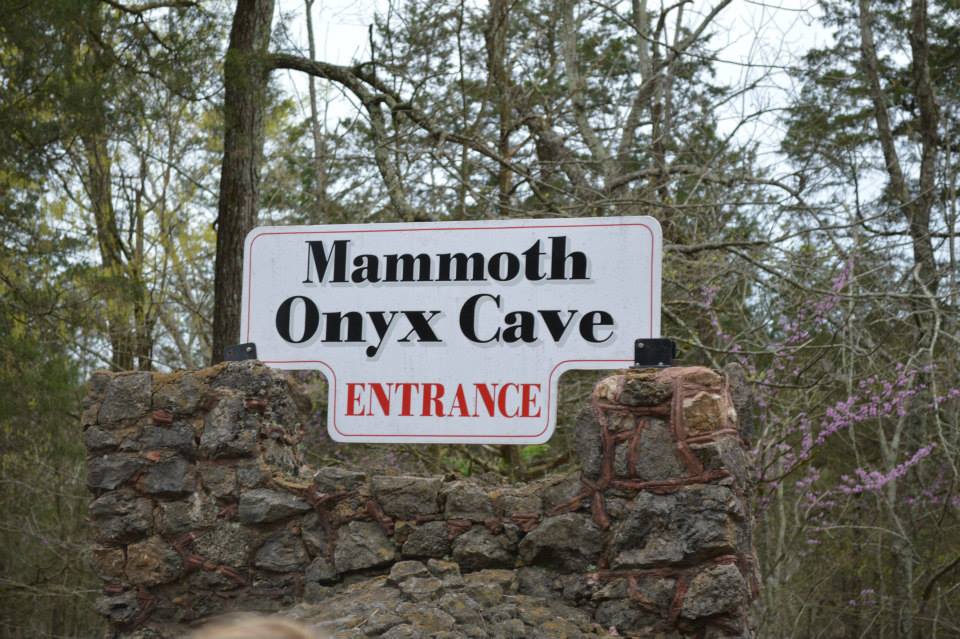 After the cave tour, we ventured up the hill to see the animals. I knew they had some animals but had no idea how many there were. We were so pleased going through the bird area, and spent probably 30 or 45 minutes just looking at a dozen or so different types of birds. My sister and I were so excited to find a cockatoo that rocked out to many of our favorite 90s tunes as kids. This headbanging bird was the highlight of our trip and was worth every penny we paid! We visited twice and played a bunch of songs, after being told Tom Petty was one of his favorites.

When we circled around to a larger bird cage, we passed lemurs and they were very fun. The lemurs were very active and wanted to perform for us. While we didn't get to pet them, we enjoyed watching them. After the lemurs was a larger walk-in bird cage where for $1 you could feed the birds. They immediately came up and landed on my daughter which she thought was a lot of fun.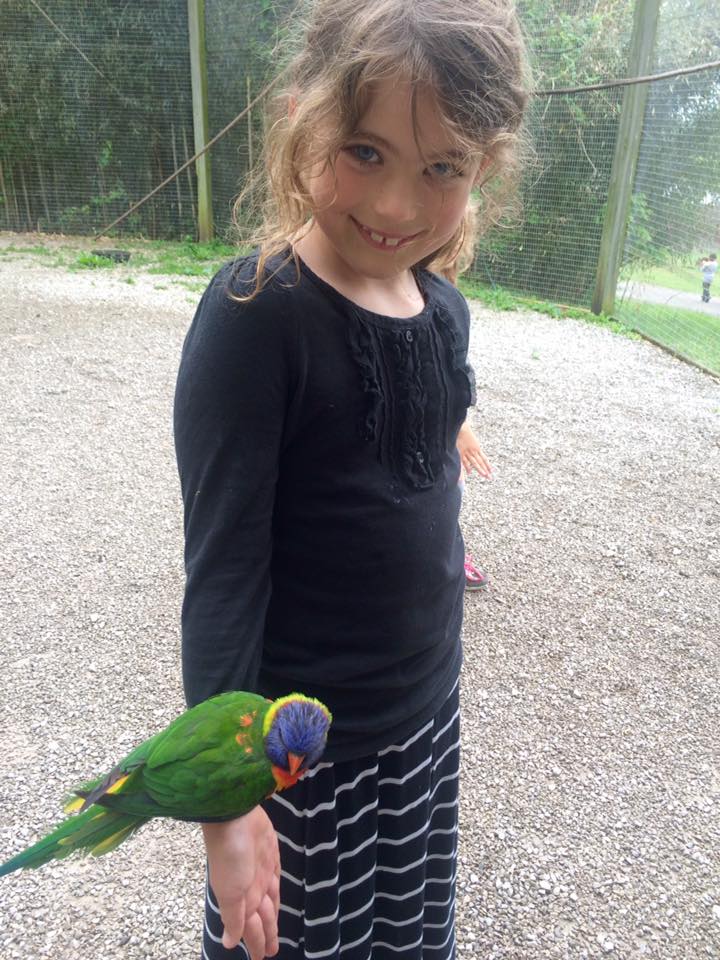 Enjoying the view inside the big bird cage
While we were watching the kids in the big cage with birds, we heard a yell that the Outback Walkabout was doing a tour. This was another highlight of the trip. We were able to walk around a path or in the grass with kangaroos and emu. For $1 we could get a cup of matchstick carrots (probably cost 10c worth at the store, but this was for the experience!!) and you could literally feed a kangaroo with a carrot between your teeth. I have never been so close to animals before and thought this was a once in a lifetime (or at least once in a visit to KDU!) experience. There were large box turtles in that area as well. My kids thought this was the best part of the whole trip.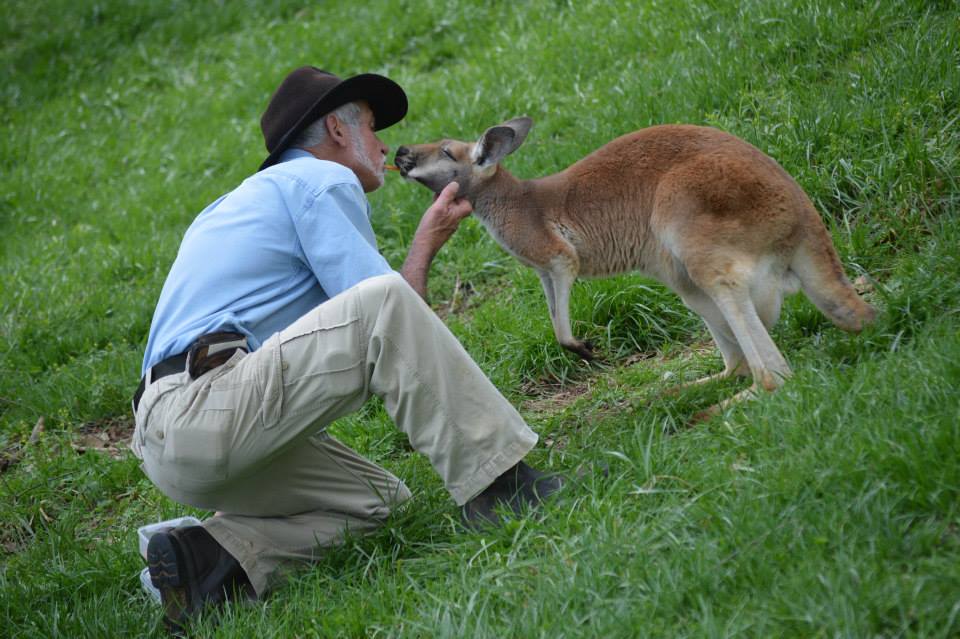 There were other animal shows that we got to see, including one where we saw how the dog could round up the sheep and information on the different types of sheep and how they used their wool. There was another animal show but we didn't get the opportunity to see it because we were so busy.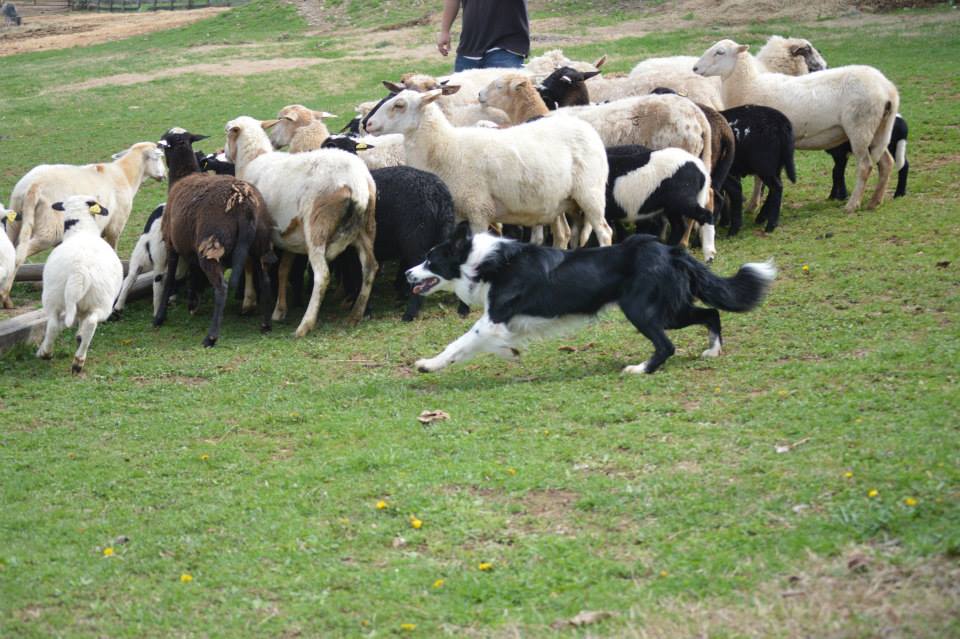 At the end of the zoo was a petting zoo area with typical animals you would see at a zoo. Goats, horses, chickens, etc and you could feed them as well for $1 per cup. Some other animals we saw on our walk were dingoes and some sort of wolves behind them.
All in all I was very impressed with Kentucky Down Under. We did not go on the nature trail only because it had been raining and we figured it would be muddy. The rest of the park was very stroller friendly (cave excluded) and had gravel or paved paths. We were able to see everything we wanted to in about 4 ½ hours but could have stayed longer. Keep in mind the park runs on CENTRAL time for the show timing and for their hours of operation.
The only negatives that I can share about this trip are that you need to be cautious of little kids in the cave tour, and you should probably dress yourself and your family in play clothes. My kids were covered in mud (partially because of the rain) and had animal feces they had walked through. Plan to change your kids shoes at least for the long car ride back to Lexington! Thank goodness for washable shoes!
Erin, Lex Fun Contributor