The 2022 summer meals program in Lexington is available to all youths under 18 years old. The child must be present to receive a meal, and they must come and eat on-site. Multiple meal curbside pickup is not available.
The service dates are Mondays through Thursdays June 6-30 and Mondays through Fridays July 5-22.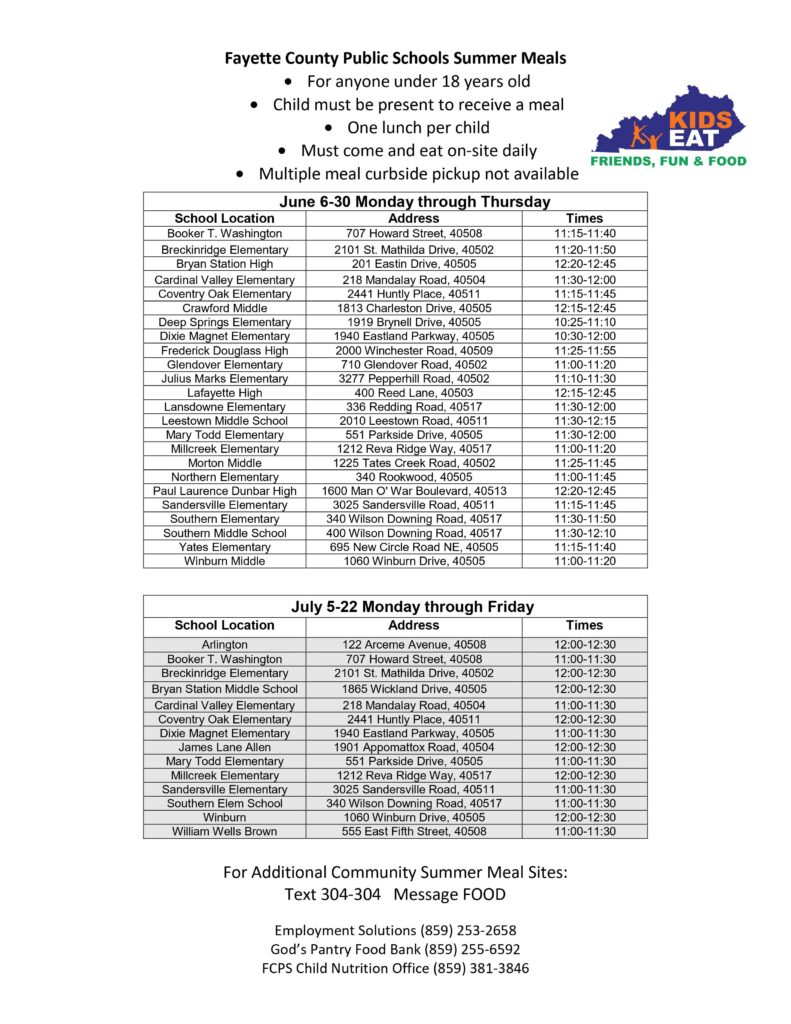 Fayette County Public Schools is one of three summer meal sponsors here. Families can find additional community meal sites by texting or calling:
Text 304-304 Message FOOD
Employment Solutions, (859) 253-2658
God's Pantry Food Bank, (859) 255-6592
FCPS Child Nutrition Office, (859) 381-3846
Additional Food Available this Summer
Employment Solutions will be providing summer meals as follows for the Tates Creek Area:
Dates: 6/6-8/9 (no meal service 7/4)
Monday – Friday
1245 Centre Pkwy 12:30-1:00
1143 Centre Pkwy 1:15-1:45
FREE Snacks at the Northside Library
Monday-Saturday, 3-5 PM
Black Soil offers FREE grocery bags of fresh fruit and vegetables Monday – Friday from 11 am to 1 pm at Julietta Market. First come first serve!
Glean Kentucky – Glean Kentucky is supporting the agencies who are staying open and starting to work with others to develop different delivery models for fresh produce. Click HERE for a map of food locations. You can also apply to receive free produce HERE.
Lexington Rescue Mission – Free breakfast from 9 a.m. to 10 a.m. and hot, nutritious lunches from 12 to 1 p.m. Monday through Saturday. Breakfast and lunch are free and open to anyone in need. All meals are served at our Outreach Center at 444 Glen Arvin Avenue.
Meal Hand Out at FoodChain will now be: Dinner (anyone) Monday, Wednesday, Friday 5:30-7pm. 501 W. Sixth St, Suite 105 (where Jefferson St. meets West Sixth St.)