Enjoy a Spooktacular good time at the YMCA!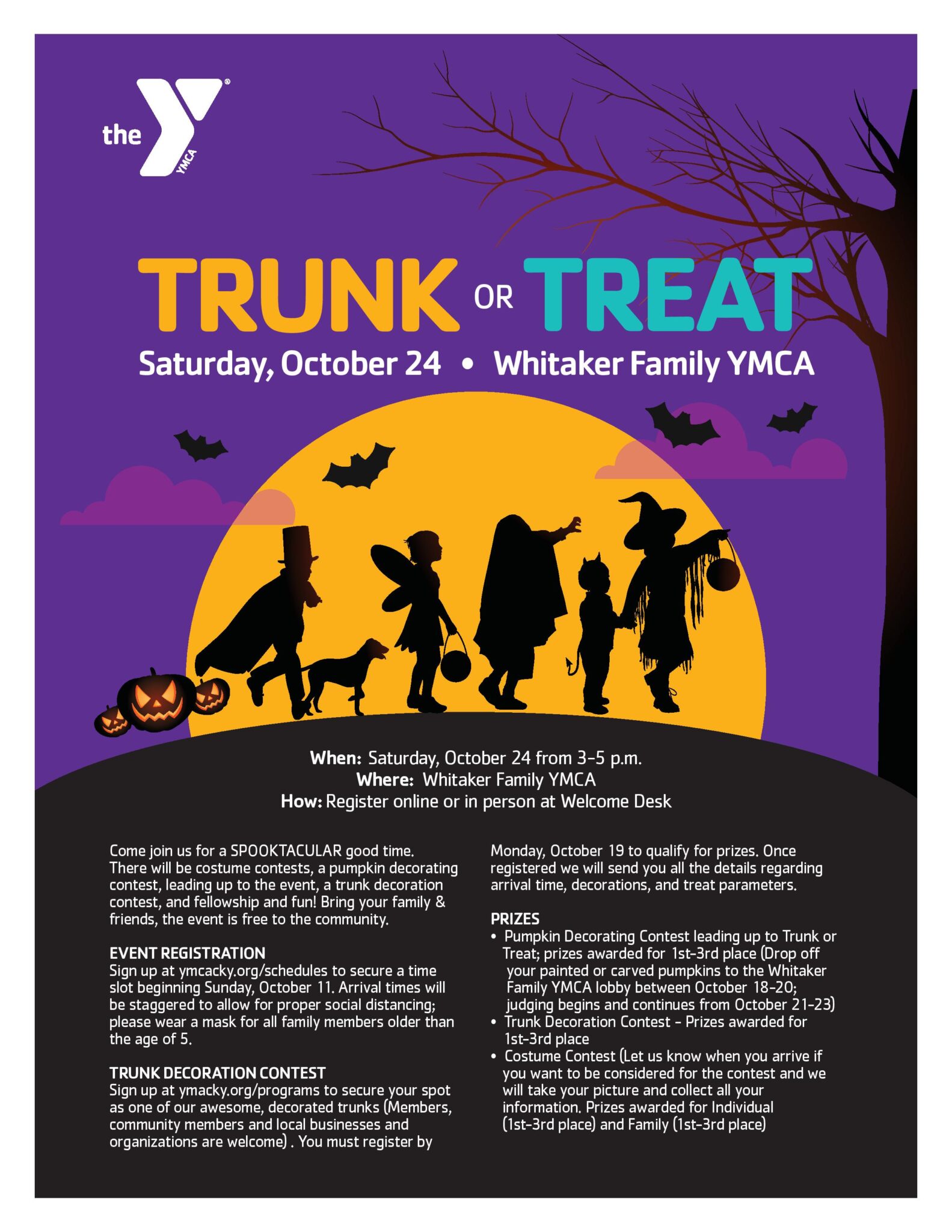 When: Saturday, October 24 from 3-5 p.m.
Where: Whitaker Family YMCA
Register ONLINE or in person (You will need to make an account to register but you do NOT need to be a YMCA member)
There will be costume contests, a pumpkin decorating contest, leading up to the event, a trunk decoration contest, and fellowship and fun! Bring your family & friends, the event is free to the community. 

EVENT REGISTRATION
Sign up at ymcacky.org/schedules to secure a time slot beginning Sunday, October 11.
Arrival times will be staggered to allow for proper social distancing; please wear a mask for all family members older than the age of 5.

TRUNK DECORATION CONTEST
Sign up at ymacky.org/programs to secure your spot as one of our awesome, decorated trunks (Members, community members and local businesses and organizations are welcome) . You must register by Monday, October 19 to qualify for prizes. Once registered we will send you all the details regarding arrival time, decorations, and treat parameters. 

PRIZES
• Pumpkin Decorating Contest leading up to Trunk or Treat; prizes awarded for 1st-3rd place (Drop off your painted or carved pumpkins to the Whitaker Family YMCA lobby between October 18-20; judging begins and continues from October 21-23)
• Trunk Decoration Contest – Prizes awarded for 1st-3rd place
• Costume Contest (Let us know when you arrive if you want to be considered for the contest and we will take your picture and collect all your information. Prizes awarded for Individual (1st-3rd place) and Family (1st-3rd place)