Can you imagine all of the chaos and joy of your favorite holiday story set to music? Well, we sure can! It's The Best Christmas Pageant Ever: THE MUSICAL!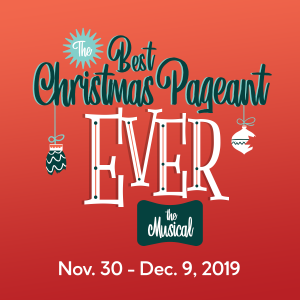 Everyone knows the Herdmans are the worst kids in the world, so when they ALL demand parts in the Christmas pageant, the whole town knows the Christmas story is in major trouble. But sometimes it takes a little trouble to help you see the world in a whole new light! The Best Christmas Pageant Ever: The Musical has all your favorite characters and a familiar story with all of the singing and dancing we can muster! And of course, all the wonderful heartfelt moments you've come to expect from this incredible story all about the gift of giving.PUBLIC PERFORMANCES:
Saturday, November 30 @ 2:00pm
Saturday, December 7 @ 2:00pm
Saturday, December 7 @ 7:00pm (Pay What You Can)
Sunday, December 8 @ 2:00pm
COST:
$25 for adults $20 for children
Book & Lyrics by Jahnna Beecham
Music & Lyrics by Malcolm Hillgartner
Based on the play by Barbara Robinson
SCHOOL MATINEES: Monday-Friday, December 2-6, and Monday, December 9, 10:00am & 12:00pm
To learn more or to reserve LCT school matinee tickets CLICK HERE.
Best enjoyed by all ages
School matinees best suited for 1st through 12th grade
Curricular Connections: Holiday Traditions, Social Inclusion, Adaptation, Musical Theatre
Performed at The Lexington Opera House
Review!
Lex Fun 4 Kids Writer, Kelly, enjoyed the opening performance of show and has a great review!
Being familiar with the book, we were excited to see it as a musical. The story mainly features the Bradley and Herdman, families. Without giving too much away, through a series of events, Mrs. Bradley gets asked (strongly encouraged) to direct the upcoming Christmas Pageant. Her children and husband loudly proclaim their dislike of this situation. To make matters worse, the "horrible Herdmans" force their way into the pageant.
The music is catchy! We weren't familiar with the songs, but that didn't stop my five-year-old from stomping her feet and dancing. The play itself is filled with many great lessons. Compassion and tolerance were crucial players throughout. It's interesting how the Herdmans are initially perceived by the audience and the rest of the cast vs. how everyone acts towards each other as the play ends. Christmas is such a great time to remind ourselves and our kiddos how important that is, and this performance did just that! I think we all left feeling even more of that Christmas spirit.  This play runs just over an hour, but don't worry! Time will fly!!
We look forward to LCT's holiday plays every year as they are always such a great family experience! This performance was no different! We found ourselves laughing and booing the antics of the actors right along with our kids. Another favorite of ours is how they end the show singing some Christmas carols. It's just a great experience!
Things to know before you go:
This is one of LCT's "Discovery Shows" meaning it's a show about young people performed by young people

Performances for this show are being held across the street from the theater at the Lexington Opera House

Arrive early to pick up your tickets and bring cash for the coat check as well as souvenirs and donations

If you have kids that struggle to see over the seat… ask for a booster seat! The Opera House has a limited number of boosters available to borrow

Don't rush out after the performance! Stay and sing Christmas Carols!
Things to Know Before You Go
About LCT Discovery Shows
The Best Christmas Pageant Ever the Musical is one of our Discovery Shows for this season, which means it is a show about young people, performed by young people. As LCT transitioned into a fully professional theatre, we began our Discovery Series in 1995 as a way to continue providing challenging performance opportunities for our young actors, encourage and mentor students in the many areas of technical theatre, and keep runs of our shows shorter so students would not have to miss as many days of school. Discovery Shows are always open for Lexington community members – children and grown-ups alike – to audition to be part of the cast or technical crew. So you might see a few people you recognize on stage or behind the scenes!
About your trip to The Lexington Opera House
Our holiday production traditionally takes place at The Lexington Opera House located at 401 West Short Street, right across from LCT. It is an absolutely beautiful space that we hope you enjoy!
Be sure to arrive early to find a place to park – options include metered parking surrounding the theatre and the parking garage on the corner of Broadway and Short Street. LCT unfortunately cannot validate garage parking.
The Lexington Opera House is made up of three levels, your ticket will indicate which level you are on and the wonderful Opera House staff will help you to your seat. Please note that the Opera House lobby can get very busy with lines for tickets and Will Call. When you enter the lobby, look up at the Box Office window to find out which line you should be in (PURCHASE TICKETS or WILL CALL) – entering the correct line should help the lobby traffic move faster!
It's also a good idea to bring some cash. You might need to pay for parking, and we will have books and LCT merchandise for sale in the lobby if you want to buy something before or after the show. If you forget your cash, though, no worries! Both the Box Office and the retail store accept credit and debit cards (excluding American Express).
For more on planning your visit, click here.
About The Best Christmas Pageant Ever: The Musical
The Best Christmas Pageant Ever: The Musical is based on the classic story by Barbara Robinson. When Helen the Christmas pageant director is unable to direct this year's church pageant, Grace Bradley must take over and make sure that the show goes on. When the horrible Herdmans all demand parts in the show, the whole town knows the Christmas pageant is in major trouble. This production is the same hilarious and heartwarming story you know and love but with singing, dancing, and catchy musical numbers.
The Herdmans are known to be bullies at their school and around town – they steal lunches, bite people, and make fun of their peers who are terrified of them. They also make fun of each other and push and shove each other throughout the play. Imogene, the eldest girl, is seen at two points in the show with a cigar in her mouth. The cigar is never lit. We also see the Herdman boys use language such as "fart" in place of the lyrics in "Silent Night" and they call each other "dumbbells" during the bell song at rehearsal. The Herdmans also use language such as "shut up!" several times.
The Herdmans attended church because they wanted snacks but quickly become very interested in the story of the Nativity. However, because they have never experienced a play before and don't really know anything about church, they compare the Christmas pageant to action comics that they have read. While hearing about the story from Grace and their peers, they become fixated on Herod, who is not even in the play, because he wanted to kill baby Jesus. The Herdmans become very upset by this and take over the rehearsal with their own addition to the story. Gladys, who plays the Angel Gabriel, sings the phrase "die Herod, die" several times in her song. Her last line in this song alludes to the phrase "Hell" but she is cut off before she can say it by another kid exclaiming "Help, mom!". The word "Hell" is used in the book as well as the straight play of The Best Christmas Pageant Ever but is not used in this version of the show.
This play is a great way to spark conversations about the complexities of privilege. Even though the Bradleys and many of the church-going families in the story are seemingly wealthy and go to church, that does not necessarily make them morally better than anyone else. These families are often judgmental of the Herdmans. Even though the Herdmans exemplify the type of people they are trying to "help" with their "baskets for the needy" they prefer to not to have to actually interact with them. While the Herdmans are poor and often misbehave, they are the first in the play to show an understanding of the teachings of the Nativity story – a story all about loving your neighbor as yourself and being unconditionally welcoming. We encourage you and your family to discuss your own privilege and how this theme plays out in the story after seeing the show.
We love this story because it brings a sense of community that connects us all. Ultimately, it's easy to say someone is "good" and someone is "bad" when all people are somewhere in between – The Best Christmas Pageant Ever: The Musical teaches us that when we come together as a community, we can better understand each other as people and not as stereotypes. We love this story because it takes some complex themes and tells one beloved story in a new and very musical way – we can't wait for you and your family to experience this holiday tradition with us.