Mark Your Calendars!
The 2020 Her Knight father/daughter dance will be: Friday, February 7, 2020 and Saturday, February 8, 2020 at Keeneland's Keene Barn & Entertainment Center.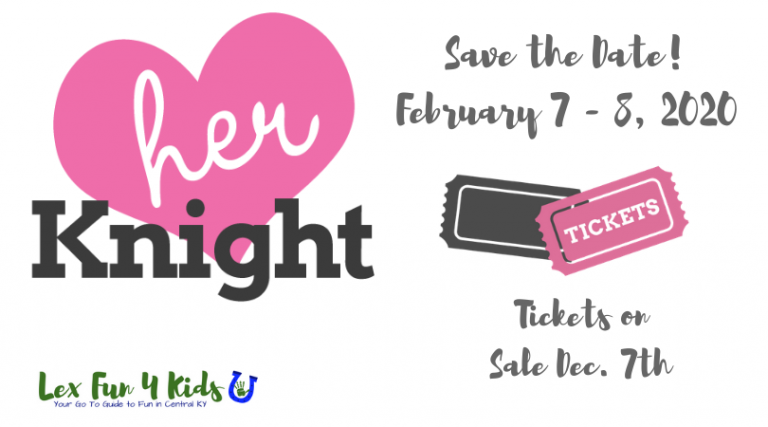 2020 Her Knight Dance ticket sales will begin at 10 AM on PINK SATURDAY – Saturday, Dec. 7, 2019! Last year's tickets sold out in just a few hours, so grab your tickets quickly! Once they're gone, they're gone!
There will be FIVE sessions to choose from in 2020:
Friday, Feb. 7 from 4:30-6:30 PM
Friday, Feb. 7 from 7:30-9:30 PM
Saturday, Feb. 8 from 1:30-3:30 PM
Saturday, Feb. 8 from 4:30-6:30 PM
Saturday, Feb. 8 from 7:30-9:30 PM
The early sessions are recommended for younger girls, but all sessions are open to girls age 4-12. Ticket prices are $60 for one dad/knight and up to 2 daughters/princesses and $20 for each additional daughter/princess. We can't wait to see you there!
Her Knight Tips!
No worries! There is plenty of onsite parking at and around the Keene Barn and Entertainment Center.
Chick-fil-A generously donates the food for our guests. The menu includes a variety of Chick-fil-A favorites, including Chick-fil-A nuggets, sandwiches, fruit, waffle chips and dessert items. Many families enjoy going to a restaurant before the event to make the evening even more special. However, everyone is welcome to eat at the event.
Dad's – we've got you covered! All you need to bring is your favorite girl, some dancing shoes, and an open heart and mind.
Daughters:
There is no official dress code. We want everyone to be comfortable. However, many girls enjoy wearing party dresses to the event.
Fathers/Knights:
Attire ranges from khakis and dress shirts, to suits, and even a few tuxedos and military uniforms.
Complimentary dresses are available for any girl with a financial need.