Smashing Tomato is a local pizza place that is one of our family's favorites. They opened around 2007 in the Fayette Mall area.  I remember taking my son when he was just 1 for a little date to try it out.  It has become one of our favorites and we are always happy with the food.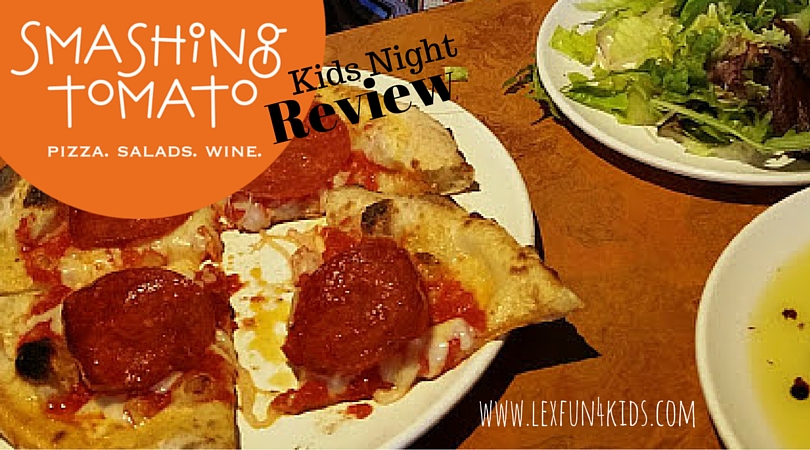 Their slogan is 'Kissed by the Flame' and the pizzas are cooked in an 800 degree wood burning oven.  Kids can watch pizzas being made and scooted into the oven on a long pizza peel.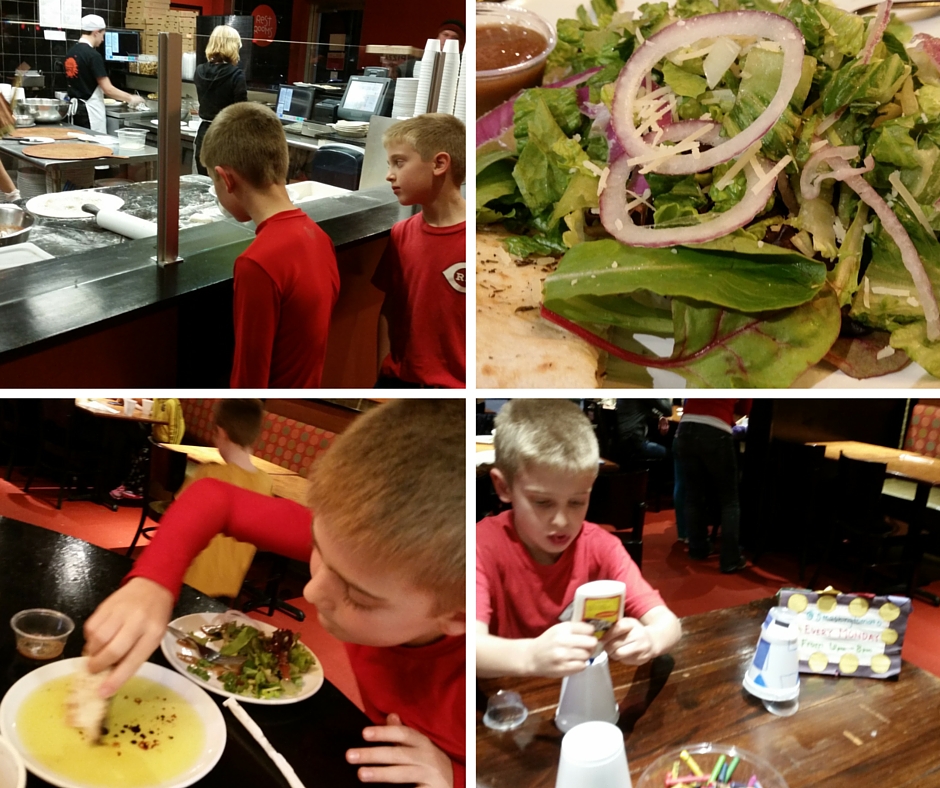 During our visit recently we went for kids night.  Kids Nights are held each Monday from 6 pm – 8 pm.
Kids can get a small cheese or pepperoni 'bambino' pizza and a drink for just $1.99.  One of our favorites is making a small plate of olive oil and balsamic for dipping the crust in!
We always get an original chopped salad which has a lettuce mix, walnuts, parmesan cheese, and onions.  The dressing that comes with it is awesome.  It's one of my favorite salads in Lexington.  A regular is just $6.45 and is plenty to share.
They have great specials where you can get a pizza and big salad – great date night idea!  My husband and I love the 'smashed' pizza sauce – it's a bit spicier than their regular Neapolitan sauce.
We've also tried the artichoke dip, which is my husband's favorite!  They put the bowl of it in their fire oven and it comes out hot and bubbly.  It's served with their sheet music bread.
Pizzas cook in just a few minutes so there's never a long wait.  While you're there at the mall location you can watch the big tv with a looping aerial video of Italy.
For kids nights crafts the staff has a large table set up and kids can stop by anytime during their visit.  They had a Star Wars themed craft since we went during the Star Wars movie release hype.
Smashing Tomato never disappoints and we love it!  It's a great departure from pizza you may have gotten used to.  The thin crust and fresh fired taste are awesome!