September 24th, 2016 2 pm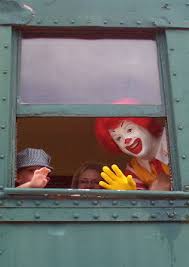 Ronald will entertain as only he can do.   He will be passing out free Happy Meal toys and coupons.
Ronald McDonald enjoys riding the trains at the Bluegrass Railroad Museum, too! He stops by at least once or twice each summer, bringing laughter and smiles to everyone as he "clowns" around. Come and ride with Ronald!