If you are looking for a fun affordable kid friendly event then you must check out the Spotlight Playhouse in Berea!  Our Lex Fun 4 Kids writer, Kelly, recently enjoyed a performance with her kids at this new part of Spotlight Theatre in Richmond.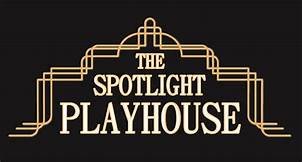 Only 45 minutes from Lexington, Berea has a lot to offer families. If the weather allows take some time and walk through the Berea College campus or check out some of their amazing hiking trails. Plenty of room to let the kids run "off leash" and burn off all that sugar from the local fudge shop! If you are looking to grab dinner before the show I recommend stopping by Papaleno's (famous in my family for their garlic bread!) or if you are feeling adventurous you can't go wrong with "Mom's Curry" from Noodle Nirvana! For you traditionalists out there Boone Tavern offers their world famous spoonbread!
Spotlight Performing Arts, Inc. is a charitable organization created to promote, support and help fund the performing arts in Madison and surrounding counties. The show season features over 30 productions of local students and professionals ages 4 through adult. It includes two volunteer professional troupes, The Spotlight Players and The Bluegrass Players. They are located at 214 Richmond Rd N, Berea, KY 40403 (Just behind the Walgreens). In its former life the building served as an archery range but has been beautifully renovated into a classy and comfortable theater environment! We were lucky enough to have a tour of the entire facility and were amazed at how nicely it has been done. They are community oriented and incredibly welcoming to children. A real perk for this parent who has two kids with large personalities! Refreshments are available (fresh popcorn and soft drinks for a $1 donation).
| | |
| --- | --- |
| | |

The theater itself is small yet comfortable and for this particular production there was a special children's floor section which mine just loved! They were able to sit front and center and really immerse themselves in the play. This also allowed my husband and I the freedom to enjoy ourselves sans kids which was an unexpected perk! The theater opens for seating 30 minutes before performances. I would recommend buying your tickets ahead of time as the shows tend to sell out!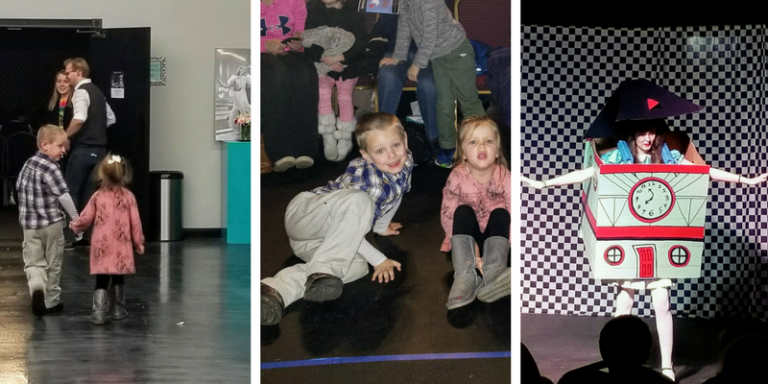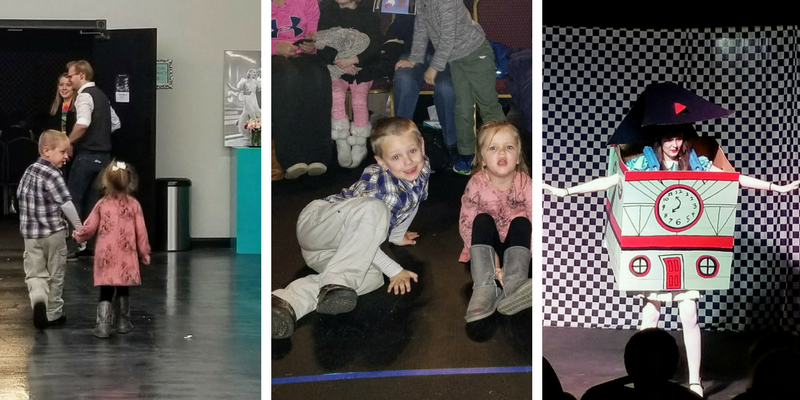 This production of Alice in Wonderland Jr was our first foray into the theater as a family and it was a fantastic experience. My husband and I really enjoyed it and our two kids (ages 6 and 3) were enchanted. This play is intergenerational which means they used both children (ages 11 and up) as well as adults in the production (60% of their actors in Disney plays must be 18 or younger per Disney). This really allows both kids and adults to relate to the cast. From the white rabbit to Tweedle Dee (or was that Tweedle Dum?) it was magical. The Alices (Small, Medium and Tall) were a particular favorite of my kids. It was obvious the cast put a lot of work into the production and it really paid off! I expected my kids to fall asleep on the way home but instead they excitedly asked to hear "I'm late" and "Zip a Dee Doo Dah" in the car on the way home.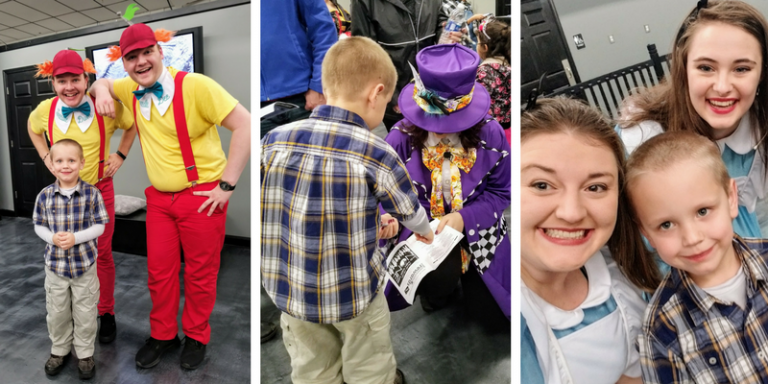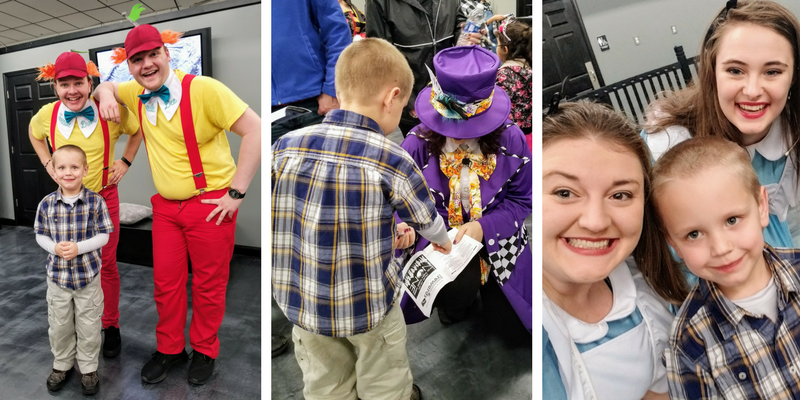 Be sure to bring a pen or marker as our kids really enjoyed getting autographs and photos with their favorite characters. The staff and actors are incredibly friendly and willing to take photos with all the kids. My son insisted on getting each of their autographs after the show and my daughter took her autographed playbill to school the next day for show and tell.
Click HERE for upcoming shows and events happening at both locations (Richmond and Berea)
Richmond
Peter Pan
Presented by Spotlight Acting School
Fly away to Neverland with Peter and the Darling children in this adaptation of Disney's beloved animated film.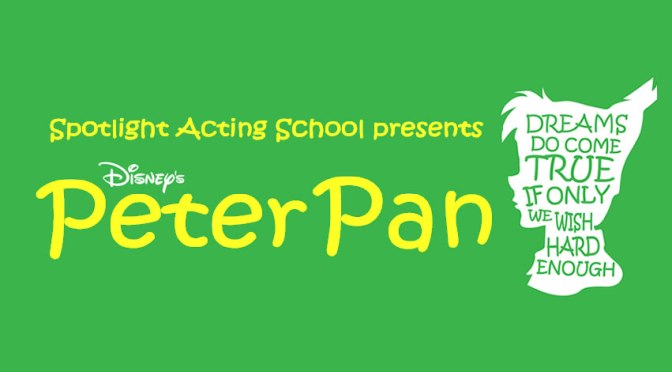 Wendy Darling loves to tell stories to her brothers, Michael and John. But when her father announces she must move out of the nursery, Peter Pan comes to visit the children and whisks them away to Neverland. Their journey introduces them to the Lost Boys, Mermaids, Indians and even the infamous pirate, Captain Hook! It's Peter to the rescue when Wendy is taken captive by the dreaded captain, who has his own sinister plans in mind for our hero.
The Spotlight Theatre – Richmond Mall
Fri Mar 2  7:00pm
Sat Mar 3  7:00pm
Sun Mar 4 2:00pm
---
Peter and the Starcatcher
Presented by Spotlight Acting School

A young orphan and his mates are shipped off from Victorian England to a distant island ruled by the evil King Zarboff. They know nothing of the mysterious trunk in the captain's cabin, which contains a precious, otherworldly cargo. At sea, the boys are discovered by a precocious young girl named Molly, a Starcatcher-in-training who realizes that the trunk's precious cargo is starstuff, a celestial substance so powerful that it must never fall into the wrong hands. When the ship is taken over by pirates – led by the fearsome Black Stache, a villain determined to claim the trunk and its treasure for his own – the journey quickly becomes a thrilling adventure.
The Spotlight Theatre
March 16  7:00pm
March 17  7:00pm
March 18  2:00pm
---
Once Upon a Matress
Presented by Spotlight Acting School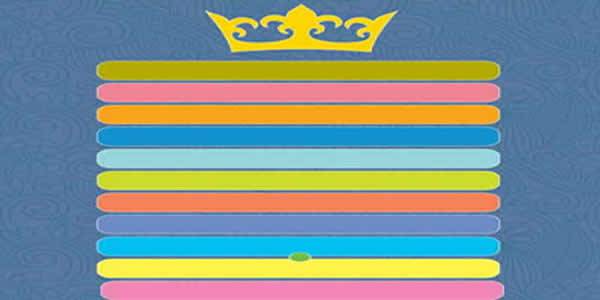 If you thought you knew the story of 'The Princess and The Pea,' you may be in for a walloping surprise! Did you know, for instance, that Princess Winnifred actually swam the moat to reach Prince Dauntless the Drab? Or that Lady Larken's love for Sir Harry provided a rather compelling reason that she reach the bridal altar post haste? Or that, in fact, it wasn't the pea at all that caused the princess a sleepless night? Carried on a wave of wonderful songs, by turns hilarious and raucous, romantic and melodic, this rollicking spin on the familiar classic of royal courtship and comeuppance provides for some side-splitting shenanigans. Chances are you'll never look at fairy tales quite the same way again.
The Spotlight Theatre at Richmond Mall
Apr 20, 7:00pm
Apr 21, 7:00pm
Apr 22, 2:00pm
---
Magic Tree House: The Knight at Dawn KIDS
Magic Tree House: The Knight at Dawn KIDS is an adaptation of the second of Mary Pope Osborne's award-winning fantasy adventure books from the Magic Tree House book series, which has sold more than 100 million copies and is available in more than 100 countries around the world.  This time around, Jack and Annie's tree house takes them to an age of knights in shining armor, where the two discover the power of hope and the true meaning of gallantry.
The two siblings, Jack and Annie, return to visit the magic tree house.  As they read a book about knights and the middle ages, Annie is intrigued by the Black Knight and the mysterious quest one must successfully complete before becoming a knight.  When she wishes to visit the castle in the book, the siblings are whisked away to medieval times.  They set off to learn more about the Black Knight and his quest, experiencing a grand medieval feast, escaping through secret tunnels and dancing with enchanted suits of armor, all in an effort to find their way back home.
The Spotlight Theatre Richmond Mall
June 1, 2, 7:00pm
June 3, 2:00pm
June 8, 9, 7:00pm
June 10, 2:00pm