Play and explore at LexPhil's PB&J Concerts!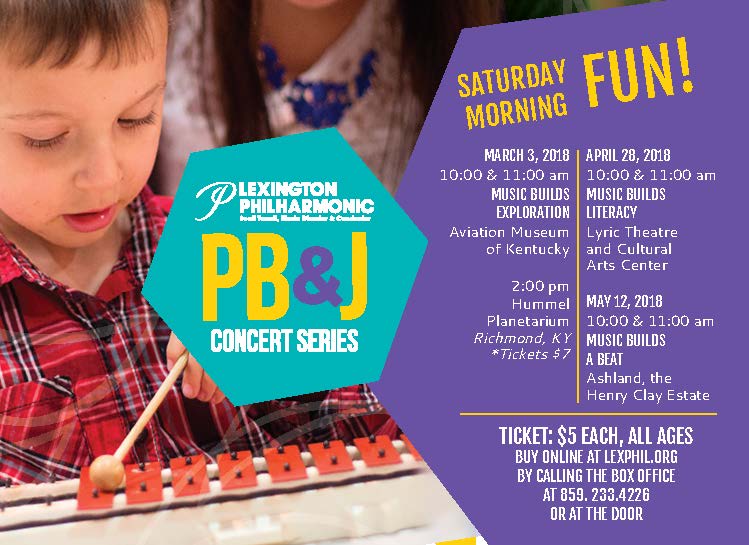 TWO Special Performance Locations on Saturday, March 3rd
Aviation Museum of Kentucky and EKU's Hummel Planetarium
Click the image above to tour the Hummel Planetarium with Chase Miller, LexPhil Education Coordinator!
Featuring a LexPhil brass ensemble performing music from Star Trek, Star Wars, and Guardians of the Galaxy, join us for a day of music, learning, the Instrument Petting Zoo, and of course, PB&J sandwiches!
Music Builds Exploration! will be presented at 10:00 & 11:00 AM at the Aviation Museum of Kentucky in Lexington, and 2:00 PM at the Hummel Planetarium in Richmond, KY.
Tickets: $5 all ages, in advance & at the door*
*Please Note: Tickets to the Hummel Planetarium PB&J Concert are $7 each.
PB&J Series Partner: The J.M. Smucker Company

---
More great upcoming spring PB & J Concerts!

PB&J Series: Music Builds Literacy!
April 28, 2018 | 10 & 11 AM
The Lyric Theatre and Cultural Arts Center

PB&J Series: Music Builds a Beat!
May 12, 2018 | 10 & 11 AM
Ashland, the Henry Clay Estate