The Pandemic Electronic Benefit Transfer (P-EBT) program is a financial resource for families with students who lost access to free or reduced-price school meals due to COVID-19. P-EBT provides households an EBT card with funds to spend on food at home for students.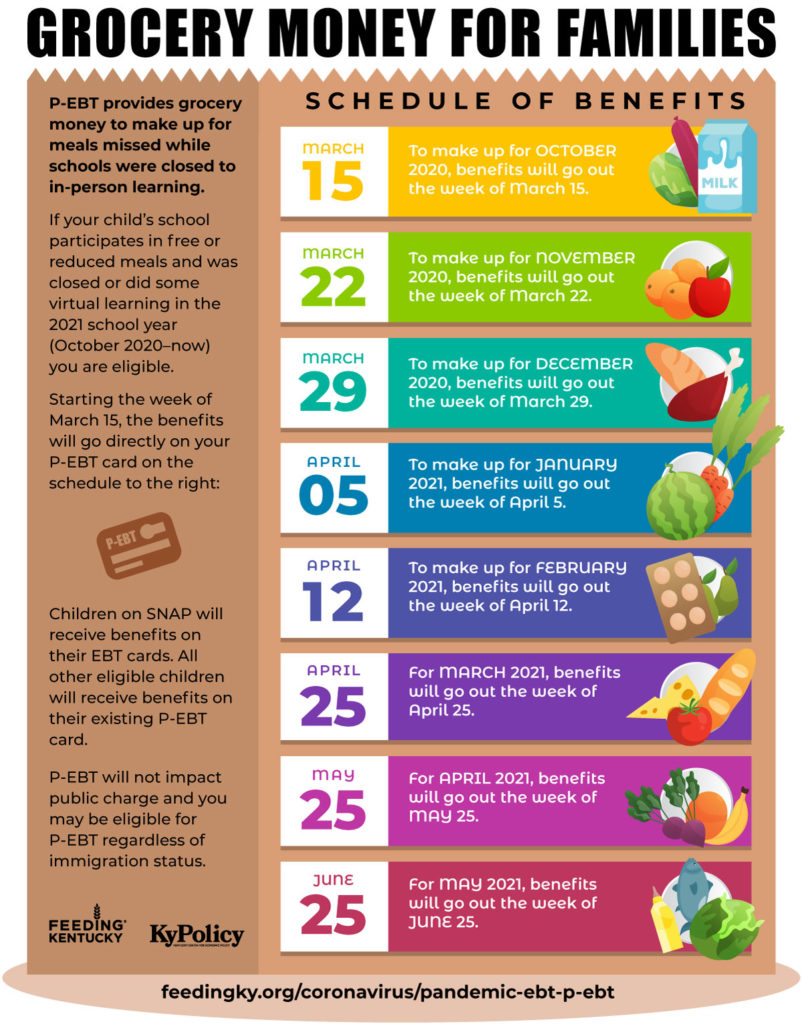 Update August 26, 2021
This week, Summer EBT goes out – $375 in grocery money on your existing P-EBT or SNAP EBT card for kids that were eligible for free school meals, or kids under 6 on SNAP during the last school year.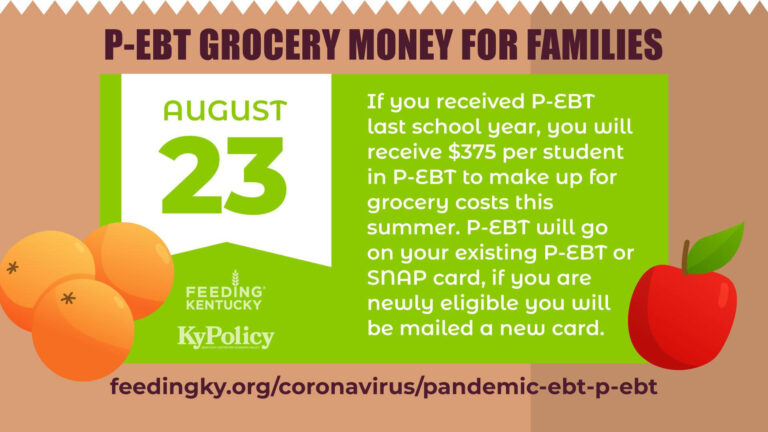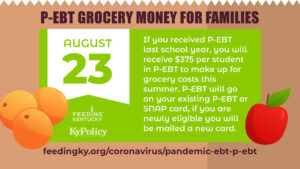 Update July 2021
Information on the USDA website details Kentucky's plan for providing SUMMER 2021 P-EBT assistance for families.  
Tentative P-EBT issuance schedule (the dates on which Summer P-EBT benefits will be issued). Note that USDA encourages States to distribute summer benefits in two or even three issuances across the summer, to the extent practical. 
Kentucky's Summer P-EBT plan has been approved. Students approved for free/reduced meals through the National School Lunch Program (NSLP) and those who were enrolled in a CEP school during the 20-21 school year and SNAP children ages 0-5 are eligible.  All eligible children will receive a total of $375 for the summer period, regardless of primary learning mode in the child's area of residence.  P-EBT

benefits

 will be issued to existing P-EBT cards and EBT cards (for SNAP children/students) the week of 8/23-8/27; all students will receive the $375 issuance at the same time.  There are no reconsiderations for Summer P-EBT.
Child Care P-EBT 

benefits

 for Oct 2020-May 2021 will begin issuing to EBT cards after July 31 in biweekly increments.  Childcare P-EBT is available to all children, ages 0-5, who receive SNAP 

benefits

.  The amount provided to each child is based on the child's county of residence and the local school district's predominate learning.  A child is only eligible to receive P-EBT in the months that the child was a SNAP recipient AND their local school district operated a predominately hybrid or virtual learning mode. There are no reconsiderations for Childcare P-EBT.
Update 3/1/21
October 2020 – May 2021 PEBT funds have been approved and will be added to cards that were previously sent out.  Back payments will start March 15, 2021.  Tentative payment dates are below  **Remember,  benefits are not given for time students are back to school IN PERSON.   

March 15, 2021 – October 2020 Benefits
March 22, 2021 – November 2020 Benefits
March 29, 2021 – December 2020 Benefits
April 5, 2021 – January 2021 Benefits
April 12, 2021 – February 2021 Benefits
April 25, 2021 – March 2021 Benefits
May 25, 2021 – April 2021 Benefits
June 25, 2021 – May 2021 Benefits
How will I receive my P-EBT Stimulus?
Households already receiving SNAP benefits:
*Households eligible for the P-EBT Stimulus that already receive SNAP benefits will be issued P-EBT Stimulus benefits on the existing EBT card.
*The P-EBT card will include benefits for all eligible children on the Head of Household's card.

Households not receiving SNAP benefits:
*First-time P-EBT recipients will receive a P-EBT card for each eligible child to their home address.
*Students who received the P-EBT Stimulus in Aug/Sept will receive their benefits on the previously issued card.
How can I get help with P-EBT?
Please call 1-855-306-8959 and select Healthcare and Food Benefits option if you need assistance.

What if I need a P-EBT card, or need a new P-EBT card because I threw away or lost my P-EBT card?
If your address has changed since you last received a P-EBT card, call the help desk at 1-855-306-8959 to request a new/replacement card.
If your address has not changed since you last received a P-EBT card, call the automated line at 1-888-979-9949.
Eligibility
Federal approval means Kentucky can provide the funds to cover from October 2020 through May 2021. During that span, eligible students (who were/are in remote learning) must meet one of the following requirements:
Students who are current SNAP recipients;
Students who attend a Community Eligibility Program (CEP) school; or
Students who were approved for free and reduced meals at school. 
Amount
Each school district will determine the main learning model for each month based on the majority of students in the district.
For each month in fully remote learning, the P-EBT benefit amount will be $136.40 per student.
For each mixed month (remote and in-person classes), the amount will be $81.84 per student.
Families whose child's learning model differs from the district's model can submit a claim for reconsideration to the Cabinet for Health and Family Services by calling (855) 306-8959.   To register your card and check the balance go to ebtedge.com
Distribution
Current SNAP recipients will have their benefits loaded directly on their SNAP card on the designated P-EBT day each month. Other students will get their benefits on the P-EBT card used in the previous round. Families who lost or damaged their P-EBT card can request a new one by calling (888) 979-9949, and the card will be mailed within two weeks. If a student's address has changed and the family needs a new P-EBT card, please call (855) 306-8959 to update the address and have a new card mailed.   
Timing
Benefits for October 2020 will be issued on SNAP and P-EBT cards by the end of March 2021. Then benefits for November 2020 through February 2021 will be spread out and loaded on cards every two weeks following. Finally, the March through May 2021 benefits will be issued on the 25th of the following month, concluding this round on June 25. (Note: P-EBT benefits will be credited to SNAP recipients on the 25th and may not be issued on the same day as traditional SNAP benefits.)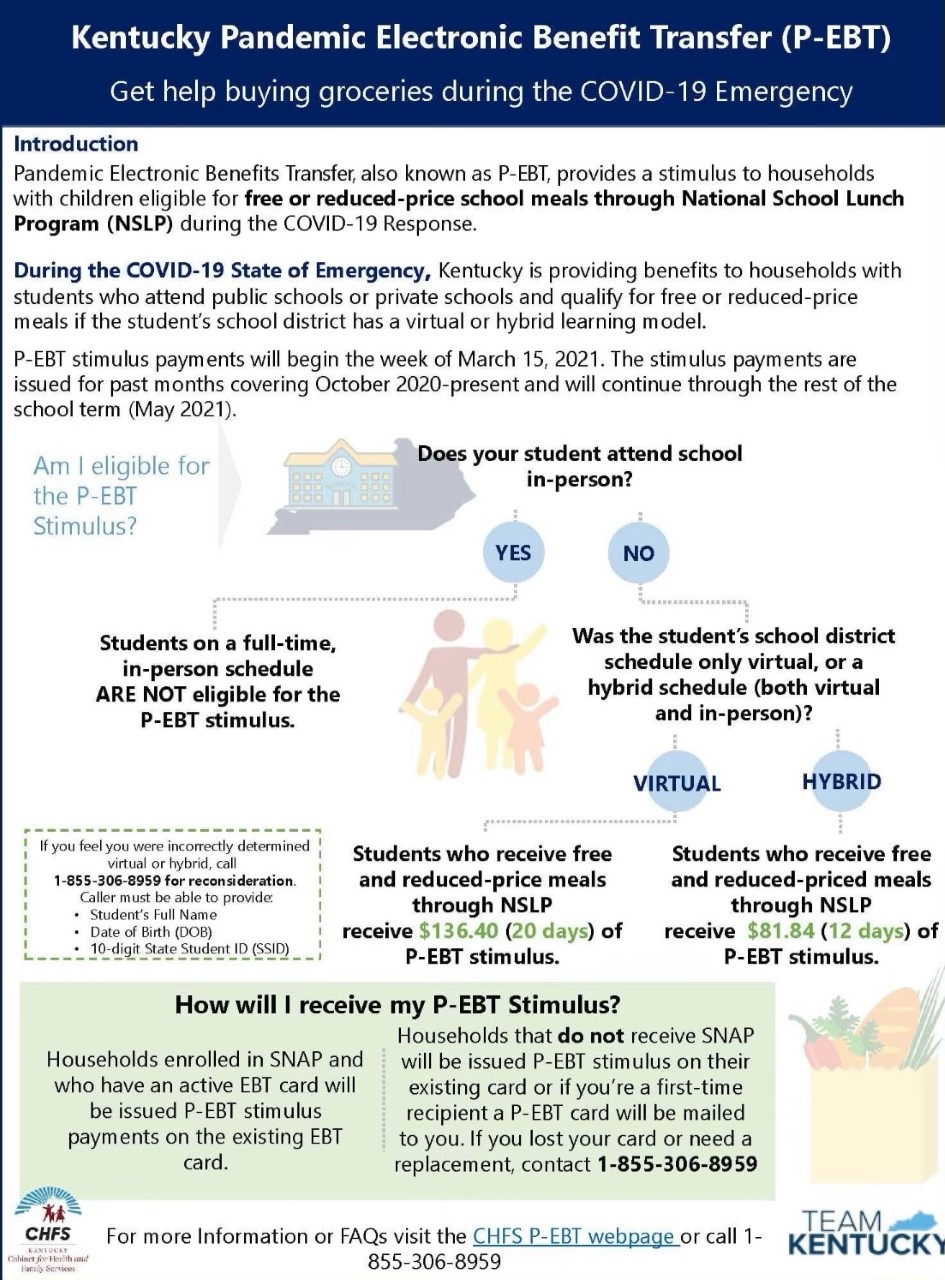 Update 11/30/20
Some cards have been delayed and may not be distributed until the end of December.  Please make sure the address you have on file with the school where your children are registered is correct.  If you have questions please contact (855)306-8959.  Local schools can not offer any assistance with information about your benefits.
Update 11/16/20
Frankfort is in the process of distributing Fall Pandemic P-EBT cards to students in Kentucky. Here is some guidance provided by Frankfort about the cards.
Only children receiving free/reduced meals are eligible for P-EBT. However, due to the quick turnaround needed to submit data, it appears that some students were provided cards that shouldn't have received them. At this time there is no need to return their cards, but please advise parents/guardians that they may not receive additional P-EBT funds if the federal government approves ongoing P-EBT operations."
The distribution of benefits is different from last Spring: Families did not have to apply to receive the Fall P-EBT benefits, so any student who attends a CEP school (or was at a CEP school last year), or attends VLA will automatically receive a card.
(Some ideas for parents who don't need/want this card; they can use the card, use the card and then help donate to a local school backpack program or Salvation Army or shred/trash the card.)
If you have NOT YET received your P-EBT card and qualified for F/R (during the months of Aug/Sept or attend a CEP school or VLA), then you should get a card. The cards are being distributed by mail in batches, so you should receive them by the end of November. If after that time you have not received your P-EBT card, you should contact CHFS call center: (855) 306-8959 and ask to speak to someone in the specialized P-EBT queue.
Update 9/29/2020
The P-EBT Program has been extended for the fall of 2020.  
Eligible students will automatically receive a new EBT card in the mail with their benefit amount – cards are expected to arrive during the month of October. Families do not need to reapply for this round of benefits.
If you have questions about Pandemic-EBT, your student's eligibility, or your student's benefit amount, you can reach out to the Kentucky Cabinet for Health and Family Services: (855) 306-8959 or pebt. info@ky.gov

Students who received free or reduced-price lunch at school, including all students at Community Eligible Provision schools, are approved for P-EBT.
Fayette County CEP Schools are listed below.  If your child attends one of these schools YOU ARE ELIGIBLE.
Elementary: Arlington, Ashland, Booker T. Washington, Breckinridge, Cardinal Valley, Coventry Oak, Deep Springs, Dixie, Glendover, Harrison, James Lane Allen, Julius Marks, Lansdowne, Mary Todd, Meadowthorpe, Millcreek, Northern, Picadome, Russell Cave, Southern, Squires, Tates Creek, William Wells Brown, and Yates
Middle: Bryan Station, Crawford, Leestown, Lexington Traditional Magnet, Southern, Tates Creek, and Winburn
High: Bryan Station, Frederick Douglass, and Tates Creek
Other programs: Audrey Grevious Center, Carter G. Woodson Academy, Family Care Center, Fayette County Preschool Center, Martin Luther King Jr. Academy, Opportunity Middle College, Success Academy, The Learning Center, and The Stables
Enrollment is automatic for students currently receiving SNAP (formerly known as food stamps), and they will get these additional funds on the household's EBT card. Students who are receiving Medicaid or KTAP benefits based on income levels below NSLP income guidelines, or who are in foster care, will automatically receive a P-EBT card in the mail with instructions. The total benefit is $313.50 (less if the student's eligibility began after March 1, 2020).
Students who do not qualify based on automatic participation or who are unsure and are eligible to receive a free or reduced-price lunch should complete the simple online P-EBT application. Student name, address, date of birth, and Statewide Student Identification (SSID) are required. Applications will be accepted June 1 through August 31, 2020. Once approved, the household will receive a P-EBT card in the mail.
Fayette County Public Schools emailed households with SSID numbers of students to electively participate. If needed, families may call the district's tech support line to obtain a child's SSID number: (859) 381-4410. Note: The help line cannot provide any other details pertaining to P-EBT.
Information Before You Apply
Please gather all the required information for students in your household that you want to apply for Pandemic-EBT (P-EBT) benefits before beginning the application. You will need the below information to complete the application process:
Student First Name
Student Last Name
Student Date of Birth
Statewide Student ID (This can be obtained from your student's school district)
Eligibility and Benefits Information
Students are eligible for P-EBT if they were eligible for participation in the free and reduced-price lunch program during the 2019-2020 school year. Households that are approved will be given the below amount per month per approved student in the form of an EBT card:
March 2020: $68.40
April 2020: $125.40
May 2020: $119.70
Total Benefit Amount: $313.50