You are invited to enjoy the natural areas of Fayette County through citizen-led events by participating in Lexington's second Nature Hop. All Nature Hop activities are free, being supported in part by the city's Division of Environmental Services.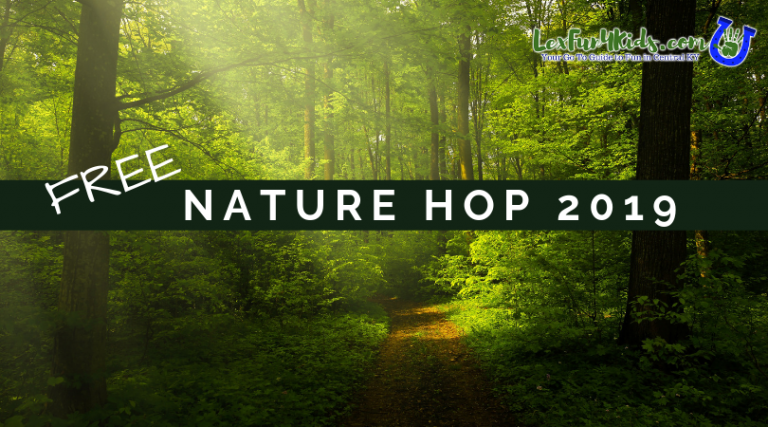 This year's Nature Hop will take place on Sunday, September 8. Events will start at 11 a.m., 12:30 p.m. 2 p.m. and at 3:30 p.m. The staggered times are designed to let citizens participate in multiple activities if they wish.
The Nature Hop includes 24 unique events, ranging from Geocaching, gaming outdoors and learning about the Preston's Cave Springs Park. The events are happening throughout Fayette County in a variety of green spaces. A Nature Hop wrap-up session will be held at 5 p.m. at the Lexington Public Library's downtown branch (140 East Main Street). Participants are invited to share the highlights of their Nature Hop experiences over art and light refreshments.
Nature Hop was inspired by the Long Day of Urban Nature, an event that organizer Beate Popkin attended in Berlin in 2017.
11 a.m. events
Yoga at Ashland
Ashland, the Henry Clay Estate | 120 Sycamore Rd.
All-levels yoga practice on the lawn under the trees. Whether this is your first yoga class or your thousandth, this is a great opportunity to enjoy your practice in a beautiful environment. Please bring a mat or beach towel.
Grace Garden Food Forest Tour
Seedleaf: Grace Garden Food Forest | 449 Race St.
Tour Seedleaf's permaculture food forest, located in Lexington's East End. Get inspiration for your own fruit-bearing garden. Park on Race Street, only on the west side.
Guided Nature Hike
Boone Creek Outdoors | 8291 Old Richmond Rd.
Hike 2 miles through limestone palisades, old growth forest, and historic buildings. Moderately challenging. Wear good walking shoes, and be prepared to walk up and down steep inclines. Feet will get wet. Lasts 1.5 – 2 hours. Preregistration required.
Introduction to Geocaching
Masterson Station Park | 3051 Leestown Rd.
Geocaching is a real-world, outdoor adventure. No previous experience needed at this family-friendly event. Meet at shelter #1. Some walking may be required. Participants are encouraged to bring a smartphone if possible.
Yoga Beneath the Leaves
Raven Run Nature Sanctuary | 3885 Raven Run Way
Practicing yoga outdoors enhances physical and mental wellness. All-levels. Meet at the Nature Center.
The Art of Sharing Food
Seedleaf: London Ferrill Community Garden | 245 E Third St.
Learn about the Old Episcopal Burying Grounds, and see how the space is used today with vegetables, a fruit orchard and native flowers. Participants should bring water.
12:30 p.m.
Stump Story Circle
Ashland, the Henry Clay Estate | 120 Sycamore Rd.
Children (8 and under) will read stories focused on art and nature, then take a short walk. Walk includes uneven terrain.
A Walk Along an Urban Stream Bed
Idle Hour Greenspace | 209 St. Ann Dr.
Attendees will learn to identify plants and hear about the benefits of an urban stream buffer. Closed toe shoes recommended.
AR Gaming and the Outdoors
Idle Hour Park | 212 St Ann Dr.
Learn about augmented reality (AR) games by playing at a park with many markers. All levels of experience and ages welcome. Meet on the walking path between the playground and pickleball court. Please dress for the weather and have an AR game installed on your mobile device.
Urban Stream Ecosystems at UK
UK Campus | 158 Alumni Dr.
Learn about the history, design, and use of the stream restoration project. Closed toe shoes recommended. Park in the Orange Lot at the corner of Alumni Drive and University Drive.
Pocket Park
Corner of Maxwell and Limestone | 290 S. Limestone
Check out the transformation of this space into a living laboratory, complete with solar charging station.
Gardenside Creek Walk
Gardenside Park | 1835 Yorktown Rd.
Visit the pollinator garden, learn about restoration efforts and admire the art in the park. Carpooling recommended. Park can be reached from Yorktown, Gettysburg or Holly Springs roads.
2 p.m.
Ashland Art and Grounds Tour
Ashland, the Henry Clay Estate | 120 Sycamore Rd.
History, art, and science intertwine on this 45-minute walking tour. This is a walking tour through grass, mulch, and uneven terrain. Meet at the front of the Mansion.
McConnell Springs Blue Hole Restoration Tour
McConnell Springs Park | 416 Rebmann Ln.
Tour this significant Lexington spot to learn about two recent projects to protect and improve the springs. Park in the parking lot in front of the education center and meet at the picnic area attached to the building.
A Garden Tour
Private Residence | 124 Idle Hour Dr.
A guided tour of this large private garden showcases the relationship between nature and an ornamental landscape. Park on Idle Hour Drive.
Trees of African American Cemetery No. 2
African American Cemetery No. 2 | 419 E 7th St.
The UK Urban Forest Initiative will lead a tour of the trees at African Cemetery No. 2. Together we will identify many of the cemetery's trees by looking at differences in the leaves, bark and fruit, as well as discuss the environmental benefits that urban trees provide to the cemetery and in the city of Lexington.
Cardboard Play Day
Woodland Park | 601 E High St.
All ages are welcome to build cardboard castles, forts, rocketships, boats and whatever else you can imagine with ARTplay! Will last 2 hours. Preregistration required.
Garden Artistry
Living Arts and Science Center | 362 N. Martin Luther King Blvd.
Explore the Living Arts and Science Center gardens and water feature while creating art inspired by native Kentucky flora. Activity located outdoors, in garden to right of historic house.
3:30 p.m.
#ArtAtAshland Photo Tour
Ashland, the Henry Clay Estate | 120 Sycamore Rd.
Bring your phone or camera with you to learn photo tips and tricks. Involves a short walk through grass, mulch, and uneven terrain. Meet at the front of the mansion.
Gratz Park: A Historic Greenspace
Gratz Park | 251 W 2nd St.
Discover the history of this unique space in the heart of the city and the plants and trees that make it a part of nature in the city. Meet at fountain facing Old Morrison on 3rd Street.
Monarch Waystation Tour
Tates Creek Library | 3628 Walden Dr.
Learn more about butterflies, other pollinators, native perennials and how to select plants and tips for installing a waystation.
Restauración de Preston's Cave Springs
Preston's Cave Springs | 1939 Dunkirk Dr.
Learn about the history and restoration efforts of the park while taking a short walk along the trail. This family-friendly event will include kids' crafts. Involves walking over uneven terrain. A Spanish interpreter will be present.
Beginners' Bird Walk
Lexington Cemetery | 833 W Main St.
On this guided walk, you'll learn basic binocular and birding skills. Attendees strongly encouraged to bring binoculars. Park near/meet at the Henry Clay Monument.
5 p.m.
Nature Hop Wrap-Up
Central Library | 140 E Main St.
Discuss Nature Hop over art and light refreshments at the Paint by Nature: Streetside exhibit in the Central Library Gallery.