Enjoy special programs throughout Lexington in celebration of MLK, Jr. Day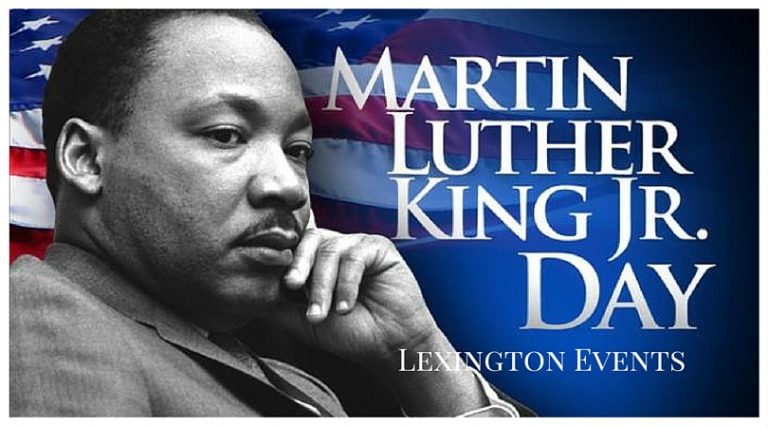 ---
Freedom March and Program
The University of Kentucky and the Lexington-Fayette Urban County Government invite you to join the celebration of MLK, Jr. Day on Monday, January 20, 2020 at Heritage Hall in the Lexington Convention Center for FREE events.
The Freedom March will begin at 10:00 a.m. and the Commemorative Holiday Program will be held in Heritage Hall at 11:00 a.m.
Participants should line up beginning at 9:00 a.m. inside the corridor of downtown Lexington Center, Heritage Hall on West Main Street. Departure from downtown Lexington Center Heritage Hall will begin at 10:00 a.m.
---
12:30 pm – 2:30 pm
After the downtown MLK march (Doors open at noon), head to the Carnegie Center to honor the legacy of Dr. King. Join us for lunch from IP&J Cuban Food and an inspirational speech by Farmer Brown. Participate in activities and workshops, including art with Cierra S. Spaulding, drumming with Joan Brannon, and poetry with JC Mack. Families will also have the opportunity to engage in a service-learning project with On The Move Art Studio.
Every child will take home a free brand new book written by keynote speaker Farmer Brown!
This is a FREE event and NO registration is required! Best suited for families with children ages 3-12.
---
The Green Book Showing
2:30 pm The Kentucky Theatre
FREE
Following the morning program, there will be a showing of the featured film, Green Book, courtesy of One World Films. The Kentucky Theater is located at 214 East Main Street. The showing is FREE and open to the public. Click here for the official trailer of Green Book.