Long Road to Freedom Performed at Lexington Children's Theatre *Review
We put a quilt on the gate, and a candle in the window. Then we wait and hope and pray that the light finds those who need it most. Graceanna and Mary Catherine were brought together by the Underground Railroad and as their friendship stands the test of time, so does Graceanna's determination to be reunited with her family. Working together, these girls turned women will need all of the courage they can muster to keep working, keep hoping, and keep paving the path to freedom.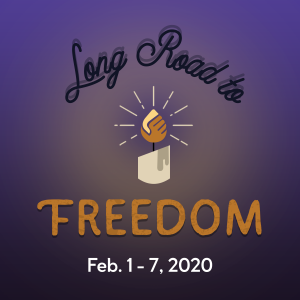 By Jan Lucas 
PUBLIC PERFORMANCES:
Saturday, February 1 @ 7:00pm (Pay What You Can Night)
Sunday, February 2 @ 2:00pm
$20 adults, $15 children
Best enjoyed by ages 8 and up

---
*Review
Lex Fun 4 Kids writer, Kelly, recently enjoyed the show with her family and has the Lex Fun 4 Kids review!
This was a powerful play. Knowing only a little about the Underground Railroad, we came to this hoping to learn more, and we left having done that! The play tells the story of two individuals Mary Catherine Stump (Danae DeShazer) and Graceanna Brown (Alex Reeves). The first having worked with the Underground Railroad and the latter escape to freedom via it. Throughout the story, the actors don different hats and aprons to indicate which characters they are playing.  The recommended age for this play is eight and up making this ideal for older children and something younger kids should probably skip. I attended this with two 8-year-olds, and they both struggled at times following the story. We just made sure to point out the outfit changes, and that seemed to help remind them which character was speaking.
The story covers the struggles of both those who helped and those traveling the railroad who needed help. As a parent, I felt like this was a great play to coincide with Black History Month. For my son, it helped connect the stories of what he's been learning throughout this month. It also opened up a great chance to discuss some things with him. It's hard explaining some of these topics, but it's also so important! 
It was so great seeing this cast together again. This cast also included Derek Brookens, who showcased his musical abilities (we were disappointed he never played the backpackers guitar!) Another great show by Lexington Children's Theater! 
---
Things to Know Before You Go
About LCT's Touring Productions
Long Road to Freedom is one of our touring productions, which means it doesn't just perform here in Lexington! Our three professional actors travel with this and our production of The Princess and the Peas from February through early May to schools, libraries, and theatres all over the Commonwealth and beyond! As a touring production, this show is also designed to be performed with a smaller cast, so you will notice that the three actors portray a variety of different characters (or the same character at different ages) throughout the play.
About your trip to the theatre
Be sure to arrive early to find a place to park – options include metered parking surrounding the theatre and the parking garage on the corner of Broadway and Short Street. LCT unfortunately cannot validate garage parking.
To offset the heat generated by stage lighting, the Main Stage theatre can get pretty cold. It's a good idea to bring a sweater with you!
It's also a good idea to bring some cash. You might need to pay for parking, and we will have books and LCT merchandise for sale in the lobby if you want to buy something before or after the show. If you forget your cash, though, no worries! Both the Box Office and the retail store accept credit and debit cards (excluding American Express).
For more on planning your visit to LCT, click here.
About Long Road to Freedom
With music, humor, and heart, Long Road to Freedom paints a beautiful story of two women and the way their lives are entwined together through the Underground Railroad. It is a very lyrical play that weaves in historical songs and spirituals from the time period as the actors sing and create all of the sounds you hear in the story right on stage. This play is also unique in the way it is told – rather than going through events in a chronological order, we meet Graceanna and Mary Catherine as adults and then flash back as the two women recount the lovely summer they spent together as children and how that friendship has impacted their lives and brought them hope, even in the darkest times.
Long Road to Freedom is a show about the Underground Railroad and as such one of the main themes of the story is slavery in the U.S. – how it functioned, how it affected people, and why it was such a terrible thing. While physical violence is never actively portrayed on stage, the characters do talk about things that have happened to them or people they care about. Graceanna gets word from some of her family members still in slavery that her Uncle Hiram lashed out after being whipped one time too many, and his master hit him upside the head with a rock. We see Mary Catherine on the day she finds out that her husband, Jonathan, was shot and killed in a scuffle with slave catchers as he was trying to get escaped slaves to freedom. To maintain historical accuracy, the play also contains two uses of the word negro. The use of this word, while completely unacceptable today, illustrates the power of language and how words can be used as a tool by those in power to oppress those who are not.
This play is a great way to spark conversations about a tragic and pivotal time in U.S. history through the lives of two incredibly strong women who work together to make life better for those around them. While building an understanding of slavery and having conversations about our nation's past aren't the easiest things to do, plays like Long Road to Freedom provide the opportunity to explore history through powerful stories. We hope you and your family can use this play to start these important conversations together.
We love this story because it is a beautiful, poetic play that is centered around strong women and the way they change the world around them for the better, even when it is difficult and dangerous. It is a story that helps humanize the history of slavery and serves as a great conversation starter in a way that's appropriate for younger audiences. We love this story because it is ultimately a story about how ordinary people can do extraordinary things, friendship and love always outweigh prejudice and hate, and how light can be found, even in the darkest of circumstances.