My family and I headed out to the Kelley Farm Corn Maze last night and had a great time!  Kelley Farms is just out Old Richmond Road a few miles so it was super easy to find and quick for us (we're on the South side of Lexington).  It would be super easy for folks coming from Hamburg and heading out Richmond Road as well!
Once we arrived the kids headed straight for the play area.  All the activities are pretty close so it was quick and easy to do those before heading into the maze.  There was a small climbing wall and rope, a roping cattle play area, hay pyramid and slide, ducky water races, and even a hayride.
Then we were off to the corn maze!  The corn maze secret was revealed by Coach Cal on Twitter – it's an awesome UK basketball themed maze with K-E-N-T-U-C-K-Y spelled out in the maze, a player making a dunk, and a UK Logo!  Over near all the little events there is even a kid corn maze that has shorter corn so you can see your little ones and it's surrounded by hay bales so even if they sneak through the corn they can't 'escape'.  My boys felt very excited when they got to lead us through the maze all by themselves.
There are two mazes to choose from – one is an easier maze that takes about 20 minutes – the other is a longer maze that takes around 45 minutes.  We chose the easier maze since we were there on a school night.
As we made our way through the maze my kids loved finding the little UK Basketball quiz questions posted throughout the maze and actually got some right!  They had fun going in circles and were super proud of themselves when they did eventually make it out!!
We got to enjoy a great, peaceful hayride – love the tractor being quiet and not puffing stinky fumes onto those of us riding behind!  The ride wasn't too long but was a great tour around the farm property to see an neat old barn, pond, and the corn maze.
After our hayride we hit the little concession booth and had a yummy funnel cake!  They have cotton candy, apple cider, and drinks.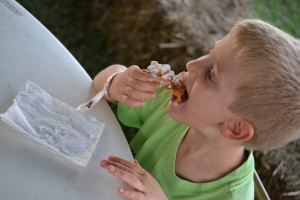 We had a special night out and made some great family memories!  If you get a chance to head out this fall you'll have a great time!
OPEN NOW Through October 27th
| | |
| --- | --- |
| Wednesday – Friday | 6 pm – 9 pm* |
| Saturday | 10 am – 9 pm* |
| Sunday | Closed |
*Farm closes at 10:00 pm.
EXTENDED HOURS FOR FALL BREAK:
Friday, October 5 – Open at 11 am
Friday, October 12 – Open at 11 am
Operation of the corn maze is weather dependent. For the latest updates: www.facebook.com/lexingtoncornmaze
General Farm Admission
Adults and Children 3 and Up: $9.50 (tax included) Children 2 and Under: Free
Saturday Matinee Admission
Available 10 am – 3 pm on Saturdays
Adults and Children 3 and Up: $7.50 (tax included) Children 2 and Under: Free
Season Passes Available on Site!
Pumpkins, produce, pumpkin painting, special activities, craft items, food and drink are priced separately.