The Lexington Children's Theatre is ready for a wonderful holiday season with this upcoming performance featuring Junie B.!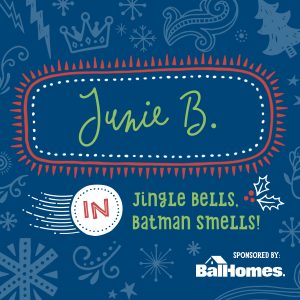 It's me, Junie B. Jones and
wowie, wow, wow
have I got a story for you! It's time for the holiday sing-a-long and normally I would be really excited but blabbermouth May is trying to ruin it all by tattling on me again. You know what's worse; I pulled you-know-who as my secret Santa! But, wait – this could be the perfect opportunity to give my arch nemesis
exactly
what she deserves. I just hope Santa doesn't find out!
A Play by Allison Gregory
Adapted from the book series by Barbara Park
Family Weekend Performance Info
Saturday, November 27 – 2:00pm
Saturday, December 4 – 2:00pm & 7:00pm*
Sunday, December 5 – 2:00pm
*Pay What You Will
Best enjoyed by ages 5 and up
Location: The Lexington Opera House (401 W Short St, Lexington, KY 40507)
Length of Show: Approximately 1 hour long
Click HERE for tickets
Lex Fun 4 Kids Review
Lex Fun 4 Kids Writer Rachel and her family enjoyed this past weekend's performance and have a great review so you can learn more about the show!
My kids and I had the opportunity to attend the Lexington Children's Theater's current production of Junie B. in Jingle Bells Batman Smells. What a treat it was to start out the Christmas season with lots of laughs and a few lessons. The play is based on a book in the Junie B. Jones book series which follows a first grader, Junie B., through her life at school. Using her diary to share her thoughts and feelings about what happens to her, Junie B. learns about friendship, working through her feelings (although not always the best ways), and life. Junie B. is a fun character that shares lots of common experiences many kids experience and provides comical solutions while still teaching a lesson by the end.
Jingle Bells, Batman Smells is no different. It starts out in the classroom, Room 1, with your favorite 1st grade teacher, Mr. Scary, and class. Junie B. is writing about her arch nemesis, May. Being a nosy tattletale, May sees she is called a name and proceeds to tattle. Mr. Scary tries to get the girls to get along throughout the play without much luck; then his luck turns and without knowing it the secret Santa exchange helps Junie B. learn a little more about giving and a little less about being "shellfish."
It has been a while since I have attended an LCT play, but it did not disappoint. The actors, stage crew, and light crew did a phenomenal job. The costumes were true to Junie B. Jones books and 1st graders; just right for a 1st grader! The props and stage pieces flipped and turned and were used well by the actors, specifically when the ocean comes out.
The actors delivered laughs to kids and adults alike with humor for both. My kids and niece LOVED the kid humor in one scene that I won't give away, making them talk and laugh long after the show. And, surprisingly, there was even room in the perfect time frame of 1 hour for character development. Junie B. and May are relatable to elementary aged kids. They slowly but surely learn a lesson about giving and friendship. My 8 yr old daughter said to me today, "Mom, I'm a giver and a receiver, but mostly I'm a giver." I couldn't be happier that that was what she got out of the play. It opened up new discussions about kindness and giving, which are perfect conversations for anytime of the year, but, of course, especially with the holidays.
Hopefully you get to enjoy the show this year! Plus, LCT is having their annual fundraiser. Be sure to check out the show and the fundraiser to support this awesome part of our community.