Roald Dahl's James and the Giant Peach Jr.
PUBLIC PERFORMANCES:
Sunday, April 15 – 2:00pm
Saturday, April 21 – 2:00 & 7:00pm
Sunday, April 22 – 2:00pm
SCHOOL MATINEES:
April 10-13, 17-20 at 10:00 & 11:45am
Recommended for ages 7+
Recommended for grades 2+
Performed on the LCT Main Stage
Book by Timothy Allen McDonald
Music and Lyrics by Benj Pasek and Justin Paul
Based on the book, "James and the Giant Peach" by Roald Dahl
Description:
James Henry Trotter was the saddest and loneliest little boy you could find – at least until one day when a mysterious stranger appeared, a potion was brewed, and a gigantic peach sprang up in his own backyard! Now James is off on a wacky adventure with five of the best insect friends anyone could wish for. You won't want to miss this toe-tapping musical based on Roald Dahl's classic story of a boy, a peach, and a journey to find home.
Curricular ties: English literature and culture, Roald Dahl, entomology, fantasy, problem solving
You'll like this play if you like stories about: making friends, fantasy, epic journeys, musicals
Approximately 1 hour long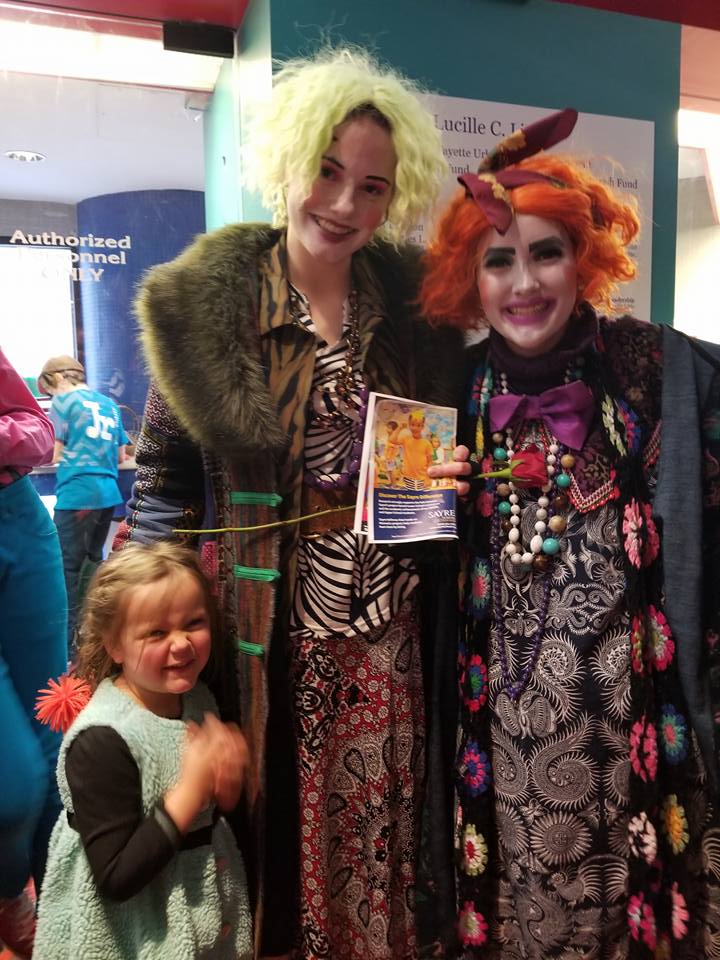 Review!
James and the Giant Peach Jr had their public opening this past Sunday. From the lighting to the costumes and actors, this play had the feel of a professional performance! The cast was quite large, and the actors were mostly kids aging from High School on down. The show starts out with James about to leave the orphanage to meet the only family he will ever have, Aunts Spiker and Sponge. For those of you familiar with the story you know what happens next! For the rest of you, you will have to come see to find out!
The set for the play was interesting as well as beautiful. Their portrayal of the peach when it grew in size (thanks to an entertaining use of umbrellas) made both of my kids gasp in awe! My daughter especially loved the outfits for the Spider and Lady Bug so much so she insisted on
getting pictures with them after the show!
We loved Lionel Morton's portrayal of James, but for us, the Aunts Striker and Sponge stole the show! They were hilariously and delightfully evil! We could not help but laugh at their antics!  Another favorite was the Earthworm played by Braden Hatton, his dramatic antics of whining
and of course his rendition of "Plump and Juicy" were delightful!
The suggested ages for this play are 7+ or grades 2+. My kindergartner loved the play however my four year old became restless during the show. Overall we highly recommend the show!  It has the perfect balance of comedy and villain and will have you rooting for James from the get-go!
-Kelly, Lex Fun 4 Kids Writer
More About the Play
"Whimsical, quirky, and surprising," are three words Director Vivian Snipes uses to describe Roald Dahl's James and the Giant Peach Jr. In a world filled with kooky characters and surreal situations, James navigates his world, searching for a sense of belonging.
While the world surrounding the play may seem outlandish to most, the story is relatable and full of everyday truths. "The story is about the heart. It's about finding and realizing what true family and friendship are and what that means. In the show, the insects rally around James to become his family, and that is exactly how the ensemble must work in order to create the visual pictures onstage. We are all about putting our heart into it and creating a family, both in the rehearsal room and on stage," says Snipes.
This cast is full of young people ages 9-18, some who have been in many shows at LCT and others who are joining LCT for the first time. "The moment you walk in the door, you are a part of the LCT family. Everyone genuinely cares about every person inside," says Hadley Whipple, ensemble member and featured dancer. Returning actor, Bobby Lowther, who plays Ladahlord, says, "the acceptance and kindness found in this theatre is truly unique. I'm getting to work alongside my little sister, and share my LCT family with her. LCT is hands-down one of the greatest theatres in Lexington. I love it here." "LCT has always been my home away from home. I love working here because I know I am respected and cared for. I love being able to perform and grow with such an amazing group of people," says Charlie Stephenson, who plays Grasshopper.
"These young artists are very good storytellers. They get to the essence of a moment and they are willing to dive whole-heartedly into it. My favorite thing to watch is when they are given a challenge, because they work together as an ensemble. It's just incredible and delightful to watch as they explore the truth of the story," says Snipes.
Performances of Roald Dahl's James and the Giant Peach Jr. will be April 15th, 21st, and 22nd. On April 21st, explore the world of interesting insects with a fun-filled morning presented by LCT and the Explorium! Venture to the Explorium for some hands-on bug time and then visit LCT for crafts and a show prior to our 2:00pm Saturday performance on April 21st of Roald Dahl's James and the Giant Peach Jr.! Ticket required – please see Box Office.