Where can you find a Tiny Library or Little Free Library in Lexington? Lex Fun 4 Kids has all the info about finding a library as well as how to contribute to a Tiny Library or create one in your neighborhood!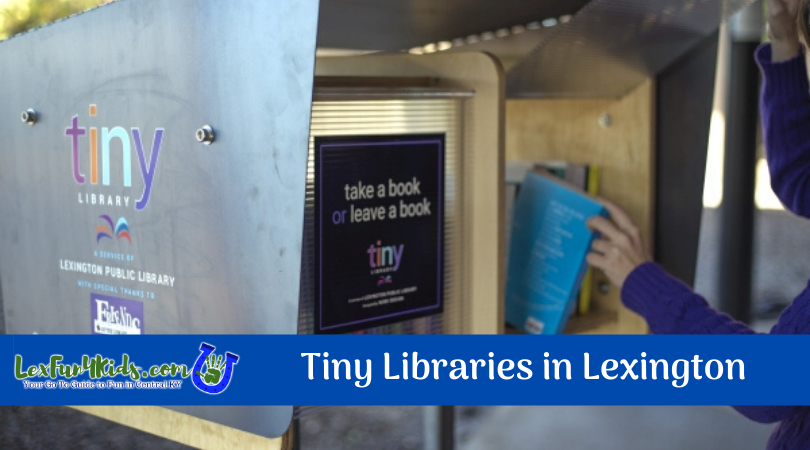 What is a Tiny Library or Little Free Library?
Tiny Libraries and Little Free Libraries are all around our community. They serve as a "take a book, return a book" free book exchange. They come in many shapes and sizes, but the most common version is a small wooden box of books on a pole that resembles a bird house – but for books! Anyone may take a book or bring a book to share. These libraries serve as a great way to share books your family is finished reading with others. You can drop off a few books at any local library any time. Libraries can feature a variety of genres and books for all ages.
Tiny Libraries
Lexington Public Library has created multiple Tiny Libraries throughout the city. A Tiny Library is a miniature community center for sharing books. It's right in your neighborhood and it's free, easy and fun.
Want to help? Donate books to any Lexington Public Library location – or just leave them in one of our Tiny Libraries for others to enjoy! All genres and reading levels are encouraged. If you have any questions, please email tinylibrary@lexpublib.org.
They have a special map created with the locations for you to reference.
Lexington Public Library Tiny Library Map
Little Free Library


Little Free Library is a national program where anyone can create their own Little Free Library and share it with the community. There are already over 100,000 libraries registered with this organization. To find a registered Little Free Library near you you can search their map HERE.
If you'd like to purchase a Little Free Library to place in your community you can shop HERE.
COVID – 19 Precautions with book borrowing
Here are some tips for borrowing books during the COVID-19 pandemic
Wash hands after handling books or little library boxes/handles
Use cleaning wipes on outside surfaces of books with plastic covers
Allow books to 'rest' for 24 hours before use
Click HERE for some guidelines released from Little Free Library