Are you wondering what will happen with Fayette County Public Schools' reopening for fall 2020?  Lex Fun 4 Kids is tracking FCPS school reopening updates and guidelines as they are released.  
Fayette County Public Schools serves over 42,000 students with just over 8,000 employees so there are so many things to consider as they plan for what school will look like this fall during the COVID-19 pandemic.  They are taking into consideration surveys parents completed as well as staff and all state and national guidelines.  These guidelines are ever changing and will continue to change as the weeks go by.
Canvas for Middle and High School Students


Canvas is the new platform all middle and high schools will be delivering instruction and lessons through.  This is different from Google Classroom they may have used in the past.  Take time to learn more and download the Canvas Parent App.  (Information to access student accounts is in the FCPS Canvas video)


Canvas Parent is designed to provide visibility into your child's education at a glance. Canvas Parent allows parents to:

• View assignment descriptions and due dates
• Set reminders for assignments
• View assignment grades
• View course grades
• Set grade alerts
• View course announcements



Fayette County Schools Special YouTube tutorial below

General Canvas informational video published by Canvas
Chromebooks and Hotspots Available


The district is now 1:1 for Chromebooks so each child has a Chromebook assigned to them.  Each school will have dates/times scheduled for students to check out their Chromebook so watch for updates from your child's school.  


Hotspots

are available through the school Youth Service Center or Family Resource Center.  Please contact your school's coordinator to learn how you can sign up to receive one for FREE.  (If your school does not have a FRC or YSC please contact your counselor.)  Click HERE to access the email/phone contact list for all FRYSCs in Fayette Co.
Update 07/27/2020
The Fayette County School Board met virtually and discussed reopening dates and procedures.  They shared a draft of the 2020-2021 calendar.  The first day of school will be August 26, 2020 and the last day is set for May 13, 2021.  Students will have regular holiday breaks (Labor Day, Thanksgiving, Winter break, Spring break, etc.) as well as a fall break.  The NTI 2DL option of virtual learning students will start with will be reevaluated at various dates throughout the year.  The first date they will review switching instruction would be the week of September 28 – October 2nd.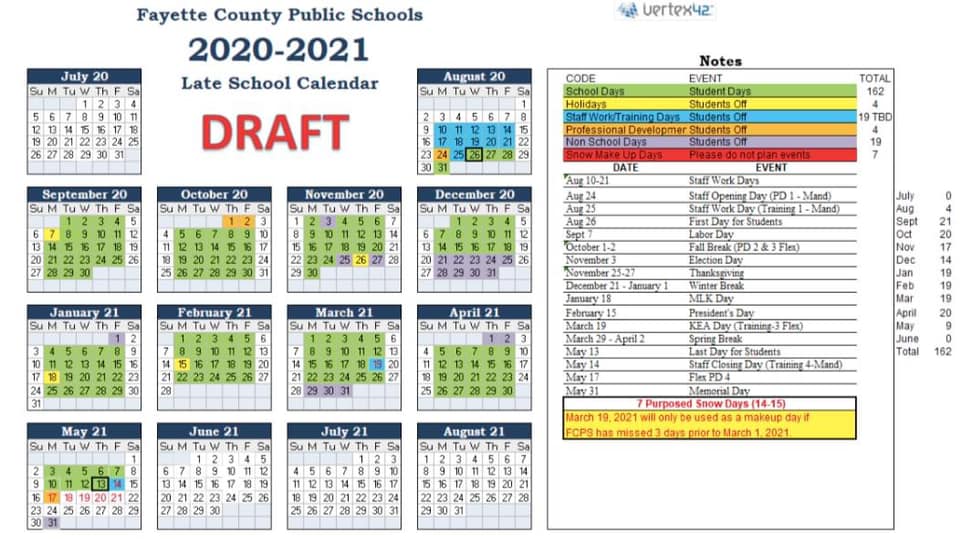 Read the new FCPS – 2020 – Reenvisioning Reimagining and Renewing Guide
Update 07/24/2020
The Fayette County School Board met virtually and discussed various options for the start of the 2020-2021 school year.  The board voted 5-0 to adopt a virtual start to the school year.  Through the discussion it was clear that this decision can be changed throughout the year.  They addressed the needs of teacher and parent support for online learning as well as how to meet the needs of students with IEPs, 504s, GT services, etc. 
The virtual learning program the district is adopting now is planned to be different from the NTI program FCPS provided from March 13 – end of the 2020 school year.
The specific calendar and dates for the start and tentative end of virtual instruction and the move to in-person learning will be discussed at the scheduled board meeting on Monday, July 27, 2020 at 6 pm.  https://www.fcps.net/virtualmeeting
Update 07/20/2020
The Kentucky Department of Education (KDE) released three new COVID-19 reopening guidance documents on July 20 on special education and preschool students, compensatory education and student participation for non-traditional instruction (NTI).
One of the documents, "COVID-19 Considerations for Reopening Schools for Exceptional Learners and Preschool Students" provides guidelines and recommendations for the health and safety of special education and preschool students. The document includes guidance on things like social distancing, classroom environments, food distribution and masks.
Another document, "COVID-19 Considerations for Reopening Schools: Compensatory Education and Extended School Year Services" explains the differences between compensatory education and extended school year services. It also provides guidance on how to provide those services during the COVID-19 pandemic as well as through NTI.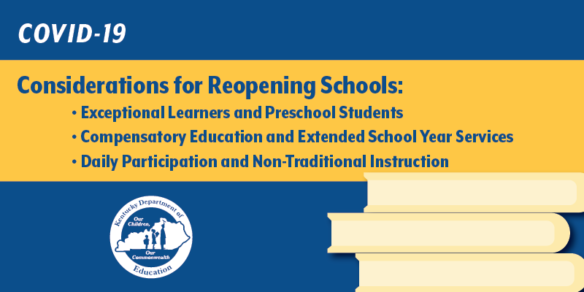 Update 07/17/2020
Superintendent Caulk released an email to families and shared that a specially called meeting will be held on July 24, 2020 at 2:30 pm.  Board members will discuss all options at this meeting.  The virtual meeting link is https://www.fcps.net/virtualmeeting
"Nothing is more important to me than the lives of our students, employees and families, and safety will direct each of our decisions. Regardless of the instructional model selected, please understand that our plan is subject to change as cases rise or decline not only in Fayette County, but across Kentucky, the nation and the world. The status of COVID-19 changes every day, with each test taken, diagnosis made, or scientific breakthrough announced, and our response must be nimble enough to change quickly to keep our students, employees and families safe."
Update 07/13/2020
The school board met and set the agenda for the upcoming meeting.  They also have a specially called meeting set for the week of 07/20/2020 to discuss the calendar for next school year.  In a post from school board member Stephanie Spires, she stated "Tonight I shared that I will not vote for a plan that sends our children and employees back into the classroom until cases decrease and our community has increased access to rapid testing.  We all want our children back in the classroom. As a self employed mom with children who have IEPs and 504s, I understand the challenges that many of our families are encountering. I also understand that to fully open our economy, our children need to be in school. Our families need a plan. Our families are anxious and worried about childcare and employment." 
She mentioned that they had 33,000 surveys collected from families. 
If you have thoughts, ideas, or concerns, you can contact her at Stephanie.Spires@fayette.kyschools.us
In an update on July 1, 2020 FCPS posted the following…
Fayette County Public Schools is looking at welcoming students back to school the week of Aug. 24 with a new model of on-campus, face-to-face instruction, Fayette County Public Schools Superintendent Manny Caulk announced July 1. "This is later than our school district normally starts, but this change allows us to take advantage of the flexibility afforded in state law to have a shorter school year, which could prove crucial if intermittent closures are required," Caulk said.
"With each passing day, it seems the only thing we can be certain of is that the situation we face with the COVID-19 pandemic will continue to evolve as scientists learn more about the virus, public health officials revise their guidance, and cases rise or decline not only in Fayette County, but across Kentucky, the nation, and the world," he said. "The uncertainty and disruption of in-person learning since mid-March has been and continues to be a challenge for all of us. I am concerned not only about the instructional time we have already lost with our students, but also about their social and emotional well-being and the toll the pandemic has taken on our families." 
Caulk said the district's reopening plan will:
Prioritize health and safety.
Be responsive and respectful of the individual circumstances facing students, families, and employees.
Maximize the opportunity for in-person instruction.
Reflect best practices about wearing masks, practicing social distancing, sanitizing hands and surfaces, health screening and temperature checks, and contact tracing.
Provide flexibility to accommodate changing circumstances with the pandemic.
Every decision made will be in accordance with requirements from federal, state, and local health authorities including the Centers for Disease Control and Prevention (CDC), Kentucky Governor's Office, Kentucky Department for Public Health, and the Lexington-Fayette County Health Department.
---
School board meetings are only available virtually during the pandemic restrictions. They are live-streamed to local cable channels as normal and also available on the district's FCPS Video on Demand service. If watching on the district website, please hover over the Live Streams banner at the top and click on the play button to begin the stream on your device. 
Upcoming Board Meetings
5:30 p.m. July 13, 2020 Agenda Planning Meeting
6:00 p.m. July 27, 2020 Regular Meeting
5:30 p.m. August 10, 2020 Agenda Planning Meeting
6:00 p.m. August 24, 2020 Regular Meeting
5:30 p.m. September 14, 2020 Agenda Planning Meeting
6:00 p.m. September 28, 2020 Regular Meeting
---
FCPS School Calendar (Yet to be released)
---
---
---