Are you wondering what will happen with Fayette County Public Schools' reopening for 2021?  Lex Fun 4 Kids is tracking FCPS school reopening updates and guidelines as they are released.  
Fayette County Public Schools serves over 42,000 students with just over 8,000 employees so there are so many things to consider as they plan for what school will look like this fall during the COVID-19 pandemic.  They are taking into consideration surveys parents completed as well as staff and all state and national guidelines.  These guidelines are ever changing and will continue to change as the weeks go by.
Canvas for Middle and High School Students


Canvas is the new platform all middle and high schools will be delivering instruction and lessons through.  This is different from Google Classroom they may have used in the past.  Take time to learn more and download the Canvas Parent App.  (Information to access student accounts is in the FCPS Canvas video)


Canvas Parent is designed to provide visibility into your child's education at a glance. Canvas Parent allows parents to:

• View assignment descriptions and due dates
• Set reminders for assignments
• View assignment grades
• View course grades
• Set grade alerts
• View course announcements



Fayette County Schools Special YouTube tutorial below

General Canvas informational video published by Canvas
Chromebooks and Hotspots Available


The district is now 1:1 for Chromebooks so each child has a Chromebook assigned to them.  Each school will have dates/times scheduled for students to check out their Chromebook so watch for updates from your child's school.  


Hotspots

are available through the school Youth Service Center or Family Resource Center.  Please contact your school's coordinator to learn how you can sign up to receive one for FREE.  (If your school does not have a FRC or YSC please contact your counselor.)  Click HERE to access the email/phone contact list for all FRYSCs in Fayette Co.
Update 1/19/21
The school board met today and reviewed the metrics below:
·         The 7-day average of COVID-19 cases is 197 today, compared with 235 a week ago.
·         Between Jan. 12 and Jan. 18, 132 students and 38 staff were diagnosed with COVID-19.
·         The 170 students and employees who tested positive for COVID-19 in the past week are spread throughout 48 of our 68 elementary, middle and high schools, which would have resulted in significant classroom quarantines and school closures.
·         So far this month, 343 students and 123 staff members have tested positive for the virus. This number is especially troubling when you consider that 305 students and 72 staff had COVID-19 during the entire month of December.
·         Current cases in the community are not the result of institutional spread within assisted living centers or detention facilities.
·         FCPS employees began receiving the first dose of their COVID-19 vaccinations today thanks to a partnership with the University of Kentucky. If you have not yet scheduled your vaccination, please follow this link and scroll down to the yellow button that says "request a vaccination."
The FCPS COVID-19 In-Person Learning Matrix data indicates that in addition to our previously announced remote learning for the week of Jan. 25-29, we need to continue with remote learning Feb. 1-5, 2021.  While disappointed, we simply cannot compromise on the health and safety of our staff and students.
Update 1/12/21
The school board met today and released the following information from their meeting. 

Our average daily cases have been more than 200 for the past nine days, after almost three weeks of a steady decline. In the first 11 days of 2021, we have had 117 students and 63 employees test positive for COVID-19.
Here's where we are:
We are committed to implementing in-person instruction as soon as conditions warrant.
We are currently providing limited, individually-determined, in-person services to students with special needs.
Our data indicates we need to continue remote learning the weeks of Jan. 19-22 and Jan. 25-29, 2021.
Our goal is to begin graduated in-person learning the week of Feb. 1-5, 2021. The data will determine whether we can begin a phased-in return – starting with grades K-2, and adding other grades in subsequent weeks – for students whose families chose in-person learning, or whether we will offer additional services for smaller groups of students.
In the next week, you will see our school buses on the road as our drivers and monitors begin practicing their routes in preparation for February.
We will continue to distribute free meals, support families with basic needs, and provide social emotional and mental health support. For details visit www.fcps.net/gethelp.
Update 1/5/21
Board Meeting TONIGHT at 5 pm!  To watch visit  FCPS YouTube Channel, Spectrum Channel 197, Windstream channel 13 or MetroNet channel 2.  They will review whether students will be able to return to in-person instruction.  The matrix presented by the board gives guidelines for a return.  The decision tonight will cover the next two weeks.  After this meeting the board will be meeting once each week to determine if students will be starting in-person learning for the week after the meeting.  
Board Decision 1/5/21 – In accordance with the FCPS COVID-19 In-Person Learning Matrix, our Core COVID Team met today to review conditions with the virus in consultation with the Lexington-Fayette County Health Department. The 7-day average of new cases in Fayette County today is 218, placing our community in Stage 5, which is purple. In light of these current case numbers, all schools and special programs will provide remote instruction only for the weeks of Jan. 11-15, 2021 and Jan. 19-22, 2021.
We know this is not the decision many families were hoping for. However the data tells us this is our best route at this time. Next Tuesday, on Jan. 12, we will make a determination about Jan. 25-29, 2021. Our goal is to give families and staff ample time for planning and preparation.
The health and wellness of our students and staff is our top priority and we are committed to returning to in-person instruction as soon as conditions allow. 
When possible, the district will follow a graduated return model that brings students back to in-person instruction by grade level:
Phase 1: grades K-2
Phase 2: grades 3-5, 6, 9 and 12
Phase 3: grades 7, 8, 10 and 11
Phase 4: preschool.

We will continue to provide remote learning five days a week for students whose families prefer that option.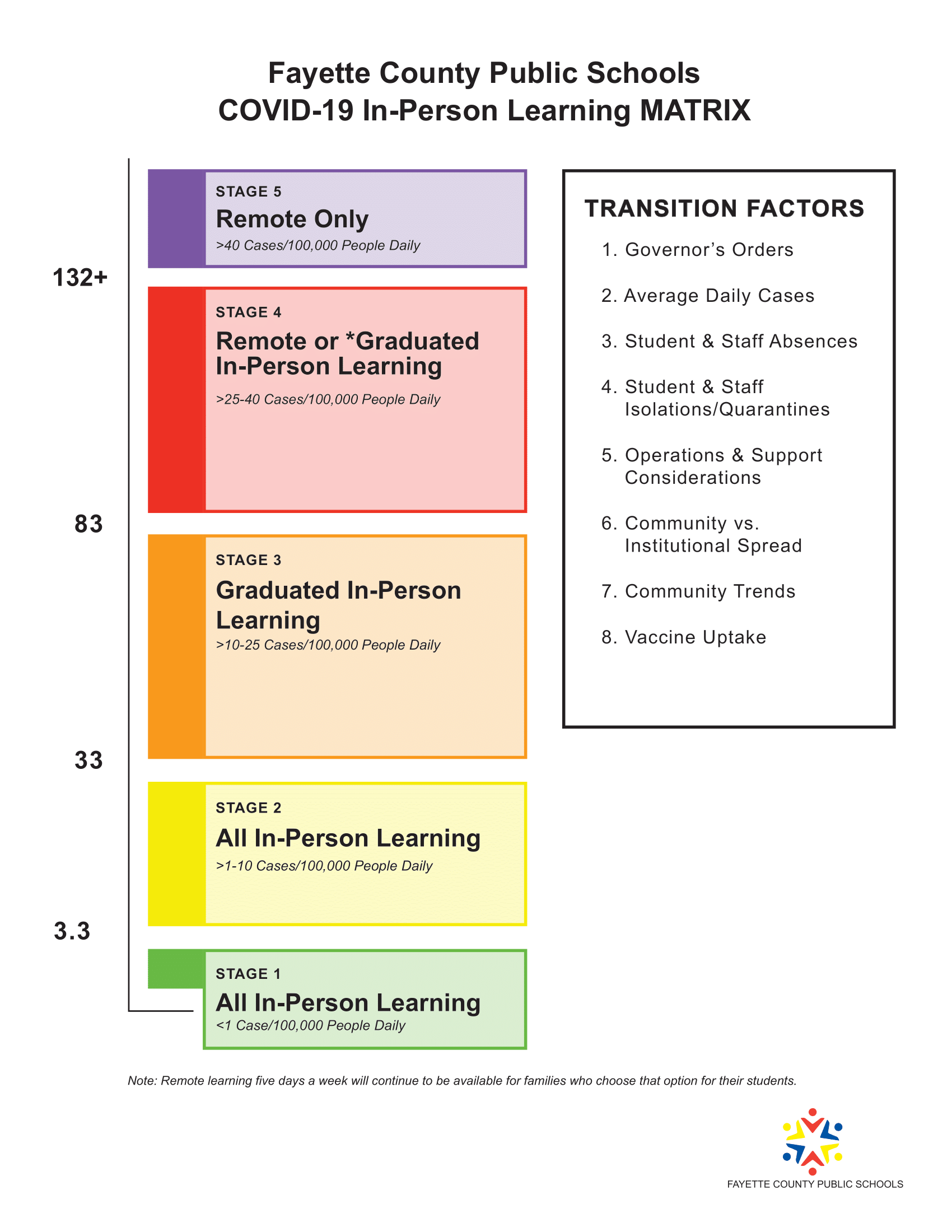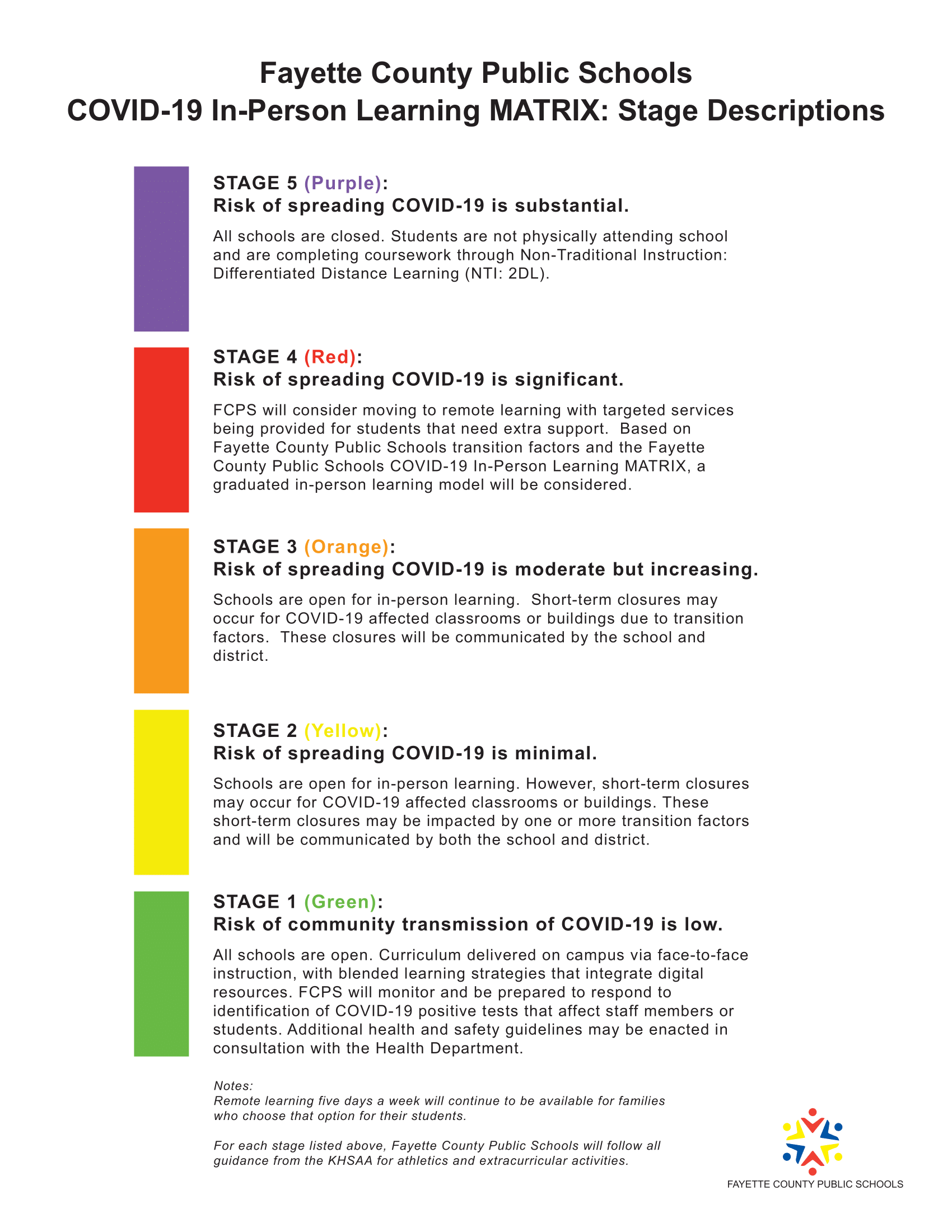 Update 11/15/20
Per District Email from James McMillin, FCPS Chief of High Schools and Tracy Bruno, FCPS Chief of Middle Schools:|
We are writing today to announce that our district is pausing all athletics and extra-curricular activities with the exception of the six high school football teams who are entering the KHSAA post season next week. We will reevaluate this decision after Thanksgiving, the week of Nov. 30.
Our students, families, coaches and sponsors have done an amazing job of following safety precautions and we are thankful for your support. This is not a response to a problem on our teams, but it would be irresponsible to ignore the fact that COVID-19 cases are hitting record highs in our community and state positive rates escalating.
Knowing this decision may be disappointing for many of you, we want to reassure you that this does not mean the end of everything. As we said, we will reexamine the situation in two weeks. This is just hitting the pause button to allow our community to get COVID-19 under control. The only reason we are letting football continue is because to do otherwise would preclude them from the chance at competing for a state championship and would take away our seniors' final opportunity to play at the high school level.
Update 11/12/20
Targeted Services at all schools (with the exception of some special education assistance) will end by Thanksgiving break.  Each school will determine how to handle their last targeted services sessions. 
Update 10/21/20
At the conclusion of tonight's board meeting it was determined that students will remain in NTI 2DL for the remainder of the semester (winter break).  Targeted services will continue and could expand based on public health conditions.
Updates from the Superintendent are below
Following tonight's Fayette County Board of Education meeting, we have unanimous input from our board members to move forward with a safe return to in-person learning in January. To summarize:
·       We will continue offering Non-Traditional Instruction: Differentiated Distance Learning (NTI: 2DL) for the remainder of the fall semester.
·       Our schools will continue to provide targeted services for small groups of students and will look at possibly expanding offerings. We will also look at how best to support our preschool students.
·       FCPS will prepare for a return to in-person learning five days a week in January, provided conditions with the virus are safe. Families will have the option of sending their children to campus five days a week or selecting remote instruction. Employees will also have the opportunity to share their plans in advance of a return to in-person learning. Family interest and staff availability will help schools devise the best instructional plans for students in both cohorts.
·       Families whose children are currently enrolled in the Virtual Learning Academy will have the opportunity to remain with VLA, or choose either remote or in-person learning for the second semester.
·       The open enrollment window for the second semester of the Virtual Learning Academy will be from Nov. 2 through the 16th. Those interested in the ability to learn anytime, anywhere at their own pace during the second semester will be able to apply for that option.
Update 10/20/20
Just added to the FCPS Calendar: 
October 21, 2020 5 pm

  This is a special meeting for Fayette County Board of Education discussion and input regarding the return to school plan, and thus, there will not be an opportunity for public comment, only observation.
In consideration of the community and concerns about the COVID-19 pandemic, this meeting will also be broadcast on FCPS-ETV and streamed live.
Update 10/12/20
The Fayette County School Board met to discuss targeted services.  The board determined no vote was needed and schools could begin targeted services on a school by school basis on or after 10/19/20.  That means each school will determine how they will bring students they feel need in-person services back into the building.  Watch for communication from your school on how they will provide targeted services.  The board will meet on 10/26/20 to review a hybrid model as an option for bringing students back to in-person learning.  
Update 09/28/20
The Fayette County School Board met and requested a plan for targeted instruction that would begin on October 19, 2020.  The plan will be presented on October 12, 2020.  The plan will detail what Targeted Services will be provided for students.  The board also requested a plan be presented at the October 26, 2020 meeting that will detail what hybrid instruction would look like.  
During the Targeted Services phase, all Safety Expectations and Best Practices for Kentucky Schools (K-12) will be followed, including social distancing, temperature checks, and mask requirements. Schools are limited to bringing in no more than 15 percent of the student population, 15 or fewer people can be in each classroom, and sessions should be no longer than two hours.
Targeted services could include activities such as evaluation, necessary hands on experiences (career and technical education), mental health or academic counseling, occupational, physical or speech therapy, or targeted remediation or tutoring.
Board members also voted to target the week of November 2 for the possible roll-out of a hybrid instructional model, if conditions with COVID-19 warrant and the board accepts district plans no later than Oct. 26.
Under a hybrid model:
Students will be divided into two demographically diverse groups.

One group of students will go to school on Mondays and Tuesdays and the other group of students will go to school on Thursdays and Fridays.

Schools would undergo deep cleaning on Wednesdays.

Students would continue with virtual learning on days they are not on campus.

Families will be assigned to the same cohorts for household continuity.
The superintendent did mention more surveys for families could be offered.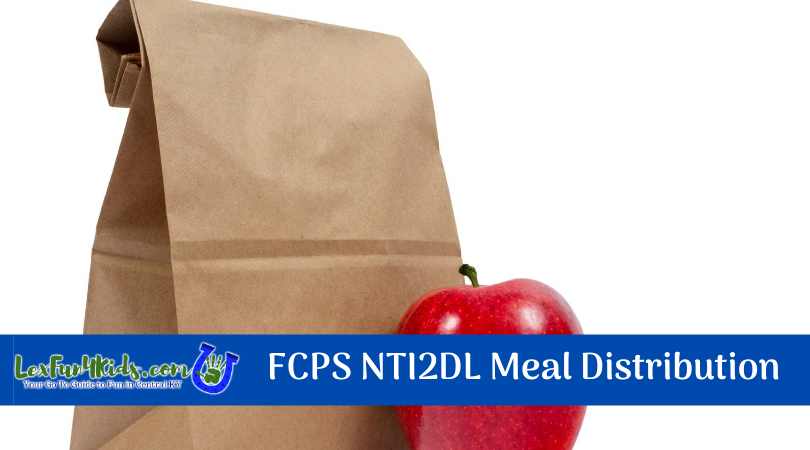 COVID Reporting State Regulation
As of Sept. 28, 2020, Emergency Regulation 902 KAR 2:220E requires families to notify their child's school within 24 hours of learning the child has tested positive for COVID-19. FCPS employees who test positive must also inform the district. Fayette County Public Schools has established a COVID-19 Hotline for processing these notifications, which must be submitted to the Kentucky Department for Public Health. The hotline is open Monday through Saturday from 8 a.m. to 5 p.m.
Please choose one of these three ways to alert FCPS:
Call (859) 381-FCPS (3277), 
Families and staff may also email the COVID-19 team for follow-up phone contact to gather additional information or to address any questions. To offer COVID-19 related feedback, please email the superintendent and the school board. 
Update 08/12/2020
The Fayette County School Board will meet TONIGHT at 5:30pm to discuss the Virtual Learning Academy.  This academy is the choice parents would have instead of the NTI 2DL plan currently in place.  There are very few firm details about what VLA looks like for this coming year so this meeting should offer some answers.   You can watch the board meeting at this link https://www.fcps.net/virtualmeeting
Update 07/27/2020
The Fayette County School Board met virtually and discussed reopening dates and procedures.  They shared a draft of the 2020-2021 calendar.  The first day of school will be August 26, 2020 and the last day is set for May 13, 2021.  Students will have regular holiday breaks (Labor Day, Thanksgiving, Winter break, Spring break, etc.) as well as a fall break.  The NTI 2DL option of virtual learning students will start with will be reevaluated at various dates throughout the year.  The first date they will review switching instruction would be the week of September 28 – October 2nd.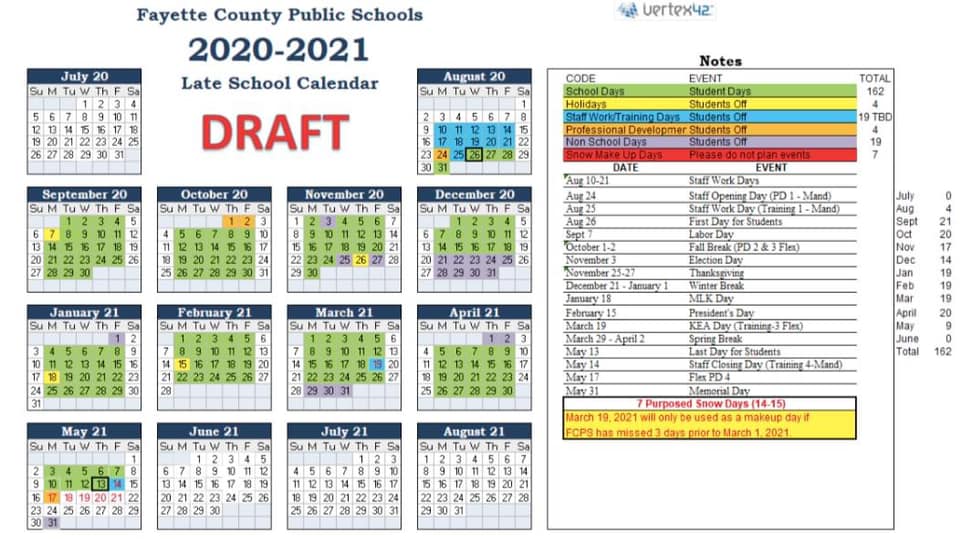 Read the new FCPS – 2020 – Reenvisioning Reimagining and Renewing Guide
Update 07/24/2020
The Fayette County School Board met virtually and discussed various options for the start of the 2020-2021 school year.  The board voted 5-0 to adopt a virtual start to the school year.  Through the discussion it was clear that this decision can be changed throughout the year.  They addressed the needs of teacher and parent support for online learning as well as how to meet the needs of students with IEPs, 504s, GT services, etc. 
The virtual learning program the district is adopting now is planned to be different from the NTI program FCPS provided from March 13 – end of the 2020 school year.
The specific calendar and dates for the start and tentative end of virtual instruction and the move to in-person learning will be discussed at the scheduled board meeting on Monday, July 27, 2020 at 6 pm.  https://www.fcps.net/virtualmeeting
Update 07/20/2020
The Kentucky Department of Education (KDE) released three new COVID-19 reopening guidance documents on July 20 on special education and preschool students, compensatory education and student participation for non-traditional instruction (NTI).
One of the documents, "COVID-19 Considerations for Reopening Schools for Exceptional Learners and Preschool Students" provides guidelines and recommendations for the health and safety of special education and preschool students. The document includes guidance on things like social distancing, classroom environments, food distribution and masks.
Another document, "COVID-19 Considerations for Reopening Schools: Compensatory Education and Extended School Year Services" explains the differences between compensatory education and extended school year services. It also provides guidance on how to provide those services during the COVID-19 pandemic as well as through NTI.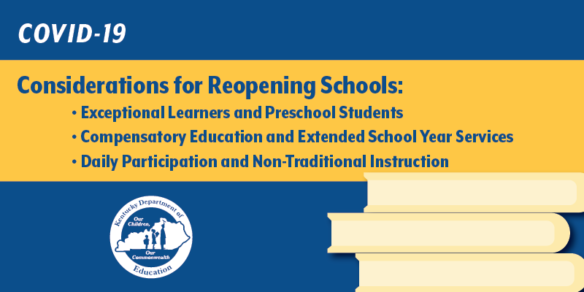 Update 07/17/2020
Superintendent Caulk released an email to families and shared that a specially called meeting will be held on July 24, 2020 at 2:30 pm.  Board members will discuss all options at this meeting.  The virtual meeting link is https://www.fcps.net/virtualmeeting
"Nothing is more important to me than the lives of our students, employees and families, and safety will direct each of our decisions. Regardless of the instructional model selected, please understand that our plan is subject to change as cases rise or decline not only in Fayette County, but across Kentucky, the nation and the world. The status of COVID-19 changes every day, with each test taken, diagnosis made, or scientific breakthrough announced, and our response must be nimble enough to change quickly to keep our students, employees and families safe."
Update 07/13/2020
The school board met and set the agenda for the upcoming meeting.  They also have a specially called meeting set for the week of 07/20/2020 to discuss the calendar for next school year.  In a post from school board member Stephanie Spires, she stated "Tonight I shared that I will not vote for a plan that sends our children and employees back into the classroom until cases decrease and our community has increased access to rapid testing.  We all want our children back in the classroom. As a self employed mom with children who have IEPs and 504s, I understand the challenges that many of our families are encountering. I also understand that to fully open our economy, our children need to be in school. Our families need a plan. Our families are anxious and worried about childcare and employment." 
She mentioned that they had 33,000 surveys collected from families. 
If you have thoughts, ideas, or concerns, you can contact her at Stephanie.Spires@fayette.kyschools.us
In an update on July 1, 2020 FCPS posted the following…
Fayette County Public Schools is looking at welcoming students back to school the week of Aug. 24 with a new model of on-campus, face-to-face instruction, Fayette County Public Schools Superintendent Manny Caulk announced July 1. "This is later than our school district normally starts, but this change allows us to take advantage of the flexibility afforded in state law to have a shorter school year, which could prove crucial if intermittent closures are required," Caulk said.
"With each passing day, it seems the only thing we can be certain of is that the situation we face with the COVID-19 pandemic will continue to evolve as scientists learn more about the virus, public health officials revise their guidance, and cases rise or decline not only in Fayette County, but across Kentucky, the nation, and the world," he said. "The uncertainty and disruption of in-person learning since mid-March has been and continues to be a challenge for all of us. I am concerned not only about the instructional time we have already lost with our students, but also about their social and emotional well-being and the toll the pandemic has taken on our families." 
Caulk said the district's reopening plan will:
Prioritize health and safety.
Be responsive and respectful of the individual circumstances facing students, families, and employees.
Maximize the opportunity for in-person instruction.
Reflect best practices about wearing masks, practicing social distancing, sanitizing hands and surfaces, health screening and temperature checks, and contact tracing.
Provide flexibility to accommodate changing circumstances with the pandemic.
Every decision made will be in accordance with requirements from federal, state, and local health authorities including the Centers for Disease Control and Prevention (CDC), Kentucky Governor's Office, Kentucky Department for Public Health, and the Lexington-Fayette County Health Department.
---
School board meetings are only available virtually during the pandemic restrictions. They are live-streamed to local cable channels as normal and also available on the district's FCPS Video on Demand service. If watching on the district website, please hover over the Live Streams banner at the top and click on the play button to begin the stream on your device. 
Upcoming Board Meetings
5:30 p.m. July 13, 2020 Agenda Planning Meeting
6:00 p.m. July 27, 2020 Regular Meeting
5:30 p.m. August 10, 2020 Agenda Planning Meeting
6:00 p.m. August 24, 2020 Regular Meeting
5:30 p.m. September 14, 2020 Agenda Planning Meeting
6:00 p.m. September 28, 2020 Regular Meeting
---
FCPS School Calendar (Yet to be released)
---
---
---