This year go VIRTUAL with your LemonAiD stand and continue to support The Salvation Army!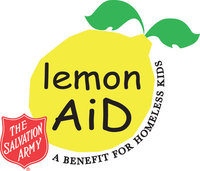 ---
Homelessness Hurts. Kids Can Help.
Registration for 2020 is now open!
THE PURPOSE
LemonAiD supports local homeless children while empowering young people to make a positive difference in our community. By operating a virtual LemonAiD stand during the month of July, kids raise money that supports children staying at The Salvation Army's Emergency Homeless Shelter in Lexington.
HOMELESSNESS IN THE BLUEGRASS
Last year The Salvation Army was a safe haven for over 1,500 homeless individuals including 260 children. Half of Kentucky residents have to spend more than 30% of their income to afford the cost of housing (Kentucky Youth Advocates, 2018) so it's not surprising that when an unexpected crisis hits, a family can quickly find themselves without a place to live. At our shelter we start by meeting basic needs, with more than 50,000 days of 24 hour shelter and 160,000 meals served last year, but we don't stop there. We provide comprehensive support that helps families find housing and keep it. In the past two years, 96% of those we served have not returned to our shelter with a repeat episode of homelessness. Learn more about our shelter.
GET INVOLVED
DONATE
Make a donation to LemonAiD. Funds will be used to support operational expenses associated with housing homeless children — food, diapers, clothing, lodging, childcare, professional case management, and the replacement of worn furnishings and equipment. You can also send a check to 736 W. Main St Lexington, KY 40508 with LemonAiD in the memo.
REGISTER A VIRTUAL STAND
You can register your virtual LemonAiD stand by going to https://app.mobilecause.com/vf/lemonaid.
SPONSORS
Thank you for supporting homeless kids in the Bluegrass! Want to see your logo here for 2020? Contact Krista Whitaker at krista.whitaker@use.salvationarmy.org or 859-252-7706, ext. 117.