Our Lex Fun 4 Kids Writer, Katie, enjoyed the show this weekend and has a great review

PUBLIC PERFORMANCES
Sunday, January 22 – 2:00pm
Saturday, January 28 – 2:00 & 7:00 pm (7 pm show is Pay What You Can)
Sunday, January 29 – 2:00pm
Public Prices: $18 adults, $15 children
For ages 4+, grades preK+
Performed on the LCT Main Stage
Between a flying cow, a driving pig, and a circus goose – there's never a dull moment on Miss Rosemary's farm! It's a known fact you'll laugh 'til your sides hurt in this silly mash-up of three delightful books by Kentucky author Paul Brett Johnson.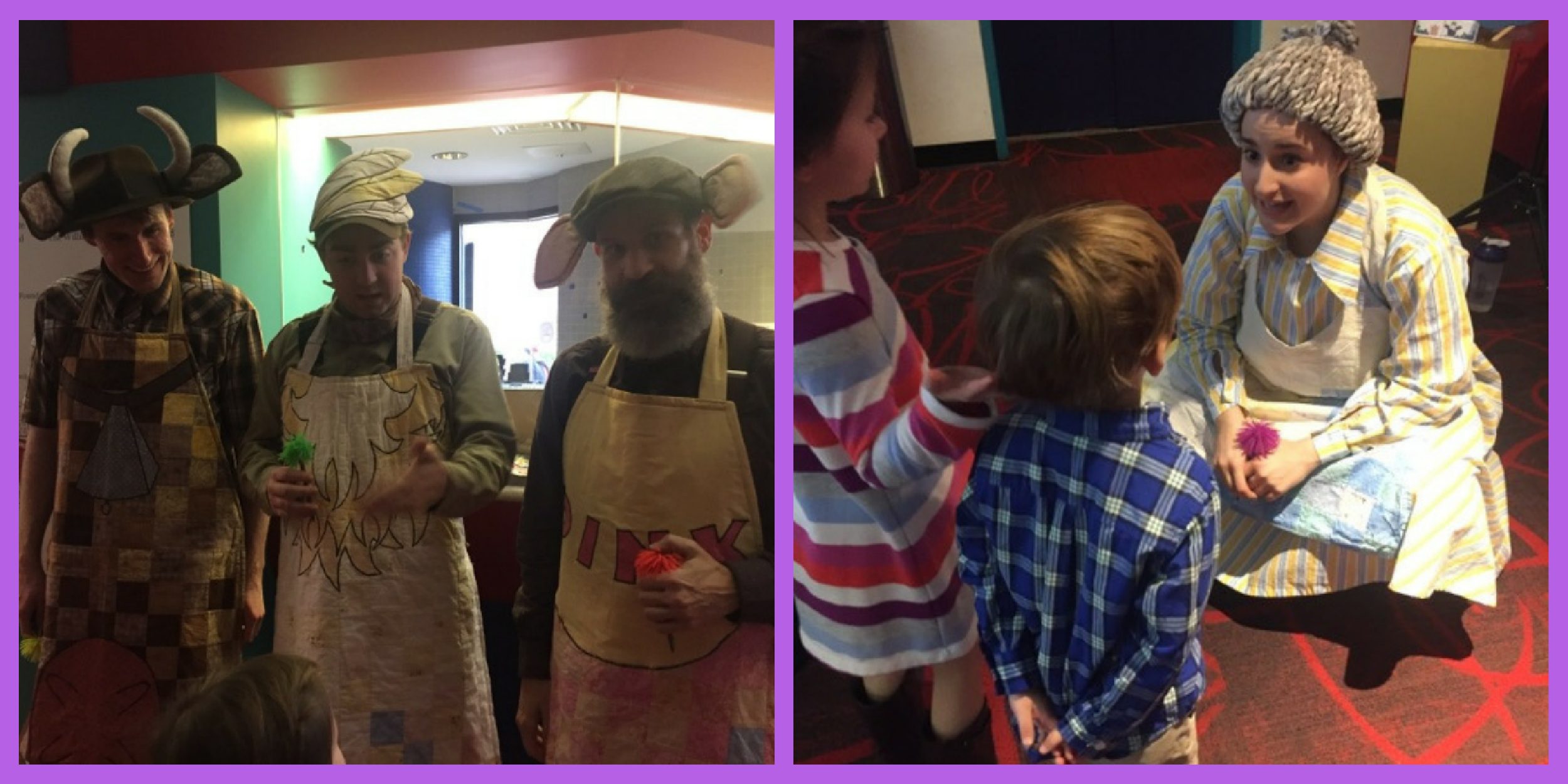 Review
Ms. Rosemary's farm is just an ordinary place, except for the day when the cow flew, the pig drove a jeep, and the goose left to join the circus. This weekend, Lexington Children's Theatre presented "Cows Don't Fly and Other Known Facts", and it was an absolute hit! This fast-paced, exciting story of life on Ms. Rosemary's farm had the audience smiling, laughing, and tapping their feet to the music! My five-year old daughter and three-year old son were mesmerized by the small cast with seemingly endless energy!
The play is based on three books by Kentucky author, Paul Brett Johnson. Johnson was a beloved author and illustrator whose stories were often set in his native Appalachia. This play brings his books to life, not only with amazing characters and hilarious action, but even in a set that resembles his artistic style. Reading the books with your child ahead of time is always a great idea. You can find them at your local library or through the links below
The Cow Who Wouldn't Come Down
The Goose Who Went Off in a Huff
The cast of four performers play twenty-one parts. They are incredibly skilled in seamlessly moving from one character to the next, but it's worth mentioning this to your child before the play begins. This play uses plenty of physical comedy and the actors give it their all. Their energy level is remarkable. When the pig (Adam Luckey) drives the jeep, my kids were absolutely squealing with delight. As the cow (Mark Andrew Tucker) flew through the theatre, we all believed he was delighted to be airborne! The goose (Michael Cole Jr.) has a tantrum that had my three-year old giggling uncontrollably. And Ms. Rosemary (Verity Pryor-Harden) reminded me of an Eastern Kentucky granny using her skills and wits to control her crazy animals. Like every mom, I love to hear my children laugh. I wish I could have recorded my daughter's laughter as the cow played the piano and the pig played the cymbals. "They're so silly, Mommy!"
This play also calls for some audience participation which I absolutely love in children's theatre. The kids were roaring like a lion and making music during a circus. The only hard part was containing their excitement enough to stay in their seats!
If you plan on attending the show, and I sincerely hope you will, arrive a little early. There is a scavenger hunt in the lobby. Children can roll dice and act out silly animal tricks, color a cow, and take pictures with animal props. When they complete the activities, they receive a small prize from the box office. Also, plan on staying for a few minutes after the play to meet the cast. They are delightful and my children love the chance to ask a few questions and gush over how much they enjoyed themselves.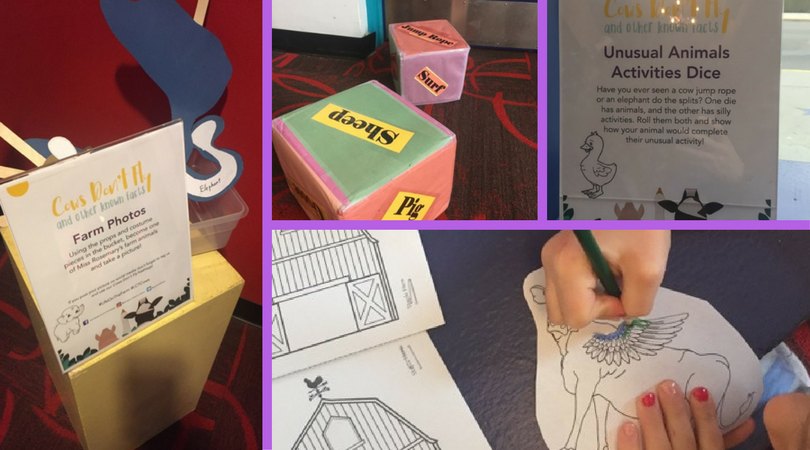 If you have a chance to head down to the Lexington Children's Theatre this week, you won't be disappointed. There are performances weekend performances (Saturday 2:00pm and 7:00pm and Sunday 2:00pm). The play is best suited for young children (ages 3-8).
Important Tips
• Doors open thirty minutes before the show. Arrive early to participate in the many activities all around the lobby.
• There is not a bad seat in the house. If you need handicap seating, just let the box office know. There are plenty of seats reserved, but most of the seats require climbing stairs.
• The theatre is VERY cold. Bring a sweater for you and your children and consider wearing pants.
• If your child needs a restroom during the show, you can exit to the top of the stairs and return during the show. After all, it's a children's theatre. They understand!
• The show lasts about an hour.