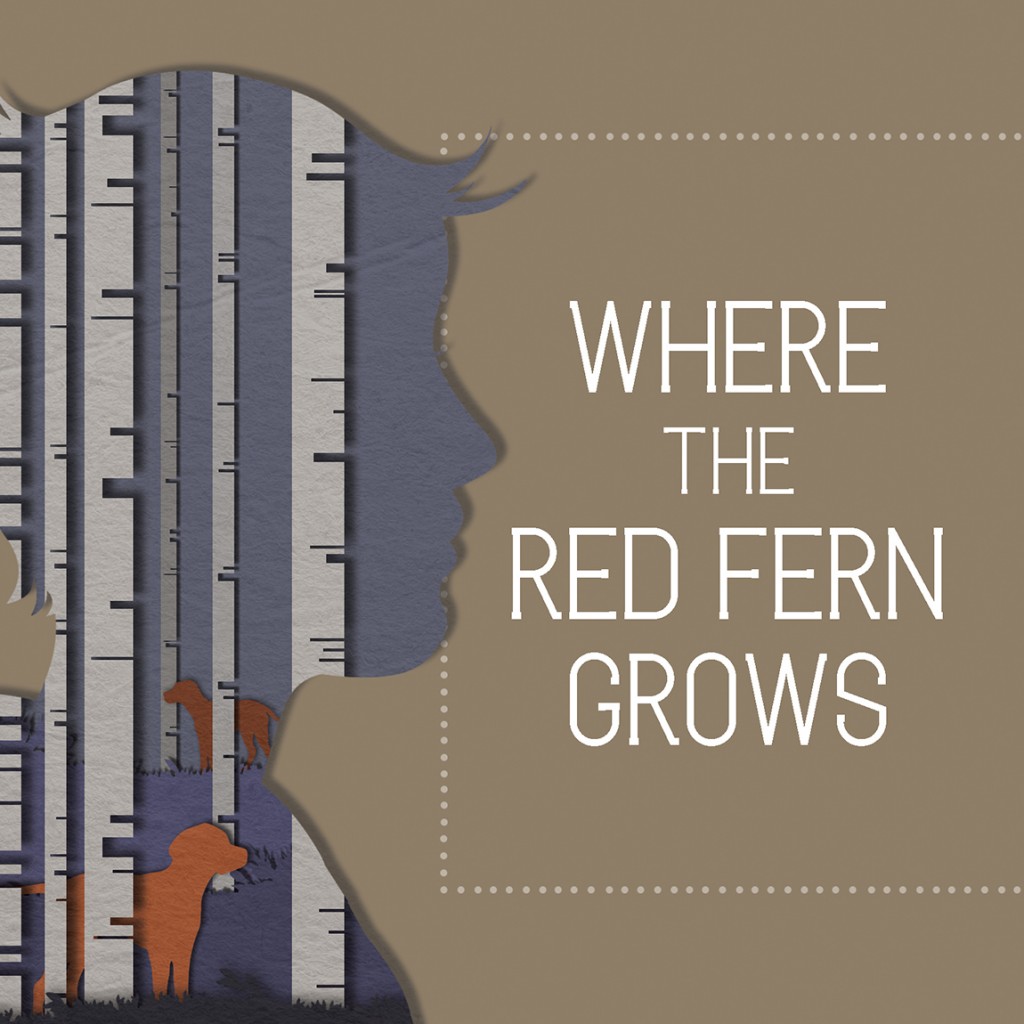 I recently attended a performance of Where the Red Fern Grows at the Lexington Children's Theatre.  I was unfamiliar with this story even though it's a classic and I've heard the title many times. It was great to be introduced to the story and  I am excited to introduce it to my own children as a family read aloud.
The scenery in the theatre helps the audience imagine life in the woods.  Large painted fall trees, a cabin porch, a stream and rocks along the ground. Even the sounds of insects and birds chirping that played as we waited for the show to start put us in a peaceful mood and helped us recall times we ourselves may have spent in the forest.
It's a wonderful story of a family living many years ago, in a rustic cabin 30 miles from the nearest large town.  The parents have one son, Billy, who enjoys a life of playing in the woods and helping his father with chores.  Billy's dad works hard and we see that he struggles with providing for his family sometimes.  Billy, as most kids do, has something he wants.  Two coon dogs.  He wants these coon dogs more than anything he's ever wanted.
Through conversations with his mother Billy learns of her faith in God and her belief that prayer helps when there is something you want more than anything else.  It's Billy's mother who introduces us to the story of The Red Fern.  The story of the Red Fern ties in Native American legend and a story of God's angels watching over people.
We meet Billy's Grandfather, who runs a local shop.  He has a strong relationship with Billy and helps Billy understand his dad.  He also spoils him like many grandparents do!  Billy shares with him about his want for the dogs.  He provides Billy with some helpful advice, to meet God halfway. Billy continues to focus on his prayer for coon dogs and this advice and starts earning money to pay for his dogs.  He saves and saves for two years and finally has enough.  He has to learn about patience as well as he waits for his coon dogs to be delivered to the nearby town.  He ran a bit short though and ended up walking the entire 30 miles to town to collect his dogs!
The new puppies were so excited to meet him and he was in love from the start.  He made the journey back to his home, spending a night alone in the woods along the way.  We see how resourceful a young boy living back then could be.  It would make great discussion with your own kids.  Would they be scared?  Would they have waited for someone to take them?  Could they survive a night in the woods?
We watch as the dogs start to grow and learn to hunt.  The pups are held by two energetic actors.  It's fun to see how they make the dog puppets come to life.  It would be a fun way to teach your own kids how to have their stuffed animals come to life to act out stories!
Throughout the play we see the relationship between Billy and his dogs.  They take care of each other, have fun with each other, and enjoy great success as hunting partners.  Billy is able to help his family and truly enjoy what he had prayed about for so long.
There are some scary moments when the dogs chase down a coon and kill it, some younger audience members may not understand how this was such an important part of life many years ago.  This is a great chance to discuss how times have changed for most families but how some families do still hunt for food or sport.
Billy's Grandfather is so proud of the work Billy does with his dogs that he enters him in a special coon dog championship.  The family convinces Billy's dad to go on the trip and the three men head out.  They keep the audience on the edge of their seats as they brave a storm and darkness to try to catch more coons than the other competitors.  The family enjoys a special reward when they do indeed bring in the most coons of the night.
Billy continues to hunt with his dogs until, tragically, they encounter a mountain lion while on a hunt.  The dogs face off with the mountain lion keeping Billy safe from harm.  In the struggle one of the dogs is badly injured and does not survive.  If you have a sensitive little one the end that the dogs meet may cause them to be upset.  There is hope though as the legend of the Red Fern brings Billy hope and peace.
The family learns so much throughout the story and through the competition.  It brings big changes to the family.  Engage your children after the show and make predictions about what may happen next to the Billy and his family.
If you haven't yet read the book check out a copy after seeing the show and see the various changes made to the plot in order to make it fit into a 1 hour and 10 minute performance.  There are only 2 shows left for the public!  Check it out this Saturday, October 17th at 2 pm and 7 pm.  The 7 pm show is the Pay What You Can Show.
For more information and to purchase tickets CLICK HERE.