Kentucky football's annual Blue-White Spring Game, presented by Academy Sports + Outdoors, will return to Kroger Field on Saturday, April 9, kicking off at 1 p.m. ET.
Admission to the Blue-White Spring Game will be free to the public and tickets will not be required.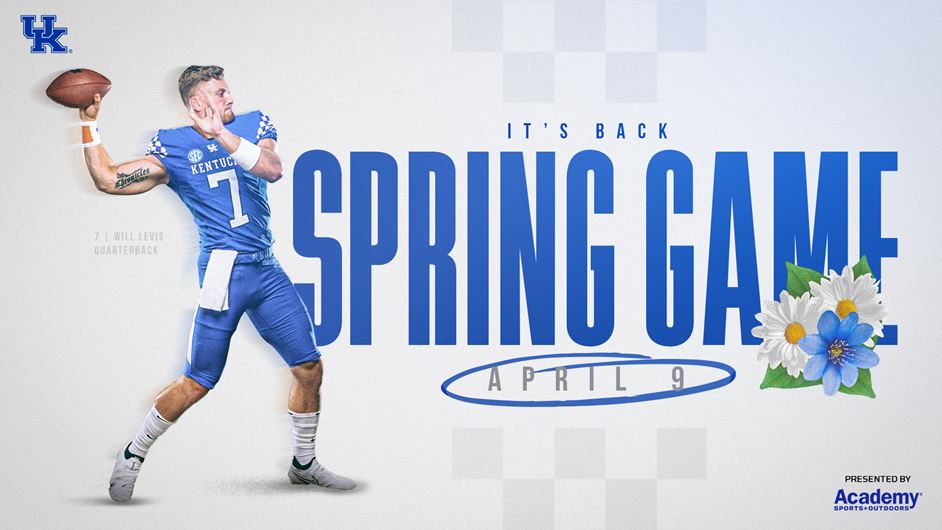 Fans can choose to sit where they would like on game day. All standard seating will be open and general admission, except for Sections 25-27 (Club Level), Loge Level and specific seating blocks designated for the football program. Seating in the upper level will be opened based on demand.
The game will be aired in full digitally on the SEC Network +.
The 2022 edition of the Blue-White Spring Game will return the annual event, which was not played in 2020 and 2021 due to the COVID-19 pandemic.
This year's spring game will move back to a Saturday kickoff for the first time since 2016 (a Saturday kickoff was scheduled for 2020, but the game itself was eventually cancelled). The last time the Blue-White Spring Game was played, the Blue defeated the White 64-10 in front of 16,665 fans on April 12, 2019.
The Blue-White Spring Game will be part of spring practice, which begins March 8. The Wildcats won 10 games in a season for the second time in the last four years in 2021.
The Wildcats finished their memorable year with a fourth-straight Bowl Game victory in the Citrus Bowl. Headlining the returners for the 2022 season are quarterback Will Levis, running back Chris Rodriguez Jr., and linebackers DeAndre Square, Jacquez Jones and J.J. Weaver.
UK Athletics follows all University of Kentucky COVID-19 Policies. Campus Health and Safety Guidelines can be found here. These reflect current recommendations of the CDC, direction from state government, guidance from health department officials and the counsel of our own START team of health scientists and clinicians. Fans should stay home if they are sick.
The 2022 season will kick off on Sept. 3 when the Wildcats host Miami (Ohio). Football season ticket information can be found online at UKFootballTix.com.