The Cat in the Hat at Lexington Children's Theatre *Review
---
The day of our story was a cold cold wet day, so Sally and her brother could not go out to play. After sitting, and sitting, and sitting some more, they couldn't have imagined who would walk through that door! Now the Cat in the Hat was a sight to see, with his magic and games, he brought the children such glee. Until Thing One and Thing Two's tricks went very amiss, and the Fish knew their mother would definitely not like this! Will the children be able to stop all the hullabaloo? Well, what would YOU do if it were up to you?
Based on the book by Dr Seuss
Adapted and originally directed by Katie Mitchell
PUBLIC PERFORMANCES:
Sunday, February 23 @ 2:00pm
Saturday, February 29 @ 11:00am (Sensory Friendly and Pay What You Can)
Saturday, February 29 @ 2:00pm
Sunday, March 1 @ 2:00pm
Saturday, March 7 @ 7:00pm (Pay What You Can) 
REGIONAL PERFORMANCES: 
Bradford Hall Frankfort, KY – March 11 at 10:00am & 12:00pm
Morehead Conference Center Morehead, KY – March 16 at 10:00am & 12:00pm
Hal Rogers Forum Hazard, KY – March 18 at 10:00am & 12:00pm
To learn more or to reserve LCT school matinee tickets CLICK HERE.
Best enjoyed by all ages
School matinees best suited for PreK through 3rd grade
Curricular Connections: Page to Stage, Rhyming, Following Rules, Responsibility
Performed on the LCT Main Stage

Review:
Lex Fun 4 Kids Writer Kelly and her family enjoyed a wonderful show at The Lexington Children's Theatre and she has a great review!
We were all so captivated by the antics of the Cat in the Hat, Thing 1 and Thing 2 as they played and interacted with Sally and her brother! I don't know if the kids or adults enjoyed the play more! The age limits are ages PreK-3rd grade, but don't let that stop you! This is enjoyable for all ages! A great family date!
The play begins with Sally and her brother watching it rain and thunder outside while they sit there BORED.  If you have read the book before (or want to before the play), this follows it pretty closely. When the Cat in the Hat arrives (played by Caleb Pless), things go from dull to fun to over the top (thanks to Thing 1 and Thing 2!). Sally and her brother (Claire Hilton and Finn Steward) fall asleep and dream they are under the sea. This was one of our favorite parts of this performance! At one point, the entire theater was full of bubbles!
Towards the end, when Thing 1 and Thing 2 (Cameron Taylor and Caitlyn Joyce) are getting out of hand, they do a great job of making it stressful but not too stressful. All the while, poor Fish (A.J. Morrison) is living in a teapot!  When Thing 1, Thing 2 and the Cat came back to help clean up my kiddos breathed a sigh of relief! It was a wonderful finish to an exciting and highly entertaining play!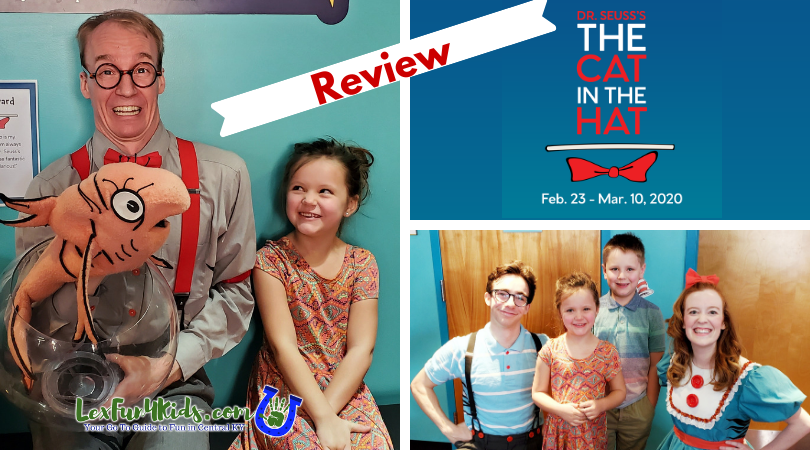 Later in the car, we talked about how they could relate to the kids being left behind with a mess to clean up. We also talked about how much better it was when the friends came back to help.
Tips:
Remember no food or drinks in the theater

Bring a sweater (it's often a little chilly for us, so the actors don't melt!)

Don't forget your pen for autographs!

Grab photos with your favorite characters! 
---
Things to Know Before You Go
About LCT's Regional Productions
Dr. Seuss's The Cat in the Hat is one of our Regional Productions, a show that has professional actors in the cast and performs not only on our Main Stage but at three regional theatres around Kentucky – Bradford Hall at KSU in Frankfort, the Morehead Conference Center stage in Morehead, and the Hal Rogers Forum in Hazard. These regional performances allow us to bring theatre arts to thousands of young people all across the state!
About your trip to the theatre
Be sure to arrive early to find a place to park – options include metered parking surrounding the theatre and the parking garage on the corner of Broadway and Short Street. LCT unfortunately cannot validate garage parking.
To offset the heat generated by stage lighting, the Main Stage theatre can get pretty cold. It's a good idea to bring a sweater with you!
It's also a good idea to bring some cash. You might need to pay for parking, and we will have books and LCT merchandise for sale in the lobby if you want to buy something before or after the show. If you forget your cash, though, no worries! Both the Box Office and the retail store accept credit and debit cards (excluding American Express).
For more on planning your visit to LCT, click here.
About Dr. Seuss's The Cat in the Hat
The stage version of Dr. Seuss's The Cat in the Hat is a very close adaptation of the classic picture book of the same name. It has all of the characters fans know and love and most of the narration and dialogue is taken directly from the book! In addition, there are several moments in the play that are expanded into moments of action and fun, creating a longer, more in-depth story.
The Cat in the Hat and his two friends Thing One and Thing Two are known for causing a bit of a ruckus. During the show, Thing One and Thing Two run around the stage and through the aisles and make a lot of noise while doing so. Their behavior is also reckless, and they make a huge mess – which causes a lot of problems for Sally and her brother! Because this show has a lot of bright lights, fast movement, and loud sounds at times, you might want to check out our Sensory Friendly Performance if you are worried it might become too much for your young person. You are also more than welcome to slip out of the theatre and watch the show on our TV monitor in the lobby at any time!
This play is a great way to spark conversations about responsibility and knowing limits. The Cat and the Things really just want to play and have fun, but it takes them a while to realize that their actions can have negative consequences. Sally and her brother have to help them understand that some choices are not a good idea, like leaving the house a big mess or taking fun so far that it becomes unsafe. This story can be a good way to talk to your young people about taking ownership of their own boundaries and responsibilities, and listening to their conscience to help them know what is right.
We love this story because it brings the world of Dr. Seuss leaping off the page and right onto the stage! It's a show that celebrates play and imagination while engaging students and enhancing the experience of learning. We also love that this story is a great way to promote literacy and is around the same time as Dr. Seuss's Birthday (March 2nd) and Read Across America Week 2020! Like Dr. Seuss himself said, "The more that you read, the more things you will know. The more that you learn, the more places you'll go."