Join Lexington Children's Theatre for this wacky musical celebration of friendship, fairy tales, and the things that make us special. Shrek The Musical opens July 21 and our story won't be complete without YOU in the audience! So, get ready to laugh your gumdrop buttons off and expect the unexpected, because THIS is a fairy tale like you've never seen before.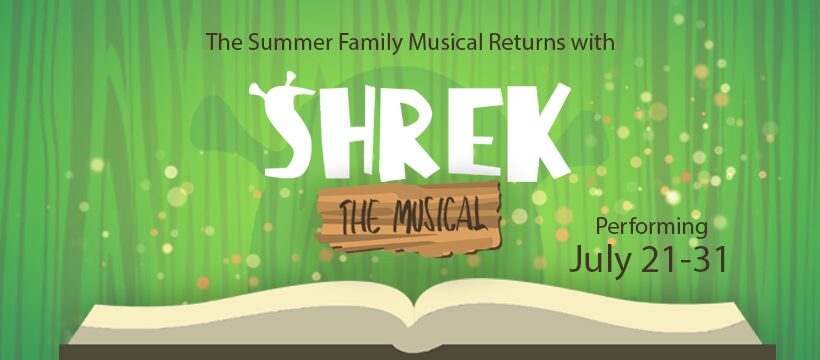 You know the stories. You've read the fairy tales. They all begin with "Once Upon a Time" and end with "Happily Ever After" and there's a whole lot about Daring Quests and Magic Spells and True Love in between. They all say that princesses are pretty and delicate, donkeys don't talk, and ogres are certainly, absolutely, never the hero. But maybe, just maybe, the stories might be wrong.
Based on the Dreamworks Animation Motion Picture and the book by William Steig
Book and Lyrics by David Lindsay-Abaire
Music by Jeanine Tesori
Originally produced on Broadway by DreamWorks Theatricals and Neal Street Productions
Best enjoyed by ages 6 and up
Performed on The Larry and Vivian Snipes Main Stage
Length of Show: Approximately 2 and a half hours long with an intermission
Family Weekend Performance Info
Thursday, July 21 – 7:00pm
Friday, July 22 – 7:00pm
Saturday, July 23 – 2:00pm
Sunday, July 24 – 2:00pm
Thursday, July 28 – 7:00pm
Friday, July 29 – 7:00pm
Saturday, July 30 – 2:00pm & 7:00pm*
Sunday, July 31 – 2:00pm
*Pay What You Will
Click here for tickets!
---
Review
Lex Fun 4 Kids writer, Candice, and her family enjoyed opening night and have a great review to share!!
"Let your freak flag fly!"
This anthem resounded through the intimate Lexington Children's Theater and wove in and out of the interactions and conflicts of the stellar performers' characters in last night's performance of Shrek the Musical. As the musical was introduced, the audience learned that 11 families participated in various roles to bring the production to life. As the Producing Artistic Director states in the playbill, "We want all ags, races, religions, abilities, or genders to feel this is your place." This sentiment was personified by the musical. It felt like a family affair where everyone was welcome.
As the musical begins, we see parallels between Shrek and Fiona's childhoods. They were both sent away from their families at the age of seven. However, while Shrek was told "it's a bright beautiful world…but not for you," Fiona held on to knowing her prince would come for her because she believed the storybooks. Both would learn that their fates would meet on an unexpected path as they learn to accept themselves and each other.
Throughout the musical, we witness the characters Lord Farquaad deems "freaks" that he has sent to a "resettlement facility." He justifies his order by singing, "If you had a quirk, you didn't pass inspection. We all have our standards, but I will have perfection." Yet, we see Lord Farquaad's own shortcomings (pun intended) and how his childhood has affected his life.
A delightful observation about the actors who play the fairytale characters who lament the "story of my life" is that, at any time in the musical, regardless of what was happening on the stage, I could focus on anyone from the Wolf to the Mad Hatter, the Dulcoc Dancers or Humpty Dumpty, to the villagers and soldiers and see their full story in their performances.
The lead roles were just as phenomenal. Alex Losch's Scottish accent was delightful. The many Fionas had incredible vocal ranges, Donkey was charming and relatable and Pinocchio was hilarious. Ron Wilbur's portrayal of Dragon invigorated the audience and left me feeling vulnerable and sassy.
This performance was exactly what my family needed to get us talking about differences and acceptance, as well as love and kindness.
When you go, please remember your mask and cash for concessions. Also, be aware that it does run on the longer side. We left the theater closer to 9:30. Enjoy!
Check out the Playbill below! (Click the image)