My boys and I enjoyed a great afternoon performance of Senora Tortuga at the Lexington Children's Theatre on Sunday.  There are more shows scheduled for March 1st at the EKU Center for the Arts in Richmond!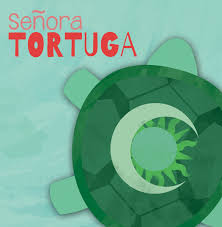 The magic of imagination and the legacy of folklore come to life in this bilingual English/Spanish play presented by four very talented actors.
When you arrive take in the scenery and get a feel for life along the Mexican border.  The scene is a small, wood framed house with simple furnishings and a small kitchen near a stream.  It would be great fun to recreate the stream one winter day at home and tell some stories of your own.
We meet the family in the home and learn that Pedro and his sister Claudia live with their mother but their father has not been able to join them.  They have little money for extras but their mother tries daily to teach them to be happy with what they do have.  Throughout the play the theme of being humble, appreciative, and generous is woven through the scenes.  The play opens the door for great discussions after the play about the words, actions, and messages the characters present.
Pedro is a lively boy who doesn't enjoy homework (I know a kid like that!) or the household chores his mother depends on him to do.  Kids could easily relate to him in many ways even though at first glance they may not see much in common with him.   It is Pedro who helps introduce us to Senora Tortuga.
Senora Tortuga visits the family and the children's mother encourages them to learn to share what they have.  She teaches them that if they give they will get back even more and that they need to care for others as they care for themselves.
From each and every entrance and exit Senora Tortuga had the audience in giggles!  Her expressions, voice, and actions make her character come to life and she quickly becomes an audience favorite.  Pedro and Claudia quickly come to enjoy her while their mother starts to regret her decision to be so welcoming.
Senora Tortuga begins to share traditional folk stories from Mexico including Juan Bobo stories which the children love but their mother thinks just fill their heads with fantasies.  She fears they will forget what is real. You begin to sense she once had her own fantasies but now is faced with a reality that she must live in each day.
The stories Senora Tortuga tells begin to come to life in Pedro's dreams.  The dreams are funny, scary, and teach more lessons that Pedro begins to understand as he wakes.  Small children may find a couple of the dream characters a bit scary but having a conversation before the show about costumes and make believe can help prepare them for this part of the play.
At the end of the play we realize how Senora Tortuga is connected to the family and we see how fantasies and stories can become part of our culture and can help teach us lessons in our lives.
My boys definitely enjoyed Senora Tortuga's character and could relate to the children.  It's a unique play the audience will enjoy even if your Spanish is a bit rusty or something new for your children.  The play is presented partly in Spanish but have no fear!  The actors do a great job of conveying the Spanish phrases and words through actions, expressions, or English words and phrases that go along with the Spanish parts.
The play is great for younger audiences (ages 5 and up) as well as older kids.
Upcoming shows are
Saturday, January 31st at 2 pm and 7 pm
Sunday, February 1st at 2 pm
EKU Center for the Arts Shows (Rescheduled from 2/22)
Sunday, March 1st at 2 pm at the EKU Center
Sunday, March 1st at 4:30 pm at the EKU Center
Tickets $10 (children), $15 (adults) – General Admission (limited to 99 seats)
For EKU Tickets CLICK HERE
For tickets go to www.lctonstage.org