Sacagawea: Discovering History
January 21, 2018 – January 28, 2018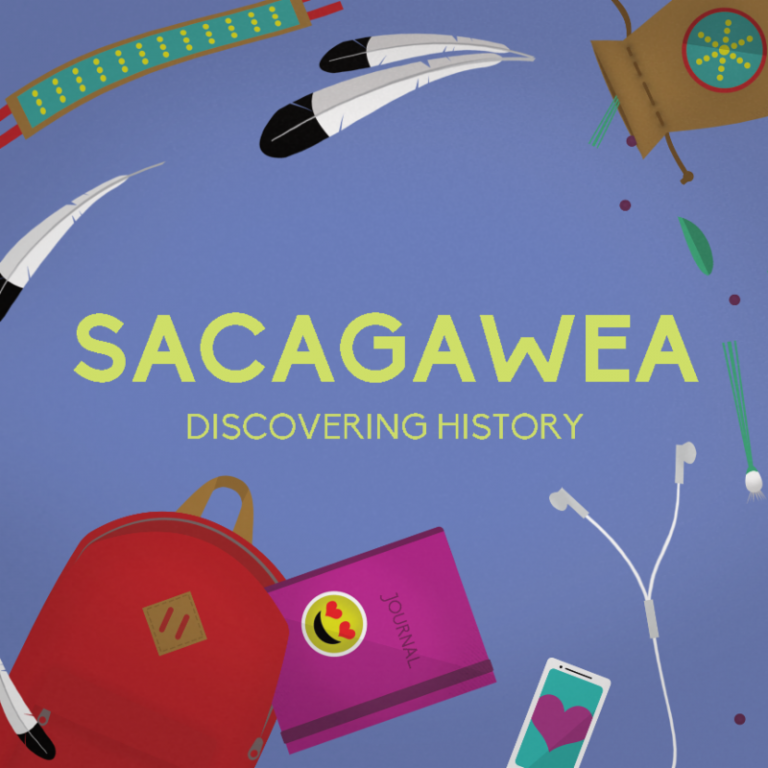 COST:
Public Prices: $19 adults, $16 children
PUBLIC PERFORMANCES:
Sunday, January 21 – 2:00pm
Saturday, January 27 – 2:00 & 7:00pm
Sunday, January 28 – 2:00pm
SCHOOL MATINEES:
January 23-26 at 10:00 & 11:45am
Recommended for ages 8+
Recommended for grades 3+
Performed on the LCT Main Stage
By Brian Guehring.
Description:
Dear Journal,
It's me, Jane. This summer I'm stuck on a family road trip with my nerdy dad and annoying little brother, recreating Lewis and Clark's famous journey. Ugh, history. So boring, right? Well, I guess it is kind of interesting to be learning about Sacagawea, Lewis and Clark's Native American translator and guide on the trail. She spoke several languages, could find food in even the hardest places, and traveled the whole expedition with a baby on her back! She was one incredible woman. Okay, so I guess maybe my dad was right. History really can come to life!
Curricular ties: U.S. History, Native American Culture, Social Studies, Lewis and Clark
You'll like this play if you like stories about: strong female characters, exploring history, family
Approximately 1 hour long 
Special Event
Discover More! On January 28th at 1:00 pm, join teaching artist Susan Mullins Kwaronhiawi as we explore Sacagawea's influence in this interactive workshop filled with music and dance! This event is FREE but space is limited. Please call the Box Office at 859-254-4546 x 247 or email boxoffice@lctonstage.org to reserve your spot today!

Review
I have a little history buff in my family so Sacagawea was the perfect show to enjoy with my boys!  From the moment you walk into the theatre you can begin to explore the path of Lewis and Clark.  The background is a large, beautiful map featuring the many states, rivers, and mountains the group encountered along their journey.  It was neat to sit before the show and see the distance they traveled so many years ago, little did I know how much I would learn during the course of the next hour!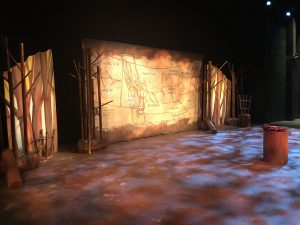 Our story begins in present day with regular kids your child can relate to, a teenager, Jane, played by Alex Reeves, who does a great job of showing us how she's feeling about the summer vacation she's getting ready to embark on.  Tyrell Ruffin is full of energy as Louie, Jane's 'annoying' little brother.  They are off on summer vacation with their dad and their Uncle Dan, played by Daniel Prillaman, both of whom are super excited about the 6 week adventure they've planned following the path of Lewis and Clark and their party of 30 men.
From the very beginning the play is packed with information.  You'll learn so much about the trip of Lewis and Clark as well as the life of Sacajawea.  Jane's dad, played by Mark Andrew Tucker, insists that history can come to life, and he's so passionate about creating these experiences for his kids.  Mark Andrew Tucker does a wonderful job of playing the role of a caring dad who is trying to create special memories with his kids.   You may have someone in your family who he might remind you of!  Jane and Louie's dad shares parts of Lewis and Clark's journal as we begin the journey and also gives each of them their own journal to use during their summer trip.  Jane isn't thrilled with the though of no technology during the trip and doesn't see a new journal as much of a replacement.
As they make their way to their first stop, Council Bluffs, Iowa, the kids begin to realize the difficulties faces by Lewis and Clark when they find about about the death of one of the 30 men who were traveling with them.  We learn that this was the only death along the two year trek – an amazing fact considering all they faced.  Jane starts her journal entries here and she takes time to speak to the audience to let us know what she is writing about in her journal.  It's a neat peek into her thoughts and makes her character very relatable to the kids in the audience.
The foursome continues to travel to North Dakota where they learn about the fort Lewis and Clark built where they would stay for their first winter along the trip.  This area of North Dakota is where we meet Sacagawea.  Our actors help take us back in time through their portrayal of various characters in the story.  Lewis, Clark, Charbonneau and Sacagawea all come to life throughout the play as we go from present day to 1804 and back again.
The story of Sacagawea is recorded in small journal entries from Lewis and Clark that were preserved and Jane helps us understand what is known about her by reading some of these entries.  She had been taken from her tribe when she was very young and made a slave.  She was sold from slavery to a fur trapper, Charbonneau, who made her, at the age of 14, his wife.  She was used as a way for Charbonneau to get money by offering her services as an interpreter to Lewis and Clark.  She was just 16 at the time of her journey and also gave birth to an infant child along the journey.
Sacagawea was a crucial part of the journey, not for being a guide as many think, but for interpreting when they arrived to the home of the Shoshone Indian tribe, where Sacagawea grew up.  The journey reunited Sacagawea with her remaining family as she found herself back in the land where she was born.  Along the way she also helped them to find food and even helped prevent a huge loss during a scary adventure along the way.  Through river and mountain crossings, an illness that almost cost her her life, and hunger, Sacagawea faced the journey with courage and strength.
Jane begins to appreciate all that Sacagawea was able to do to survive over 200 years ago.  Her relationship with her family is strengthened through their trip and she also appreciates the experience her dad and her uncle created for them.  The play is a unique way to learn more about this famous part of American history and to appreciate the opportunities we have to make memories with our own families.
Be sure to stop by the stations in the lobby before or after the show to expand on your experience.  You can also stop by after the show to visit with the actors and get photos and autographs.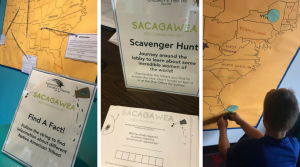 The show is great for all ages but little ones may get a little restless.  The theatre recommends it for ages 8 and up which is a great age for kids to really take in all the history and relate with the characters as well.
If your family enjoyed the show and want to learn more check out one of these cool books that will be great for young readers.
More About the Show
Witness history on stage in Lexington Children's Theatre's latest production as we journey through time to learn about one of America's most inspiring women. Sacagawea: Discovering History follows teenager Jane and her family on a road trip to recreate Lewis and Clark's famous journey. Jane is not initially thrilled about the trip, but as she learns more about Sacagawea, Jane discovers that history really can come to life. "It is an adventure!" says Octavia Biggs, Program Director of Shooting Stars Youtheatre and director of Sacagawea: Discovering History. Biggs hopes that young audiences will relate to Jane, and in doing so, "will hopefully connect to Sacagawea's story as Jane does, in time, in her own way."
Sacagawea was an incredible woman who accomplished much and suffered much. She has inspired generations of people, including director Octavia Biggs, who hopes to bring that sense of inspiration to the stage. "I think young people need opportunities for inspiration and also examples of what it looks like to be a good human being. Sacagawea inspires me to be the best example of a human," says Biggs.
Jane learns that Sacagawea was so much more than a footnote in Lewis and Clark's story – in fact, she was the reason for their survival. Jane begins to explore Sacagawea's skills and life more fully, hoping to understand and tell her story. Jane's drive to recount Sacagawea's story mirrors that of Biggs. She says, "I make a promise to be truthful, respectful, and allow for a relationship to develop with the actors, designers, and tech crews so we are able to collaborate together to create an honest story for every audience member as well as the playwright and Sacagawea."