Kids Can Get in FREE during Winter Family Days at Newport Aquarium
One FREE child ticket with each full price adult 

Jan. 3 – Feb. 28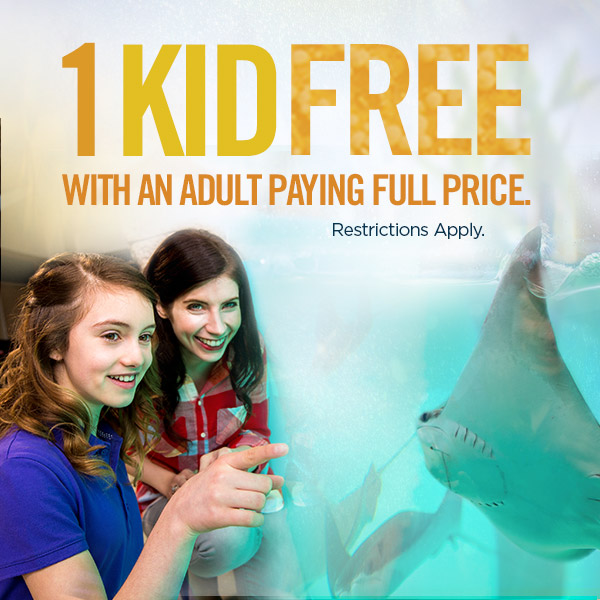 Newport Aquarium announces the return of Winter Family Days, where one child (ages 2-12) gets in FREE with each full price adult.* Just in time for visitors to escape from the record-breaking cold winter weather outdoors, a new species of stingray will be coming to Stingray Hideaway – the Ribbontail ray. This makes Newport Aquarium home to the only Ribbontail rays in the Midwest.
Ribbontail Stingray
The new Ribbontail stingrays come to Newport Aquarium from Georgia Aquarium. The new species will join the 17,000-gallon touchpool in Stingray Hideaway. When winter weather takes hold of the Tri-State, guests can enjoy the tropical atrium environment of Stingray Hideaway where it's always a perfect 74-degrees year round, no matter the weather outside. Ribbontail rays differ from the other three species in Stingray Hideaway, as they're larger in size, darker in color, and have a fascinating variation on their tail that resembles a ribbon.
Extended Winter Hours
Newport Aquarium is open every day, including holidays, and will operate with extended hours on select days in January and February. A full calendar of operating times is available at NewportAquarium.com.
At Newport Aquarium, there is always more new to see and do:
Shark Bridge –This 75-foot rope bridge allows guests to walk just inches above nearly two dozen sharks, exotic shark rays, stingrays and more than 300 fish in one of the country's largest open-air tank displays.
Surrounded by Sharks – Guests can walk through three underwater tunnels within a 385,000-gallon tank filled with rare and exotic shark rays, six species of sharks, and Denver, the mischievous 200-pound loggerhead sea turtle.
Seahorses: Unbridled Fun – This interactive exhibit features some of nature's most amazing creatures, including several species of seahorses, sea dragons, razorfish and pipefish. At the Seahorse Creation Station, guests can discover their inner-artist and create a digital seahorse to share. The exhibit also features rare video of seahorses and their most unusual behaviors.
Gator Alley – Gator Alley is the home of Mighty Mike – who at 14-feet long and 800 pounds is the biggest alligator in the country outside of Florida, as well as Snowball and Snowflake, two of fewer than 100 white alligators in the world.
Penguin Palooza – With five different sub-Antarctic penguin species totaling nearly 50 birds, Penguin Palooza boasts one of the most diverse collections of cold-weather penguins in the country.
Frog Bog – Children have never seen frogs like this before as they can find secret frog tanks visible only when they climb through tunnels and tubes in the kids-only Frog Bog jungle gym.
Beginning Jan. 3, the offer of one kid free with each full price adult will be available at the Newport Aquarium ticket window, online at NewportAquarium.com or by phone at 800-406-FISH (3474). Advance ticket purchase online is highly recommended to guarantee prompt entry to the aquarium.
*This special offer cannot be combined with other discounts or coupons.